1.
A weekly pill organizer designed with push-through silicone lids to easily organize your pills at the beginning of the week, meaning you don't have to spend a bunch of time rooting through pill boxes and trying to remember the timing of them each morning.
Sagely is a family-owned small business founded by husband-and-wife team Ellie Glazer and Ivor Miskulin, who spent three years designing the ideal, stress-free pill storage solution. The silicone lids are super secure, but also designed for gentle and easy opening and closing to account for users with dexterity issues.
Promising review: "Love this thing!!! I'm only 30 and didn't want an old lady pill box... and this one was modern and cool. The little slots to push in pills is fantastic and the containers are very large. It keeps my huge vitamin pills on either side and could fit over 10 large ones if needed. Love this thing. Worth the price and looks like it'll last forever. I do wish the magnets were stronger. They just keep them in place but will slide off if bumped. I assume this is helpful for people with arthritis. It's an easy fix. I take down one days worth of pills, set it on my counter and now I'm not too lazy to take my pills!" —Chicken McNugget

Get it from Amazon for $34.99 (available in four colors).
2.
An undetectable mouse jiggler for folks working at home who need to stay "active" on Gchat, Teams, or Slack and sometimes want to dash out to use the bathroom or walk the dog without doing the whole "BRB, BACK IN A BIT!!" song and dance every time they dare to get up from their desk. 

Promising review: "Like everyone else, I stumbled upon this product because of a TikTok I saw. Setup was extremely easy and I'm pleased to say that my Teams green light is on all the time now. Workers of the world, unite." —Amazon Customer
Get it from Amazon for $29.99 (available in six styles). 
3.
A "flossing toothbrush" with two layers of bristles — regular firm bristles, and longer ones that are ten times thinner to clean deep in between your teeth and gums to mimic flossing. Reviewers love how deep the clean feels, and also how soft it is on sensitive teeth!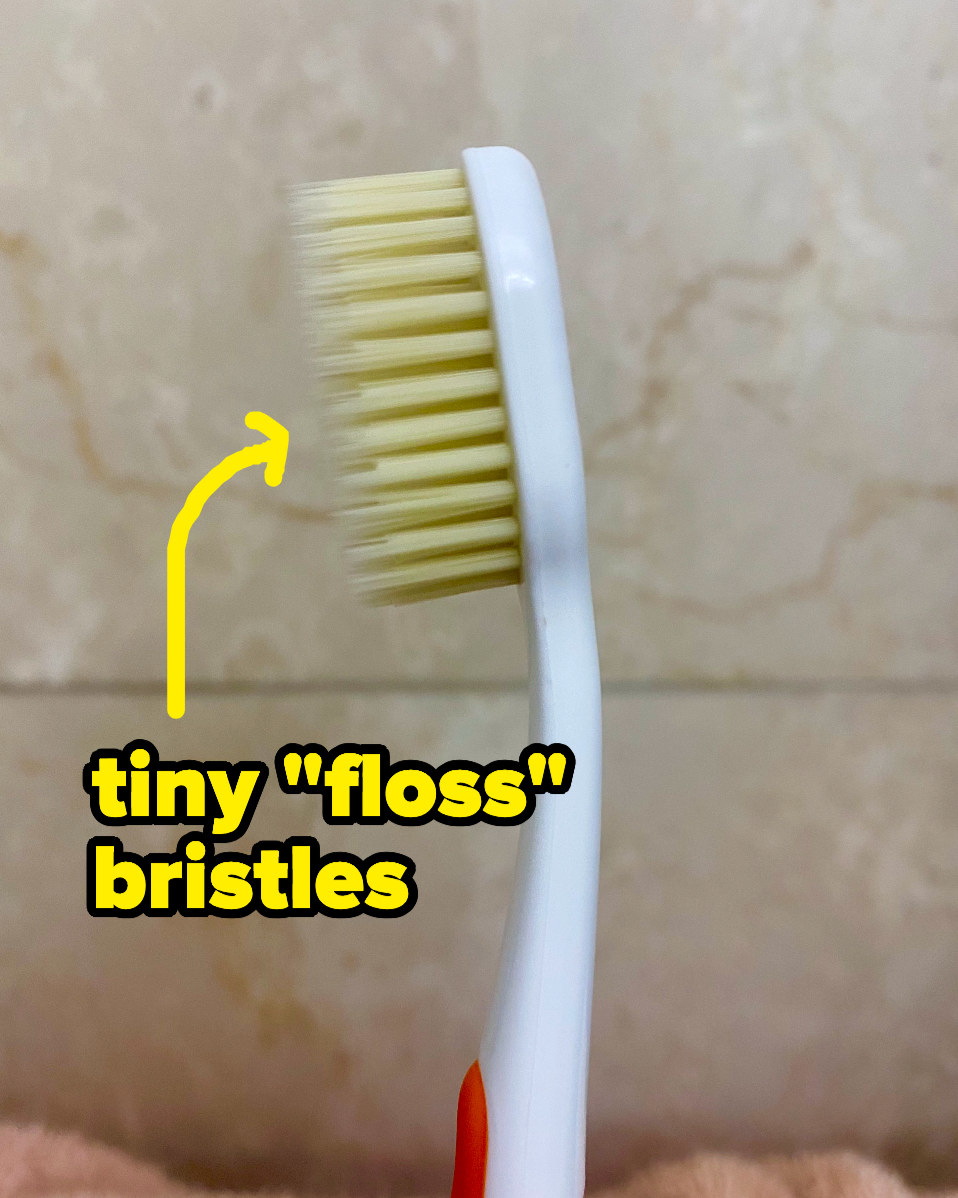 Mouthwatchers is a small business established by Ronald Plotka, DDS, that specializes in antimicrobial toothbrushes designed to get deeper cleans even patients with "great" dental hygiene might miss with traditional brush and floss routines. 
I personally bought this a few months ago and love it! I use an electric toothbrush usually, but I feel like I'm getting a much more satisfying clean from these?? Especially because I tend to get yellow stains between my teeth no matter *how* much I floss, and these bristles seem to actually target that a lot more effectively. I've switched to using this in the morning and the electric one at night and definitely see a difference in that area in particular. 
Promising review: "This was another one of my TikTok purchases! I was skeptical but my kids hate flossing their teeth so thought this might help in between making them floss. They work amazing! My kids said they could see and feel a different on the first use and I agree! They are definitely with a try! I would suggest not pushing too hard, those tiny bristles really get in there and if you push too hard you nights be sore like I was. It felt like after going to a dental cleaning." —Amy N. 
Get a two-pack from Amazon for $9.99. 

4.
A no-scrub weekly shower cleaner you can quite literally "set and forget" to maintain its cleanliness over time — once you apply it after a shower, you just have to wait 8–12 hours and it'll quietly tackle the soap scum, grime, oils, mold, and mildew stains without any elbow grease from you.
Promising review: "I have well water. Something in my well water reacts with copper plumbing and turns my shower tiles blue. Since my bathroom color scheme isn't on the blue spectrum, this is problematic. The well water also causes the shower glass to film up quickly. I've tried dozens and dozens of cleaners and scrubbed till my arms ached trying to get ahead of the blue and scumminess. My ambition in life is NOT to be a full time bathroom scrubber! I saw this stuff on a professional house cleaner's TikTok (sorry, don't remember which one) and thought 'what the heck, might as well give it a try.' Oh my goodness, the first day after my shower I sprayed this stuff all over and walked away. The next morning there was a NOTICEABLE reduction in the blue and the glass looked clearer too. Day two, sprayed again and walked away. The next morning the blue was gone except for a few spots on the floor tile and the glass looked amazing. Day three I sprayed the remaining spots and the next morning the shower practically looked new. NO SCRUBBING AT ALL!!!! This is my new favorite shower cleaner. The ONLY con I have is that it makes me sneeze while I'm spraying from inside the shower, but I can live with that." —L. J. Petillo
Get it from Amazon for $19.54.

5.
A reviewer-beloved electric painless hair remover designed to quickly deal with small, fine hairs in sensitive areas like the upper lip, between your brows, or your hairline. It works in a snap and doesn't even require any shaving cream! 

Promising review: "I have actually had mine for years. My cousin asked me about my clean face the other day, giving me the opportunity to tell her about it. I bought this one for her. It is easy to use, can be used anywhere, fits easily in small purses, is quiet and the battery life is good, besides being easy to clean. A must-have!" —Candy Osias
Get it from Amazon for $16.99+ (available in six colors). 
6.
A 3-in-1 foldable magnetic wireless charger you'll honestly be mad you didn't know about before now?? It folds out from a small square into a rectangular charging pad with a spot for your iPhone, AirPods, *and* Apple Watch to charge all at the same time. A lot of travelers swear by it because it saves soooo much space in their luggage. 

Check out a TikTok of the foldable 3-in-1 charger in action. 

Promising review: "I use this product to charge my IPhone 13, AirPods, and Apple Watch. Prior to this 3-in-1 compact purchase, I have purchased three different kinds of 3-in-1 chargers — I frequently travel between school and home with carry-on bags on airlines and all of the previous stand version chargers doesn't fit well in my bags or I am always worried I would break. This is compact and folds so well that I can fit in my carry-on or in any zipper pockets without having to worry about breaking anything. Charger works really well and it is the best compact one you can find in market. Love it and been using it for two months now and no issues!!" —SBREDDY
Get it from Amazon for $33.99 (available in six colors). 
7.
A TikTok remote control ring to let you scroll through (and heart!) TikToks from your hand without lifting it to touch your phone — an especially handy trick for anyone who likes to watch TikToks on the treadmill or watch them winding down before bed. You can also use it to turn pages on your Kindle and trigger your camera to take photos or video from up to 33 feet away. 

Promising review: "I have a TikTok obsession, and I am thrilled with this ring! I love how versatile it is, too, where I can flip book pages on my phone and go through music as well. It's easy to use and set up if your follow the instructions." —The Shopper around the Corner

Get it from Amazon for $24.99 (available in three colors). 
8.
A reviewer-beloved veggie chopper that'll have you feeling like a golden god in your kitchen — this gadget julienne, chops, spiralizes, and slices vegetables in an instant and has a built-in storage container to hold the chopped veggies so you can pour them into a pan or dish without any mess. 
Fullstar is a small business established in 2017 that specializes in kitchen gadgets. 
Check out a TikTok of the veggie chopper in action. 
Promising review: "Makes life so much easier. I can't imagine chopping onions or bell peppers by hand anymore, and it does so much more. We used to have a Prepworks chopper which was a similar idea, but you had to press so hard to chop, and it broke after not too long. This one requires very little effort to cut through the food and it has a generous container." —Amazon Customer
Get it from Amazon for $24.99 (clip the $5 off coupon on the product page for this price). 
9.
Peach Slices Acne Spot Dots, a hydrocolloid sticker that you can apply straight onto a zit to flatten it, reduce redness, and even suck the gunk out of individual trouble spots overnight. Personally *love* to see a problem magically disappear while I'm snoozing. 

Peach & Lily is a skincare brand founded by celebrity esthetician Alicia Yoon that specializes in toxin-free, vegan beauty products made with recyclable packaging. The company plants a tree with each order, and a portion of its proceeds have gone to to Restore NYC since 2016. 
Check out a TikTok of the acne spot dots in action. 

Promising review: "This brand is so affordable and works just the same as the more expensive brands. I go through them so quickly so this is a plus! I'm generally a picker at my zits, but if I can get to one of these dots in time I save my face a lot of irritation and pain. I wear them at night and sometimes during the day, only takes about two to get rid of those pesky whiteheads, sometimes more for a big zit. They really suck everything out." —Savannah Wilson
Get a pack of 30 from Amazon for $4.99. 
10.
A set of three reusable silicone air fryer liners so you can crisp up your messiest dishes (think: cinnamon rolls, Brussels sprouts, all things sauce-y and delicious and great) without having to lug the whole air fryer drawer to the sink to wash out afterward. 

Promising review: "I bought these because I was tired of cleaning the whole air fryer container. These were bought on a whim for both mine and my boyfriend's parents, who each have an air fryer. They work great, keeping all greases and crumbs inside, and make it easier to clean. The only bad thing (and this may just be me) is the ridges/ripples on the bottom of the inside of the liner. When you try to wash it in the sink, don't put the stream of water right on those unless you want to take a small bath. Other than that, these are fantastic. My boyfriend also says that it seems to make everything crispier, and we love that." —Jordan Hixson

Get a set of three from Amazon for $16.99. 
11.
A jewelry-cleaning stick with cleansing solution on a brush designed specifically to get in the nooks and crannies of your jewelry, so you can dig out all the grime that's accumulated over the years on the cheap instead of taking it to the jeweler.
Promising review: "I absolutely love this product. I saw it on TikTok and figured I would give it a try. My grandmother passed away almost eight years ago, and she left me her first engagement ring in her will. I have tried so many jewelry cleaners, toothpaste and toothbrush, you name it, tried everything except for sending it away to get cleaned. I ordered the Diamond Dazzle Stik on Thursday and it arrived the following Saturday, fast shipping! Today is Sunday and I cleaned my ring with the Diamond Dazzle Stik. My ring is just as shiny as it was when my grandfather bought it for my grandmother many many years ago. I will definitely use this Diamond Dazzle Stik on all my jewelry. Highly recommended!" —Heather
Get it from Amazon for $7.99.
12.
A bagless, touchless stationary vacuum that'll suck the gunk on your floors right up instead of wrangling with a dustpan full of hair clumps that keep falling out or a heavy vacuum cleaner. Why lug a vacuum around when you can get the job done with a lightweight broom instead? 

Promising review: "Saw it on TikTok and knew I had to have one. I hate cleaning but get annoyed with the clumps of dog hair and bits of things on my kitchen floor. I usually just vacuum my tile with the vacuum which is a pain. This thing is so easy to just sweet things into and it sucks them right up. Sure, it's more expensive than my actual vacuum, but I've only had it three days and have used it two times." —Amazon Customer

Get it from Amazon for $111.99 (available in five colors).