1.
A "flossing toothbrush" with two layers of bristles — regular firm bristles, and longer ones that are ten times thinner to clean deep in between your teeth and gums to mimic flossing. Reviewers love how deep the clean feels, and also how soft it is on sensitive teeth!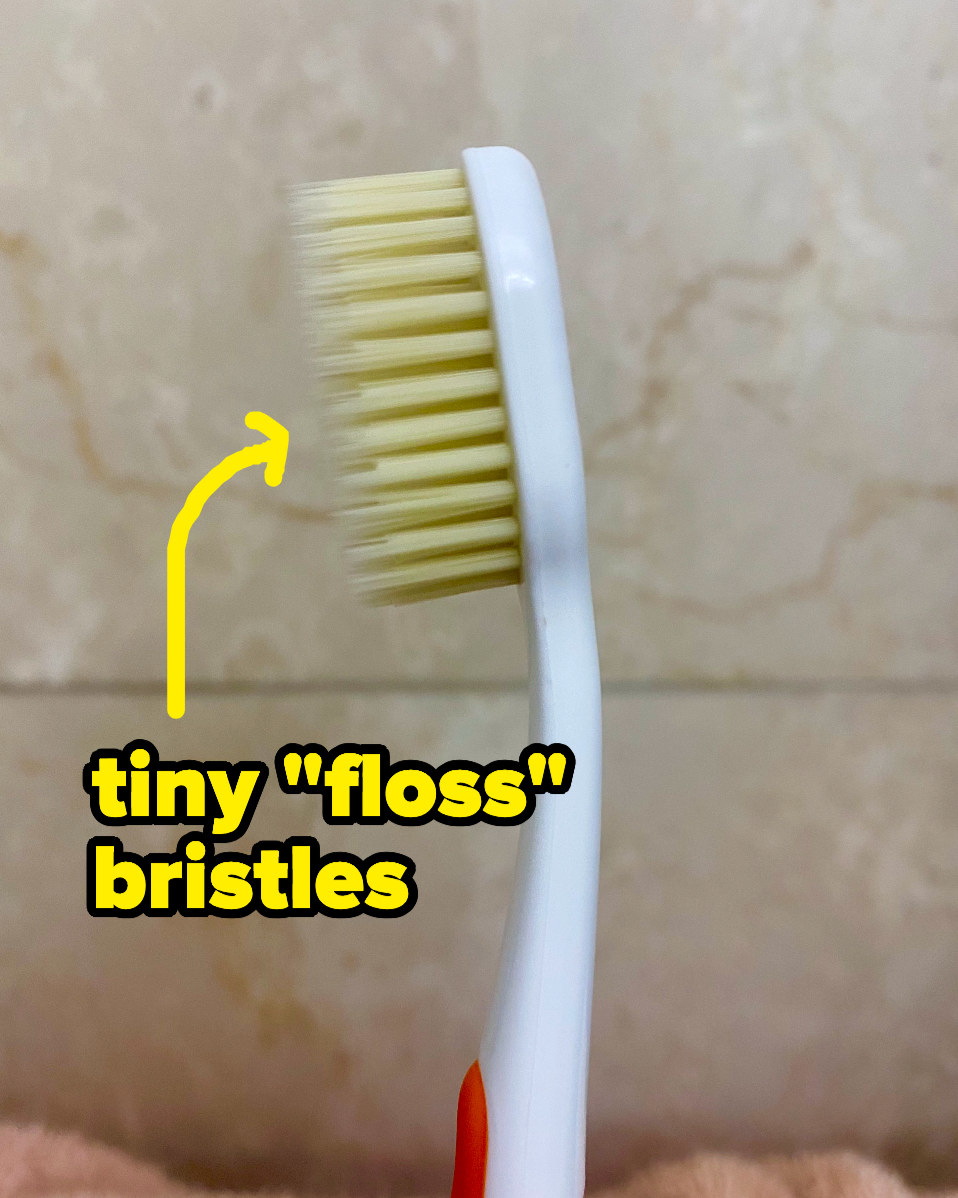 Mouthwatchers is a small business established by Ronald Plotka, DDS, that specializes in antimicrobial toothbrushes designed to get deeper cleans even patients with "great" dental hygiene might miss with traditional brush and floss routines. 
I personally bought this a few months ago and love it! I use an electric toothbrush usually, but I feel like I'm getting a much more satisfying clean from these?? Especially because I tend to get yellow stains between my teeth no matter *how* much I floss, and these bristles seem to actually target that a lot more effectively. I've switched to using this in the morning and the electric one at night and definitely see a difference in that area in particular. 
Promising review: "This was another one of my TikTok purchases! I was skeptical but my kids hate flossing their teeth so thought this might help in between making them floss. They work amazing! My kids said they could see and feel a different on the first use and I agree! They are definitely with a try! I would suggest not pushing too hard, those tiny bristles really get in there and if you push too hard you nights be sore like I was. It felt like after going to a dental cleaning." —Amy N. 
Get a two-pack from Amazon for $9.90. 

2.
A no-scrub weekly shower cleaner you can quite literally "set and forget" to maintain its cleanliness over time — once you apply it after a shower, you just have to wait 8 to 12 hours and it'll quietly tackle the soap scum, grime, oils, mold, and mildew stains without any elbow grease from you.
Promising review: "I have well water. Something in my well water reacts with copper plumbing and turns my shower tiles blue. Since my bathroom color scheme isn't on the blue spectrum, this is problematic. The well water also causes the shower glass to film up quickly. I've tried dozens and dozens of cleaners and scrubbed till my arms ached trying to get ahead of the blue and scumminess. My ambition in life is NOT to be a full time bathroom scrubber! I saw this stuff on a professional house cleaner's TikTok (sorry, don't remember which one) and thought 'what the heck, might as well give it a try.' Oh my goodness, the first day after my shower I sprayed this stuff all over and walked away. The next morning there was a NOTICEABLE reduction in the blue and the glass looked clearer too. Day two, sprayed again and walked away. The next morning the blue was gone except for a few spots on the floor tile and the glass looked amazing. Day three I sprayed the remaining spots and the next morning the shower practically looked new. NO SCRUBBING AT ALL!!!! This is my new favorite shower cleaner. The ONLY con I have is that it makes me sneeze while I'm spraying from inside the shower, but I can live with that." —L. J. Petillo
Get it from Amazon for $19.54.

3.
"The Clean Ball," which is a nifty little gizmo you can stick in your purse or bag to pick up all the crumbs and debris that settle down there — now it'll be clean as a whistle whenever you go rooting through it, and you won't have to get all the "ick!!" on your belongings.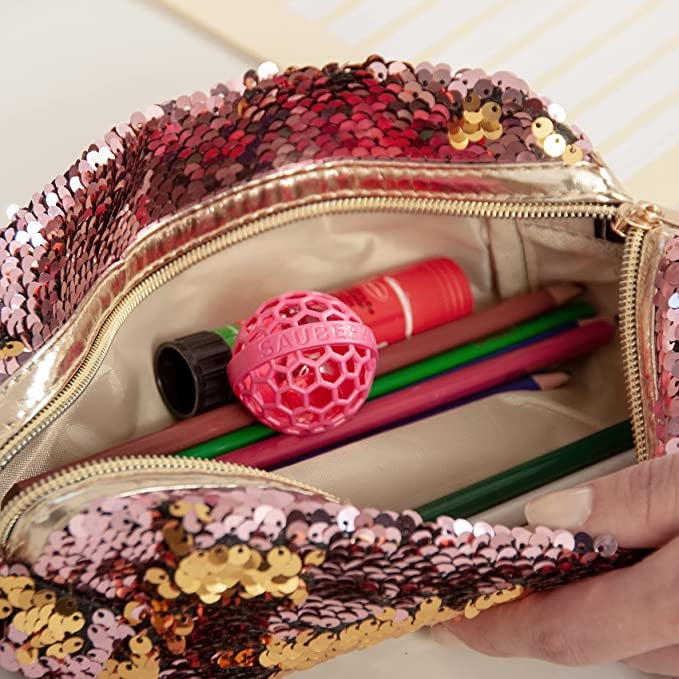 Promising review: "Best invention! I purchased after seeing it in a TikTok video, and it works soooo well in my purse." —Wenhether
*Another* promising review: "This little ball is genius!! Rolls around in my purse, which I live out of. It picks up a lot of lint, debris, or even crumbs. Easy to find with the bright pink. Just remove and wash and it's ready to go again. The price was great and something I can use for years. If you live out of your purse this a must-have!!" —dj3biggs
Get it from Amazon for $11.99 (available in two colors). 
4.
An undetectable mouse jiggler for folks working at home who need to stay "active" on Gchat, Teams, or Slack and sometimes want to dash out to use the bathroom or walk the dog without doing the whole "BRB, BACK IN A BIT!!" song and dance every time they dare to get up from their desk. 

Promising review: "Like everyone else, I stumbled upon this product because of a TikTok I saw. Setup was extremely easy and I'm pleased to say that my Teams green light is on all the time now. Workers of the world, unite." —Amazon Customer
Get it from Amazon for $29.99 (available in six styles). 
5.
A reviewer-beloved veggie chopper that'll have you feeling like a golden god in your kitchen — this gadget julienne, chops, spiralizes, and slices vegetables in an instant and has a built-in storage container to hold the chopped veggies so you can pour them into a pan or dish without any mess. 
Fullstar is a small business established in 2017 that specializes in kitchen gadgets. 
Check out a TikTok of the veggie chopper in action. 
Promising review: "Makes life so much easier. I can't imagine chopping onions or bell peppers by hand anymore, and it does so much more. We used to have a Prepworks chopper which was a similar idea, but you had to press so hard to chop, and it broke after not too long. This one requires very little effort to cut through the food and it has a generous container." —Amazon Customer
Get it from Amazon for $24.99. 
6.
A super absorbent hybrid scrunchie towel to help dry your hair faster *without* the heat damage of drying tools. Reviewers love this as an alternative to heavier towels, particularly if they're errand running with wet hair. 
Kitsch is an LA-based, self-financed, woman-owned small business established in 2010 that specializes in hair accessories. 
Promising review: "I ordered this because I was sick of keeping a towel on my head for so long while my hair dried, and if I didn't have a towel, my shirt was soaking wet from my hair after a shower. For reference, I had very long, thick hair and it takes a while to air-dry — and I'm so happy I found this scrunchie! It's a lot bigger in person than it looks in the image, which is great because it covers more of your hair to help dry it. No more heavy towels on my head or tight towel wraps." —Meghan
Get a pack of two from Amazon for $11.29+ (available in eight colors and designs).
7.
A bunch of Miracle-Gro "food spikes" that can bring plants as sad as the tree from A Charlie Brown Christmas back from the brink of death, and then will continuously feed them for 30 to 60 days as a bonus.
Promising review: "I always kill my plants, but I decided to try again. I just bought five houseplants, and three of them were marked down because they were looking pretty puny. Since I tend to kill them anyway, I figured I would give them a try and save some money. I put one of these spikes in each plant, and they all looked so much healthier and happier after just a couple of days. I also added one spike to the only houseplant that I've had for years without killing (I was beginning to think it was artificial); the leaves looked healthier almost immediately. I'm very happy with this product, and it was a great price." —victoria

Get 48 spikes from Amazon for $3.62, and get a version for orchids here.
8.
An affordable, reviewer-beloved robot vacuum you're going to love so much that you give it a name and treat it like a household pet. This reliable bb is designed to fit in tight corners and under small spaces to really deep clean the floors, has sensors to prevent it from bumping or falling, and can even be scheduled via a remote control so it'll just start cleaning whenever it best suits your fancy. Oh! It also automatically recharges itself when it's done. 
Promising review: "I've been in the market for a robovac for quite some time, and, after a recent back surgery, vacuuming manually wasn't easy. I purchased this vacuum and have been very pleased with it. Its slim design gets under the dressers, beds, other furniture, and all the tight spaces that I couldn't get to with an upright vacuum cleaner. This makes a very low sound while in use, and honestly, I don't even realize it's operating, as the sound is pleasant (not loud at all)." —Teach3

Get it from Amazon for $139.79 (available in two colors).
9.
An adorable fish-shaped humidifier tank cleaner that'll ~just keep swimming, just keep swimming~ so you can stop growth of yucky sludge affecting the quality of your air for up to 30 days, sparing you a *ton* of humidifier washes. 
10.
A rechargeable mini USB fridge deodorizer perfect for banishing that ~off~ smell that lingers in your fridge even after you deep clean it. Reviewers also swear by it for deodorizing other small spots in their homes, like shoe closets, laundry rooms, and even their cars. 

Check out a TikTok of the deodorizer in action. 

Promising review: "I love how little space this deodorizer takes up. I've had a few different brands and types, but all were fairly bulky. This charged fast, and I love I only need to recharge monthly. My fridge hasn't smelled once since I've started using." —Amazon Customer
Get it from Amazon for $22.99. 
11.
A foaming garbage disposal cleaner you can plop into your sink, run a little water on, and let its blue magic fizz its way up to the top while clearing out all the gunk from your culinary adventures in one go. In other words, an easy, cheap sink maintenance routine that will keep you from calling costly plumbers to clear it up.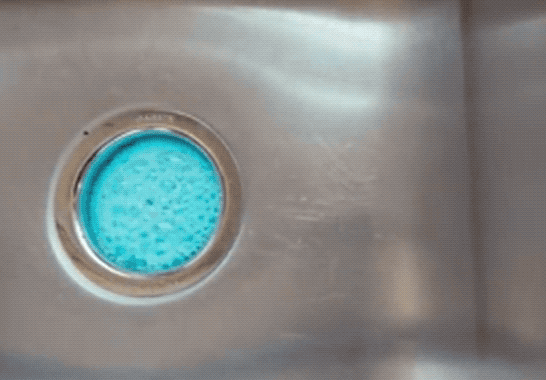 Promising review: "I don't know what it is about these, but putting one down my sink and watching the foamy bubbles come up is SO satisfying. Really scratches an itch that I didn't even realize I had. I read about these in some article about popular products on TikTok and wanted to try them because my garbage disposal had not been smelling super lately. They did not disappoint! Super easy to use and leaves the disposal smelling fresh." —Liz R. 
Get a four-pack from Amazon for $3.78 (also available boxed).
12.
A Scrubbing Bubbles toilet cleaning stamp because honestly? Cleaning the toilet every week is a scam. Let this do the job for you (and prevent grime build up and toilet rings while it's at it!). 

Scrubbing Bubbles / https://www.youtube.com/watch?v=ie8Pubca84E,
www.amazon.com
Check out a TikTok of the Scrubbing Bubbles toilet cleaning stamp to see it in action! 
Promising review: "I was sooo skeptical and confused about how they'd work but the gel solidifies and with every flush, suds wash through with the water and it really makes a fresh difference. Also the scent is light but really nice and fresh! I recommend these 100%! They're super interesting but they do the job." —Janet
Get it from Amazon for $4.93. 

13.
A TubShroom, a little gizmo you can stick in your shower drain to catch all your hair before it clogs up your pipes and you have to call a professional. The hair coils around it to make it even easier to remove, making it both handy *and* semi-horrifying!
Tubshroom is a family-owned small business specializing in drain protection products for kitchen and bathroom sinks and showers. 
Promising review: "I hardly ever write reviews but this thing is so amazing I had to share. With every shower I take, I shed a TON of hair and (as you can see from the picture) stick it to the wall so that no hair goes down my drain. I thought this method was working out well but my drain was continuing to stop up. I figured it must be my sister's fault since I was so good about not letting any hairs go down the drain, but I went ahead ordered the TubShroom after seeing advertisements on Facebook. I got this thing and after only two showers, it collected a crap ton of my hair that I didn't catch. It really is so easy to install and wipe away the hair, exactly like the videos. Awesome invention and I'm super happy with this purchase!" —Megan K.
Get it from Amazon for $12.99 (available in five colors).