1.
A "flossing toothbrush" with two layers of bristles — regular firm bristles, and longer ones that are ten times thinner to clean deep in between your teeth and gums to mimic flossing. Reviewers love how deep the clean feels, and also how soft it is on sensitive teeth!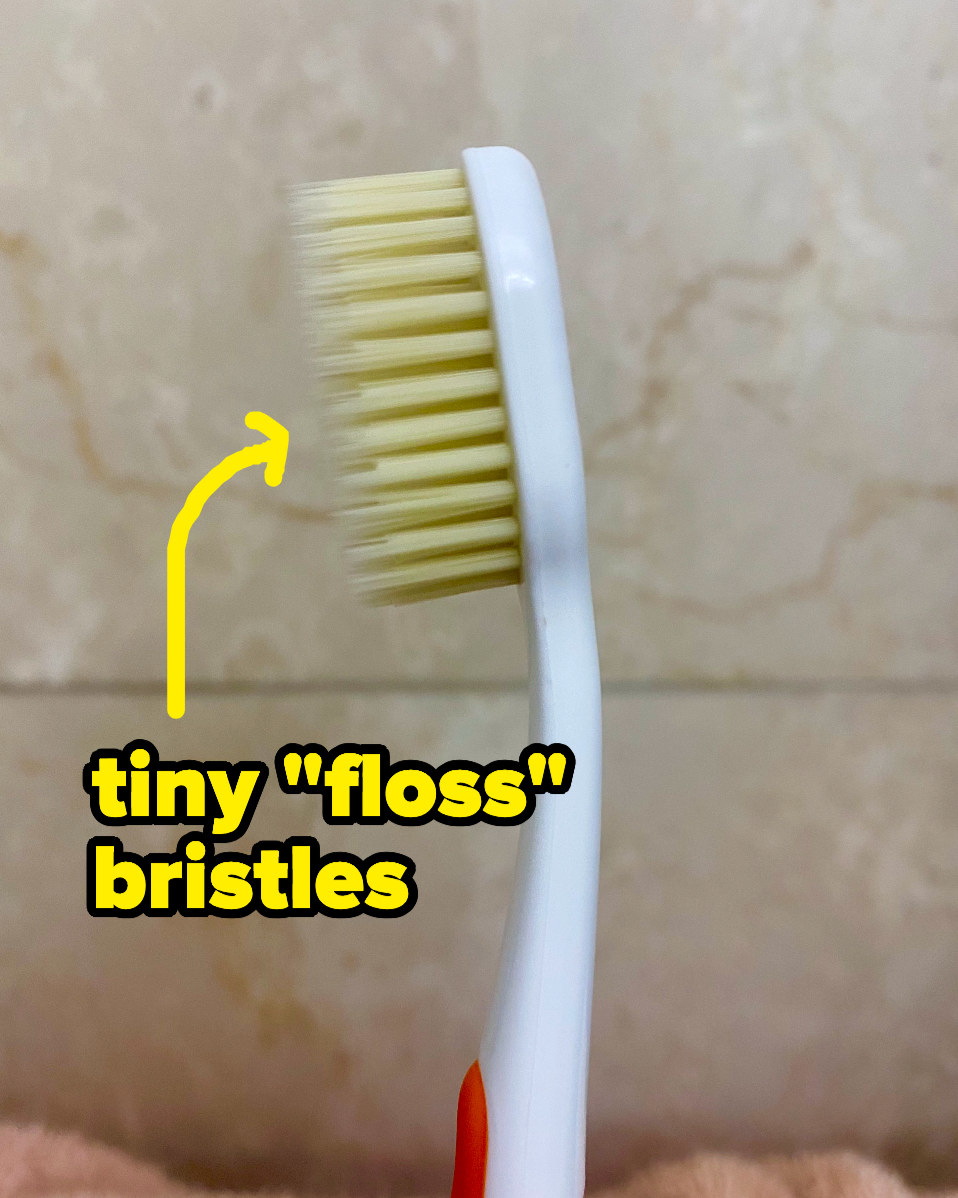 Mouthwatchers is a small business established by Ronald Plotka, DDS, that specializes in antimicrobial toothbrushes designed to get deeper cleans even patients with "great" dental hygiene might miss with traditional brush and floss routines. 
I personally just bought this and loved it just after the first few days of use! I use an electric toothbrush usually, but I feel like I'm getting a much more satisfying clean from these?? Especially because I tend to get yellow stains between my teeth no matter *how* much I floss, and these bristles seem to actually target that a lot more effectively. 
Get a two-pack from Amazon for $9.90. 

2.
A reviewer-beloved electric painless hair remover designed to quickly deal with small, fine hairs in sensitive areas like the upper lip, between your brows, or your hairline. It works in a snap and doesn't even require any shaving cream! 

Promising review: "I have actually had mine for years. My cousin asked me about my clean face the other day, giving me the opportunity to tell her about it. I bought this one for her. It is easy to use, can be used anywhere, fits easily in small purses, is quiet and the battery life is good, besides being easy to clean. A must have!" —Candy Osias
Get it from Amazon for $13.98+ (available in four colors). 
3.
An adorably encouraging daily planner to fill out throughout the course of each day to keep yourself on track for all your calls, goals, and even your water intake. It's like you've got your own babysitter in a notepad, basically.
Each planner comes with 50 tear-off sheets the size of a standard piece of paper.
Bliss Collections is a family-owned, Wisconsin-based business established in 2012 that specializes in stationery, planners and pads, and drinkware.
Promising review: "These daily planning sheets keep this mama on TRACK! I started out printing daily planning and schedule sheets from a free download on my computer. Then I realized why not just buy some already printed so I save my ink at home. I found these and love how the day, schedule, tasks, and health habits are organized. I've already reordered once and will continue to use these." —Shannon Hoglund
Get it from Amazon for $13.99.
4.
A set of bra strap extenders so you can keep your beloved favorite bras *and* stay nice and comfy (plus save the bajillion dollars on new bras, because yowza, are they expensive). 
Promising review: "These bra extenders are so easy to use and the best invention ever! I can't believe I'm in my 50s and just finding these! They have saved me and girls for sure! I don't need to go up in size but I needed an extra eyelet worth of room! Very comfortable! I'd highly recommend! Thank you!" —Ally McCoy
Get a pack of four from Amazon for $9.75 (available in 15 set varieties).
5.
A set of exfoliating gloves for the bath or shower you can use to ~deep clean~ all over your body. This lets you get extra specific about the exfoliation pressure because you're using your own hands to do it.
These also come in three different textures — light, moderate, and heavy — so you can get one to best match your skin sensitivity. 

Promising review: "This is one of my favorite purchases. Not gonna lie, TikTok made me buy this. So I buy it and I'm still a little nervous because it's literally a glove. But nah, I used it with liquid body soap and I've never felt so clean in my whole life. I got out of the shower feeling like a freshly birthed baby. My skin had never felt so clean and I questioned how I went 32 years without this." —Brittney
Get a pair from Amazon for $8.49+ (available in three textures and as sets of two or three). 
6.
A hands-free (rotating!) phone mount designed for use on all airlines — not only can you mount it to the tray table, but to the arm of a chair or any flat surface, so you'll be able to stream content easy as pie.
Perilogics is a small business that specializes in tech-oriented travel products and backpacks. 
Promising review: "I used it for the first time this week, when I was on three flights. I was able to comfortably sit back and watch TV, check the Internet, and even play a game on my phone. Guess what several friends are getting for Christmas from me ♥️." —adiaphora
Get it from Amazon for $12.97.
7.
A foaming garbage disposal cleaner you can plop into your sink, run a little water on, and let its blue magic fizz its way up to the top while clearing out all the gunk from your culinary adventures in one go.
Promising review: "These are amazing! I was skeptical at first but I followed the directions (which are super easy) and was grossed out and satisfied at the same time to see the gunk that was removed. You put the entire packet down your disposal (I read that twice too) and magic happens in under two minutes! That is what I call powerful and successful cleaning! The scent is super clean and light with a hint of lemon. These will definitely be a cleaning staple for me." —KPITT
Get a four-pack from Amazon for $3.78.
8.
A set of Goody's "corkscrew" spin pins for your hair to give you the perfect, pain-free updo with almost zero effort. One of these pins literally can do the job of 20 (!!) regular bobby pins for a securely-held top knot, triple spin, or half-spin style, and reviewers love how simple the included directions are. 
Promising review: "I'm a nursing student and have to wear my hair in a bun every day. I've tried all the bun makers, watched YouTube videos, and spend way too much time on getting my hair into a bun. I was able to make a pretty bun that was secure in under 30 seconds. I thought it was a fluke so I did it again, and then again. I just ordered two more packs because I know if I lose one of these, I'd have to tear the house down looking for it. I have hair to my mid back, and three of these worked perfectly for me. If I can get my hair in bun in under 30 seconds, trust me...anyone can." —Tina
Get a pack of three from Amazon for $6.89.
9.
A copy of Burn After Writing, a guided journal that tens of thousands of reviewers swear by — through a series of questions and thought experiments, it encourages people to take time away from their screens to explore their feelings, both new and old, so they can embrace meaningful ones and try to let others go. 

Promising review: "I first saw this book on TikTok and decided to look more into it. I purchased four total because I know some people holding onto things that are difficult to let go of. It's a great way to look at things from a different perspective and truly hold yourself accountable to different things in your life. I love what it stands for and I look forward to when I burn mine after I'm done. Self love, self care, and meditation for a better state of mind tomorrow is always the goal. I definitely recommend it to those susceptible to change and the willingness to try things different. You're so much more than what's been done to you and someone's inability to see your worth does not decrease your value. Choose you for a change." —Brent Helm
Get it from Amazon for $7.32. 
10.
A 10-foot lightning cable perfect for your nightstand or living room so you can still watch your beloved TikToks without having to hang upside down from the couch like a bat to make sure your phone is still charging on the shorter cable.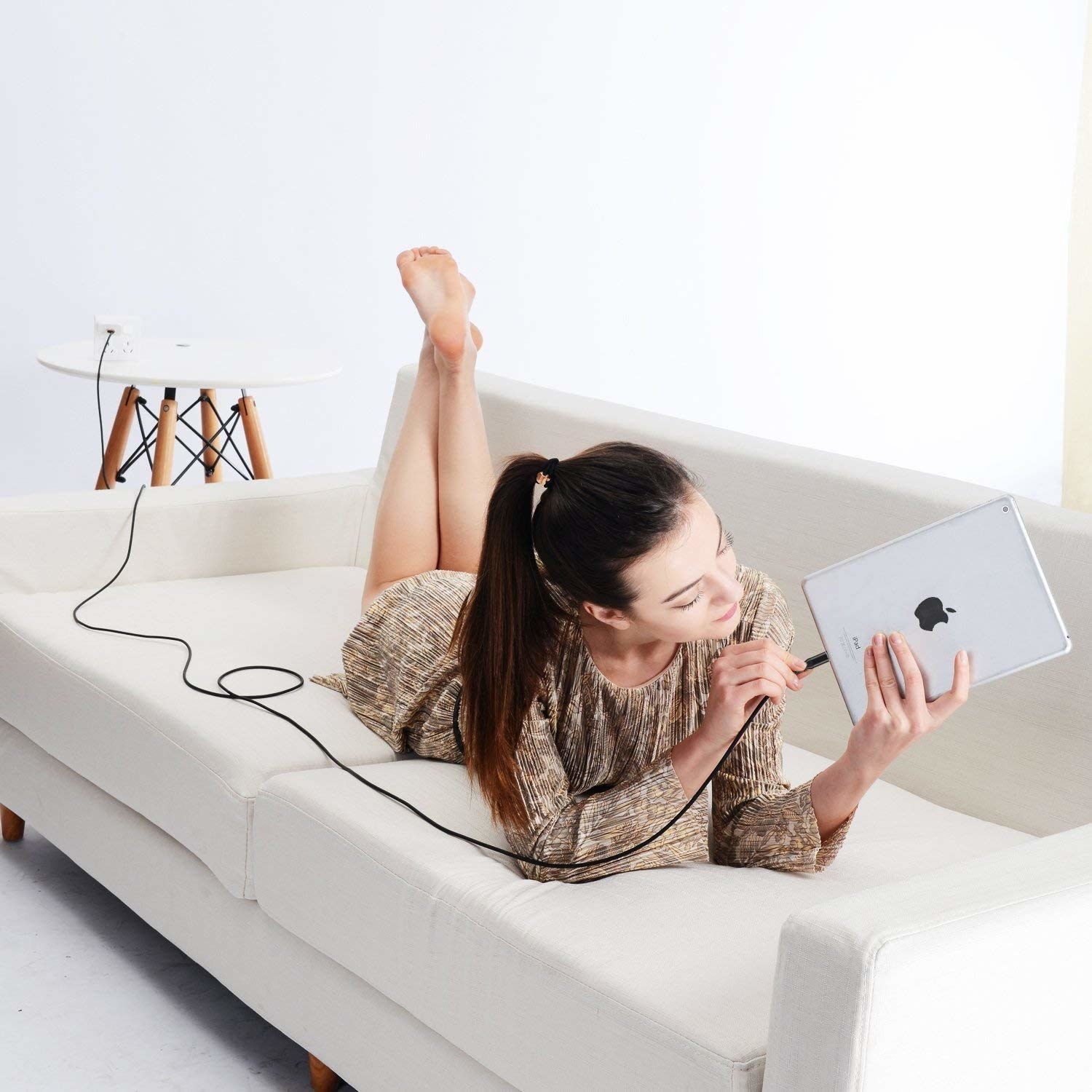 Promising review: "You can never go wrong with extra long charging cables! My wife and I use these for charging our phones on our nightstands so we can use the phones in bed without over stretching shorter cables. The braided cables are nice and the red connectors add a little pop of color. We've had other brands of cables fall apart at the connector in a short amount of time but these seem pretty solid." —Mr. D
Get it from Amazon for $12.99+ (available in five colors and five other sizes).
11.
A blind spot mirror so you can stop playing a game of "should I, would I, could I??" with traffic when you merge into other lanes (and parallel park without strangers stopping on the street to ask if they can help you, hahaha don't look at me).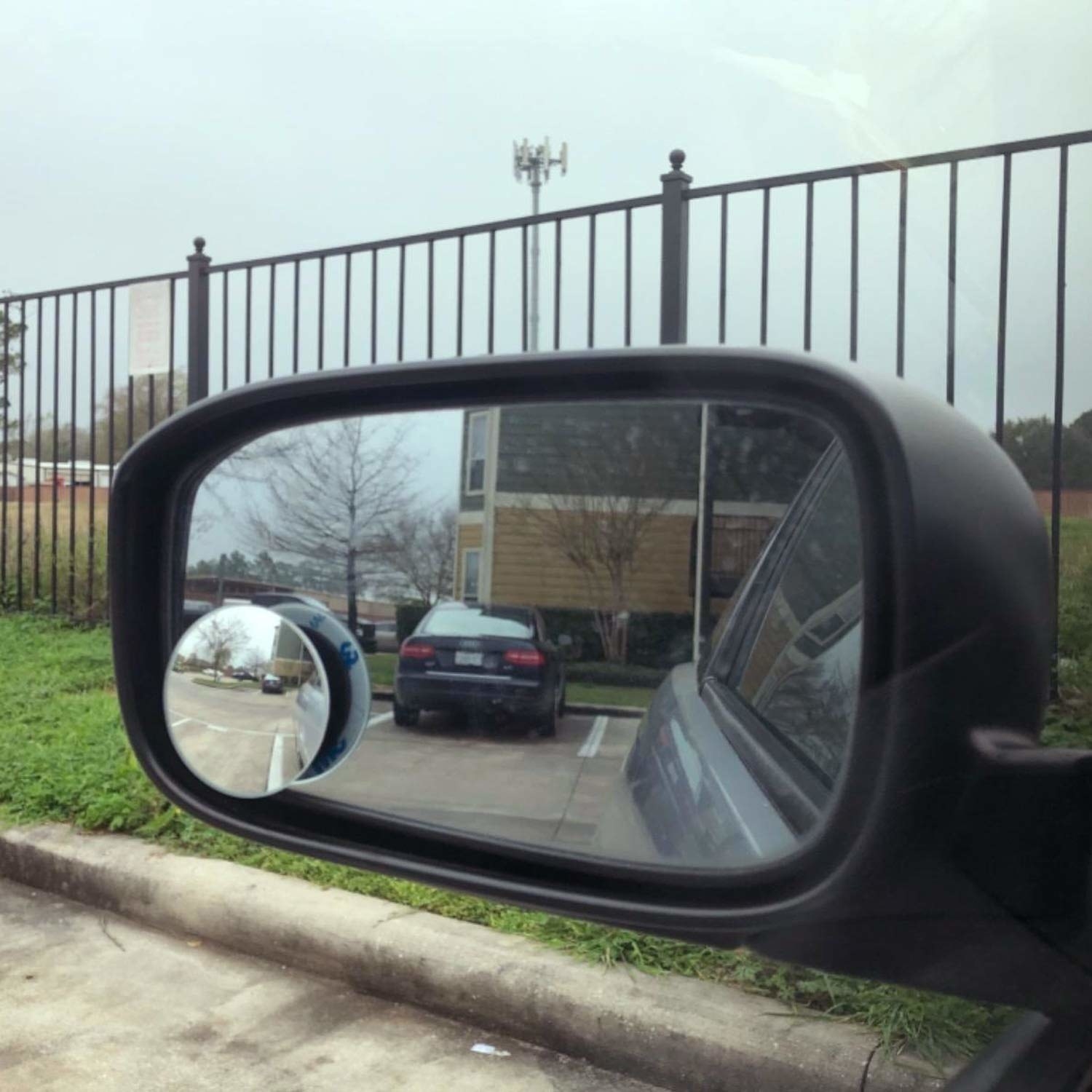 Promising review: "I bought these for my mom's car and mine a while back ago and these little things are great. Since I got my license, I've hated merging or switching lanes; I never felt good or safe doing it. Since having these it's been a blessing, I feel less like a scared new driver. I'm currently encouraging my sister and friends to invest in these too! These are also great for backing up, because you can see exactly how close you are to hitting the car behind, and it's helpful when I parallel park in the city." —Mariam Abass
Get a pack of two from Amazon for $6.99+ (available in four shapes).
12.
A jar of internet-beloved The Pink Stuff, which tackles so many darn things that it'll be the BFF of every room in your house. Need to paint over a stain on the wall? Get it off with The Pink Stuff. Think you need to replace that caked-over grimy pan? Put The Pink Stuff to the test. About to hire cleaners to tackle whatever the heck is going on in your tub? 1-800-The-Pink-Stuff, baby!!
A lot of people compare it to the Magic Eraser in paste form, so even your weirdest, most stubborn stains will meet their match.
Promising review: "I used this product for my stove because it's one thing I dislike cleaning. I have used multiple degreaser sprays and they all are so toxic and don't work for me. The Magic Eraser was okay but I used several at a time and I had to scrub so hard. But this product oh my goodness, legit a miracle. It doesn't have any type of smell. I put the paste on a cloth, clean the area then wipe it off with a damp cloth and voilà, magic!" —May
Get it from Amazon for $2.99+. 
13.
A ridiculously charming octopus-shaped blackhead remover you can use to gently scrub as part of your skin routine or in the shower to remove excess sebum to exfoliate pores and pull out blackheads, whiteheads, and other miscellaneous gunk from the day that you'd rather evict. 
Promising review: "I saw this on TikTok, it works great so far." —MarMarManuel
*Another* promising review: "After just two days of use, this adorable little octopus has done wonders for me, smells great too. Here's how I used it: I wore down the stick just a little to where the texture from the salt is visible, scrubbed around on my face so there was plenty of product, then I used my fingers to gently massage all the gunk away. Rinse, pat dry, and enjoy the softness. Highly recommended for people with sensitive skin like myself." —LuckLocust
Get it from Amazon for $12.50. 
14.
Essence's Lash Princess mascara, because TBH, we've all wasted too many years and too much money looking for the ~holy grail~ mascara. This one is less than $5, gives you instant length, and is DELIGHTFULLY sweatproof for the summer. 
Hello, that is my face above, because I bought into the hype of all the 5-star reviews and now I will never look back!! Putting it on is like giving my eyelashes butterfly wings. It doesn't get clumpy, it stays put ALL the livelong day no matter how much you sweat, and you can apply it on very lightly if you don't want it to look so dramatic, or continue applying for longer lashes each time.
Promising review: "Saw this product on TikTok and thought it would be expensive looking at the results they got. I am beyond amazed with how my lashes look after about two coats. For around $5 you couldn't ask for a better mascara! I will be buying this same one when I run out. I was not expecting to like it as much as I do! No complaints." —Kd
Get it from Amazon for $4.99.