1.
A flexible power strip complete with three outlets, two USB ports, and a five-foot extension cable designed so you can fit it into weird nooks and crannies around or under your desk, so you can have the perfect set up for your home *and* office spaces. 

iJoy is a small business that specializes in headphones and tech accessories. 

Promising review: "I rarely write a review (this is the second in the past few years). One of the best purchases in a long time. Nice design and very practical. It solves all of my problems as it can go any direction. It's worth every penny. I turned around and bought two more. I am about to buy my fourth one. Love this!" —Pond P. 

Get it from Amazon for $19.99 (available in four colors). 
2.
A portable, easy-to-store standing desk for workers who prefer to be on their feet but don't want to commit to a whole fancy setup in any one given place. This one is fully height adjustable at both height *and* angle to give you the most personalized view. 

Reviewers also use it to work with their computers on their laps while sitting on the couch or in bed! 
Promising review: "Perfect for hybrid work. My husband works from home periodically, so he doesn't want a permanent workstation, but it's perfect on a table for standing desk or in a large chair or ottoman as a lap desk. We fold it up and stow it easily when not in use." —D

Get it from Amazon for $34.27+ (available in two sizes). 
3.
An adorable wireless portable charger so you don't have to worry about constantly recharging your phone on days when you're navigating from your work office to your home office — this will keep it nice and juiced up for when those meetings really *do* become emails. 

Check out a TikTok of the portable charger in action.  
Promising review: "The holy grail of portable chargers!!! I was traveling to Disney for vacation and knowing me, I would drain my battery with just taking pictures alone. I wanted a portable battery but didn't want a carry a cord either, so I was excited when I found this little baby! It does exactly as described, pretty pink color, and I get one full charge of battery for my iPhone 11. Get it, you will not be disappointed!" —Meghan Doble
Get it from Amazon for $29.99+ (available in six colors). 

4.
Plus a 3-in-1 foldable magnetic wireless charger you'll honestly be mad you didn't know about before now?? It folds out from a small square into a rectangular charging pad with a spot for your iPhone, AirPods, *and* Apple Watch to charge all at the same time. 

Check out a TikTok of the foldable 3-in-1 charger in action. 

Promising review: "I use this product to charge my IPhone 13, AirPods, and Apple Watch. Prior to this 3-in-1 compact purchase, I have purchased three different kinds of 3-in-1 chargers — I frequently travel between school and home with carry-on bags on airlines and all of the previous stand version chargers doesn't fit well in my bags or I am always worried I would break. This is compact and folds so well that I can fit in my carry-on or in any zipper pockets without having to worry about breaking anything. Charger works really well and it is the best compact one you can find in market. Love it and been using it for two months now and no issues!!" —SBREDDY
Get it from Amazon for $39.99+ (available in nine colors). 
5.
An undetectable mouse jiggler for folks working at home who need to stay "active" on Gchat, Teams, or Slack and sometimes want to dash out to use the bathroom or walk the dog without doing the whole "BRB, BACK IN A BIT!!" song and dance every time they dare to get up from their desk. 

Promising review: "Like everyone else, I stumbled upon this product because of a TikTok I saw. Setup was extremely easy and I'm pleased to say that my Teams green light is on all the time now. Workers of the world, unite." —Amazon Customer
Get it from Amazon for $29.99 (available in four styles). 
6.
A delightfully portable device cleaner you'll be grateful to have on hand when you're dragging your tech around. This gets the most efficient clean with two sides — one with an antimicrobial-treated cleaning solution to clear off the grime off your computer screen, and another with a soft polishing buffer to make it gleam.
One side dispenses a cleaning solution that kills bacteria, and the other side polishes the surface off so it looks nice and shiny.
Promising review: "Saw a friend at work using this; she showed me and I had to have one. I wasn't disappointed. Gets all the gunk off my phone, iPad, computer screens, and my kids' Kindles. Getting these for gifts this year. Awesome." —kevin
Get it from Amazon for $16.95.
7.
A set of affordable, highly popular wireless Bluetooth earbuds that make *excellent* AirPod dupes. Reviewers love these because they're ridiculously comfy on the ears, making them perfect for in-office days when you're trying to get in the zone and for at-home days when you're in constant Zoom calls. 
These come with a wireless charging case that provides up to 14 hours of charge (with the earbuds able to play for four-plus hours with each full charge). 
Promising review: "I work remotely and use these for all-day Zoom calls. I love the quality, comfortable fit, sound and noise cancelling features. I will say the noise cancelling isn't 100% proof, but I'm not looking for that. I want to be able to hear around me in case someone in my house needs me." —Ali R. 
Get it from Amazon $19.99+ (get this price by clipping the 15% off coupon on the product page; available in five colors).

8.
A pair of Target's internet-famous "sweatpants for work," which is what a lot of reviewers are calling these professional-looking glorified lounge pants. They have a pull-on elastic waist and are made with a stretchy, soft fabric blend perfect for working from home, but also have a straight ankle cut and high waist that make them office-ready attire. 

9.
An adorably encouraging daily planner you can fill out throughout the course of each day to keep yourself on track for all your calls, goals, and even your water intake. This is especially ideal for hybrid workers because you can tear off each sheet as you go instead of lugging the whole planner around with you! 
Each planner comes with 50 tear-off sheets the size of a standard piece of paper.
Bliss Collections is a family-owned, Wisconsin-based business established in 2012 that specializes in stationery, planners and pads, and drinkware.
Promising review: "These daily planning sheets keep this mama on TRACK! I started out printing daily planning and schedule sheets from a free download on my computer. Then I realized why not just buy some already printed so I save my ink at home. I found these and love how the day, schedule, tasks, and health habits are organized. I've already reordered once and will continue to use these." —Shannon Hoglund
Get it from Amazon for $13.99.
10.
Or for the ~big picture~ thinkers, a tear-off weekly notepad to remind you of what the top priorities for each day are, so you don't feel as overwhelmed while powering through them.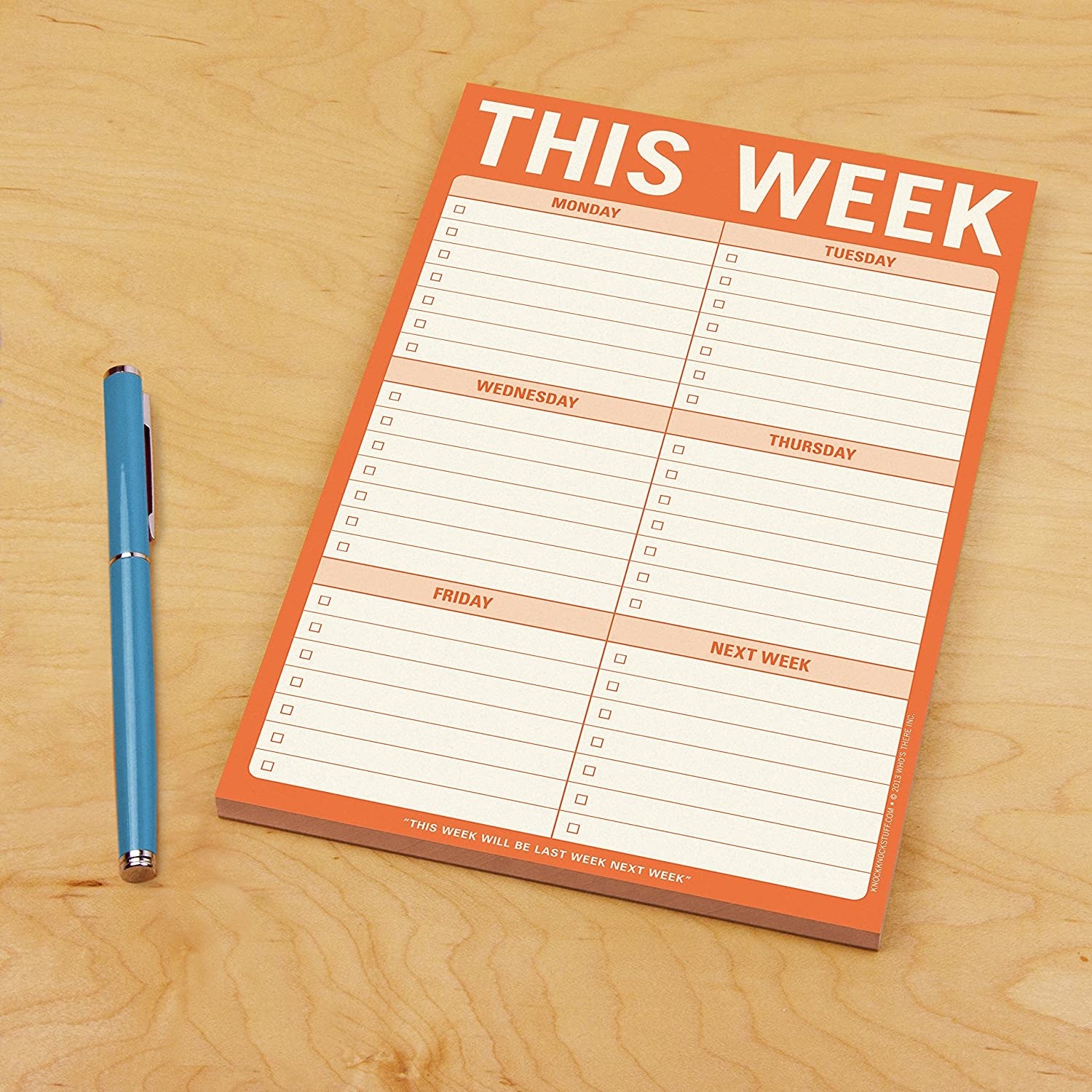 Promising review: "I carry a weekly planner in my bag for scheduling appointments, meetings, classes, etc. Then on Sunday night or Monday morning, I transfer everything from the planner to a sheet from this pad. It stays sitting on the counter in my kitchen where I can easily jot down errands, groceries, etc either in the extra space or on the back. At first this seemed like an unnecessary duplication of effort, so I was looking for a better solution, but I've realized over the past couple of weeks that this really works for me. It helps me get all my commitments for the week out of the planner and into my head so that I know what I've got on my plate." —Toledo
Get it from Amazon for $8.10 (available in 15 list styles).
11.
A popular water-repellent laptop sleeve that'll give it a lil' extra cushion and protection in your backpack or the seat you perilously propped it on whenever you're on the move. It even comes with a second small bag so you can pack the charger to match!
Promising review: "This thing is amazing and has saved my laptop on more than one occasion. I bought it many months ago but was inspired to write a review two days ago after walking 20 minutes in a rain and thunderstorm without an umbrella. My backpack, with everything inside was SOAKED. My shoes are still drying out even. While the laptop case was wet, my computer inside was completely dry! I was fully expecting my computer to be ruined when I pulled it out and I was in shock when it was completely fine. Aside from the rainstorm, I have spilled a few drinks inside my bag and it has never leaked into the case even a little bit. The outside of the case is a little stained from what I've put it through, and I have not tried to clean it, but it doesn't bother me at all. The quality is truly outstanding!" —Amanda Bacoch
Get it from Amazon for $12.79+ (available in 32 colors and 12" - 16" sizes).
12.
A sophisticated laptop tote bag so you can easily (and chicly!) carry not just your tech, but the whole arsenal of I'm A Very Busy Business Person things you need to get through the day. Reviewers especially love the unexpected depth and pockets included. 

Promising review: "It's much more spacious than it looks. It's very sleek and stylish. I use it as my work bag and I find that it looks professional and has enough space for all of my stuff. I carry a laptop, pencil case, two books, makeup bag, water bottle, wallet, lotion, phone and laptop charger, and other small miscellaneous objects. Still plenty of space. And when you see carry it, it doesn't feel bulky or cumbersome. The bag does sag a bit after use. But has held up to wear and tear. I would recommend." —Su

Get it from Amazon for $35.99 (available in 11 styles). 
13.
A delightfully practical Stojo collapsible travel cup (with a straw!) you can use to drink coffee or water on the go — reviewers love that it collapses to a teensy, easy-to-store size, and that you can easily reheat it in the microwave, unlike other travel mugs. 

Check out a TikTok of the Stojo collapsible cup in action. 
Stojo is a small business that specializes in dishwasher-, microwave-safe storage and travel products with the goal of eliminating single-use plastics. 
Promising review: "I take my lunch to work and during mid day I like to use the Keurig to brew a cup of coffee. The 12-ounce Stojo cup I purchased is very practical. It is thick and durable. The plastic collar enables you to hold the cup without squeezing it or burning your hands on the hot walls of the cup. It seals well so you don't have to worry about leaking your drink on your shirt. It even has some reasonable thermal properties. There is enough volume in the cup to allow for the 12-ounce brew plus ample creamer. It's not a stainless vacuum cup, but it does hold its temperature better than your typical gas station or coffee shop cup. Plus you have the advantage of being able to reheat your drink in the microwave which you can't do with a stainless cup. Washes easily too. If you want a 12-ounce cup that keeps your drink hot or cold for a long time, this isn't the cup for you. But if you need something practical that will keep your coffee warm for 30–45 minutes, can be reheated in a microwave, and collapses to the dimensions of a tall hockey puck, this is a good purchase. You'll have it for years." —ViciousCycle
Get it from Amazon for $19.95 (available in six sizes and 24 colors). 
14.
A portable dual monitor for your laptop to give your screen thaaaaat much more space to breathe — a real perk when your home and/or office situation might change from room to room depending on what everyone else in the house needs on any given day.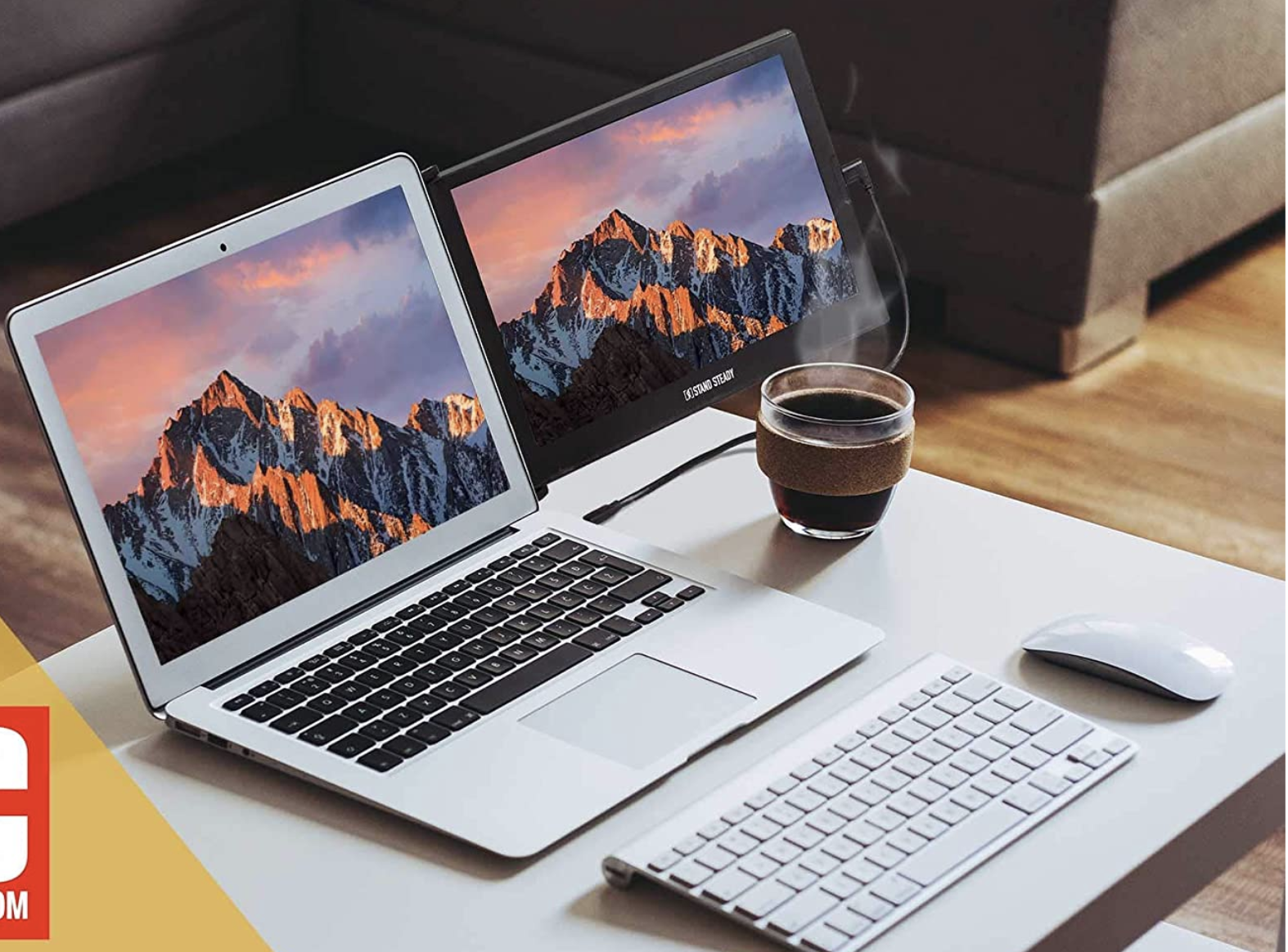 This is compatible with Mac, PC, and Chrome laptops between 13 and 17 inches, and attaches with device-safe metal plates. The magnetic pull is strong enough for you to take your laptop from room to room without undoing your setup, but also easy enough to remove that you can tuck everything into a backpack quickly when you're on the move. You can even rotate the display to your preferences, if you want it at an angle!
Promising review: "I've been using the SideTrak for a week now and it has been an absolute game-changer for me. The instructions were easy to follow, and installation a breeze. The SideTrak was first whipped into action during a 2 hour long ride in my car as a passenger, and I was utterly impressed with how much I got done with ease, in that amount of time! Additionally, I've gotten a lot more use out of the SideTrak than I imagined — such as when I'm lounging in my backyard, kitchen, living room, pool... anywhere outside of the room in my office, the possibilities are endless! I'm all about efficiency and maximizing my time and the SideTrak has contributed largely in those areas. Thank you." —Ratana K.
Get it from Amazon for $299.99 (available in two colors).