1.
A set of TikTok-beloved, high quality checkered cosmetic bags designed to be easy to clean and dirt resistant, making them ideal for travel, work, or the gym. TBH, checkered patterns are having a *moment* right now, so all aboard the aesthetic train!! 

2.
A set of affordable, highly popular wireless Bluetooth earbuds that make *excellent* AirPod dupes, except arguably better — these are completely waterproof (like, you can fully take them in the shower) and come with several silicone earbuds to get the best fit possible.
These come with a wireless charging case that provides up to 14 hours of charge (with the earbuds able to play for four-plus hours with each full charge). 
Promising review: "Best decision! These are the greatest headphones ever! I saw them on TikTok months ago and added them to my wishlist. I got a new phone that doesn't have the headphone port so I decided it was time to finally buy them. They are amazing and I probably won't ever take them out of my ears! 😂" —Katlyn D Arnold
Get it from Amazon $18.99+ (available in five colors).

3.
A copy of Burn After Writing, a beautifully-designed guided journal tens of thousands of reviewers swear by — through a series of questions and thought experiments, it encourages people to take time away from their screens to explore their feelings, both new and old, so they can embrace meaningful ones and try to let others go. 

Promising review: "I first saw this book on TikTok and decided to look more into it. I purchased four total because I know some people holding onto things that are difficult to let go of. It's a great way to look at things from a different perspective and truly hold yourself accountable to different things in your life. I love what it stands for and I look forward to when I burn mine after I'm done. Self love, self care, and meditation for a better state of mind tomorrow is always the goal. I definitely recommend it to those susceptible to change and the willingness to try things different. You're so much more than what's been done to you and someone's inability to see your worth does not decrease your value. Choose you for a change." —Brent Helm
Get it from Amazon for $7.32. 
4.
An adorable wireless portable charger so you can text in the group chat with reckless abandon during all your adventures without worrying about your phone croaking right before it's time to summon an Uber.

Check out a TikTok of the portable charger in action.  
Promising review: "The holy grail of portable chargers!!! I was traveling to Disney for vacation and knowing me, I would drain my battery with just taking pictures alone. I wanted a portable battery but didn't want a carry a cord either, so I was excited when I found this little baby! It does exactly as described, pretty pink color, and I get one full charge of battery for my iPhone 11. Get it, you will not be disappointed!" —Meghan Doble
Get it from Amazon for $29.99+ (available in six colors). 

5.
A satin pillowcase that not only has a cooling effect, but is soft on skin and creates less friction for hair — especially important when cold, dry weather is already making it prone to breakage. Reviewers also swear by these for helping clear up their acne and love how easy these are to wash while still maintaining their quality.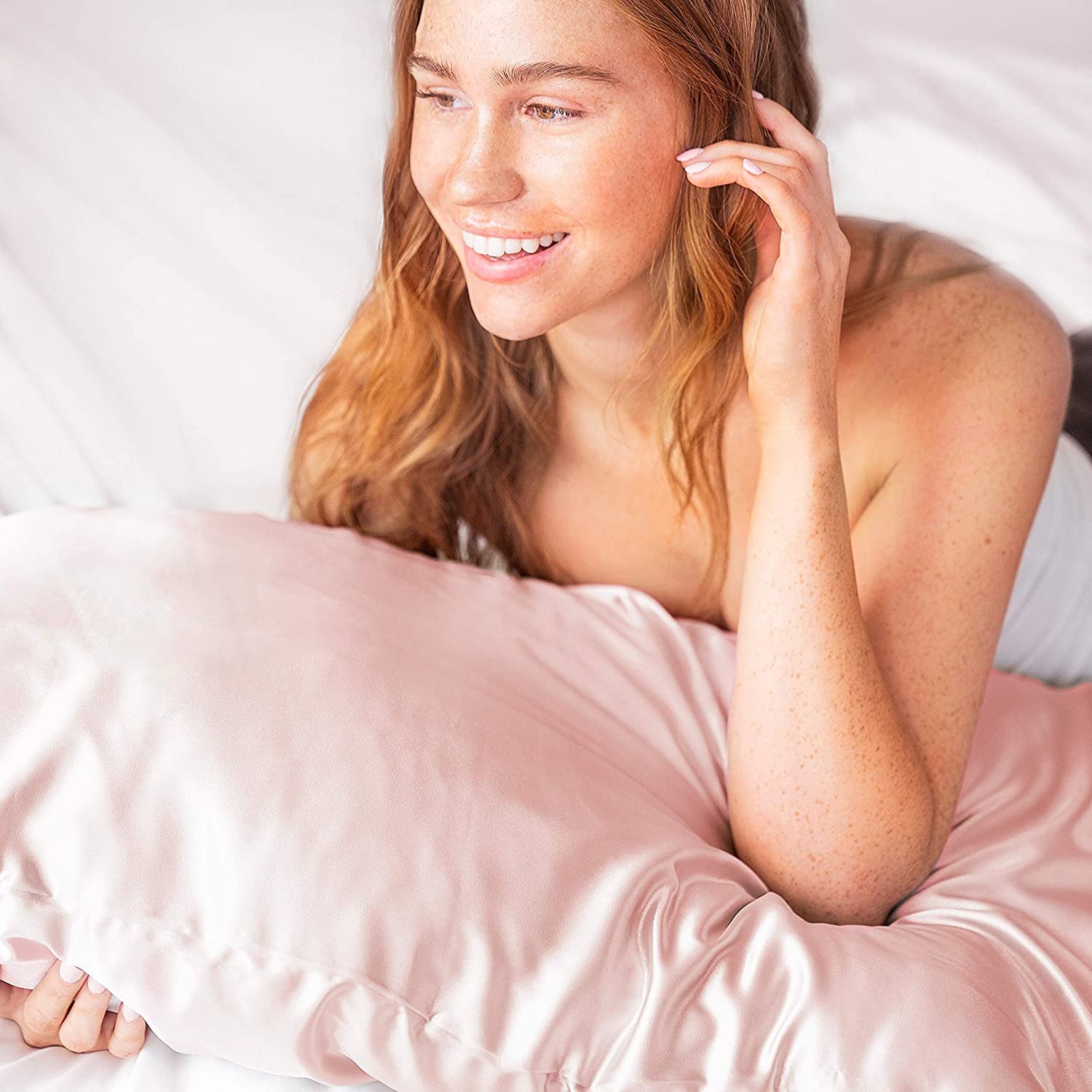 Kitsch is an LA-based, self-financed, woman-owned small business established in 2010 that specializes in hair accessories. 
Check out a TikTok of the Kitsch satin pillowcase in action. 
Promising review: "I'm really liking this pillow. I woke up today with nice wavy hair, not dry tangled hair. I've been trying to grow out the layer of hair on the top back of my head and it's been so stubborn! Keeps getting tangled and breaks here and there from bleaching and dye damage, but with this new pillow I notice it doesn't tangle, which means it can grow right without rubbing and tangling/pulling! Also the pillow is soft and is so much more prettier in person! 😍😍😍💖💖💖" —Amazon Customer 🌷

Get it from Amazon for $19+ (available in two sizes and in 12 styles). 

6.
A sleek minimalist mini travel umbrella reviewers especially love because not only is it teensy for throwing into a bag, but it comes with a carrying case so you can put it away without worrying about soaking the rest of your stuff. 

Promising review: "Bought this cheap, lightweight umbrella for an autumn trip to Edinburgh. It worked perfectly!! It was really windy there, and it did pop inside-out a few times, but I just pushed it back into place. The pod holder is really great for folding it up when wet and keeping your bag safe from it!" —Lynn Thompson
Get it from Amazon for $14.95 (available in five colors). 
7.
A set of golden stainless steel chip clips because you know what? Even your half-eaten bags of Doritos and half-abandoned salad bags deserve to sit pretty. Equal opportunity chic-ness for all. 

8.
A faux leather mini crossbody bag so stylish and well-designed it made the list of one of Oprah's Favorite Things (!!). Reviewers especially love the three unexpectedly spacious compartments for keeping track of all their bits and bobs. 
Promising review: "This was a perfect purse for traveling. It has three very spacious zippered pockets. I was able to carry my iPhone, AirPods, glasses (in their case), and mini coin purse that carries my cash, ID, and bank card. I loved that it had a long-enough strap to wear it like a crossbody bag. Good construction and material." —M. Steffes

Get it from Amazon for $35.20 (available in tassel and nontassel designs and 33 colors).

9.
A bunch of teensy macaron boxes for a delightful upgrade to many things in your life, whether it's storing pills or trinkets or just staring at them looking all fancy and French on your bedside table.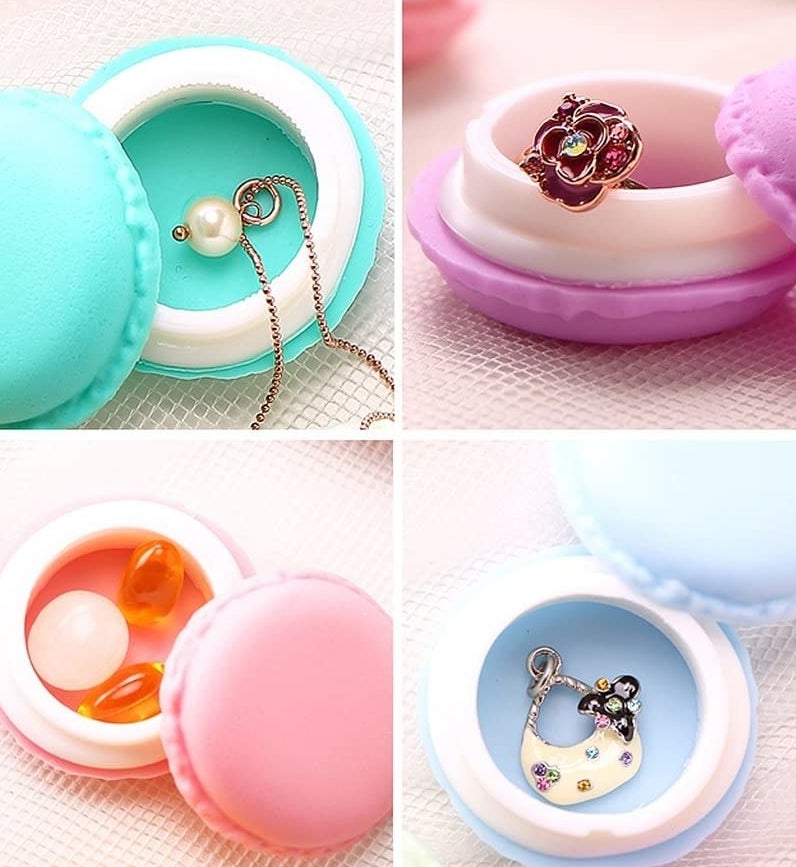 Promising review: "Just received these cute little boxes and am in love with them. Very thick and sturdy plastic but easy enough to open. These will work perfectly for filling solid perfumes and giving out as stocking stuffer gifts as I don't have to worry about it being a snug fit/lid falling off. I imagine these would also be great for pretend food for kids' playsets or for a kid's trinket box. Overall I love them, love their feel, love the colors and am very happy." —Mary
Get a set of six from Amazon for $6.99.
10.
A sleek time-marked water bottle that says "hydration, but make it chic." Reviewers love this bottle not just for the chic frosted, minimalist look, but because it's super lightweight, leakproof, and motivational re: keeping yourself fully watered. 

Promising review: "Saw it on TikTok and thought it would be a great bottle for work. It is very sleek and lightweight enough to carry when you have other items in your hand. I love the modern look and cleans very easily! The time increments really do motivate, definitely ordering again for myself and gifts. Fast delivery and very nice packaging." —Rosa

Get it from Amazon for $22.99 (available in three colors and two sizes). 

11.
The Always Pan from Our Place, which is perfect for anyone who has big culinary ambitions, but needs a (highly functional!) nudge. This BuzzFeed-beloved nonstick pan is actually eight pieces of cookware in one, and is designed braise, sear, steam, strain, sauté, fry, boil, serve, and store. Basically, if you can dream it, you can cook it in this bb.
Here's what BuzzFeed Shopping writer Taylor Steele has to say about the Always Pan: "As someone who neither enjoys cooking nor is particularly good at it, I find that the Always Pan has made being in the kitchen feel like less of a chore. Having one pan that can do everything means I don't have to second-guess every cooking decision I make. I can boil and prepare pasta in it. And I can roast Brussels sprouts. And I can make the perfect fried egg. And I can steam dumplings. The best part is that everything slides so seamlessly out of the pan and onto the plate, which also makes clean up super fast and easy. Both the amateur (read: reluctant) cook and the more seasoned chef will enjoy creating fan favorites and new recipes in the Always Pan!"
Also, BuzzFeeders LOVE this pan. Here's our review of the Always Pan, in which seven members of our team weigh in everything they love about it, from the nonstick coating to the versatility to the ~aesthetic~.
Get it from Our Place for $145 (available in eight colors).
12.
A plush velvet vintage-inspired ottoman that'll serve not just as a sweet accent to any room, but also give you some ~sneaky storage~ to help declutter and calm your space. 
Another bonus? If you flip the lid over, it has a wooden base, so you can *also* use this as a teensy snack table. I recently got one of these for my new apartment to stash my candles and ~candle accessories~ in and it's pretty much become my favorite piece of furniture?? I use it to prop up my feet during work hours and sometimes if I want to eat on my couch I'll use it as a tray. It's also sturdy enough to sit on, if I ever wanted to have guests over and needed an extra chair. It was RIDICULOUSLY easy to set up — I had it done in less than 10 minutes, and probably didn't even need the directions. It also just looks so darn cute (and comes in so many colors that I'm tempted to buy another!).
Promising review: "I was using a small foldable step stool in my bedroom to reach the top shelves of my wardrobe. But you know, those things aren't pretty. It wasn't bringing me joy, just begrudging utility. This ottoman brings me joy. It's pretty, it's lightweight so I can move it easily to use it as a step stool, and the storage capacity is perfect for things like my nightly moisturizers, my Kindle and journals, and other little miscellaneous things." —Monica N.
Get it from Amazon for $54.99 (available in seven colors).
13.
A rose gold rechargeable electric lighter you can use to replace all your old gas ones. This one is not only chic as heck, but completely flameless, and made with a long stem so you can use it to light gas burners and larger candles without dealing with an open flame.
This also comes in other pretty colors, but I am especially partial to this one because I bought it for my parents (their kitchen is entirely pink and one of my favorite places on Earth), and this was SO EASY to use — not to mention super safe! I'm a big weenie about fire (LOL, self-preservation) so I've always stuck to extended-arm gas lighters, but this is much better for the environment (plus cuter), so I feel a lot better about using it. You can read my full review of the Leejie electric lighter for more deets!
Promising review: "Works like a charm. I saw this on a TikTok. Knew immediately that I needed it. I love candles and this is so much better than a match or lighter. It's kept a charge for months. I use it several times a month." —dwhite3012
Get it from Amazon for $10.99+ (available in five colors).
14.
A set of rainbow wineglasses so gorgeous that you'll use them as decor whenever you're not sipping sparkling wine from them. They'll look so pretty at your next dinner party *or* wine night.

Check out a TikTok of the rainbow wine glasses in action. 

Promising review: "Love these! I've run them through the dishwasher once so far and they held up fine. Glass is thin near the top, which I love in a wineglass. I would recommend!" —Tricia
Get a set of six from Amazon for $69.95 (available in three other styles).