1.
A shampoo scalp massager you can use in the shower to massage and exfoliate your scalp, so you can get all of the relaxing decadence of feeling like someone is massaging your head without physically going to a salon. Psst — a lot of reviewers mention this has also helped with psoriasis, dandruff, and scalp tenderness!
I recently started using one of these and WOWZA, it really helps you get extra mileage out of your shampoo. I have a whole lot of hair on my head so sometimes it's a struggle to feel like I've soaped up my whole scalp thoroughly, but this was a very effective way to spread out the suds and really get them to the roots. I was worried it might tangle in my hair, but it was totally fine on that front, too. I've noticed that my hair has been a little less greasy at the roots since I started using it a few weeks ago. And I'm echoing a ton of reviewers here when I say it just feels reeeeeally, really nice.
Promising review: "I've suffered from dry skin and a dry scalp ever since I turned 30. The only thing that helps me is exfoliating. I was initially concerned that the product would be too rough and damage my sensitive scalp or too soft and ineffective. However, this brush is perfect for me. It does not tangle my long hair, it is easy to use and just firm enough to get the job done. My scalp no longer itches and the icky buildup is gone. I can't believe something so affordable has made such a difference in the health of my scalp. I've used expensive shampoos and conditioners to no end with barely a difference. I wish I discovered this product much sooner!" —AH
Get it from Amazon for $6.98+ (available in three colors).
2.
A set of TikTok-beloved, high quality checkered cosmetic bags designed to be easy to clean and dirt resistant, making them ideal for travel, work, or the gym. TBH, checkered patterns are having a *moment* right now, so all aboard the aesthetic train!! 

3.
A longline sports bra so comfy, supportive, and versatile that reviewers love it both for workouts *and* errand running. 

Promising review: "I decided to purchase one and absolutely love it. The fit and style is exactly the same. I will say the material is not as soft and is more like a bathing suit material but overall it's a great purchase!" —M

Get it from Amazon for $17.99+ (available in women's sizes XS–3XL and 25 colors). 
4.
A set of affordable, highly popular wireless Bluetooth earbuds that make *excellent* AirPod alternatives, except arguably better — these are completely waterproof (like you can fully take them in the shower) and come with several silicone earbuds to get the best fit possible.
These come with a wireless charging case that provides up to 14 hours of charge (with the earbuds able to play for four-plus hours with each full charge). 
Promising review: "Best decision! These are the greatest headphones ever! I saw them on TikTok months ago and added them to my wish list. I got a new phone that doesn't have the headphone port so I decided it was time to finally buy them. They are amazing and I probably won't ever take them out of my ears! 😂" —Katlyn D Arnold
Get it from Amazon $18.99+ (available in five colors).
5.
Plus a pair of wireless sleep headphones to play white noise or the music of your choice in a comfy headband, so you can enjoy the calm of it all night long (and block out the unrepentant snoring of certain people and/or pets).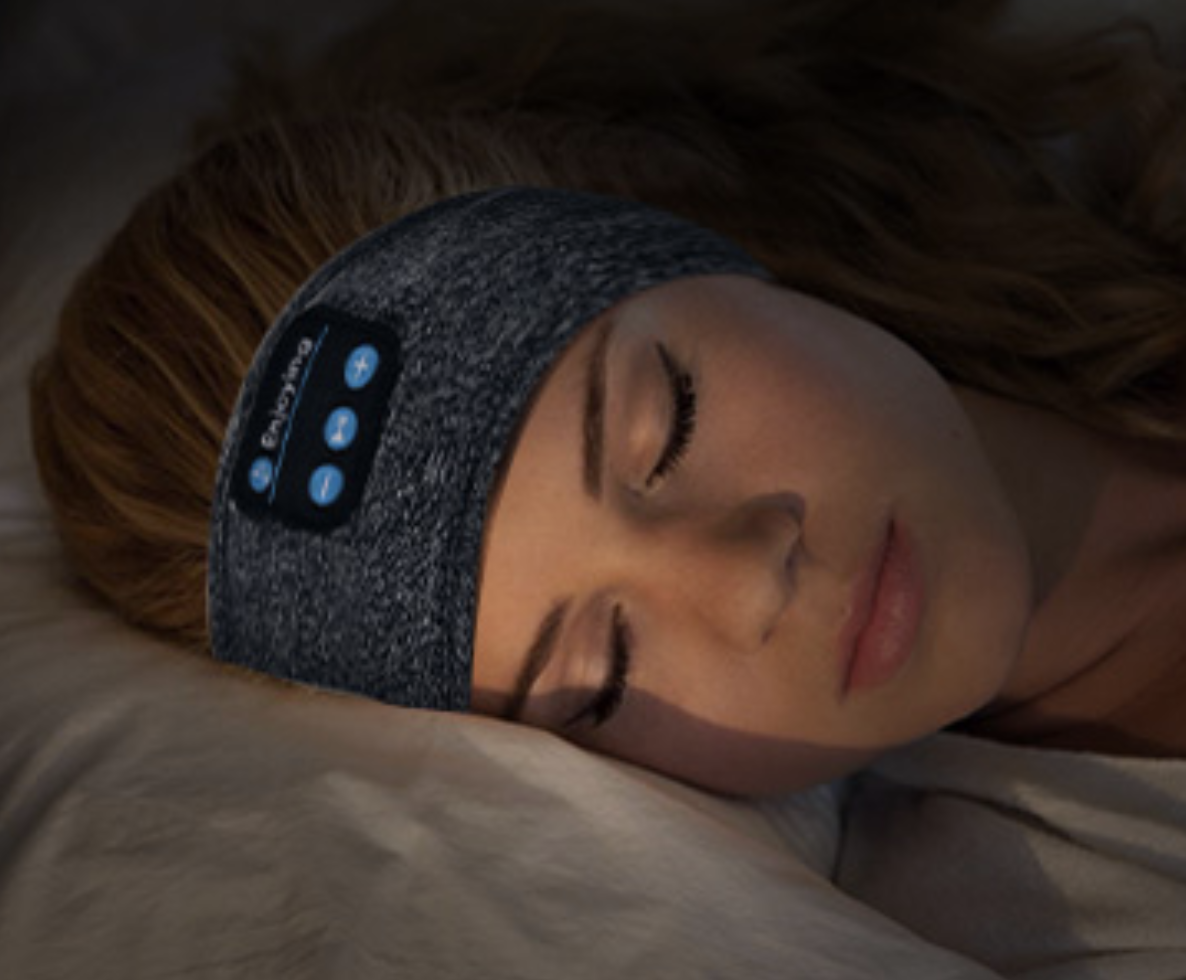 Promising review: "These are great! I've struggled with insomnia for the past couple of years. I wish I'd found these sooner. They are extremely comfortable. When I fall asleep, I rarely sleep for more than an hour straight. These allow me to comfortably play a podcast or meditation to get myself back to sleep. I'm only two nights in on using these and I know I don't want to be without them. Even in a dark room, I use them to cover my eyes. They do move a little on my head while sleeping but not so much that it really bothers me. I always sleep with a fan on and these keep my little postpartum hairs from flying around and tickling my face all night. The battery life is great. I probably played them for a total of five hours during the night and woke up them still having 70% battery remaining. I probably won't use these for workout because I don't have to wash them all the time, but for insomnia or anyone who just likes to fall asleep listening to something, these are amazing." —Jesse Brown
Get it from Amazon for $15.99 (available in 16 colors). 
6.
A mushroom growing kit that grows right there in the packaging, so you can add some sweet, sweet umami flavors to new dishes by sautéing, roasting, or air frying them up.
Back To The Roots is a California-based small business founded by two college friends that specializes in indoor gardening kits with a mission to reconnect families to food.
Psst — if you have not put mushrooms in your air fryer, my friend, you have not yet lived the full human experience. Also this growing kit comes with some recipes to get you started!
Promising review: "This product has been so much fun to watch! I followed the directions, exactly as written, and the mushrooms began growing within 3–4 days. I will say that I did soak them for close to 10 hours before putting them back in the box to grow and I believe this helped a ton. I also kept the box inside by a window with the blinds closed in order for them to get indirect sunlight. The mushrooms grew tremendously for almost a week before they started to shrink so I clipped them to cook with and they were DELICIOUS! This was such a fun product and process to watch. I am now in the process of trying to get a second batch of shrooms from the same box. Fingers crossed!" —Steph A
Get it from Amazon for $7.79+ (available in four varieties).
7.
A copy of Burn After Writing, a beautifully-designed guided journal tens of thousands of reviewers swear by — through a series of questions and thought experiments, it encourages people to take time away from their screens to explore their feelings, both new and old, so they can embrace meaningful ones and try to let others go. 

Promising review: "I first saw this book on TikTok and decided to look more into it. I purchased four total because I know some people holding onto things that are difficult to let go of. It's a great way to look at things from a different perspective and truly hold yourself accountable to different things in your life. I love what it stands for and I look forward to when I burn mine after I'm done. Self love, self care, and meditation for a better state of mind tomorrow is always the goal. I definitely recommend it to those susceptible to change and the willingness to try things different. You're so much more than what's been done to you and someone's inability to see your worth does not decrease your value. Choose you for a change." —Brent Helm
Get it from Amazon for $7.32. 
8.
A plug-in color-shifting mushroom light for anyone whose little cottagecore heart could use an extra dose of cozy to calm them down. 
Check out a TikTok of the mushroom night-light in action. 
Promising review: "I LOVE this night-light. It's in my bathroom and is a lovely addition. It turns off the second the lights go on, which is nice because I don't have to worry about accidentally leaving it on. Super cute and the little itty-bitty lighting element does a good job lighting, just enough so I don't have to turn the main lights on in the middle of the night." —1Thand

Get it from Amazon for $5.97. 
9.
A TikTok-beloved bedside carafe set complete with a tumbler, because snuggling in bed all day is no easy feat and requires consistent hydration!! Now you can have it at the tips of your fingers. 

Check out a TikTok of the carafe set in action. 

Promising review: "I saw this carafe in a BuzzFeed article. This is definitely something I needed that I didn't know that I needed. I live in a two story house with the kitchen on the opposite end which makes me groggily navigate the stairs at night. I usually have a water bottle on my nightstand but decided I could upgrade. This carafe is a little smaller than I'd like but for the price, it's really perfect and no-frills. It's simple but functional. I guess you could use this for mouthwash too but it's perfect for bedside water. I love that the cup covers the top when not in use so that the water stays clean. I would not hesitate to purchase this item again." —TheJadeMermaid
Get it from Amazon for $12.89. 
10.
A massage ball you can use on yourself or other humans to help relieve muscle tension and ease sore muscles in your head, shoulders, neck, upper back, arms, legs, or feet. Stress relief CENTRAL. 
Promising review: "Amazing. Seriously, buy this. It is the best back massage I've ever had. I have trouble with my wrists and hands and can't massage my husband's back for very long. This is small and easily fits in my hand. I can give him a great massage without pain. He massaged my back with it as well and it's phenomenal! I would definitely buy this again and I've recommended it to my family." —Mifflinpartyofthree
Get it from Amazon for $7.99 (available in four colors). 
11.
A set of satin pillowcases — not only will it look lovely on your bed, but it might actually help your 'do. Fabrics like satin create less friction for your hair, which may spare you those first ten minutes you spend every morning trying to find your face out from under the tangles. Win-win-WIN.

Promising review: "I had trouble falling asleep every night; I had 'hot' issues and I had very badly knotted hair issues. I decided that the last two issues might be improved with a different pillowcase. I researched for hours and hours and decided to give these a try based on the Amazon reviews. I figured that if this many people thought enough of these to not only buy them but take the time to write a review, the pillowcases had to be good. And I must tell you that they exceeded all of my expectations. They are amazing. My head is no longer hot and my hair looks exactly the same before and after a night's sleep. I cannot believe that a pillowcase can make that much of a difference but it does. I have washed and dried them in the dryer just the same as any pillowcase and they came out good as new. The standard size fits my standard pillows perfectly. And they are very reasonably priced. What more could I want (except the secret to falling asleep)? I have been back for more and I highly recommend them!" —Vern Dewitt
Get a set of two from Amazon for $9.99+ (available in 37 colors and four sizes).

12.
A gorgeous and reliable electric tea kettle that boils four cups of water in mere minutes so you can save a *ton* of prep time on dishes like pasta, oatmeal, and instant meals. Reviewers also love it because it's cute as heck and the gooseneck spout and automatic shut-off make it safe and family-friendly. 
Promising review: "I'm definitely a fan of this kettle. Our last one broke, so this was my first 'gooseneck' one. I love the Azure color and wished my other appliances would come in this color to match too now. It's cute and the spout makes it easy to pour in a controlled manner. The large capacity makes it great because I can boil enough hot water for the whole family, but it's still small enough that I can fit it on the kitchen counter and it not be a visual nuisance. Recommend!" —Kim Vo
Get it from Amazon for $30.39+ (available in four colors). 
13.
A pair of fleece-lined joggers so warm and comfortable that whoops, they just became your only personality trait. 
Promising review: "These are the most awesome and warm sweats ever. Love the fit, fabric, and style with zippered pockets. So nice to have a zippered pocket as I actually wear these to work on cold days. I work outside and love the comfort of this pant. Not to mention the great feel on the inside. I have washed them several times and they come out perfect and do not shrink either. I loved them so much I bought two other pairs in different colors. Only thing is I wish they would do them in Blue. These also don't overheat you like you would think...I just maintain a nice warm temperature. They are really a nice quality too. They arrived totally flattened and I thought what the heck but it is just the vacuum packing and they bounce right out and feel GREAT! Think the sizing was correct too. So nice to have it be right from the get go. Would be great after a day of skiing or outdoor winter activity to take off the chill and relax in. Bring on the cold!!" —Kindle Customer
Get it from Amazon for $34.99+ (available in women's sizes XS–XXL and 18 colors).
14.
A sleek time-marked water bottle that says "hydration, but make it chic." Reviewers love this bottle not just for the chic frosted, minimalist look, but because it's super lightweight, leakproof, and motivational re: keeping yourself fully watered. 

Promising review: "Saw it on TikTok and thought it would be a great bottle for work. It is very sleek and lightweight enough to carry when you have other items in your hand. I love the modern look and cleans very easily! The time increments really do motivate, definitely ordering again for myself and gifts. Fast delivery and very nice packaging." —Rosa

Get it from Amazon for $18.99+ (available in three colors and two sizes). 

15.
A supremely soft hooded bathrobe reviewers swear is the ultimate Barefoot Dreams alternative — it's lightweight, ridiculously plush, has pockets (!!), and is designed to never shed. Truly, no notes.