We hope you love the products we recommend! All of them were independently selected by our editors. Some may have been sent as samples, but all opinions and reviews are our own. Just so you know, BuzzFeed may collect a share of sales or other compensation from the links on this page if you decide to shop from them. Oh, and FYI — prices are accurate and items in stock as of time of publication.
1.
A pastel maxi dress with sweet puff sleeves you can wear on and off the shoulder and feel like you just stepped out of a storybook page every time you leave the house.
Promising review: "Ethereally beautiful!! This dress is absolutely LOVELY. It's so lightweight, breezy, and comfortable. It fits perfectly, and the bodice has plenty of stretch so if you're in between sizes, you could go either way. I actually sized down because I wanted to wear it on the shoulders and didn't want the sleeves slipping off, but I didn't have an issue with that at all. It's wrinkly when it arrives, but a quick steam makes it look so much nicer and more expensive than it is. I got the sage green color and it's not see-through, it's beautiful. (I actually returned it in favor of a color I thought I'd wear more, but if green is your fave then you'll love it). Get this dress!" —Laura

Price: $29.99+ (available in women's sizes XS–XL and in nine colors).
2.
Plus the pastel mini dress version of it if your level of "frolic" demands a little more room to skip up a hill while singing your little cottagecore heart out. 
Promising review: "THIS DRESS IS BEAUTIFUL. Easily the best-fitting dress I've ever had. The ruched part is thick so it helps hold my strapless bra up! But if you're small chested you could probably go braless because it is thick!! Perfect length. And it's lined! I'm obsessed — I've literally never done a review with a pic before but I had to as this dress is sooooo worth the money and doesn't have the hype it deserves. Really nice quality. I'm legit going to order every color." —Erin Ernst
Price: $29.99 (available in women's sizes XS–XL and seven styles). 
3.
An off-the-shoulder dress with a gorgeously detailed scalloped hem for a modern-meets-vintage look that will have you hosting picnics in the park every other week just so you have an excuse to try *all* your favorite accessories with it this summer. 
Promising review: "I always get nervous when purchasing clothing on Amazon, but was very happy with this purchase. The material is a decent weight and the cut outs at the bottom of the dress are done nicely. I'm 5'5" and the dress hits just above my knees. I don't like my clothes tight, so purchased a 3X. It's loose and flowy and hangs just right. Overall, I'm very happy with the dress. I would go a size up depending on your shape and how you like your clothes to hang." —Kathryn Mathewson
Price: $25.99+ (available in women's sizes 0X-4X and 16 styles).
4.
A super lightweight gingham puff-sleeve dress that will probably earn you a one-way ticket to either BreadTok (ie, where you watch attractive strangers press flowers into freshly baked bread and live vicariously through them) or into a live action Disney movie. 
I own this dress in pink and I am quite frankly *obsessed* with it. It felt like a bit of a risk because only two other reviewers had tried it when I bought it, but boy howdy was it worth it! This is very lightweight, supremely comfortable, and gives off just the right amount of whimsy without seeming too out of place. (I did, in my Main Character Moment, take it to Central Park to read, and can attest that it gave me some rom-com heroine energy I am still feeding off a week later.) I will warn that it's a *tad* thinner than I thought in that I definitely had to pair it with flesh-toned underwear, but it's not see through. Overall, very well-constructed, comfy, easy to slip on and off, and perfect for hot weather. 
Price: $27.99 (available in women's sizes S–XL and five colors). 
5.
A floral print puff sleeve dress you can wear on *or* off the shoulder, making it so versatile that OOPS, you may just need one for every single day of the week. TBH, it's the nap dress dupe's world and we're all just vibing in it. 
Promising review: "So happy with my purchase! I received many compliments when wearing this dress and it makes sense, because it's lovely! It's super comfortable too. It's beautiful to wear out but also comfortable enough to wear around the house. It's just as beautiful on the shoulder, though I prefer it off, but the great thing is that it stays put whichever way you should to wear it. I highly recommend it!" —Melanie Grace
Price: $32.99 (available in women's sizes XS–XL and eight styles). 
6.
An off-the-shoulder smock dress with a cute side slit you can get in a ton of adorable prints, all of which subtly say to the world, "Yes, I am the main character on this street today, and you will acknowledge me as such." 
Promising review: "Bought this for our couples beach photo session in Oahu and it was PERFECT!!! I received endless compliments whenever I've worn this: to dinner, the farmers market, shopping…anywhere and everywhere! The sleeves stay in place and don't ride up or fall down, very flowy. Buy two!!! You won't regret it! :)" —Christi
Price: $28.99 (available in women's sizes XS–3X and 23 styles). 
7.
A sophisticated tie-sleeve smocked maxi dress to make that "hot summer day" to "cool summer evening" transition so easy, breezy, and stylish that your other dresses will tremble in your closet from summer performance anxiety. 
Promising review: "So beautiful. I love this dress. It's so flowy, comfortable and lightweight. I'm always on the fence with buying long summer dresses because I find that depending on the fabric they can trap heat. Definitely not the case with this dress. So airy." —Abigail C. 
Price: $34.99+ (available in women's sizes S-XL and 14 styles) 
8.
A smocked V-neck dress with a dreamy flutter sleeve to give yourself some "just strolled in from the butterfly garden I keep in my backyard" vibes. 
Promising review: "When I saw this dress on Amazon I knew I had to order it. 
So, I was going out to run some errands just so happened the day was gonna be a scorcher living in Socal. I put my dress on praying it would fit, and let me tell you, this dress was the perfect fit!! I absolutely love it! I'm sure I'll be wearing my two dresses all year round. This dress is really good quality also, you can tell it's not cheaply made like some other clothes on Amazon. There is also a slip on the bottom part of the dress, and is not see through at all." —M. Chavez

Price: $37.99 (available in women's sizes XS–3X and seven colors) 
9.
A smocked fluttery sleeve maxi dress so cute that the minute you try it on, you'll become That Person in the group chat setting up the next hang just so you have bountiful opportunities to show it off. Bonus: this one comes with POCKETS. 
Promising review: "This summer dress is a must have! I must have worn it at least once a week all summer long. It's so comfortable and the material is breathable, even on humid days. The pockets are ideal and the flutter cap sleeves couldn't be cuter. I ordered a large for just a little better wiggle room and glad I did because it fits perfectly. I wore it with white sneakers, sandals and espadrilles so it's very versatile." —Nikki Scott
Price: $32.99+ (available in women's sizes 4-10 and six styles) 
10.
A off-the-shoulder maxi dress so dainty and cute that you'll probably lose your voice thanking people for all the compliments coming your way. You know what they say, beauty is pain!! (But somehow I think you can handle this kind 😉.)  
Promising review: "This dress is perfection. Seriously. You need it. Perfect neckline which makes it sit effortlessly off the shoulder, comfortably. The smocked chest area is precious and well done. Dress is fully lined and not see through. Overall, I'm over the moon with this one. Could be worn so many ways." —Lauren Fuquay
Price: $32.99+ (available in women's sizes 4-14 and 10 styles) 
11.
A smocked tank dress so lovely and lightweight that the sun will maybe get a little miffed that you're still looking fresh as heck even in the middle of a scorcher.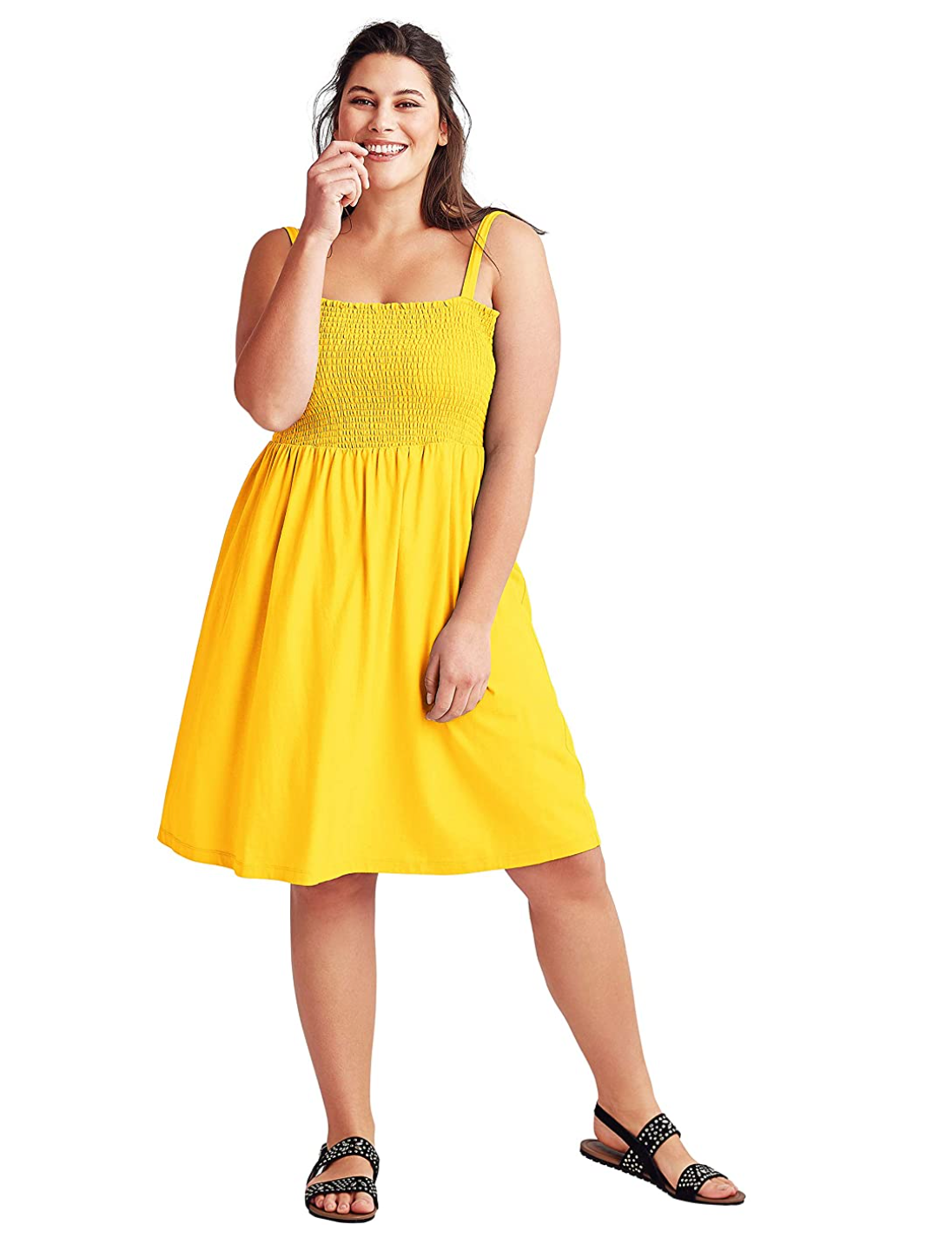 Promising review: "So comfy, pretty, and versatile! I wore it to a day at universal studios and i didn't think about it all day... no adjusting or tugging. Dried quickly after water rides and stayed put on roller coasters. Definitely going to be a staple of my summer!" —Emily Witt
Price: $32.53+ (available in women's sizes S–5X and five colors) 
Swapping out all our old dresses for affordable, super comfy, and gloriously whimsical nap dupes like: