1.
Essence's Lash Princess mascara, because TBH, we've all wasted too many years and too much money looking for the ~holy grail~ mascara. This one is less than $5 and will give you such instant, effortless length you'll feel like your eyelashes are about to pull a Butterfree and take flight.
Hello, that is my face above, because I bought into the hype of over all the 5-star reviews and now I will never look back!! Putting it on is like giving my eyelashes butterfly wings. It doesn't get clumpy, it stays put ALL the live long day, and you can apply it on very lightly if you don't want it to look so dramatic, or continue applying for longer lashes each time.
Promising review: "I am a 30-year-old who has been wearing mascara since I was probably 15 or 16 and this is by far the best mascara ever. This beats Dior's almost-$40 mascara. A few times I made make up purchases based off of what reviewers and make up influencers hyped up and was disappointed, this surely wasn't a disappointment." —Mary
Get it from Amazon for $4.99.
2.
A buildable Glimmer Glow Stick lipstick with a sheer, subtle glitter and a unique rosy tint formulated with ~pH technology~ so it will adapt to your own personalized shade. 

Check out a TikTok of the Glimmer Glow lipstick in action. 
Promising review: "This is such a pretty pH color lipstick, viral for a reason — it's very pretty to look at, it's not sticky at all, and the more you layer it, the darker the pink shows up. The only thing I don't like is the scent in it, I can almost taste it a bit. It's nice to have in my purse if I need a quick color while I'm out in case of sudden dinner plans or a meeting, because you can control the color saturation to how light or bold it is." —Kristina Bumbelow

Get it from Amazon for $3.99. 
3.
E.l.f.'s Poreless Putty Primer, a lightweight base primer that reviewers swear by for reducing the appearance of pores and helping their makeup apply more smoothly and evenly. 
LOL, allow me to be the one to shout to GRAB THIS WHILE YOU CAN. Every time I've run out of it I've gotten mad at myself because thanks to TikTok, it's constantly out of stock. Now is finally our chance!
Promising review: "Highly recommend. Learned about it as several influencers used it on TikTok. Tried it and it's my favorite. Better than all the expensive brands I had tried before. Smooth application and does an excellent job! Excellent." —Binnyx1
Get it from Amazon for $9. 
4.
BYO Blush Oil, which is the ultimate in easy-to-use makeup because it practically does all the work *for* you — its color is designed to react to the pH of your skin, giving you a wholly personalized look without any extra work. TBH, it's no wonder this is one of their bestselling prods.
Youthforia is an Asian woman-owned small business established in 2020 that specializes in environmentally friendly, cruelty-free makeup made with at least 90% renewable ingredients.

Fun fact: All of Youthforia's makeup is designed with ingredients that make it A-OK for your skin to sleep with it on! 

Check out a TikTok of the BYO Blush in action. 
I tried this out myself and I have to say, it is WILD watching it adjust to your skin's pH in real time. It was a very bright pink at first but super easy to spread — a bit like Glossier's Cloud Paint, except personalized. It's very long lasting, too — I applied in the morning and could still see a rosy glow by the end of the day. 
Promising review: "Dewy and glowy. I tried it over makeup and it appeared as a strong pink shade but settled to a flushed, glowy color. I had my little sister try it too because I wanted to see the color change again and it lasted a really long time on her. The texture was smooth and it was easy to rub in and blend out." —Summer
5.
An illuminating moisturizer designed to enhance your skin's natural glow ✨ — perfect for anyone who wants a lightweight alternative to foundation or just a lil' extra low-effort shimmer in their lives.
Promising review: "Love love love this stuff. This is such a stellar product that is so versatile. Can be worn alone to put some glowy life to skin. Add to foundation or layer it. Beautiful. Use it as a base wear you put highlighter on top. Mix some with moisturizer. This in my opinion is better than so many high luxury brands that make similar products. And I am pretty sure it can be used by all skin types. It's not oily feeling at all and it doesn't dry out skin either. Just a total package. Can't beat the price either." —Figgy08
Get it from Amazon for $12.66+ (available in four shades).
6.
A makeup-correcting stick for eyeliner, lipliner, and lipstick, because, in the words of Hannah Montana, "Everybody makes mistakes." Now you can make them fearlessly knowing this lil' corrector will make them all *poof!* disappear.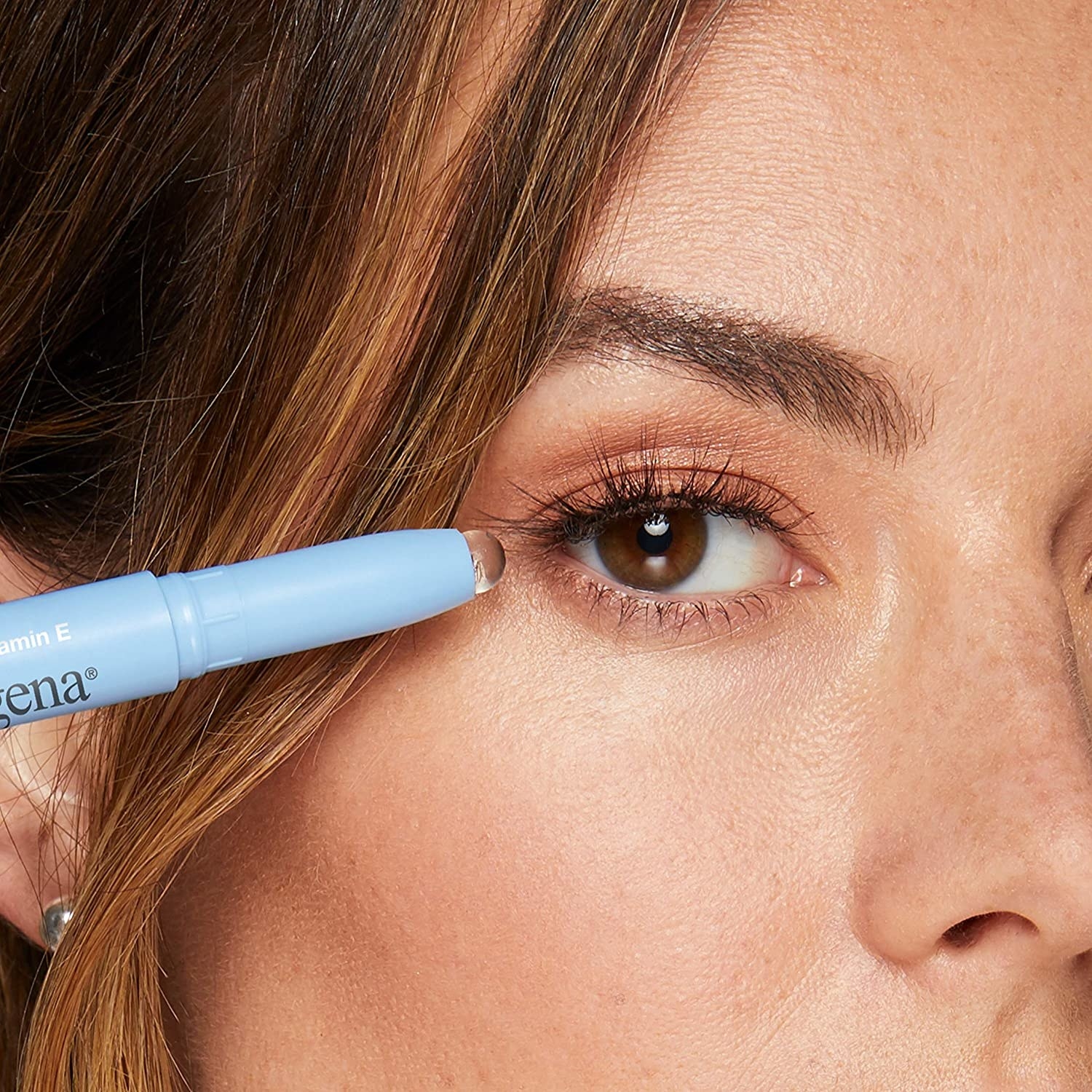 Promising review: "Why didn't someone think of this sooner? For years, I've been using cotton swabs dipped in makeup remover to remove little goofs or mistakes. This is so much better and portable! Erases waterproof mascara marks around my eyes easily. Must-buy product!!" —Katherine Riordan
Get it from Amazon for $7.97. 
7.
Maybelline's Instant Age Rewind concealer, an inexpensive lightweight concealer for anyone who wants to quickly touch up before meetings or errand running, but doesn't want to commit to a whole layer of foundation. This also helps cover dark circles without caking and reduce puffiness.
TBH, last year I started using this myself (although this is former BuzzFeed editor Kayla Suazo's lovely human face above), and I am mad that I wasted time with other concealers for so long. I am a deeply impatient person who likes to look good and does not like to put in effort in any way, shape, or form, and Maybelline created this so that people like me could gracelessly slap it on in the morning and be like "OKAY, REFLECTION, YOU GOT THIS" before being on their merry way. It never cakes, I look way more awake than I have any right to, and I never struggle to blend it the way I do with other concealers. 11/10 subscribe.
Promising review: "This is my all-time favorite concealer. It goes on creamy, covers under-eye circles without looking chalky. I hope they never stop making it." —YVonneM
Check out BuzzFeed's full review of Maybelline's Instant Age Rewind Concealer for more deets.
Get it from Amazon for $8.80 (available in 17 shades).
8.
A bottle of Peripera Ink Velvet Lip Tint that comes complete with an applicator shaped to your lip, so application is *that* much more foolproof. Reviewers love this for how buildable and long-lasting it is, and how it doesn't crack or leave skin feeling dry.
9.
A smudge-proof eyeliner stamp so you can finally get the perfect cat-eye on the first go without having to ~wing it~ (read: wasting eight cotton balls, half a bottle of eye makeup remover, and all of the minutes you were setting aside to make your morning coffee).
Psst — this tool is double sided, so you can choose the thickness of your wing, and comes with two stamp pens — one for each eye!
Promising review: "OMG I just got this delivered today and I am already obsessed! I have uneven eyes and this was such a breeze! I had to try three times to figure out the angle I usually like but from there it was a cinch. I have slightly oily lids and eyeliners and mascara usually transfer easily. After five hours I've had no raccoon eyes. I've already texted so many people about this lol. I hope they never stop making these." —rtownes86
Get a set of two from Amazon for $14.97 (available in four styles).

10.
Live Tinted's Huestick Corrector, which is a 4-in-1 eye, lip, and cheek multistick designed to neutralize dark spots and circles to help even out your skin tone before you use concealer or foundation. You can also use it as a buildable blush or lip color because it is truly a beauty MVP. 

Live Tinted is a small woman-owned business founded by entrepreneur Deepica Mutyala that specializes in clean, vegan, cruelty-free beauty products for al skin tones. 
Promising reviews: "I'll admit, I was totally skeptical of these Huesticks. I am 34-years-old, of Sri Lankan descent (medium to deep tan skin) and I've NEVER been good at makeup. I was excited to try these Huesticks, made by and vouched for by a fellow South Asian, but was worried it would look like I was ACTUALLY wearing makeup. I was pleasantly surprised after using Rise under my eyes and around my mouth, blending with a BeautyBlender and then using my same amount of cc cream and powder foundation. You really still can't tell I'm wearing makeup. I even asked my BF if he could see the orange 'glow' under my eyes before I put on the cc cream and he couldn't see it! It really was color correcting!" —Reviewer

Get it from Ulta for $24 (available in five shades).

11.
The internet-famous Revlon oil-absorbing volcanic face roller you simply swipe over your face like a magic wand that makes excess oil disappear — super convenient and *way* less wasteful than using blotting strips and time wasting than fancy powders that need a ton of blending work. 

Promising review: "First off, if you have extremely oily skin, this. is. it. I was so tired of getting blotting powder/wipes. It felt wasteful and always left residue on my face. I saw this on TikTok and NEEDED it. It was backordered but then I got an email saying it was in stock and I was SO excited. Not only is it affordable, but it's washable, which helps you save money and be less wasteful." —Kelsey B.
Get it from Amazon for $14.44. 
12.
Maybelline's Total Temptation Eyebrow Definer Pencil that's so easy to blend that it's practically foolproof (and as a sloppy makeup wearer who uses it every morning, I can attest to this). It's also every bit as effective as some of the ones I've used that were triple the price. 

The tool comes with two ends, one a small eyebrow brush and the other a specially edged eyebrow pencil.
Promising review: "I saw this product being touted on television and decided to try it. I had been using a $24 eyebrow pencil and simply could not find an even replacement until I ordered Maybelline's Total Temptation Eyebrow Pencil! My eyebrows have thinned over the years and it's been difficult finding a reasonably priced pencil that fits the bill. This pencil is very easy to use, looks very natural, and stays on until I wash my face at night. I absolutely love this product and I'm saving money! Double win!" —Melissa
Get it from Amazon for $8.12 (available in four shades).
13.
Plus an Onset Eyebrow Soap Kit, an eyebrow pomade that doesn't just fluff up your brows for a little extra ~drama~, but holds them in place all the livelong day. It's basically like getting a whole bunch of extra eyebrow thickness without any effort!
Promising review: "I have the kind of eyebrows that look very full with brushing, but can quickly look like one has 'collapsed' once my hair or something else touches it. I've used nearly every product from Anastasia BH, but never had luck keeping my brows in place. Well, let me tell you, this stuff is no joke. I had to scrub my eyebrows clean tonight to get them to move. If you need some help holding your fluff, this will be your new favorite product. Also, I was able to ditch the eyebrow pencil since this this stuff holds every hair in the place you brush it." —Bailey M, Deacon

Get a set of two from Amazon for $7.99.