1.
A silicone baking mat for your sheet pan, so on days when you've run out of time to do anything orderly for dinner you can just slap a bunch of veggies and frozen goods down, drizzle them in olive oil, and shove them in the oven. Bonus: these are super easy to clean, so you won't have to deal with a mess! 
Promising review: "I use these mats multiple times a day. They make cleanup super easy, which is really important in my hectic life. They wipe off easily with just water." —Tasia Lung
Get a set of two from Amazon for $17.99.
2.
A no-scrub weekly shower cleaner you can quite literally "set and forget" to maintain its cleanliness over time — once you apply it after a shower, you just have to wait 8 to 12 hours and it'll quietly tackle the soap scum, grime, oils, mold, and mildew stains without any elbow grease from you.
Promising review: "I have well water. Something in my well water reacts with copper plumbing and turns my shower tiles blue. Since my bathroom color scheme isn't on the blue spectrum, this is problematic. The well water also causes the shower glass to film up quickly. I've tried dozens and dozens of cleaners and scrubbed till my arms ached trying to get ahead of the blue and scumminess. My ambition in life is NOT to be a full time bathroom scrubber! I saw this stuff on a professional house cleaner's TikTok (sorry, don't remember which one) and thought 'what the heck, might as well give it a try.' Oh my goodness, the first day after my shower I sprayed this stuff all over and walked away. The next morning there was a NOTICEABLE reduction in the blue and the glass looked clearer too. Day two, sprayed again and walked away. The next morning the blue was gone except for a few spots on the floor tile and the glass looked amazing. Day three I sprayed the remaining spots and the next morning the shower practically looked new. NO SCRUBBING AT ALL!!!! This is my new favorite shower cleaner. The ONLY con I have is that it makes me sneeze while I'm spraying from inside the shower, but I can live with that." —L. J. Petillo
Get it from Amazon for $20.98 (available in two scents).

3.
A set of eye-popping fine-point pens designed for planners and journals, so you can — gasp — color code your tasks, putting a fun twist on them that makes it all the more motivating to stay focused 🌈.
Perhaps most importantly for anyone out there planning to go full Leslie Knope on these is that they're designed not to bleed through thin pages!
Promising review: "I bought these pens during quarantine, not expecting much, considering they are quite inexpensive. I've used well-known brand marker/pens in the past, and didn't want to pay much for markers I'd use for coloring. I was concerned about the tips bending or bleeding, but I was completely wrong and am very satisfied with this product! They do not bleed, and the tips are strong and thin. I use these pens for coloring, hand lettering, and note taking, and they're exactly what I was looking for! The only regret I have is that I did not order the larger pack with more colors!!" —Michael Fanizzi
Get a set of 18 from Amazon for $7.99. 
4.
A rapid veggie and fish steamer so you can be like, "BOOM. SIDE DISH!" without actually putting in any work beyond pressing a few buttons and waiting five minutes. 
5.
A Saucemoto dip clip because the statistical odds of you *not* eating a meal in your car is pretty much zero — at least now you'll be able to enjoy the glory of ketchup without all your coworkers seeing the evidence on your lap later. 
Promising review: "How did I go so long without one of these??? The Saucemoto was my first 'TikTok Made Me Buy It' purchase and I have no regrets. It clips easily to my car's vent and the sauce cups clip in easily so I can dip and drive. No more trying not to dump the sauce by accident while steering with the same hand that's holding the dip cup. It even comes with a dip cup for those places that do the pouches for their sauces rather than the cups. (I'm looking at you, Arby's.) Ya know, you end up squeezing the sauce onto the wrapper that's balanced on your lap and you end up getting some sauce on your steering wheel. OR you try the whole 'wrapper and sauce on the passenger seat and try to dip while watching the road,' which usually doesn't turn out so great." —Pleasure Pamela
Get set of two from Amazon for $9.99 (available in three colors).
6.
A bottle of Peripera Ink Velvet Lip Tint so you can have all day, perfectly matte coverage that actually *lasts* instead of pulling out a mirror to retouch it every few hours. It also comes complete with an applicator shaped to your lip, so quick application is that much more foolproof. 
7.
A reviewer-beloved, aloe vera-based curl refresher spray, because you've got enough on your plate to worry about revamping your entire wash 'n' go when you can rehydrate without frizz with this instead.
The Fro Experts is a Georgia-based, Black woman-owned natural haircare brand on Etsy formulated for type 3 and 4 hair textures.
Psst — this is meant to be used in place of water as a refresher, but per the brand, can be used right after conditioning as the "liquid" portion of the LOC method in your wash 'n go or as a detangler.
Promising review: "OMG and AMEN ... seriously, I have TRUE 4c hair and I have never in my 36 years experienced a true 100% natural/organic hair product, and for this to be my first time I'm beyond impressed. So pleased with my 2-year-old daughter's hair as well :-) Product does EVERYTHING its described to do :-)." —Rosanna Quinones
Get it from The Fro Experts on Etsy for $22.
8.
An internet-beloved time-marked water bottle so you know *precisely* how much you've consumed in an orderly, encouraging fashion before dehydration sneaks up and kicks you in the butt. 
Promising review: "LOVE IT! I am very picky when it comes to water bottles, but this one is perfect! It is 32 ounces so it holds a lot of water to drink throughout the day! My favorite part is that you can add ice to it and it will not sweat due to the material it is made of, which I LOVE!" —Bianca Aguilera
Get it on Amazon for $16.99+ (available in 17 colors).
9.
A set of affordable, highly popular (seriously, these have over 179,700 5-star reviews) wireless Bluetooth earbuds that make *excellent* alternatives to AirPods, except arguably better — these are completely waterproof (like, you can fully take them in the shower) and come with several silicone earbuds to get the best fit possible, so when you're running all over the place you can count on them to endure your nonsense. 
These come with a wireless charging case that provides up to 14 hours of charge (with the earbuds able to play for four-plus hours with each full charge). 
Promising review: "Great sound quality. Probably one of my most favorite purchases I have made. I enjoy passing an earbud to my kids and letting them talk to grandma or just hear the music or book I'm listening to. Worth every penny! These are very easy to set up. Definitely waterproof. Sweating during a workout has never been a problem like I had with previous sets from other companies. FYI, I have a job where we use water constantly. I have put these in my ears and rinsed my head, accidentally put them through the washer and at a different time, dropped them in water! They still work fantastic! The distance ranges with each device. My phone is about 30 to 50 feet while my computer is closer to 100 feet. I wish the battery life was longer than 4 hours. I have opted to one ear bud at a time, extending my listening ability and allowing myself to hear more around me. Not much though! I cannot hear much once these are in my ears. Noise cancellation works so well I use these to drown out my husband's snoring! Getting another pair as a gift." —CAMI
Get it from Amazon $23.99+ (available in five colors).
10.
A handy minimalist weekly cleaning printable that's basically like "chore wheel, but make it fancy." This breaks down each day of the week with manageable cleaning tasks so you can maintain the cleanliness of your space on a day-to-day basis instead of getting overwhelmed cleaning it all at once.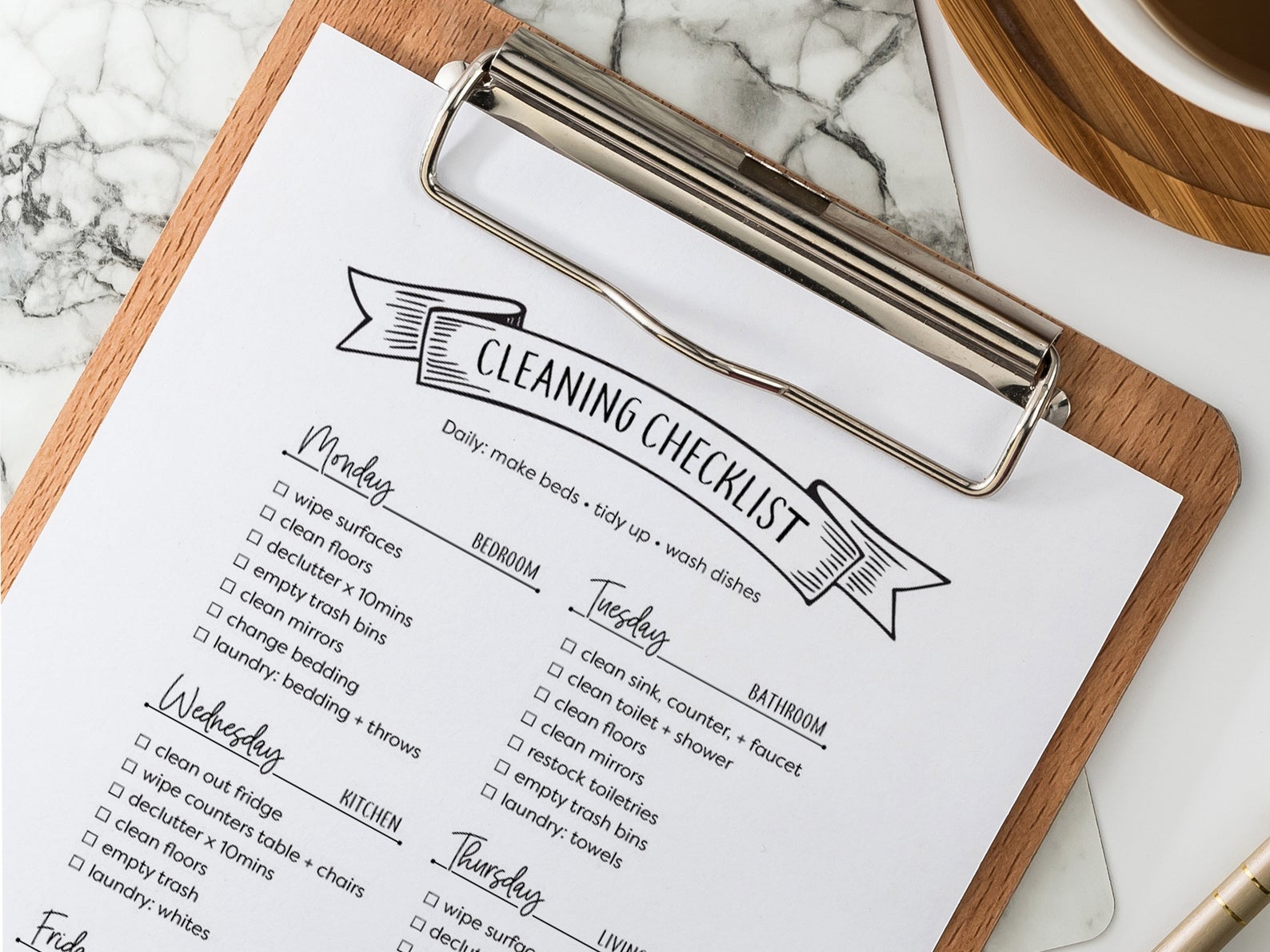 Creative Type Store is a woman-owned, Canada-based Etsy shop that specializes in designer printables to make life easier. 

Promising review: "Great for what I needed! I had started my own schedule, but felt like I was forgetting things, too much in a day, etc. This is super helpful!" —Erin Brie
Get it from Creative Type Store on Etsy for $4.26. 
11.
A set of 10 quick-dry nail polishes for anyone who loves the idea of rocking some finger bling but simply cannot be tasked with waiting around for it to dry (these are my Dorito-eating hands!!). Bonus? They last for several days, but are also designed for easy peel-off.
Promising review: "The set comes in various colors and they are all beautiful. The polish has a big brush that covers the nail easily. The polish is opaque but I did two coats. It didn't stain my nails or has a strong smell. The polish dried up quickly. I cook and clean, so it started to wear off on the fourth day. But I can repaint because of the easy application and fast drying." —perksofbeautyblog
Get 10 bottles from Amazon for $14.99+ (available in five color combinations).
12.
A chic coffee cup holder so you can carry your favorite beverage *and* answer work emails *and* text your friends pictures of cute dogs at the same! time!!! Reviewers also love this for keeping the cold condensation off their hands.
VIS Paradise Goods is a Florida-based Etsy stop established in 2021 that specializes in personalized and sustainable goods. 

Promising review: "This is perfect! I constantly have my hands full and now I can comfortably carry my coffee with me everywhere I go. I will be purchasing more!" —Erin
Psst — I own one of these myself and love it for the convenience of texting on the go! These even have a holder for a straw if you happen to get iced coffee or bubble tea and don't want to stick the straw into the drink just yet. I've found this to be very sturdy and easy to use, plus they're a fun conversation starter — people always want to know where I got it! 
Get it from VIS Paradise Goods on Etsy for $12.88+ (originally $15.55+; available in eight colors and 30 option designs).