1.
A "Bread Buddy" dispenser that keeps sandwich bread fresh by ensuring it stays *way* more airtight than it does in just the bag alone, and also lets you use the bread bag in a clever way to dispense slices one by one. Tons of reviewers are noting how much longer their bread stays fresh (and how much easier it is to store without worrying about it getting smushed!). 

Check out a TikTok of the Buddeez sandwich bread dispenser in action. 
Promising review: "The Buddeez Sandwich Bread Dispenser is great! It does exactly what it was intended for. I live alone and I don't quite go through bread often enough before the last quarter section of the loaf starts to go stale. I was originally looking for something to put a loaf of bread in as a shell for my vacuum sealer, that would keep the bread from getting crushed from the pressure. This dispenser solved all of my problems. Thank you!" —DRMcQuaig

Get it from Amazon for $12.49 (available in two colors).
2.
A bagless, touchless stationary vacuum to suck the gunk on your floors right up instead of wrangling with a dustpan full of hair clumps that keep falling out or a heavy vacuum cleaner. Why lug a vacuum around when you can get the job done with a lightweight broom instead? 

Promising review: "Saw it on TikTok and knew I had to have one. I hate cleaning but get annoyed with the clumps of dog hair and bits of things on my kitchen floor. I usually just vacuum my tile with the vacuum which is a pain. This thing is so easy to just sweet things into and it sucks them right up. Sure, it's more expensive than my actual vacuum, but I've only had it three days and have used it two times." —Amazon Customer

Get it from Amazon for $99+ (available in six colors).
3.
A foaming garbage disposal cleaner you can plop into your sink, run a little water on, and let its blue magic fizz its way up to the top while clearing out all the gunk from your culinary adventures in one go.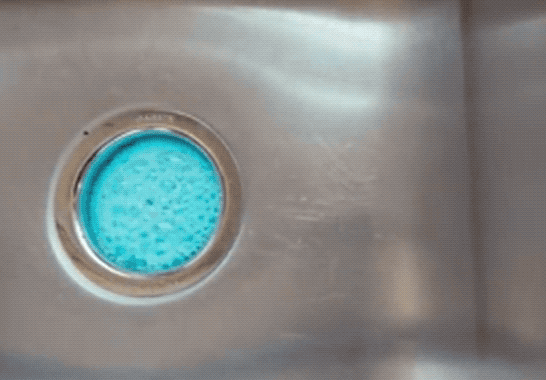 Promising review: "Saw on TikTok (don't judge) and automatically added to cart. So easy to use, takes probably a minute to fully bubble up and clean, and you're left with a clean sink! I use with other drain cleaning products, but would 100% recommend for weekly maintenance." —Jessica Hamilton
Get a four-pack from Amazon for $3.78.
4.
A jar of internet-beloved The Pink Stuff, which tackles so many darn things that it'll be the BFF of every room in your house. Need to paint over a stain on the wall? Get it off with The Pink Stuff. Think you need to replace that caked over grimy pan? Put The Pink Stuff to the test. About to hire cleaners to tackle whatever the heck is going on in your tub? 1-800-The-Pink-Stuff, baby!!
A lot of people compare it to the Magic Eraser in paste form, so even your weirdest, most stubborn stains will meet their match.
Promising review: "Found this product on TikTok. I don't think I've ever seen value like I do this product! Literally use it on EVERYTHING!! Kids and teens have dirt, grime, and grease on their walls? ...This will make it look like a new paint job. Baseboards need some love? A pea-size amount of this makes them look brand new. Need a shoe cleaner? PERFECT for sneakers. I could name a million more uses, but I can ASSURE you this is worth every penny. What's more? You need such LITTLE of this product, it will last a VERY long time. Thank you, TikTok!!!" —Rachel in CLT
Get it from Amazon for $5.97.
5.
A "Lifty Loo" toilet seat handle to keep things germ-free when you're lifting the toilet seat up and down — even your toilet seat deserves to accessorize!! And these come with an adhesive that make them super easy to install. 

Lifty Loo is a small business that specializes in toilet lifting tabs that are made with recycled ocean plastic.

Promising review: "Works perfect for what I need it for. I just figured out where it would work best on my toilet, then I adhered it. It doesn't get in the way and my younger boys are able to pick the seat up without touching the seat." —SK
Get a pack of two from Amazon for $11.97. 
6.
A magnetic air fryer cheat sheet so you can finally experiment with juuuuust the right amount of reckless abandon while knowing everything you stick in there will still come out safe to eat. 
Promising review: "Bought an air fryer several months ago which I haven't used a whole lot because it came with only a few recipes but not enough info on other items to cook. The Lotteli cheat sheet gives you cooking times and temperatures for a lot of your common everyday foods in a magnetized easy-to-read, two-sheet combo that fills in where air fryer pamphlet that came with the unit leaves out. I also bought an air fryer cookbook but this only comes with specific recipes, whereas the cheat sheet fills in the void for quick basic needs. Very happy with this purchase! 😁" —B. Frank Smith
Get it from Amazon for $7.99+ (available in five styles). 
7.
A TikTok-famous rotating digital alarm clock complete with two USB ports, plus an input port, plus a wake-up alarm, PLUS a mirrored screen, so it is truly Doing The Most (TM).
Promising review: "I love this TikTok clock. Here's another 'TikTok/BuzzFeed brought me here' post. The clock is adorable and a modern thin clock that doesn't look cheap, even though it is." —Tanitha Gaither

Get it from Amazon for $22.59 (available in five colors).
8.
A dishwasher magnet so nobody ever has to do the awkward guessing game of "what is the current status of this plate I want to eat off of" (or worse, nobody accidentally puts a bunch of dirty dishes away 😬).
Promising review: "I bought this because of a TikTok video. Super cool and now nobody has to ask me if the dishes are clean or not." —D. Washington

Get it from Amazon for $6.39+ (available in four styles). 
9.
A self-cleaning broom and dust pan set designed with pet owners in mind — the bristle cleaner installed in the dust pan makes it *super* easy to dislodge pet hair into the dust pan so you're not sweeping the floor with it all jammed up in there. 

Promising review: "This is my new favorite broom and dustpan set. It is made with high quality strong plastic and metal. I have never seen a dustpan with the built in comb. It combs everything from the broom so I don't have to use my hands for this! The dustpan and broom connect together nicely. The dustpan lies flat on ground for easy pick up also! Makes sweeping a little more enjoyable when you have a nice broom and dustpan to do the work. Assembly was so simple, I just twisted handles on. This is a strong set and I am ordering one for outside as well!" —THEONLY1

Get it from Amazon for $23.99+ (available in four colors). 
10.
A set of Wad-Free pads to ensure that your sheets stay separate from each other in the dryer and come out fresh, dry, and unwrinkled instead of looking like they got into a wet cotton brawl. 
Wad-Free is a small business established in 2020 after the founder Cyndi Bray self-taught computer-aided design to create the pads.
Promising review: "Wow!!! You wonder if things like this really work and well, I can absolutely confirm it does! First, I was impressed that the package came with two of the devices because I was only expecting one. So there was one for the fitted sheet, and the flat sheet. Finally, I tried it out and not only did my sheets NOT wad up, but they also came out of the dryer feeling fresher, more dry, and unwrinkled! I will be buying a set of these for each of my immediate family members and close friends! What a great gift!!!" —katy
Get a set of two from Amazon for $19.99.
11.
A set of ingenious double shower curtain hooks to make putting on the shower curtain and the liner so! darn! easy!! that you'll never go back to those silly rings that pop off annoy the heck out of you again.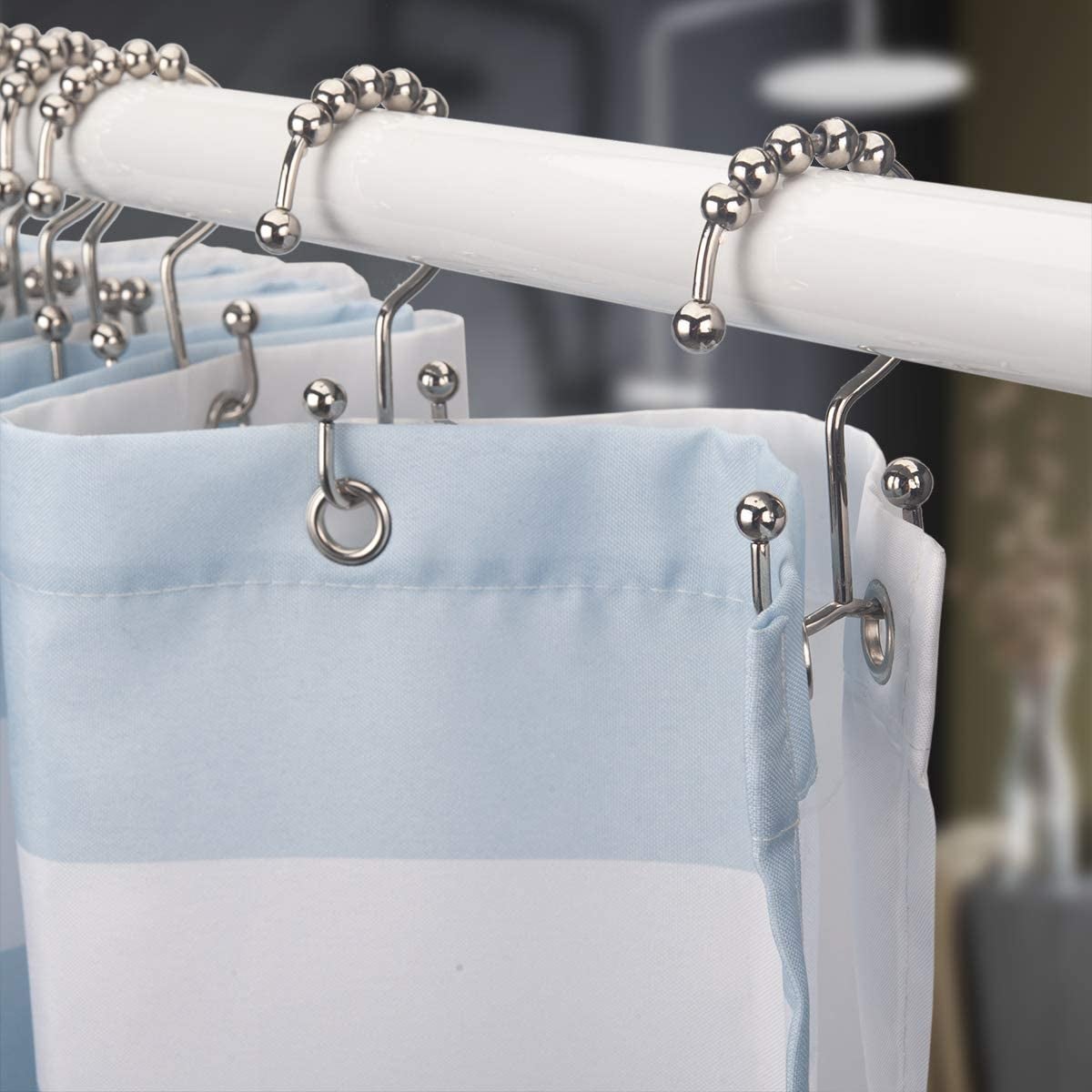 Promising review: "I hate changing out the liner on my shower because it meant I had to remove the curtain too. Not any more! I saw this set of hooks in a TikTok review. Now I can swap out the liner with ease. The hooks also slide on the curtain rod very easily, no tugging." —Christina
Get a set of 12 from Amazon for $7.49 (available in nine colors). 
12.
A set of fast-acting Keurig cleaner pods you can simply put through a cycle on the machine to get rid of all the crusted-on grinds and residue that are *definitely* affecting the taste of your coffee, even if you haven't noticed over time.
Promising review: "These cleaning K-Cups work like magic. So easy a monkey can do it, LOL. No bad smell when cleaning. Coffee tasted great after using one of these cleaning cups." —KIMBERLY R. 
Get a set of six from Amazon for $9.95.
13.
Plus a sweet lil' purple reusable Keurig cup designed to work universally in all of its models, so you can not only avoid plastic waste from the disposable cups, but you can save a whoooole lotta dough on expensive K-Cups you've been buying in bulk.
Psst — these also work on tea!
Promising review: "These are WORLDS better than the other ones out there. First off, you get four and you really don't need four. These are built with such a fine mesh that the coffee and the loose tea I put in them don't end up in my cup. Minimal cleaning and maintenance especially compared to the other designs on the market. These are affordable and much easier and CLEANER to work with. I'd recommend these to any Keurig owner looking to stop wasting all of the plastic (and $$$) on K-Cups and start using their own coffee/tea." —Hannah Simon
Get a four-pack from Amazon for $6.99.