1.
A cult-favorite ~secret~ popcorn salt that anyone in the movie theater industry will tell you is a perfect dupe for that oh-so-savory buttery goodness you love to inhale before the previews begin. Not to be dramatic about popcorn on main, but this stuff is game changing.
Our family recently unearthed this because beloved To All The Boys I've Loved Before author Jenny Han mentioned that it was her secret to delicious popcorn, and it may have just wrecked me for other at-home popcorn for the rest of my life. It genuinely tastes just as salty and buttery and savory as fresh movie theater popcorn. I inhaled it so fast that every single one of my organs lit up in mild alarm.
Promising review: "I am a person who will make myself sick eating buckets of popcorn (I have no self-control). This has by far been my favorite 'TikTok made me buy' item. My at-home popcorn is now my favorite thing to make and I don't need to go the theater for popcorn. Very much worth the purchase and this will last me such a long time." —S Martinez
Get it from Amazon for $10.10 (available in two other flavors).
2.
A set of Globbles, which are about to be your new favorite stress-relieving fidget toy. These colorful balls are squishy, stretchy, and stick to pretty much any flat surface you throw them at *without* leaving any messy residue. TikTokers are having a blast tossing these at walls and ceilings to see the satisfying way they glom onto them. 

Check out a TikTok of the Globbles in action. 
Promising review: "Bought a six pack for my neurodivergent family. We are all either ADHD or autistic. I struggle with compulsive hair pulling and bought these to help keep my hands busy. They are the perfect size, more satisfying than a stress ball, clean easily, fun to hurl at the wall or ceiling, and so far have lasted very well. I did test the durability of one and did break one when I pulled it as hard as I could —the inside looks something like shaving cream and didn't smell or anything. But if you have a kid who is an aggressive chewer, perhaps keep an eye on them." —Amazon Customer
Get a set of six from Amazon for $8.99. 
3.
A set of affordable, highly popular wireless Bluetooth earbuds for summer workouts that make *excellent* AirPod dupes, except arguably better — these are completely waterproof (like, you can fully take them in the shower) and come with several silicone earbuds to get the best fit possible.
These come with a wireless charging case that provides up to 14 hours of charge (with the earbuds able to play for four-plus hours with each full charge). 
Promising review: "Best decision! These are the greatest headphones ever! I saw them on TikTok months ago and added them to my wishlist. I got a new phone that doesn't have the headphone port so I decided it was time to finally buy them. They are amazing and I probably won't ever take them out of my ears! 😂" —Katlyn D Arnold
Get it from Amazon $21.99+ (get this price by clipping the 15% off coupon on the product page; available in five colors).
4.
Essence's Lash Princess mascara, because TBH, we've all wasted too many years and too much money looking for the ~holy grail~ mascara. This one is less than $5, gives you instant length, and is DELIGHTFULLY sweatproof for the summer. 
Hello, that is my face above, because I bought into the hype of all the 5-star reviews and now I will never look back!! Putting it on is like giving my eyelashes butterfly wings. It doesn't get clumpy, it stays put ALL the livelong day no matter how much you sweat, and you can apply it on very lightly if you don't want it to look so dramatic, or continue applying for longer lashes each time.
Promising review: "Saw this product on TikTok and thought it would be expensive looking at the results they got. I am beyond amazed with how my lashes look after about two coats. For around $5 you couldn't ask for a better mascara! I will be buying this same one when I run out. I was not expecting to like it as much as I do! No complaints." —Kd
Get it from Amazon for $4.99.
5.
A copy of Burn After Writing, a guided journal that tens of thousands of reviewers swear by — through a series of questions and thought experiments, it encourages people to take time away from their screens to explore their feelings, both new and old, so they can embrace meaningful ones and try to let others go. 

Promising review: "I first saw this book on TikTok and decided to look more into it. I purchased four total because I know some people holding onto things that are difficult to let go of. It's a great way to look at things from a different perspective and truly hold yourself accountable to different things in your life. I love what it stands for and I look forward to when I burn mine after I'm done. Self love, self care, and meditation for a better state of mind tomorrow is always the goal. I definitely recommend it to those susceptible to change and the willingness to try things different. You're so much more than what's been done to you and someone's inability to see your worth does not decrease your value. Choose you for a change." —Brent Helm
Get it from Amazon for $7. 
6.
A two-pack of TikTok-famous Dan-O's seasoning, a low-sodium, hecka-flavorful option made with dried herbs, citrus, and granulated onion and garlic that reviewers love to jazz up everything from fish to beef to eggs to veggies.
Dan O's seasoning is a small business established in 2017 that gained popularity after taking to TikTok during the pandemic, where the company now has 1.5 million followers with plenty of droolworthy food content.
Promising review: "I became interested in this product while watching TikToks. I have been adding it to so many things. I use it in spaghetti, on fish, and one of my favorites is to add it to popcorn. My husband had to ask why my popcorn smelled like steak. I love the fact that it is low sodium as well. I am not a fan of extra salt and most foods already have plenty of salt but need some seasoning. This should be your go to seasoning." —Heartcri
Get a pack of two (one original, one spicy) from Amazon for $21.89.
7.
An at-home slushy-making cup so easy to use that you're going to spend the entire summer in Slushie Town, Population: You. All you have to do is freeze the cup for four hours, pour in the cold drink of your choice (read: anything from soda to LaCroix to juice to smoothies) and crush the sides of the silicone cup until a slush forms. 

Check out a TikTok of the Slushy Maker Cup in action — it even comes with a spill-proof lid so it won't leak while you're crushing the cup! 

Promising review: "I'm an absolute sucker for slushies. Why? Heck if I know. I saw this cup on TikTok, and bought it though I was very skeptical. However, it works!! I've made at least a dozen already, if not more." —C. Warrick
Get it from Amazon for $24.98 (available in ten colors). 
8.
Plus a Yonanas fruit soft serve maker that magics any frozen fruit into an ice cream or sorbet texture so you can have a yummy frozen treat made to your *precise* favorite fruit combos. A lot of folks with dietary restrictions swear by this to get their ice cream kicks! 
Promising review: "I saw one of these in action at a friend's house like five years ago and thought it was just a made up memory, because making ice cream out of solely frozen fruit seems wild. But when I saw a TikTok about it I immediately went to Amazon and bought it. Literally this was the BEST decision of my life. I cannot believe still how amazing this thing is! It makes the creamiest, best tasting fruit ice cream ever. It's easy to take apart and clean, and super easy to use." —DMCKAY
Get it from Amazon for $49.99 (available in five colors). 
9.
A six-piece (!!) set of high-performance matte lipsticks at a *fraction* of the price of its competitors that stays the heck put without drying or cracking your lips by the end of the day. (Seriously, reviewers are DRAGGING major brands in their comments, these are so cheap and effective.) 
Promising review: "What can I say, I saw a TikTok about this lipstick and for $10 had to try it! The reviews are right, for some reason this lipstick is better than even $20 name brand ones bought from Ulta. Not only does it smell great, but dries in under a minute and survived eating a cupcake, a Starbucks drink, and an entire evening out, no smudging and had to be removed with a makeup wipe. Fantastic product!!" —Claire
Get a six-piece set from Amazon for $11.88. 
10.
A ridiculously charming octopus-shaped blackhead remover you can use to gently scrub as part of your skin routine or in the shower to remove excess sebum to exfoliate pores and pull out blackheads, whiteheads, and other miscellaneous gunk from the day that you'd rather evict. 
Promising review: "I saw this on TikTok, it works great so far." —MarMarManuel
*Another* promising review: "After just two days of use, this adorable little octopus has done wonders for me, smells great too. Here's how I used it: I wore down the stick just a little to where the texture from the salt is visible, scrubbed around on my face so there was plenty of product, then I used my fingers to gently massage all the gunk away. Rinse, pat dry, and enjoy the softness. Highly recommended for people with sensitive skin like myself." —LuckLocust
Get it from Amazon for $12.50. 
11.
A super-chic minimalist glass tumbler that reviewers love for on-the-go iced coffee and water. I personally love mine because I am *terrible* at drinking water (the Wicked Witch of the West has nothing on me!!) but this straw situation has a weirdly good mouth-flow-feel (there is probably a more concise way to describe that, but too late!!) and it makes it more fun to hydrate. Also I am an aesthetic monster, and this ticks that box. 
Promising review: "I saw this product on TikTok and automatically liked it! I love that it comes in so many different colors and the top is wood. I drink lots of water and needed a cup I could take with me everywhere. I could also put iced coffee in it too. I love that it came with two straws, a clear one and white. I will be purchasing another one for my husband and also one for my mom in different colors!" —Rose

Get it from Amazon for $13.59 (available in dozens of colors and in multiple packs). 
12.
An illuminating moisturizer designed to enhance your skin's natural glow ✨ — perfect for anyone who wants a lightweight alternative to foundation or just a lil' extra low-effort shimmer in their lives.
Promising review: "Didn't need this but bought this due to watching a TikTok. Pleasantly surprised by the magical erasing powers. This product has magic dust. Gives you a great glow and erases imperfections with the thinnest layer." —Kim Wilmot
Get it from Amazon for $6.99 (available in four shades).
13.
A pair of fluttery running shorts to keep you breezy and chill when the sun decides to *aggressively* join you on your outdoor workouts. 

Promising review: "I ordered these because I saw them on TikTok. I am 5'10 and 140 pounds. I ordered an extra large and they are perfect! They cover everything and are not too short. I highly recommend them especially for the price!" —MagnoliaBliss

Get it from Amazon for $24.98 (available in women's sizes S–XXL and 28 colors). 
14.
An eye-catching "As It Was" print inspired by Harry Styles' first single on Harry's House (you know, the one with the bridge so powerful it makes your brain short circuit and go into Main Character Mode whenever you hear it).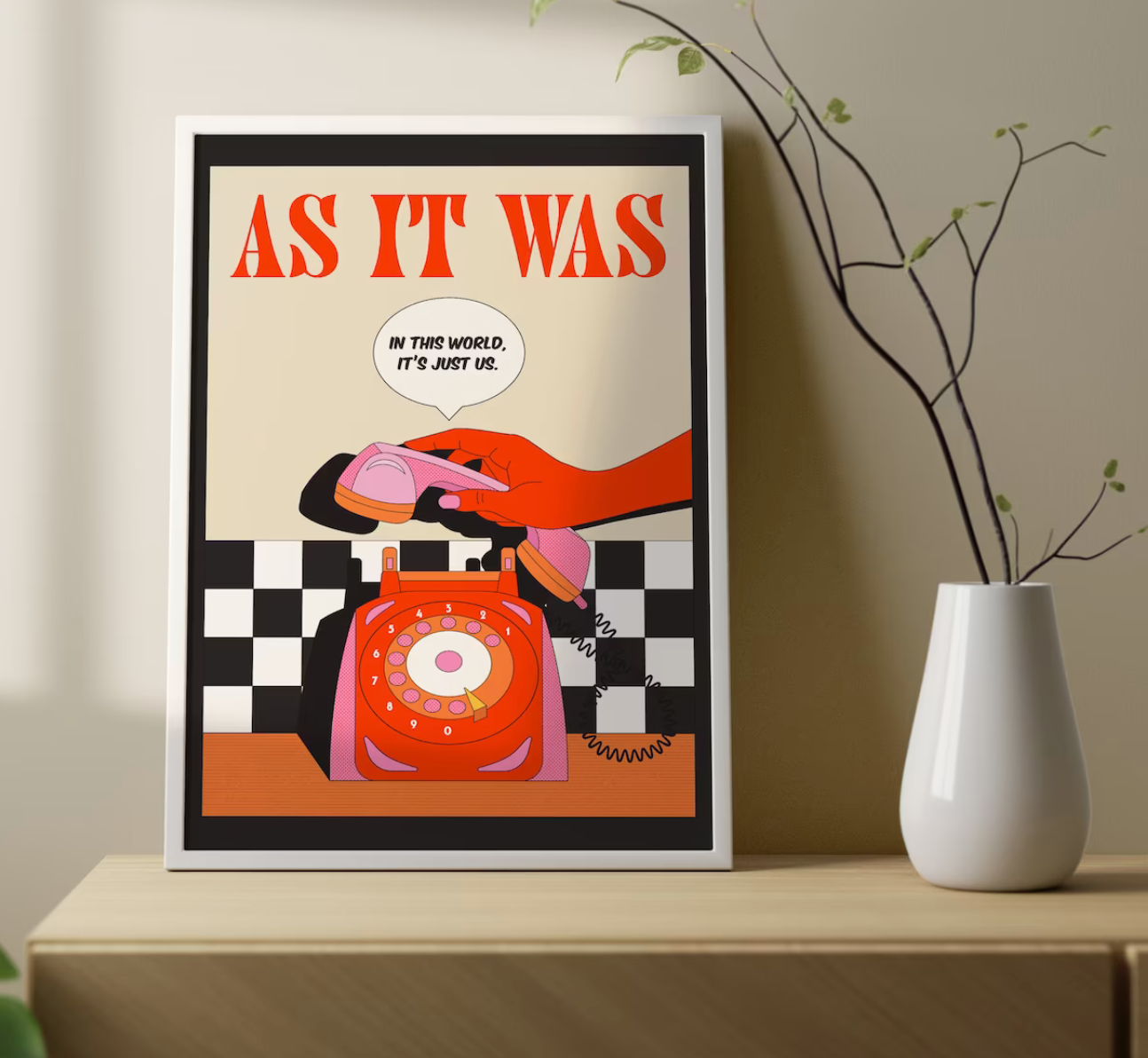 The Whimsy Committee/Etsy
The Whimsy Committee is a Virginia-based Etsy shop established in 2022 that specializes in pop culture-themed art and apparel. 

Promising review: "Absolutely obsessed with this print — saw it on TikTok and rushed to Etsy so fast. The quality of the print is amazing too — can't wait to frame it and hang it up! Thank you!" —Katie

Get it from The Whimsy Committee on Etsy for $21+ (available in two sizes).