1.
A plug-in color-shifting mushroom light for anyone whose little cottagecore heart could use an extra dose of cozy to calm them down. 
Check out a TikTok of the mushroom night-light in action. 
Promising review: "I LOVE this night-light. It's in my bathroom and is a lovely addition. It turns off the second the lights go on, which is nice because I don't have to worry about accidentally leaving it on. Super cute and the little itty-bitty lighting element does a good job lighting, just enough so I don't have to turn the main lights on in the middle of the night." —1Thand

Get it from Amazon for $5.97. 
2.
A plush blanket reviewers swear by as the ultimate Barefoot Dreams dupe, matching the quality, ridiculous softness, and durability without the big ole yikes of a price tag. 

Promising review: "I saw this blanket on TikTok and I have to say I absolutely love it. I washed it several times now and it's maintained its elasticity and softness after each wash. It's warm enough but not too hot for a throw. Absolutely recommend this blanket!" —Amy

Get it from Amazon for $29.99+ (available in 16 styles and two sizes). 
3.
A TikTok remote control ring to let you scroll through (and heart!) TikToks from your hand without lifting it to touch your phone — an especially handy trick for anyone who likes to watch TikToks on the treadmill or watch them winding down before bed. You can also use it to turn pages on your Kindle and trigger your camera to take photos or video from up to 33 feet away. 

Promising review: "I have a TikTok obsession, and I am thrilled with this ring! I love how versatile it is, too, where I can flip book pages on my phone and go through music as well. It's easy to use and set up if your follow the instructions." —The Shopper around the Corner

Get it from Amazon for $24.99 (available in three colors). 
4.
A cult-favorite ~secret~ popcorn salt anyone in the movie theater industry will tell you is a perfect dupe for that oh-so-savory buttery goodness you love to inhale before the previews begin. Not to be dramatic about popcorn on main, but this stuff is game changing.
Our family recently unearthed this because beloved To All The Boys I've Loved Before author Jenny Han mentioned that it was her secret to delicious popcorn, and it may have just wrecked me for other at-home popcorn for the rest of my life. It genuinely tastes just as salty and buttery and savory as fresh movie theater popcorn. I inhaled it so fast that every single one of my organs lit up in mild alarm.
Promising review: "I am a person who will make myself sick eating buckets of popcorn (I have no self control). This has by far been my favorite 'TikTok made me buy' item. My at-home popcorn is now my favorite thing to make and I don't need to go the theater for popcorn. Very much worth the purchase and this will last me such a long time." —S Martinez
Get it from Amazon for $9.25 (available in two other flavors).
5.
A microwave rapid cake maker, because the only thing better than homemade cake is homemade cake in SIX LITERAL MINUTES. All you need is half a box of any regular grocery store cake mix plus the ingredients, and this gizmo will have you on your way to Cake City in no time. 
Rapid Brands is a California-based small business that specializes in dishwasher-safe, microwaveable, BPA-free kitchen products. 

Psst — people swear by this for dorms, studio apartments, and for safer, easier baking with kids! 
Promising review: "I love this cake maker! It makes just the right size cake for our family of four. They're not exactly like a cake fresh from the oven, but pretty darn close! My 12-year-old son loves to use it, so much so we make a cake on a weekly basis. Since each cake only requires a half a box of mix, we don't have to store them for long. I think they taste much better than a mug cake and are almost as easy." —Clare
Get it from Amazon for $12.99.
6.
A "flaming" humidifier so you can have your aromatherapy and perfectly breathable air *and* enjoy the coziness of a teensy fireplace vibe for a little cottagecore touch.

Check out a TikTok of the flaming humidifier in action. 

Promising review: "I like how this diffuser kind of looks like a mini fireplace and it's perfect for winter. I also like how long the water of this diffuser lasts — I always add my favorite essential oil in it when I go to sleep every night without worrying it will run out of water. I used to have insomnia and it helped me to sleep through the night with my relaxing essential oil scent, and it also worked as a humidifier." —Benny
Get it from Amazon for $36.69 (available in black and white). 
7.
A tiny milk frother that makes rich, creamy froths in seconds, because why stop at regular tea and coffee when you can have velvety-soft milk tea and lattes?
Promising review: "So I'll admit I got this on a whim after a TikTok video, however I'm in love with this thing! It's so much fun to use and you make your at home drinks feel so much more special. It's easy to use and froths pretty quickly if you're on the fence I'd say what are you waiting for buy it already!" —Denise
Get it from Amazon for $19.99 (available in 19 styles).
8.
A TikTok-beloved bedside carafe set complete with a tumbler, because snuggling in bed all day is no easy feat and requires consistent hydration!! Now you can have it at the tips of your fingers. 

Check out a TikTok of the carafe set in action. 

Promising review: "I saw this carafe in a BuzzFeed article. This is definitely something I needed that I didn't know that I needed. I live in a two story house with the kitchen on the opposite end which makes me groggily navigate the stairs at night. I usually have a water bottle on my nightstand but decided I could upgrade. This carafe is a little smaller than I'd like but for the price, it's really perfect and no-frills. It's simple but functional. I guess you could use this for mouthwash too but it's perfect for bedside water. I love that the cup covers the top when not in use so that the water stays clean. I would not hesitate to purchase this item again." —TheJadeMermaid
Get it from Amazon for $12.89. 
9.
A lush double-sided shaggy faux-fur duvet set to really make a statement — the statement being, of course, "I am never leaving my bedroom again, and as this duvet has emotionally replaced all the humans in my heart."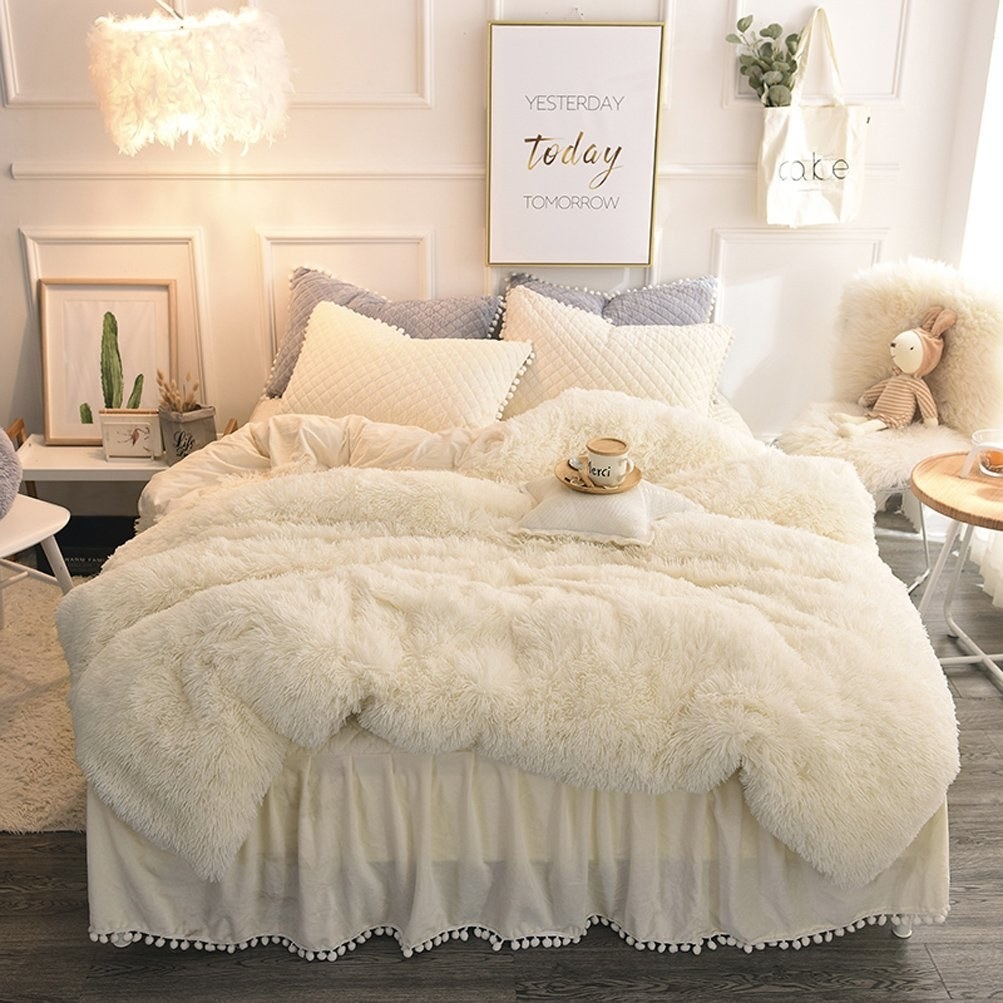 One side is faux-fur and the other side is plush velvet; the twin set comes with one pom-pom fringed pillow sham, and other size sets include two.
Promising review: "If my house caught on fire, this is the first thing I'd grab. But seriously, this is one of my favorite things in my whole house. I feel like it tied my entire room together. I get so many compliments on it and it's seriously so cozy and well made. My only complaint would be how hard this thing makes it to get out of bed in the mornings. It's incredibly soft and isn't the type of 'fur' that will mat and get gross-looking over time. I rely heavily on reviews when I buy things so I'm here to tell you — if you're on the fence about buying this ... do it!! Also, the pillowcases are amazing also. Super soft and the pom-pom fringe is adorable." —SK
Get it from Amazon for $64.99+ (available in sizes twin - King and 29 colors).
10.
A supremely soft hooded bathrobe reviewers swear is the ultimate Barefoot Dreams dupe — it's lightweight, ridiculously plush, has pockets (!!), and is designed to never shed. Truly, no notes. 

11.
A towel warmer the entire family will welcome into your home like it's the newest (and new favorite) member — there's nothing quite like coming in from the cold and stepping into a warm robe, toasty PJs, or a cozy warm blanket, and with this machine you can experience it *all*.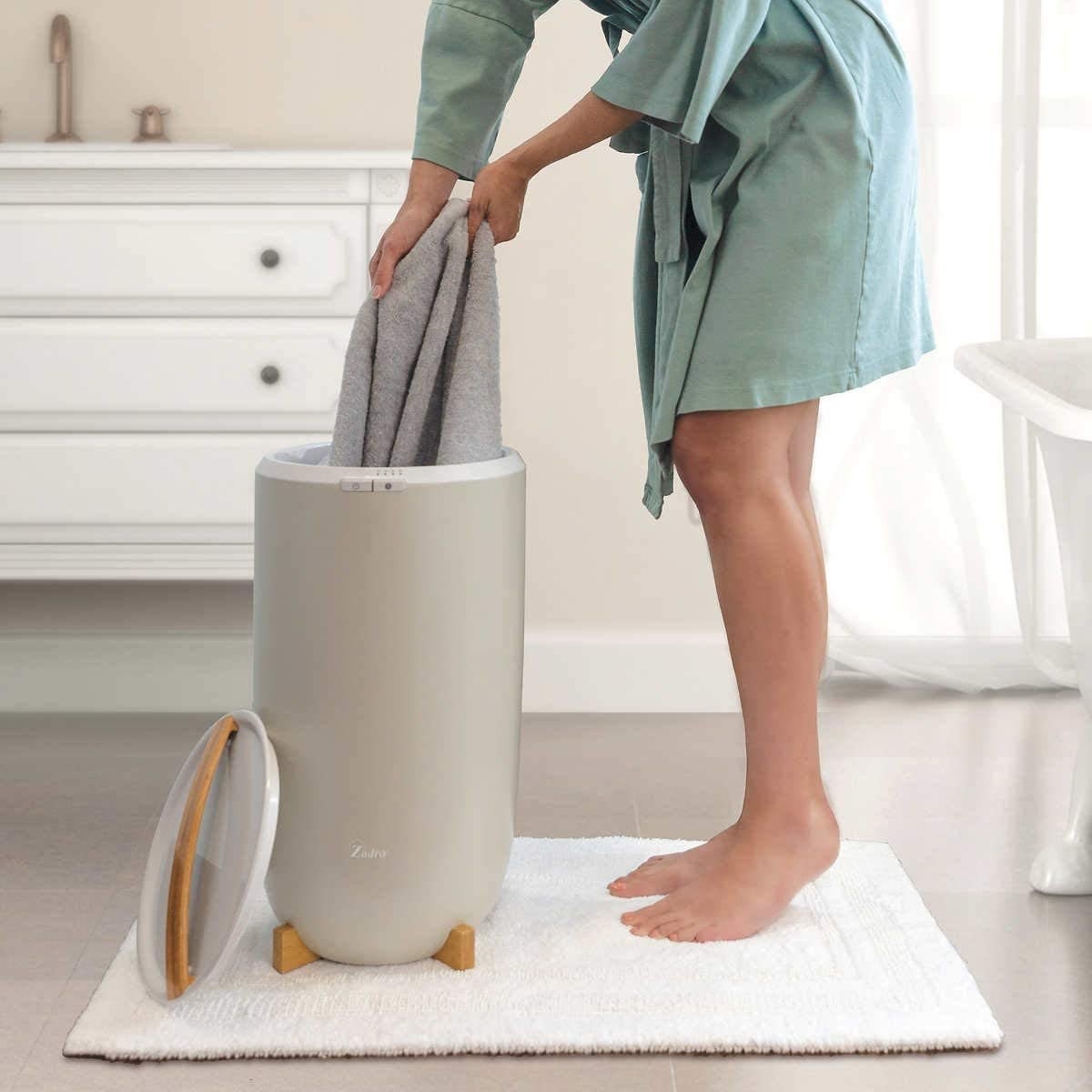 Promising review: "This does an awesome job of keeping up to two bath sheet sized towels warm. Several time settings. This is awesome to get out of the shower and have. I won't go back to not having heated towels — it's amazing!" —Anne Bowman

Get it from Amazon for $168.99 (available in two sizes).
12.
A "dog bed for humans" so plush, and cozy that you may just have to change your legal address to "beanbag." Reviewers especially love the softness of the faux fur and the firm coziness of the raised rims that make it a perfect little nest for reading, napping, playing video games, or just otherwise existing in snuggly bliss.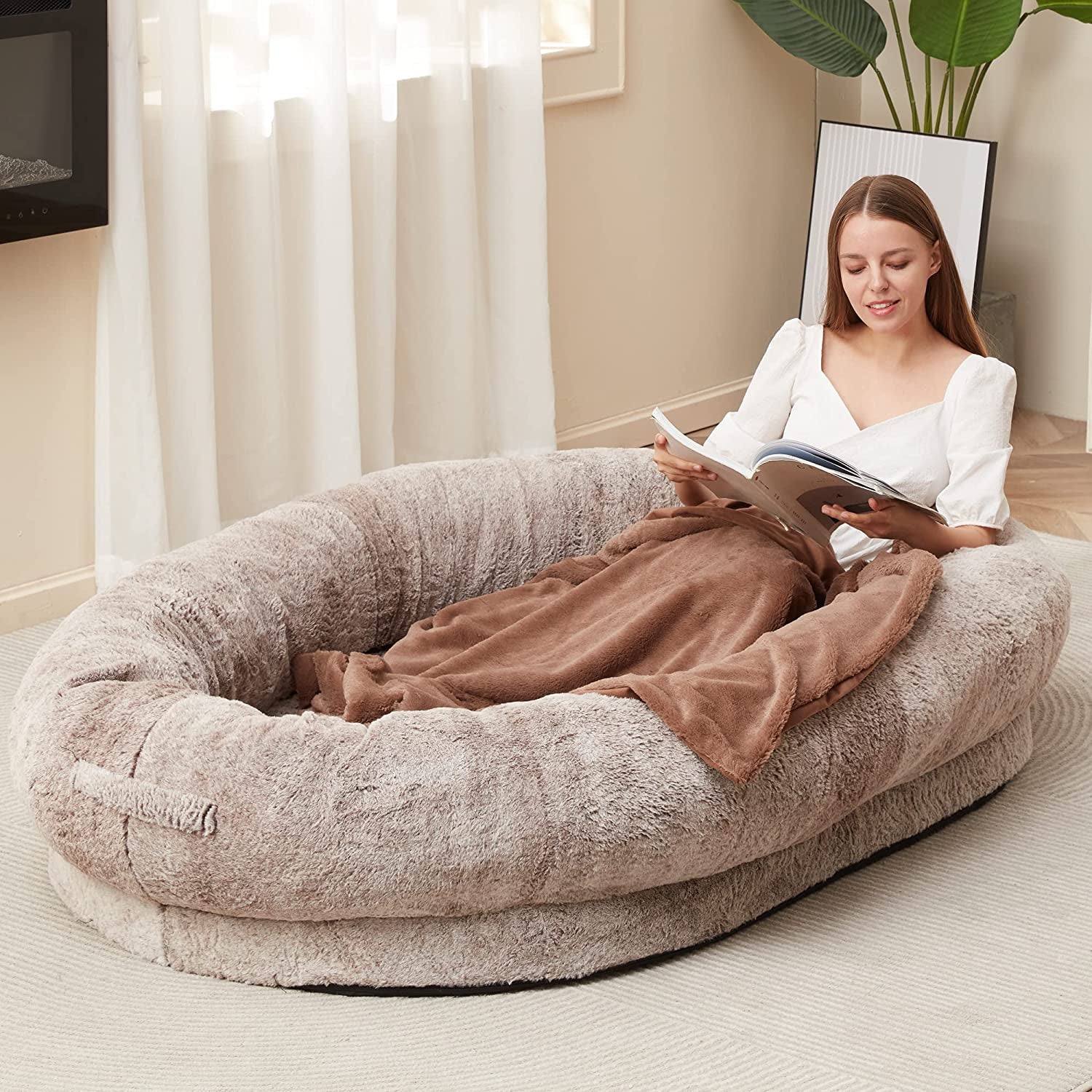 Promising review: "I saw this online and decided that I'm giving it a try. I have a hard time sleeping without feeling support around me. I toss and turn over 40 times per night according to my sleep app. I tried this hoping for the best and I will say, I slept like a baby for the first time in sevenyears. I put a pillow under each side to prop it up to make it cradle in more and I'm in heaven. I'm 57 and have had a hard time dealing with the emptiness of divorce. Who needs a man when you've got this to sleep in? Purchase it! You won't regret it. And best of all, no one snoring next to me! Win, win!" —Heavenstinyangels

Another promising review: "Soooo comfortable. Big enough for my daughter, and our dog, and me. Arrived in an appropriate time frame as advertised. The blanket that came with the bed was also a pleasant surprise. The bed and blanket are soft and cuddly. Sure to be the 'fought over' spot in our house for the foreseeable future." —J Derks
Get it from Amazon for $224.99 (get this price by clipping the $30 off coupon on the product page; available in two colors). 
13.
A 12-pack of vines to bring a touch of nature indoors and give your space some calm ambience — particularly important in the darker months when you're looking out the window at 5 o'clock like, "Nature?? Where did you go????" 

Check out a TikTok of the vines in action (and check out a version with the lights already attached!). 
Promising review: "Just what I needed to make my room come to life! I will be purchasing more for other areas of the house. I was surprised with how real they look. There is a slight smell when you open it up (I've purchased other vines and it's been the same thing), but if you air it outside for a day you'll be good to go!" —Roxoh

Get a 12-pack from Amazon for $11.98.