1.
A "Bread Buddy" dispenser to keep sandwich bread fresh by ensuring it stays *way* more airtight than it does in just the bag alone, and also lets you use the bread bag in a clever way to dispense slices one by one. Tons of reviewers are noting how much longer their bread stays fresh (and how much easier it is to store without worrying about it getting smushed!). 

Buddeez is a family-owned, Missouri-based small business that specializes unique household products. 

Check out a TikTok of the Buddeez sandwich bread dispenser in action. 
Promising review: "The Buddeez Sandwich Bread Dispenser is great! It does exactly what it was intended for. I live alone and I don't quite go through bread often enough before the last quarter section of the loaf starts to go stale. I was originally looking for something to put a loaf of bread in as a shell for my vacuum sealer, that would keep the bread from getting crushed from the pressure. This dispenser solved all of my problems. Thank you!" —DRMcQuaig

Get it from Amazon for $12.49. 
2.
A set of three reusable silicone air fryer liners so you can crisp up your messiest dishes (think: cinnamon rolls, Brussels sprouts, all things sauce-y and delicious and great) without having to lug the whole air fryer drawer to the sink to wash out afterward. 

Promising review: "I bought these because I was tired of cleaning the whole air fryer container. These were bought on a whim for both mine and my boyfriend's parents, who each have an air fryer. They work great, keeping all greases and crumbs inside, and make it easier to clean. The only bad thing (and this may just be me) is the ridges/ripples on the bottom of the inside of the liner. When you try to wash it in the sink, don't put the stream of water right on those unless you want to take a small bath. Other than that, these are fantastic. My boyfriend also says that it seems to make everything crispier, and we love that." —Jordan Hixson

Get a set of three from Amazon for $20.99. 
3.
A set of "double dipper" snack serving bowls for the ultimate "life is a charcuterie board, and we're just living in it" vibe. Adults love this for dipping sauces, and parents love it for serving mess-free snacks (particularly for picky eaters who don't want their food to touch!). 

These are also dishwasher- and microwave-safe! 
Jarratt Industries is an Arkansas-based small business established in 2008 that specializes in unique home, kitchen, and outdoor products. 
Promising review: "Bought these bowls for our RV, but loved them so much we have some for our house, too. Great for dipping. We love chicken wings; we'll put ranch in one side and buffalo in the other. Seafood, tarter in one side, cocktail in the other. Ketchup and mustard for corn dogs. The list goes on and on!" —Keith Earl

Get a set of four from Amazon for $16.85 (also available in a set of six). 
4.
A chic minimalist fruit bowl/colander that lets you wash your fruit from the grocery store right in the bowl you're storing it in. Here's to an extremely adorable life hack. 

Check out a TikTok of the colander in action. 

Promising review: "Absolutely love this fruit bowl! The bottom comes off for drainage, and it's super easy to clean. It looks great on the counter and fits a decent amount of fruit! Great find, and I would recommend this product!" —Faith Reviews
Get it from Amazon for $24.99 (available in three colors). 
5.
A delightfully massive (and leakproof!) tumbler with a handle reviewers *swear* because it's similar to the Stanley cup (you know — the $40 water bottle that's all over TikTok and IMPOSSIBLE to get in half the colors right now). This not only keeps beverages hot and cold for hours on end, but gives you even *more* color options to peruse from. 

Promising review: "I've been using Simple Modern bottles since my sophomore year of college, so when I graduated and needed a 'big girl' tumbler that wasn't covered in stickers and would be cute and functional in a professional environment, getting an SM tumbler was a no-brainer for me. I absolutely love the sea glass sage color, and of course, I had to get a matching 32-ounce water bottle, too! These are so sturdy, keeps my water icy cold through the day and the night, and motivates me to hydrate like no other. 1000x cuter than a Stanley tumbler or a Hydroflask, and a much more reasonable price! I get compliments on it every single day. I absolutely cannot recommend this brand and these tumblers enough!" —Hannah Rodlund
Get it from Amazon for $29.99 (available with or without handles and in 12 colors). 

6.
An Icebreaker that doubles both as a silicone mold and an easy dispenser, cleverly engineered so you don't have to touch the ice with your fingers and risk germs. These are also super portable because of their compact, leakproof design, and are completely dishwasher-safe! 
Icebreaker is a Texas-based small business estabished in 2020 by Danish engineer Kim Jensen. 
Promising review: "We have a small freezer and no icemaker, and have been using fiddly trays for years. Icebreaker Pop has changed everything! No more leaky ice trays spilling in the freezer, (or on the way to the freezer), and no ice picking up weird smells and tastes from the freezer. Icebreaker Pop is self contained and easy to use: you fill it up with water (but be careful not to overfill, because it does expand as it freezes. Physics!), seal the top, and put it in the freezer. Once it's frozen, you lay it on a flat surface, press down hard on it a couple of times on each side to crack the ice, and pull apart with both handles. You now have 18 cubes of clean ice that dispense from the opening, eliminating the need to touch the cubes as you add them to your glass. The cubes are a little smaller than from regular ice trays, but that's okay with us. Icebreaker Pop is also cool-looking and easy to clean; it's made up of three easy-to-separate pieces that are a snap to wash thoroughly. Very happy with this product!" —Leah Koepp
Get it from Amazon for $19.99+ (available in six styles).
7.
A set of silicone stove-counter gap covers so you never have to endure the five stages of "I guess I'm never seeing that knife again" grief the next time an unsuspecting piece of cutlery falls into the abyss. This is also a great way to stop crumbs from falling, and discouraging bugs and critters from having a field day with 'em. 
Promising review: "My daughter recently shared a TikTok video of this item, and it's a treasure! We highly recommend this, as it eliminates the difficult task of cleaning between the stove and counter/cabinet." —allycat
Get a pack of two from Amazon for $10.95+ (available in two sizes and three colors).
8.
A little snack dispenser to keep your fingers clean if you're typing or gaming — with this gizmo, you can just deposit nuts, Goldfish, M&M's, and other delicious small things right into your mouth, like a tiny snack butler. Pet owners also love it for distributing treats! 

Promising review: "It arrives already assembled. I chose to add peanut M&Ms. To add snacks, just remove lid by twisting off. To release snacks, push down on latch. Easy to use and clean. I just have to be careful that when I release the candy into my mouth, I go slow, so I don't get a lot of M&Ms at once." —Marlene T. 

Get it from Amazon for $12.99 (available in three colors). 
9.
A slim magnetic stove shelf that quickly and securely fastens right on the top of your stove so you have easy, immediate access to tools and seasonings and anything you need to get your inner Food Network on while you're listening to podcasts and vibing.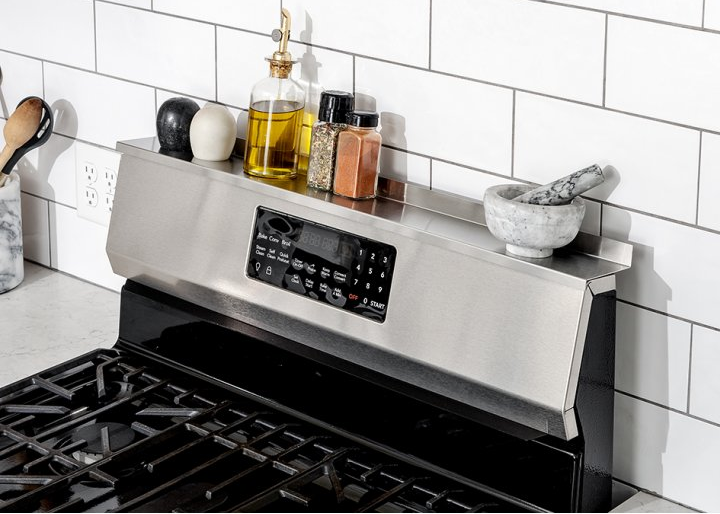 StoveShelf is a US-based small business that specializes in stove shelves for various sizes of stoves. 

Check out a Tiktok of the StoveShelf in action.
Promising review: "There was no set up...Take it out of the box and place it on the stove. The magnets are very strong keeping the shelf fixed in place. The magnets are raised allowing air flow underneath preventing the shelf from heating up. Sizing was perfect. I love it!" —Amazon Customer
Get it from Amazon for $39.99 (available in three sizes and in five finishes). 
10.
A set of silicone oven rack edge protectors sure to be a boon for avid bakers and cooks — these protect your skin from burns when you're sliding things in and out of the oven, so you don't end up ruing the day you made lasagna and accidentally cooked part of your human self instead. 

Check out a TikTok of the oven rack protectors in action.  

Promising review: "These things are awesome. Not only are they attractive and reasonably priced, but are so easy to put on and they stay on the rack. Most important, I find they help to protect your arm from getting any bad burns when reaching into the oven. Highly recommend these, I'm so happy with them I'm buying a set for my mom and daughters-in-law." —Sandi 
Get a four-pack from Amazon for $9.98+ (available in three colors). 
11.
A Michael Scott/Prison Mike reversible dishwasher magnet so you always know whether the dishes in there are clean and need to be put away, or whether they're dirty and here to SCARE YOU STRAIGHT.
Check out a TikTok of the Michael Scott dishwasher magnet in action. 

Promising review: "My whole family is a fan of The Office, so when I was searching for a magnet we could use on our dishwasher, this was the hands-down winner. Does it go with my farmhouse decor? Nope, not at all. But it does get the attention of two teenage boys. Had I gone with something a bit more my decor style, I can guarantee you it would not be as useful. I mean, we all would much rather see Prison Mike staring back at us than suit and tie Michael Scott, right? And there is only one way for that to happen...clean out the dishwasher!" —R. Funk

Get it from Amazon for $8.99.
12.
An oh-so-sneaky hidden spice shelf attachment you can install under your shelf and pull out whenever it's time to get cookin'. We love a cabinet with ~SECRETS~.

Psst — some reviewers also use this for easy access to pill bottles! 
Promising review: "I am very happy with this purchase. It couldn't have been any easier to install. I am looking forward to being able to gain more space inside my cabinets once I fully get my spices transferred into these (I bought two)." —SA Thompson 

Get it from Amazon for $14.99. 
13.
A set of soda can "lids" to spare you the despair of being half finished with your can of LaCroix or Coke on the way out the door — these fashion them into a bottle and make them delightfully portable. 

Reviewers also *swear* by these for keeping sand and dirt off the rim at picnics or the beach! 
Promising review: "Biggest thing since sliced bread. Do you hate it when you when can't finish your soda or maybe don't have time? If you're driving somewhere it's difficult to handle a can drink sometimes, you're trying to take a sip and all a sudden you hit a pot hole. Soda up your nose, down your chin, on your clothes. It doesn't have to be that way anymore — with these you can enjoy you soda just like it was in a bottle. I was skeptical at first, but sold as soon as I put it on the can. I use it every day." —Jonesy
Get a set of six from Amazon for $15.99. 
14.
A handy dandy condiment fork with a holder you can wrap right around a jar of olives or pickles so it'll always be at your disposal when you suddenly *need* a pickle but don't want to put your hands in the jar. This is also great for late-night snacking shenanigans, since you won't wake up half the house looking for a clean fork. 

Check out a TikTok of the condiment fork in action. 

Promising review: "Great kitchen item. Forks are great to get pickles out of the jar, but if you have kids/lazy people (lol) you know that dirty hands are going into that jar. 😉 This has really prevented that from happening. It comes with two different rings to fit whatever size jar, a stabber holder, and a stabbing stick." —Amazon Customer
Get it from Amazon for $8.09. 
15.
An easy-to-use rice ball mold a lot a parents swear by for serving toddlers and young kids rice without mess. All you have to do is put the rice in the mold and shake it — it's made with a matte material so it won't stick, and instead will form perfectly shaped rice balls to serve up. 

A lot of folks use this for portioning out baked goods like cookies and cake balls, too! 
Promising review: "Feeding sticky rice to an infant/toddler is a sticky mess, but no more with this little gadget!!! My little girl enjoys eating rice more because she doesn't also have rice sticking everywhere on her hands. The small paddle that it comes with is actually really a nice size, too. I recommended this item to many of my friends with small kids." —reeree

Get it from Amazon for $4.99.