1.
A soap pump dispenser that deserves an award for Making Life A Little Bit Easier — you rest your sponge on top of it and press down and voilà! Instantly soaped-up sponge. 

2.
A no-scrub weekly shower cleaner you can quite literally "set and forget" to maintain its cleanliness over time — once you apply it after a shower, you just have to wait 8 to 12 hours and it'll quietly tackle the soap scum, grime, oils, mold, and mildew stains without you wasting any of that precious time you're in short supply of!!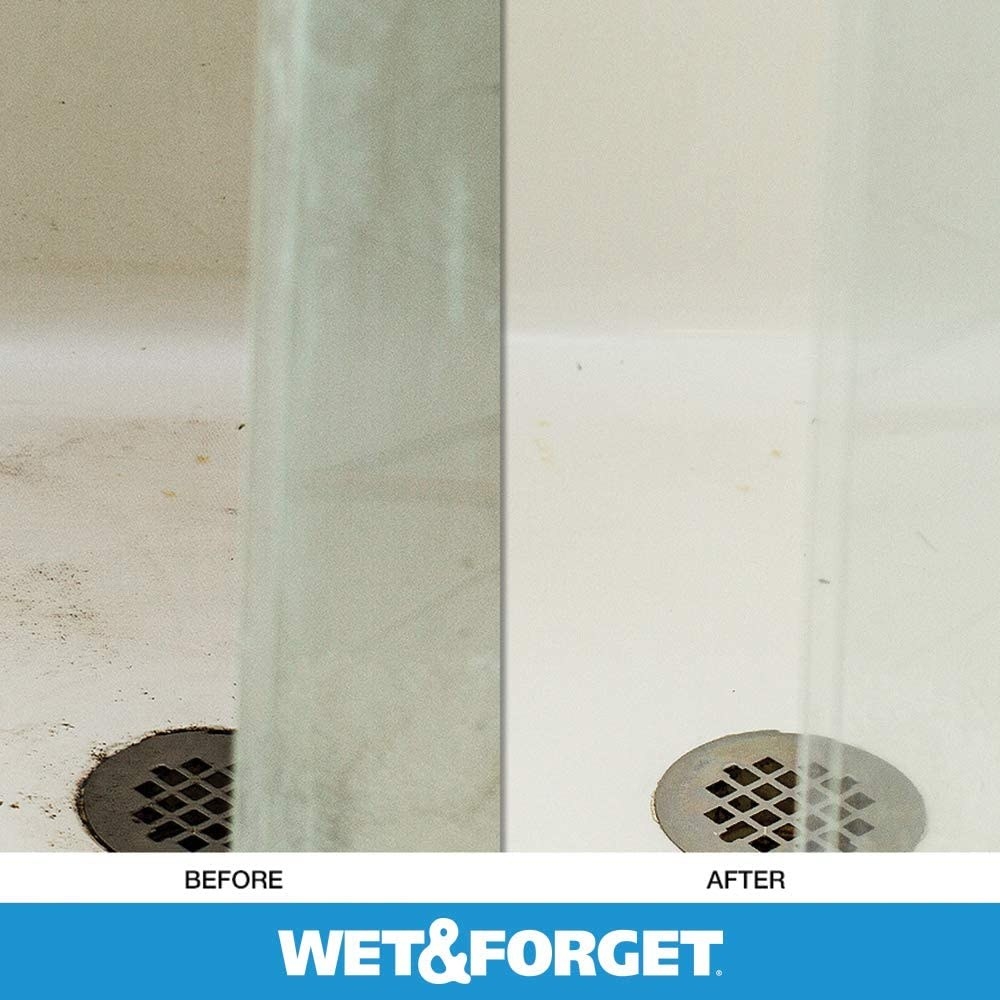 Promising review: "This stuff is a lifesaver. Life is tremendously busy with kids and cleaning the shower is at the bottom of the list. I bought this due to pure frustration and disgust of my shower and it has turned it around in a weekend. You literally spray it and forget it and just with that little effort, I have a clean shower!! Also great for glass doors. It cleaned everything! Love it!" —Amanda Nichols
Get it from Amazon for $19.74.
3.
A set of fast-acting Keurig cleaner pods you can simply put through a cycle on the machine to get rid of all the crusted-on grinds and residue that are *definitely* affecting the taste of your coffee, even if you haven't noticed over time.
Promising review: "These cleaning K-Cups work like magic. So easy a monkey can do it, LOL. No bad smell when cleaning. Coffee tasted great after using one of these cleaning cups." —KIMBERLY R. 
Get a set of six from Amazon for $9.95.
4.
A foaming garbage disposal cleaner you can plop into your sink, run a little water on, and let its blue magic fizz its way up to the top while clearing out all the gunk from your culinary adventures in one go.
Promising review: "These are amazing! I was skeptical at first but I followed the directions (which are super easy) and was grossed out and satisfied at the same time to see the gunk that was removed. You put the entire packet down your disposal (I read that twice too) and magic happens in under two minutes! That is what I call powerful and successful cleaning! The scent is super clean and light with a hint of lemon. These will definitely be a cleaning staple for me." —KPITT
Get a four-pack from Amazon for $3.98.
5.
A Bissell multipurpose carpet and upholstery cleaner that has a *MAJOR* fan following of parents and pet owners — this compact, super portable powerhouse uses warm water and a special formula to make stains from grass, mud, pet accidents, food, and all your other home-related shenanigans look like they never even happened. 
Each cleaner comes with a trial size of Bissell's Spot & Stain Formula, which is also available on Amazon for $12.99! 
Promising review: "Yep! TikTok made me buy it and I loved it. Looked for it online, and on Walmart they were about 150 dollars for some reason?? Got it here, and I am LOVING IT. Things definitely look cleaner. Spots on my carpet are gone, and my car seats look brand new for the first time since I bought it! Directions are easy. Just a heads up, MAKE SURE TO USE WARM WATER. if you leave water in it and it gets cold, it's not as effective, so just follow instructions and it should be wonderful!" —Carlos 
Get it from Amazon for $123.59+ (available in two styles). 
6.
Or a bagless, touchless stationary vacuum that'll suck the gunk on your floors right up instead of wrangling with a dustpan full of hair clumps that keep falling out or a heavy vacuum cleaner. Why lug a vacuum around when you can get the job done with a lightweight broom instead? 
Promising review: "Saw it on TikTok and knew I had to have one. I hate cleaning but get annoyed with the clumps of dog hair and bits of things on my kitchen floor. I usually just vacuum my tile with the vacuum which is a pain. This thing is so easy to just sweep things into and it sucks them right up. Sure, it's more expensive than my actual vacuum, but I've only had it three days and have used it two times." —Amazon Customer

Get it from Amazon for $129 (available in six colors).
7.
An MVP-worthy pet urine stain-removing spray that instantly tackles both old and new stains *plus* the yucky smell, so you can enjoy the quality time you're getting with your pet without sacrificing your carpet and/or your nostrils.
Rocco & Roxie Supply Company is a family-owned small business established in 2013 that specializes in pet odor eliminators, pet toys, pet snacks, and pet accessories.
Promising review: "I don't know how I ever survived without this. There's tons of 'pet stain/odor remover' products out there, but this by far is the absolute best. I cringed paying the $20 for it when others are between $5–$10, but I have NO ISSUES paying now. I foster dogs, some puppies, some older, some not housebroken and every room in my house is carpeted except the kitchen, which means I have lots of accidents. I spray enough to saturate if it's a lot of urine, let it soak for 10 minutes then wipe it up with a hand towel. Then I put a larger towel on top of it if it's in a high-traffic area until it's completely dry. It's taken out every stain, and more importantly the odor is gone! I will never stop buying this product. I recommend it to everyone who has dogs!" —Shelley
Get it from Amazon for $19.97 (available in two sizes).
8.
An EasyWring microfiber spin mop, aka the MVP of CleanTok. This mop is machine washable and has an automatic wringer so there are no hands involved, is designed to reach into deep corners for a thorough clean, and is made with a fabric so effective that — gasp — you don't even need chemical cleaners. You can just get the dirt and grime up with water.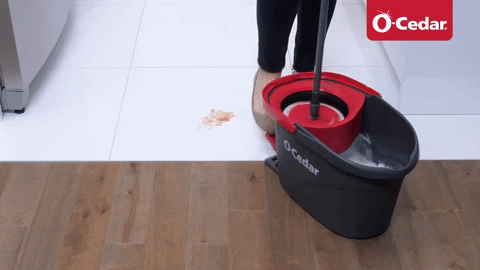 Promising review: "I had had it with my broken basic mop and bucket. I tried to just get a dollar store Swiffer to get us by, but that wasn't cutting it at all. With three boys and a dog that makes his rounds on all the furniture and every exposed corner, I had to do something. After seeing a TikTok where a woman demonstrated this mop to clean her walls, and hearing my boss raving about it, I decided to click the Amazon button. Let me tell you, I HATE cleaning, I HATE mopping, but I LOVE for things to be clean. I was able to mop the entire house TWICE (Because it was that dirty. Please don't judge.) within an hour. A few days later I mopped the entire house again within 10 minutes because they weren't quite as dirty. On another positive note, my boys love the spinner and think it's a toy! So, every time I get the bucket out my 10-year-old and 4-year-old ask to mop the house because they think it's fun. MAJOR BONUS!" —Molly
Get it from Amazon for $32.97. 
9.
A jar of internet-beloved The Pink Stuff, which will truly do a number on everything from dirty stove tops to grimy sinks to caked-over ovens in no time flat. A lot of people compare it to the Magic Eraser in paste form, so even your weirdest, most stubborn stains will meet their match.

Promising review: "Honestly I was very skeptical when I first purchased. Everyone on social media was talking about how amazing this product was for cleaning around the house and I just thought they were all jumping on some kind of bandwagon. Of course I caved and had to try it for myself. Needless to say I'm very impressed! It removed stubborn mold and grime from my shower tile grout with use of a hard-bristle toothbrush. It removed hard water stains from my sinks and faucets. I noticed it really does remove mineral buildup, but it takes a lot of elbow grease and repetitive applications before you start seeing progress. The texture feels similar to when you mix honey with sugar to make a lip scrub, except it's super-fine grit and more pasty like putty or clay. It works amazing so far! No overpowering smell (barely any smell at all), easy to use, and a little product goes a long way. I haven't tried it on rust yet so we'll see how that goes. Overall very pleased and impressed so far. Highly recommend!" —Marissa 

Get it from Amazon for $8.52.
10.
*Plus* The Pink Stuff's Miracle Multipurpose Cleaner Spray, another Pink Stuff product that lives up to the hype — this version is especially handy for large surface areas like counters, walls, bathtubs, and floors, so you can go ham with the spray and lift it all up in one go. 

Promising review: "Glad I found this product on TikTok. Does 95%–100% of the job in seconds! Definitely worth the money." —Mother of 4
Get it from Amazon for $9.64. 
11.
A fast-acting ChomChom pet hair remover roller that is deeply beloved by pet owners — it's like a sticky lint roller, but specifically designed to pick up pet hair and not only lock it in, but stash it inside the roller itself, so you don't end up making matters worse by just shoving the hair around instead of getting rid of it properly. 
Promising review: "I have a golden retriever and the shedding is out of control. My fabric sofa is constantly covered in hair and I finally decided to try this after reading an article about popular TikTok products. The reviews do not lie, this thing works magic!! I wish I had taken a before and after picture because the difference is noticeable. I watched the video tutorial before I tried it to ensure I was using it properly and everything he says is true, you do really have to put your arm to work with vigorous back and forth movement! However, I find it's a great arm workout and it works wonders." —Joanne Ertel
Get it from Amazon for $26.95. 
12.
An all-purpose car upholstery cleaner so you can go ham on the interior of your car and lift up all the stains in one deeply satisfying go.
Promising review: "Works great! I saw a video for this product on TikTok, and knew that I needed it in my life. I love it, and it helps keep my new car looking clean and new!" —Alison Crawford
Get it from Amazon for $16.97.
13.
Plus a spray-on interior cleaner and protectant so not only can you restore your car to its former glory, but it'll also protect against fading from UV rays. It's like soap *and* sunscreen for your car at the same time!! 
Promising review: "This does exactly what I wanted — clean all the interior surfaces of my car while not leaving any residues, streaks, or strong odors. I first used this on my 4-month-old Grand Cherokee Trailhawk that was CAKED in dust (inside!) from a recent off-road adventure. The Total Interior Cleaner cleaned all my surfaces — dash, screen, leather seats, etc. After things settled, my car looked and smelled new again!" –T. Porter
Get it from Amazon for $10.97.