1.
A lil' reversible octopus plush that is, literally and figuratively, a Mood — you can prop this on your desk or somewhere in your home just to let everyone know how you're vibin' (or even just to check in with yourself ❤️).
Also, these come in a TON of different colors and emotions (from angry to sad to, uh, murderous??), so you're guaranteed to find one to express yourself.

Promising review: "I saw this on TikTok like everyone else but I quickly realized, when I got one, how helpful this is to my family. Now they don't have to guess when they shouldn't bother me, they'll just KNOW. It's saving lives and it's adorable. The perfect thing. :)" —MCalms
Get it from Amazon for $9.75 (available in 22 styles).
2.
A plug-in color-shifting mushroom light for anyone whose little hobbit heart could use an extra dose of cozy in their room. 
Promising review: "I LOVE this night-light. It's in my bathroom and is a lovely addition. It turns off the second the lights go on which is nice that I don't have to worry about accidentally leaving it on. Super cute and the little itty-bitty lighting element does a good job lighting, just enough so I don't have to turn the main lights on in the middle of the night." —1Thand

Get it from Amazon for $6.48. 
3.
A cult-favorite ~secret~ popcorn salt that anyone in the movie theater industry will tell you is a perfect dupe for that oh-so-savory buttery goodness you love to inhale before the previews begin. Not to be dramatic about popcorn on main, but this stuff is game changing.
Our family recently unearthed this because beloved To All The Boys I've Loved Before author Jenny Han mentioned that it was her secret to delicious popcorn, and it may have just wrecked me for other at-home popcorn for the rest of my life. It genuinely tastes just as salty and buttery and savory as fresh movie theater popcorn. I inhaled it so fast that every single one of my organs lit up in mild alarm.
Promising review: "I am a person who will make myself sick eating buckets of popcorn (I have no self-control). This has by far been my favorite 'TikTok made me buy' item. My at-home popcorn is now my favorite thing to make and I don't need to go the theater for popcorn. Very much worth the purchase and this will last me such a long time." —S Martinez
Get it from Amazon for $9.25 (available in two other flavors).
4.
A set of iridescent unicorn makeup brushes because you are a MAGICAL BEING and your morning routine should reflect as such!! Reviewers love these not only for the aesthetic, but because the bristles are both dense and super soft, making makeup application easy peasy.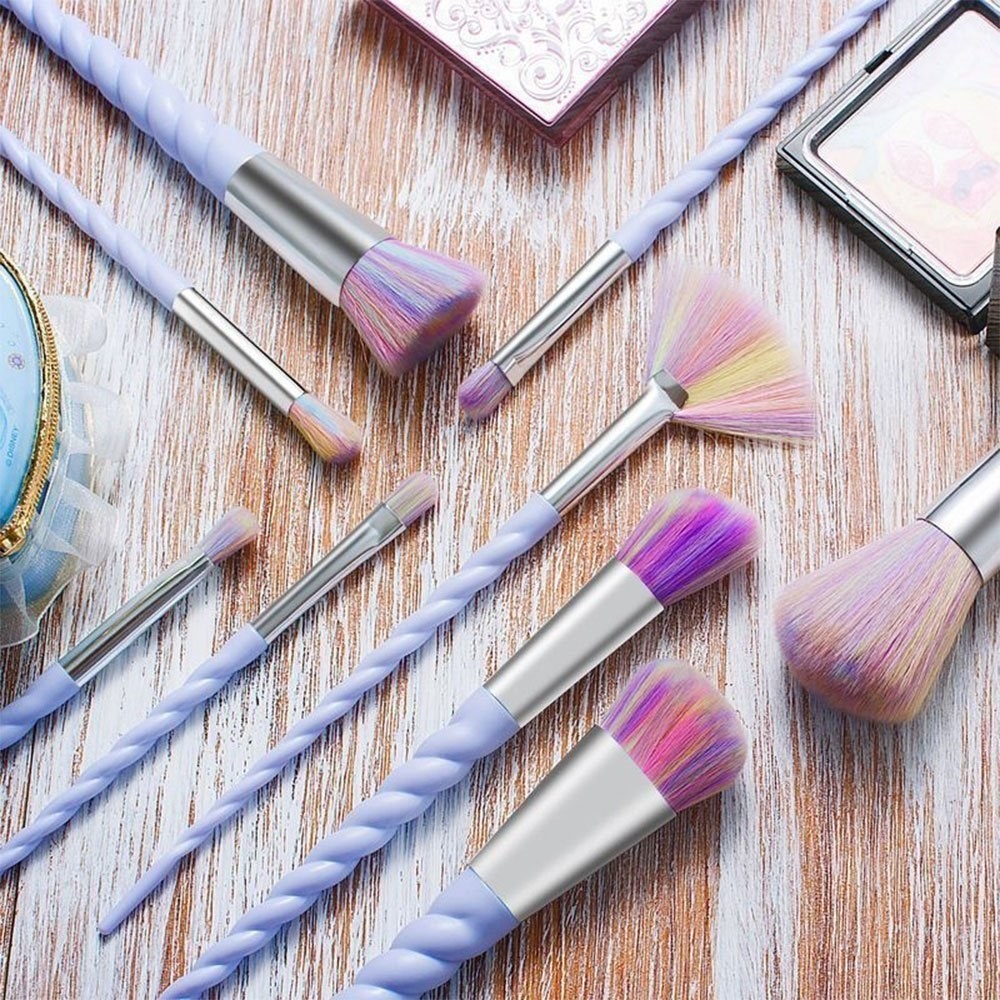 Promising review: "I cannot wait to use these brushes! They are gorgeous! Absolutely stunning. I love unicorns and holographic things so these are perfect! The brush bristles are extremely soft! Hands down one of the softest I own. The handles are long and thin seem great for application. The case is holographic pink and of great quality. The Velcro on it seems a little cheap but it sticks so no complaints. I definitely recommend this item. They would make an awesome gift." —Pb&nelly
Get it from Amazon for $5.99.

5.
A set of affordable, highly popular wireless Bluetooth earbuds that make *excellent* AirPod dupes, except arguably better — these are completely waterproof (like, you can fully take them in the shower) and come with several silicone earbuds to get the best fit possible.
These come with a wireless charging case that provides up to 14 hours of charge (with the earbuds able to play for four-plus hours with each full charge). 
Promising review: "Best decision! These are the greatest headphones ever! I saw them on TikTok months ago and added them to my wishlist. I got a new phone that doesn't have the headphone port so I decided it was time to finally buy them. They are amazing and I probably won't ever take them out of my ears! 😂" —Katlyn D Arnold
Get it from Amazon $19.99+ (clip the 30% off coupon on the product page for this price; available in five colors).
6.
A microwave rapid cake maker, because the only thing better than homemade cake is homemade cake in SIX LITERAL MINUTES. All you need is half a box of any regular grocery store cake mix plus the ingredients, and this gizmo will have you on your way to Cake City in no time. 
Rapid Brands is a California-based small business that specializes in dishwasher-safe, microwaveable, BPA-free kitchen products. 

Psst — people swear by this for dorms, studio apartments, and for safer, easier baking with kids! 
Promising review: "I love this cake maker! It makes just the right size cake for our family of four. They're not exactly like a cake fresh from the oven, but pretty darn close! My 12-year-old son loves to use it, so much so we make a cake on a weekly basis. Since each cake only requires a half a box of mix, we don't have to store them for long. I think they taste much better than a mug cake and are almost as easy." —Clare
Get it from Amazon for $10.99.
7.
A set of Globbles, which are about to be your new favorite stress-relieving fidget toy. These colorful balls are squishy, stretchy, and stick to pretty much any flat surface you throw them at *without* leaving any messy residue. TikTokers are having a blast tossing these at walls and ceilings to see the satisfying way they glom onto them. 

Check out a TikTok of the Globbles in action. 
Promising review: "Bought a six pack for my neurodivergent family. We are all either ADHD or autistic. I struggle with compulsive hair pulling and bought these to help keep my hands busy. They are the perfect size, more satisfying than a stress ball, clean easily, fun to hurl at the wall or ceiling, and so far have lasted very well. I did test the durability of one and did break one when I pulled it as hard as I could —the inside looks something like shaving cream and didn't smell or anything. But if you have a kid who is an aggressive chewer, perhaps keep an eye on them." —Amazon Customer
Get a set of six from Amazon for $10.69. 
8.
A ridiculously popular "cat dancer" toy so both you and your furry friend can shake off the stress of the day by chasing after it — and, of course, chronicling the absurd shenanigans for Instagram.
In fact, if you are looking for an immediate LOL, please head straight to the review images of this little gizmo — pages and pages of kitty cats losing their marbles. It is goodness and absurdity and light.
Promising review: "I have a whole room filled with cat toys that my cat is not interested in. It's funny how the least expensive cat toy I have makes him go crazy. He plays with this until he's panting like a dog and I have never seen him jump so high. I'm certain this toy will help him lose his belly. He loves it! I highly recommend it!" —Kwoo
Get it from Amazon for $2.65.
9.
A cloud-shaped magnetic key holder for an absurdly cute storage option for keys that will prettttyyy much guarantee you never lose them again. 
Promising review: "So, yes, TikTok made me buy this, but so far I really like it. It's obviously very adorable and offers a charming spot to keep my keys that works with my entryway. I'm really surprised by how strong the hold is for such a small object — I carry my car fob and a few keys and so far it's holding strong. I hung it with command strips to avoid any potential damage to the wall and I will say make sure it's level as the hold is not so good on an angle (but that was from the original in-hand testing). Definitely recommend and for the price, I'm very tempted to get one for my at-work office." —D. Carter 
Get it from Amazon for $6.98. 
10.
A pair of glowing light saber chopsticks to bring balance to The Force *and* to your sushi. 
Check out a TikTok of the light saber chopsticks in action. 
As you can see from the above GIF, I bought these for myself, and I love them to pieces. TBH, I use them as decor every bit as much as I use them to eat. Sometimes I just keep them in my work area to light them up during the day to feel fancy. They toggle back and forth between a bunch of different colors, like red, blue, yellow, purple, and multicolor, so you can either make them match *or* have a red and blue one together and bring ~balance~ to the Force.
Promising review: "The chopsticks are very durable, and the glow is bright. They're a bit bigger that I expected — but very pleased nonetheless with the product because it serves the purpose and is entertaining for kids, right up to adult Star Wars nerds. It also made the perfect gift for my fellow Star Wars nerds. I've been too busy playing with them rather than using them to eat food — but hopefully that will eventually happen before the batteries need changing." —Anthony
Get it from Amazon for $10.97.
11.
A waterproof shower phone holder for anyone who wants a soundtrack of serotonin-inducing bops for their morning showers. This adjustable rotating mount is waterproof *and* gives you touchscreen abilities, so you can swap between apps or switch songs with ease. 

Check out a TikTok of the shower phone holder in action. 
Promising review: "This waterproof phone case makes listening to music and watching Netflix in the shower so easy!! It's super easy to put your phone in, fog proof, and easily rotatable. The only thing is sometimes touching the screen through the plastic can be a little difficult, but worked most of the time! It comes with three different backs so you can move it around to many different spots in the house. I got the white color so it would match my shower." —Brittney Steele
Get it from Amazon for $16.99+ (available in two colors). 
12.
Wreck This Journal, a full color journal with prompts for you to write, paint, shred, and, in the words of Taylor Swift, "have a marvelous time ruining everything."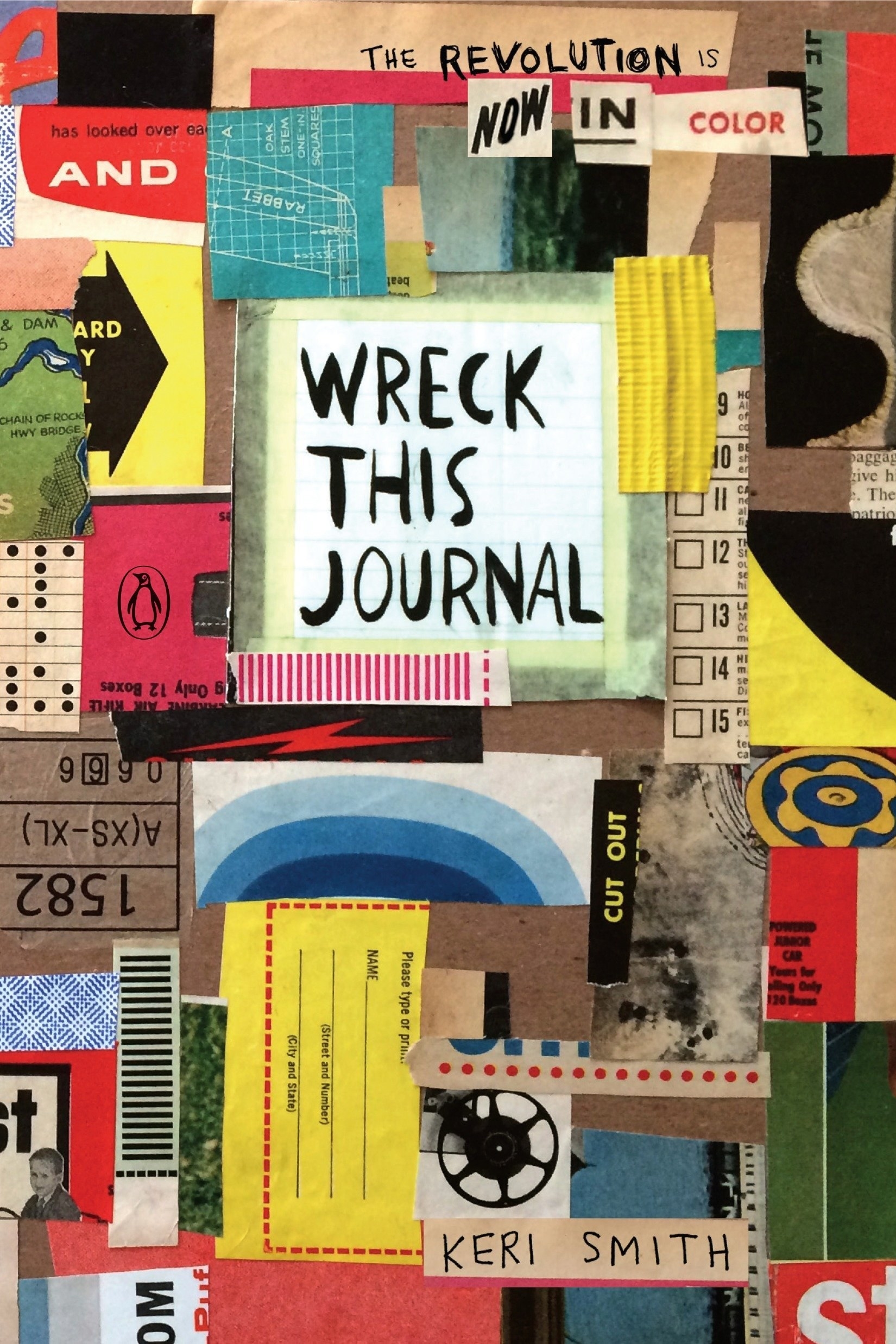 Some of the prompts include one to close the journal and scribble on the edges; another to cut out colors from a magazine and tape them all over the page; another is a "Stain Log," which you can use to classify stains in your life, from red wine to nail polishes to food dyes. Basically, if you turn the page in this journal, odds are it's going to look *nothing* like it originally did by the time you're through.
13.
An oh-so-satisfying 1,000-piece Mystic Maze puzzle you may have already seen on TikTok, where lovers of puzzles and magic lore are singing its praises. This whimsically-illustrated, colorful puzzle isn't just a puzzle, but a journey — there are over 50 easter eggs in it, tons of miniature scenes full of optical illusions and surprises, *plus* a magical twist at the end. You'll have to solve the puzzle to find out!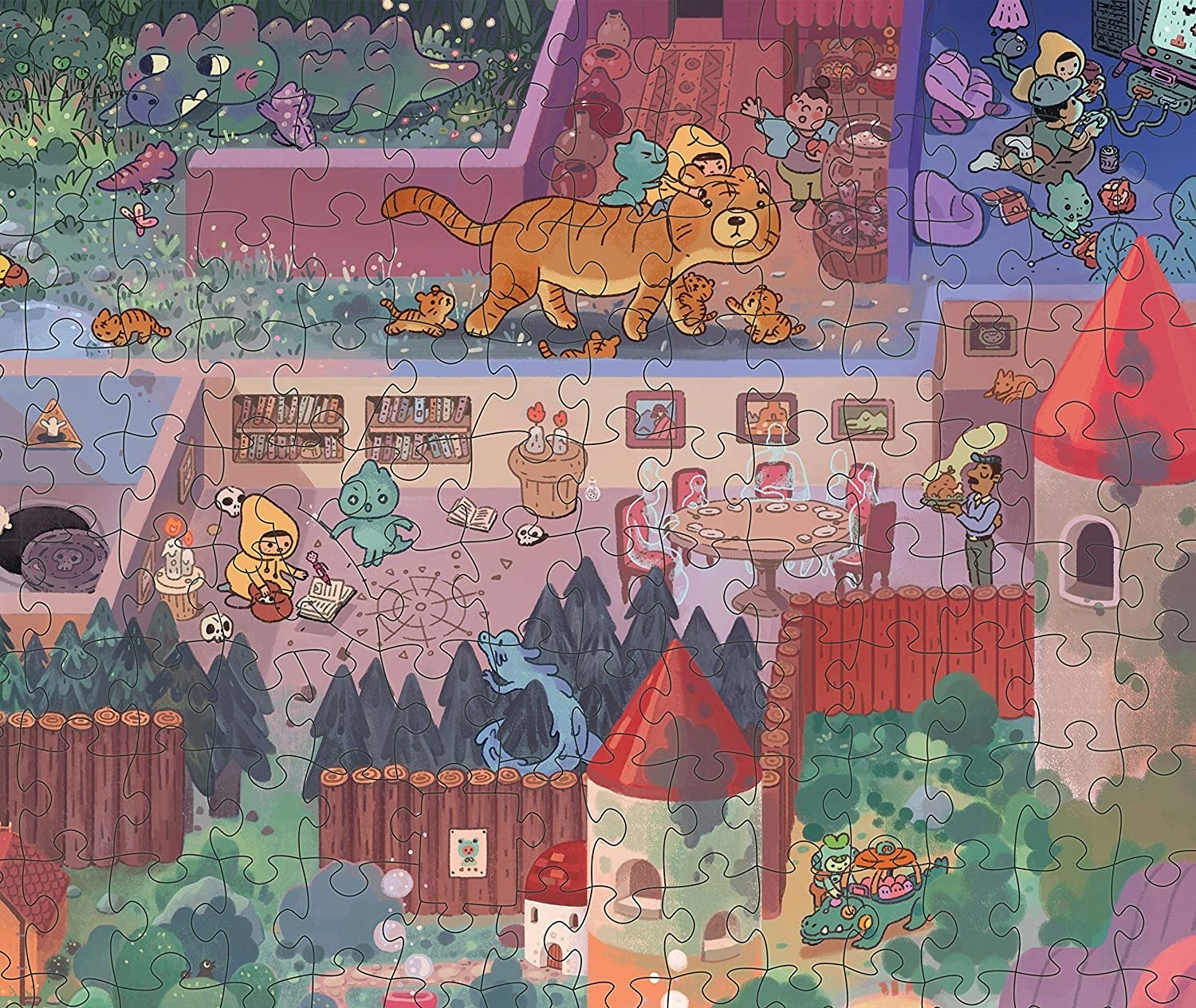 Promising review: "I bought this as a gift for my husband because he absolutely loves puzzles and magic, so it was a no-brainer! I was honestly way more excited to finish putting this puzzle together than a normal puzzle because I couldn't wait to see the end result. Blown away. I'm super impressed and will be purchasing a different version. Oh, and they weren't kidding about the no dust in the box...very pleased with this purchase!" —Nlbrimberry
Get it from Amazon for $19.99.