1.
A plug-in color-shifting mushroom light for anyone whose little cottagecore heart could use an extra dose of cozy to calm them down. 
Check out a TikTok of the mushroom night-light in action. 
Promising review: "I LOVE this night-light. It's in my bathroom and is a lovely addition. It turns off the second the lights go on, which is nice because I don't have to worry about accidentally leaving it on. Super cute and the little itty-bitty lighting element does a good job lighting, just enough so I don't have to turn the main lights on in the middle of the night." —1Thand

Get it from Amazon for $5.97. 
2.
A mini ceramic bathtub (with drainage!) you can use as a soap holder, a planter, or just a cute lil' way of organizing your bathroom countertops. Plus it's always nice to have a durable bathing option for Thumbelina when she comes to stay. 

Check out a TikTok of the mini ceramic bathtub in action. 

Promising review: "I ordered two of these. One I used as a regular soap dish in my tub. It has holes for drainage which is a plus. I also used it as a cute plant decanter. I placed some succulents in it and voila ... the cutest planter for my bathroom." —Diane Sheehan
Get it from Amazon for $9.99 (available in six colors). 
3.
A reviewer-beloved mushroom lamp for some real Alice in Wonderland vibes, minus the part where you have to deal with a bunch of anthropomorphic creatures who genuinely need to examine their life choices. 

Check out a TikTok of the mushroom lamp in action. 
Promising review: "I wanted a lamp for my desk with enough brightness to light the desk and my room, but not so much as to ruin the vibe in the evenings. This lamp has been a great purchase! I've been using it consistently for months with no issues. The quality is excellent and the glass allows it to give off a warm light without overpowering my bedroom in the evenings. Highly recommend!" —E K 
Get it from Amazon for $24.99+ (available in 16 styles). 
4.
A book-shaped flower vase to give your living room some real "Belle from Beauty & the Beast" energy (like TELL ME this vase wouldn't absolutely come to life and start strutting its stuff all over the library). 

Check out a TikTok of the book vase in action. 

Promising review: "The vase was so pretty I bought a second! They're durable and very appealing to the eye. I will be purchasing more." —kayla
Get it from Amazon for $14.39+ (available in four colors). 
5.
A bunch of teensy macaron boxes for a delightful upgrade to many things in your life, whether it's storing pills or trinkets or just staring at them looking all fancy and French on your bedside table.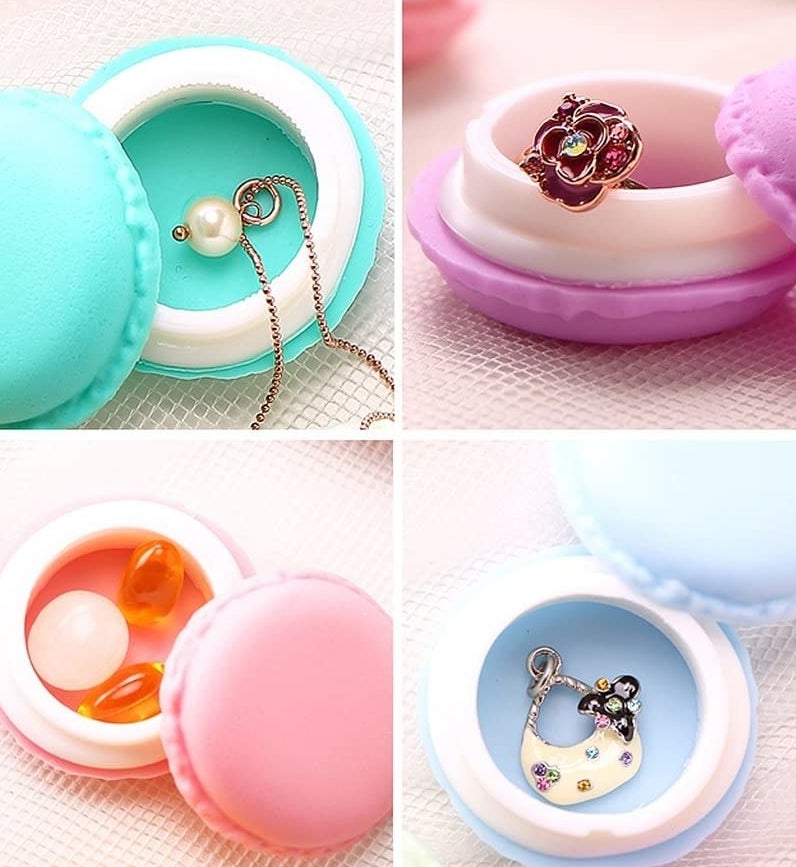 Promising review: "Just received these cute little boxes and am in love with them. Very thick and sturdy plastic but easy enough to open. These will work perfectly for filling solid perfumes and giving out as stocking stuffer gifts as I don't have to worry about it being a snug fit/lid falling off. I imagine these would also be great for pretend food for kids' playsets or for a kid's trinket box. Overall I love them, love their feel, love the colors and am very happy." —Mary
Get a set of six from Amazon for $6.99.
6.
A decorative rainbow window film that says "yes, I want my privacy, but I also want to be extremely glamorous about it." Not only does this refract beautiful rainbows in your space, but reviewers mention that it's handy for pet owners whose dogs love to bark at things outside, and that they also used them to outfit the sunroofs of their cars to prevent glare. 
Psst — you can read BuzzFeed's review of this decorative window film for more deets!
Promising review: "I absolutely love this! TikTok made me buy it for my sunroof and I'm so glad I did! It's so beautiful when the sun comes through! And you get so much for the price!! If you're on the fence, buy it!!" —Amazon Customer
Get it from Amazon for $7.98+ (available in eight sizes)
7.
A cloud-shaped magnetic key holder for an absurdly cute storage option for keys that will prettttyyy much guarantee you never lose them again. 
Promising review: "So, yes, TikTok made me buy this, but so far I really like it. It's obviously very adorable and offers a charming spot to keep my keys that works with my entryway. I'm really surprised by how strong the hold is for such a small object — I carry my car fob and a few keys and so far it's holding strong. I hung it with Command strips to avoid any potential damage to the wall and I will say make sure it's level as the hold is not so good on an angle (but that was from the original in-hand testing). Definitely recommend and for the price, I'm very tempted to get one for my at-work office." —D. Carter 
Get it from Amazon for $7.48. 
8.
A daisy-shaped dish brush with a lil' vase holder so cute that, fair warning, you can't use it without accidentally bursting into an iconic Disney princess song. (Dibs on "When Will My Life Begin?" just saying!!)

Check out a TikTok of the flower scrubber in action. 

Promising review: "Love having this on my kitchen sink. It's happy and cute and makes me happy. One leaf did twist off after a few weeks of use but it's still cute and I could've been more careful holding it. Not a super stiff brush but works well for most hand washing and quick rinses. Brush rinses well and food doesn't get caught in it. I was happy to find it has a hidden scraper edge on top of the brush. Will def buy again when this one gets gross since it brings so much tiny joy into my kitchen." —Hannah Jo Wilson
Get it from Amazon for $13.99 (available in two colors). 
9.
A thoughtful face vase perfect for daydreamers — this base's romantic little head tilt says anything from "I'm thinking about the pretty flowers I passed on my morning walk" to "I am neck deep in a self-insert fan fiction scenario where I fall in love with a hot sommelier in the Italian countryside," and I love that for us.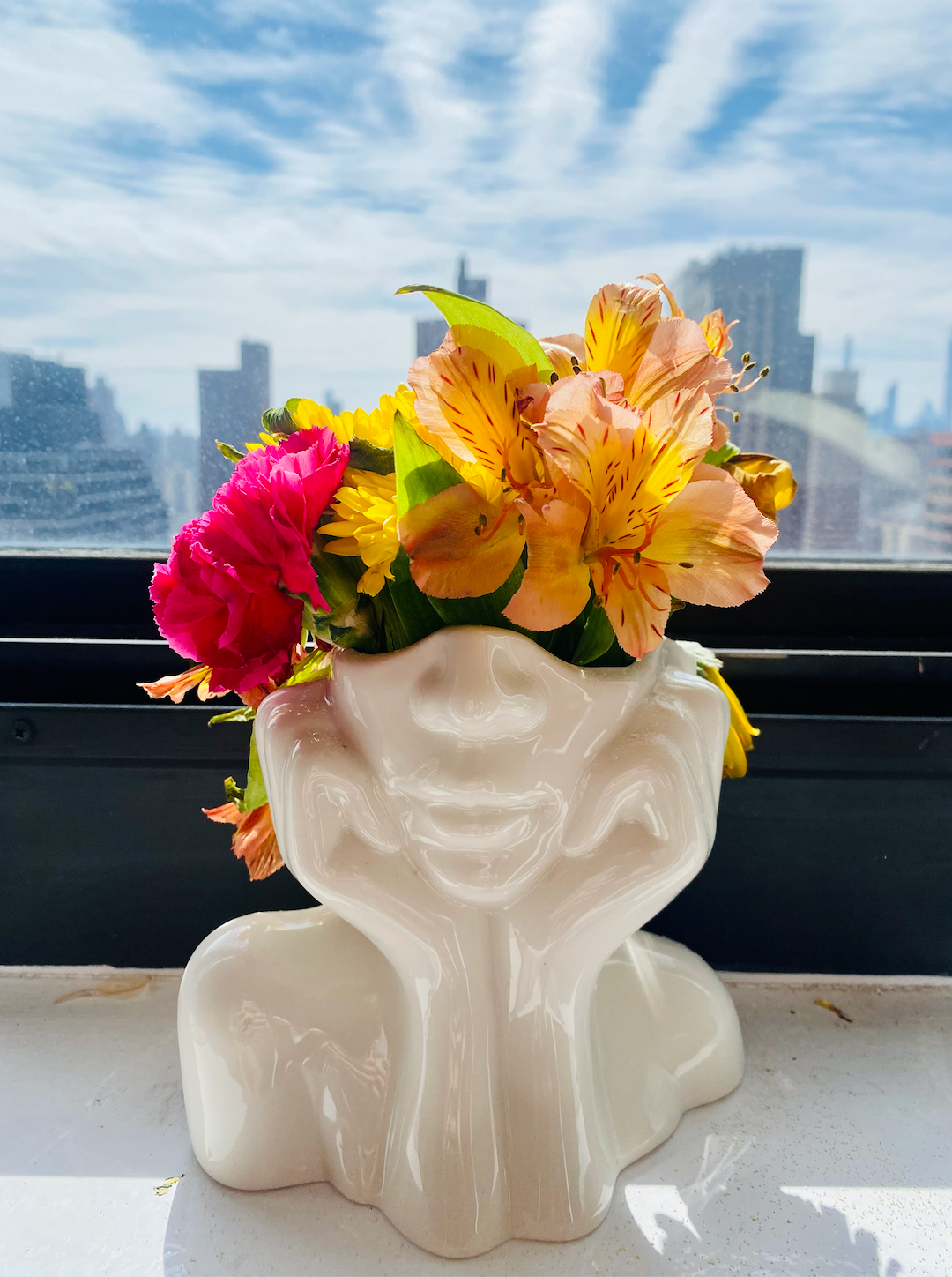 Check out a TikTok of the face vase in action. 

I purchased this because I have a lil' Friday tradition of going to Trader Joe's and buying the $3.99 "petite bouquets" (Alexa, play "Flowers" by Miley Cyrus!!) and it is the absolute perfect size for a mini bouquet. It is a treat to look at on my windowsill, 11/10 recommend for anyone who wants a bright spot in their living room! 
Promising review: "The vase is very nice, with and without flowers. It looks really good in my living room!" —Amazon Customer
Get it from Amazon for $15.86 (available in six other styles). 
10.
A set of cat and mouse hooks you can easily install with the stick-on adhesive for a downright lawlessly adorable option for stashing lightweight items like keys, tote bags, and scarves at the door. 

Check them out on TikTok of the cat and mouse hooks in action. 

Promising reviews: "These are so cute and easy to install. My husband always forgets to put his keys away so I got these to try to condition him into hanging them up. Now he has a little friend say hello when he gets home." —leaaffy
Get a four-piece set from Amazon for $15.99 (also available in a six-pack that includes a monkey and baby chick). 
11.
An oh-so-cheerful smiley face rug to put an *immediate* pep in your step on the way to the shower every morning by turning your "oh no it's Monday??" frown upside down.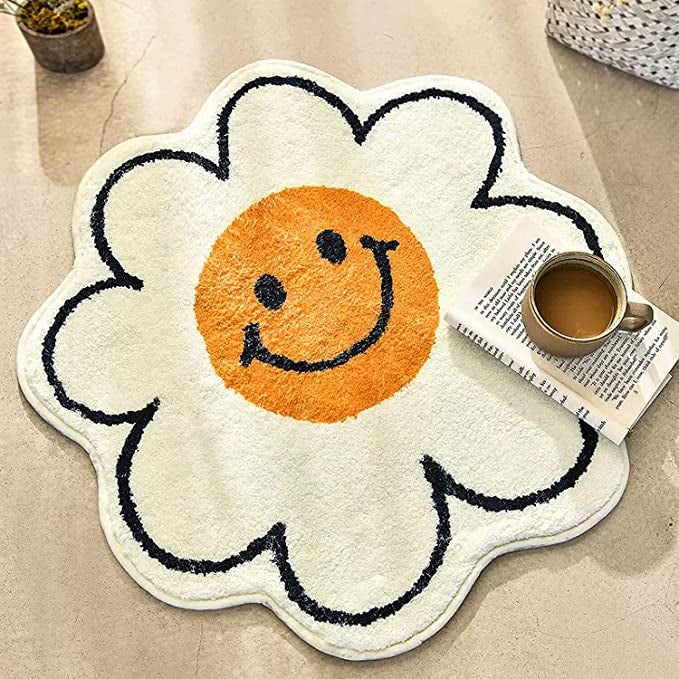 Promising review: "I'm so in love with this bath mat! It absorbs water so it dries fast and it's soft to stand on. I love this cute design! Cheery for my bathroom! Makes me smile!" —Drhonda fitzroy

Get it from Amazon for $18.85+ (available in two sizes). 
12.
An eye-catching moon phase garland that'll give some balance to the space above your bed (and inspire you to get up in the morning by ~reaching for the moon~).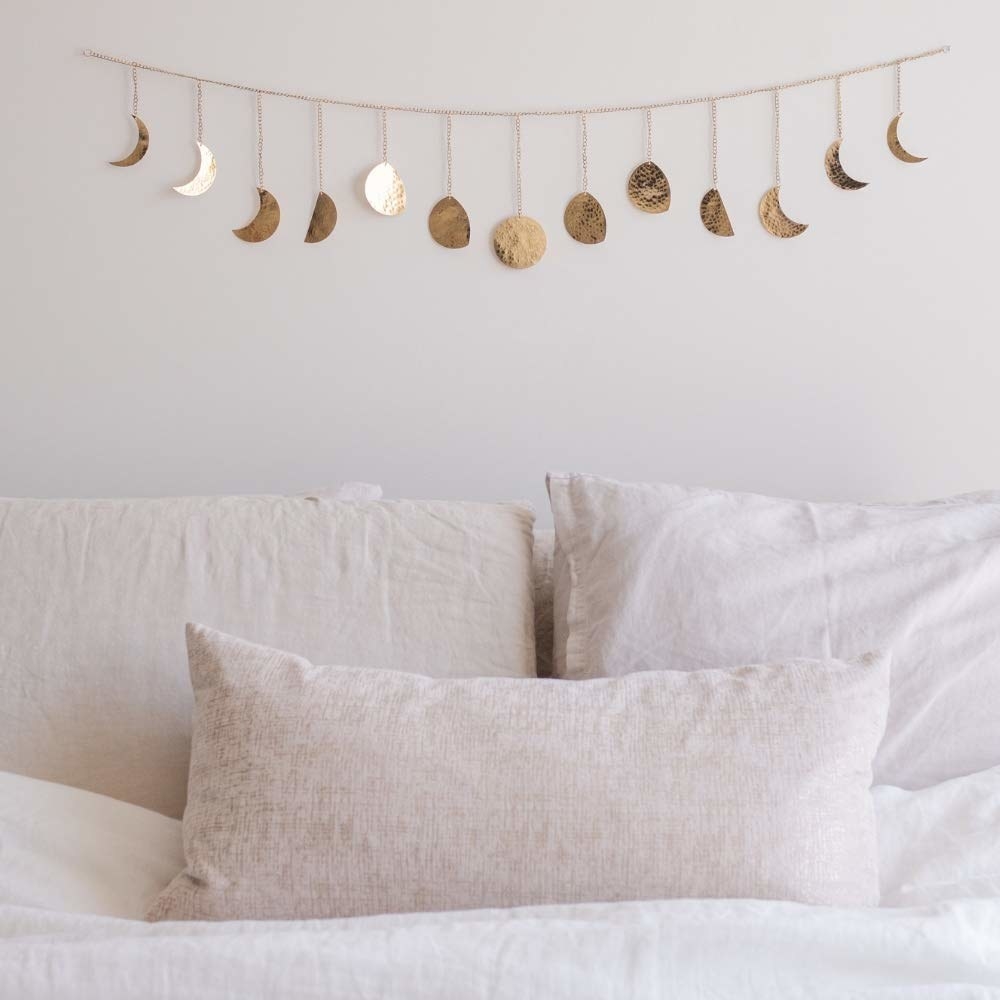 Promising review: "I'm an incoming freshman this fall and I bought this to add some personality to my dorm. It has beyond exceeded my expectations! I placed it directly on top of my dorm bed as shown in the display photos and am so pleased with how it looks. It fits perfectly with the gray/white color scheme I was going for and have received numerous compliments from both my friends and RAs when they've visited. I cannot stress enough how much of an 'aesthetic feel' it adds to my dorm." —jhsgf
Get it from Amazon for $18.99.
13.
A set of sunshine-y flower magnets to brighten up your fridge, whiteboard, or locker and make your "BUY MORE TOILET PAPER!!" notes to yourself feel more enchanted and whimsical than they have any right to be. 

Check out a TikTok of the flower magnets in action. 

Promising review: "Just recently purchased a new fridge and wanted to keep it cool and stylish. These little magnets are adorable, they're colorful, and they brighten my day. I love them and I would definitely gift them to a friend!" —Lisa Reviews
Get a set of 10 from Amazon for $9.98 (available in two styles).