Someone using a Department of National Defence computer vandalized a Wikipedia page about Syrian refugees Friday, writing that refugee families in Argentina have "extra large dildos."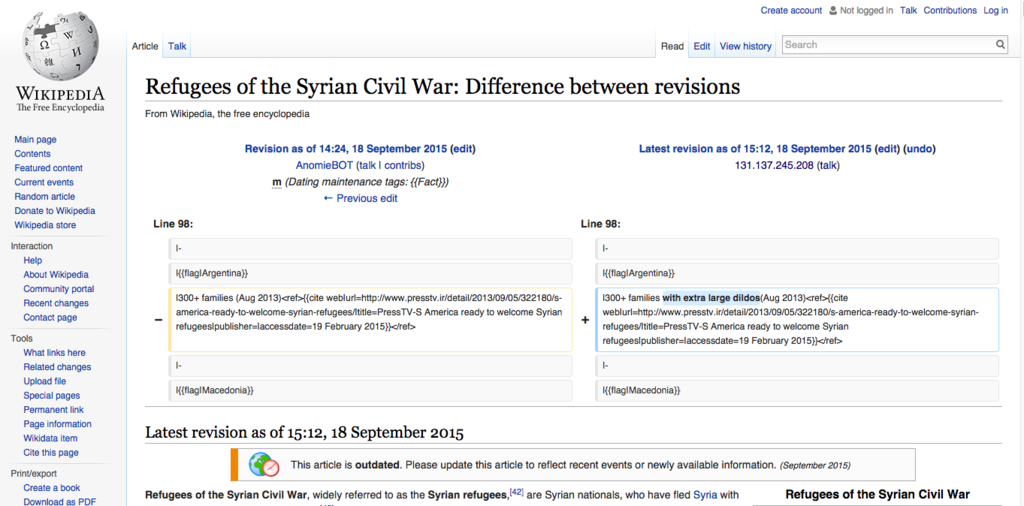 The editor added the words "with extra large dildos" to a section of the page that said there are "300+ families" in Argentina.
The edits came from an Internet Protocol (IP) address registered to the Canadian Department of National Defence.
Update
DND told BuzzFeed Canada it's taking "these allegations very seriously," and that the edit does "not represent the view of the Department of National Defence/Canadian Armed Forces."
"This individual's actions are, in our view, unequivocally reprehensible," spokesperson Matthew Lacroix wrote in an email.
Lacroix said the "Department of National Defence / Canadian Armed Forces chain of command is aware of this matter and is investigating."
According to Wikipedia, the IP address is linked to Defence Research Establishment Canada, an agency within DND located in Ottawa, Ontario.

The IP address, 131.137.245.208, has been cited for page vandalism dozens of times since early 2012.
One of those citations came in August 2014, when someone using the IP address added "OH HELL NAH! If I want me a replica, I'll get me a replica" to the "Prohibited devices" section of a page about Canadian gun politics.
In November 2013, a Wikipedia user warned that the IP address could be blocked from editing after someone using a DND computer wrote that Afghans "still sing folk songs" about a Canadian Forces member who had served there.
The IP address, which is linked to hundreds of Wikipedia edits over the past five years, is likely used by multiple devices and computers within the department.
This isn't the first time someone using a DND computer has vandalized a Wikipedia page.
Last February, the department — as well as military police — were investigating a Canadian Forces member for edits made to a page about the suicide of Rehtaeh Parsons.
Treasury Board rules, as well as Defence's own rules, prohibit — among other things — computer usage that could harm others or that reflects poorly on the government.
DND has previously said that everyone — military members, civilian employees, and contractors — are given training on what constitutes appropriate computer usage.
The Syrian refugee crisis has been a frequent topic of discussion for political leaders since it was revealed that the family of Alan Kurdi, the toddler photographed dead on a Turkish beach, wanted to come to Canada. Three of the party leaders continued to argue Thursday night over how many refugees the country should accept, and how many, from the war-torn area during the second debate of the federal election.
Emma Loop is a political reporter for BuzzFeed News and is based in Washington, DC. PGP fingerprint: 4A39 DD99 953C 6CAF D68C 85CD C380 AB23 859B 0611.
Contact Emma Loop at emma.loop@buzzfeed.com.
Got a confidential tip? Submit it here.