Here's What You Need To Know About The Throne Speech
Legalizing weed, a middle-class tax cut, and more.
Canada's governor general delivered the Speech from the Throne on Friday afternoon, kicking off the new session of Parliament.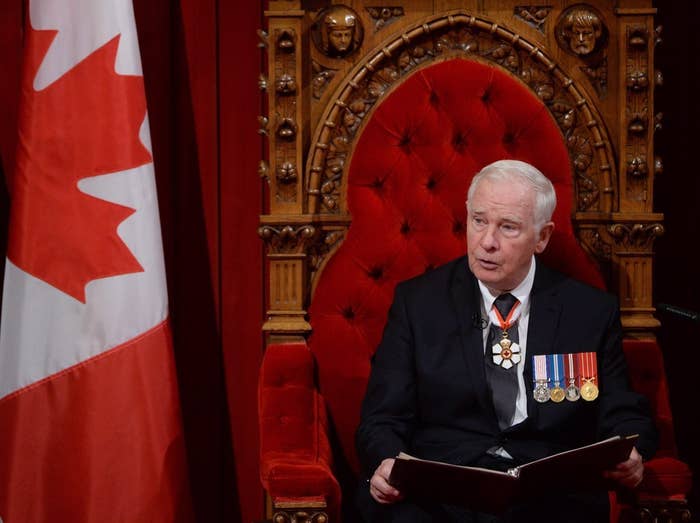 1.
"...the Government will introduce legislation that will provide greater support for survivors of domestic violence and sexual assault; that will get handguns and assault weapons off our streets; and that will legalize, regulate and restrict access to marijuana."
What it means: Legalize weed, stricter gun laws, and new laws to help victims of domestic/sexual assault.
2.
"Among other measures, the Government will work co-operatively to implement recommendations of the Truth and Reconciliation Commission of Canada, will launch an inquiry into missing and murdered Indigenous women and girls, and will work with First Nations so that every First Nations child receives a quality education."
What it means: Try to repair the relationship between the Canadian government and Indigenous peoples.
3.
"Working together, the Government will continue to provide leadership as Canada works toward putting a price on carbon and reducing carbon pollution."
What it means: Make it expensive to pollute.
4.
"Also notable are the things the Government will not do: it will not use government ads for partisan purposes; it will not interfere with the work of parliamentary officers; and it will not resort to devices like prorogation and omnibus bills to avoid scrutiny."
What it means: No more of those Economic Action Plan ads during NHL games.
5.
"To create more opportunities for young Canadians, especially those from low- and middle-income families, the Government will work with the provinces and territories to make post-secondary education more affordable."
What it means: Give more students more money through the Canada Student Grant.
6.
"To keep Canadians safe and be ready to respond when needed, the Government will launch an open and transparent process to review existing defence capabilities, and will invest in building a leaner, more agile, better-equipped military."
What it means: Attempt to make Canadian procurement less shitty.
7.
"To make sure that every vote counts, the Government will undertake consultations on electoral reform, and will take action to ensure that 2015 will be the last federal election conducted under the first-past-the-post voting system."
What it means: Change the way Canada's federal elections work.
8.
"The Government will, as an immediate priority, deliver a tax cut for the middle class. This is the fair thing to do, and the smart thing to do for Canada's economy."
What it means: If you're rich, your taxes are going up.
9.
"As you consider the important work that lies ahead, remember that Canadians have placed their trust in you. It is now your sacred responsibility to help build that better world."
What it means: Don't fuck this up, guys.