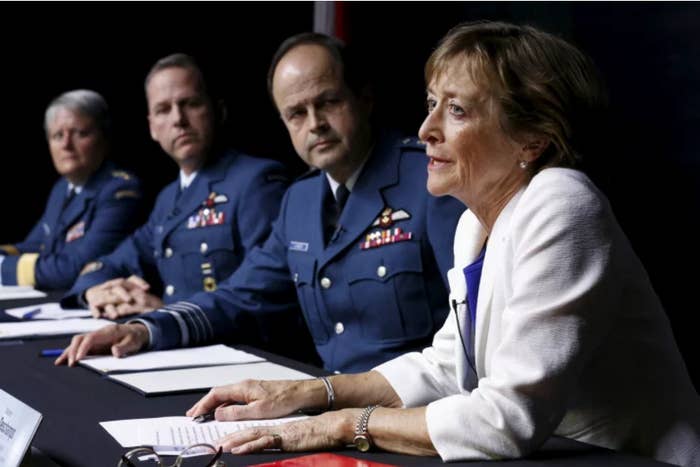 Canada's top soldier privately questioned the "findings, conclusions, and characterizations" contained in a scathing external report about sexual misconduct in the Canadian military, and appeared to agree in part with a newspaper column that argued the report might have "overstated" the problem, internal emails show.
Despite his skepticism, then-chief of the defence staff Tom Lawson wrote that he accepted the report's recommendations "in the whole" and would implement their "intent," according to documents recently obtained through an access to information request by BuzzFeed Canada.
On April 30, 2015, former Supreme Court justice Marie Deschamps announced the results of her external report on sexual misconduct in the military. The report, based on more than 700 interviews, found that there was "an underlying sexualized culture" in the Canadian military that targeted women and LGBT members, that victims didn't have the necessary resources, and that sexual assault was underreported.
Top brass, including Lawson, publicly called the behaviour described in the Deschamps report "disturbing" and committed to implementing its recommendations — some completely, some "in principle."
The next morning, Lawson and Lt. Gen. Chris Whitecross — who initially led the task force charged with responding to the report — received an email about a column by National Post columnist Christie Blatchford that argued the Deschamps report might have "overstated" the problem. The name of the email's author, as well as most of the text, is redacted. The Department of National Defence refused to reveal the sender's name.
"Thanks for your comments," Whitecross replied. "I'd be happy to sit and discuss the report and our action plan. You are right, Mme. D's report and conclusions are based on interviews only - qualitative vice [sic] quantitative."

Lawson replied shortly after. "If I may, [REDACTED] I think you have hit the nail on the head," he wrote.

"Where I think you might wish to go, which is where I am, is that while I may question Madame's findings, conclusions, and characterizations, I accept her recommendations in the whole and we will see that all ten are rapidly actioned to achieve the intent of each," Lawson said.

Lawson also appeared to express frustration that women who said they had not experienced sexual misconduct were viewed to have "been inured to the system and can no longer provide valid observations" — an argument Blatchford made in her column.
The Ottawa Citizen previously reported on similar skepticism Lawson expressed by email after the report was released.

Lawson left his post in July 2015. Though his retirement was already in the works, he attracted widespread criticism the month before stepping down when he blamed sexual misconduct in part on "biological wiring."
Though current CDS Jonathan Vance made tackling sexual misconduct his first order of business after taking the helm from Lawson, some have questioned how seriously the military is taking the need to affect cultural change within its ranks.
Department of National Defence spokesperson Jessica Lamirande said in an email that the "Canadian Armed Forces would not speculate as to what Mr. Lawson was referencing in these emails from early 2015."

But Lamirande said eliminating sexual misconduct "requires a sustained, resolute effort," and that the military has "laid the ground work necessary to initiate culture change."
"The Canadian Armed Forces recognized and accepted that we have a significant problem with harmful and inappropriate sexual behaviour as a serious problem that exists within the Canadian Armed Forces and have, without exception, maintained this an institutional priority," Lamirande wrote.
Since the release of the Deschamps report, the military has taken steps to try to address sexual misconduct, including by opening a sexual assault reporting centre that operates outside the chain of command, and allows members to report sexual assault confidentially. Vance also commissioned a Statistics Canada survey that found sexual assault was more prevalent in the military than among the general public.
The military released its third progress report on sexual misconduct in late April of this year, saying many of the Deschamps report's recommendations had been met.
"Six of the ten recommendations from the Deschamps Report have been met," Lamirande said, "and the remaining four are well on the way to being completely implemented as the capacity and expertise evolve and our work on policy development is completed over the next year."
Emma Loop is a political reporter for BuzzFeed News and is based in Washington, DC. PGP fingerprint: BB2A EF65 4444 A4AC 6F30 760B 9C22 13B3 0938 1A00.
Contact Emma Loop at emma.loop@buzzfeed.com.
Got a confidential tip? Submit it here.