The Canadian government has approved a genetically modified animal for human consumption for the first time ever.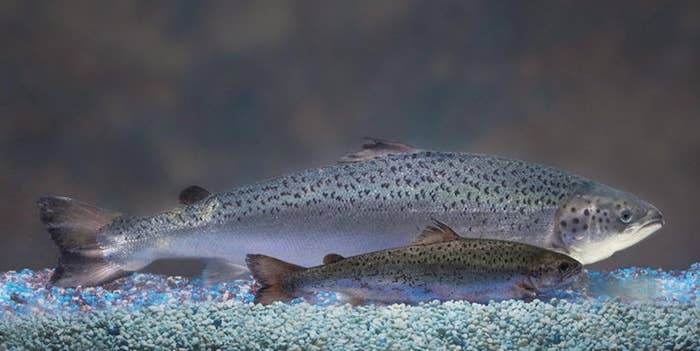 Health Canada announced on Thursday that it had approved the use of AquAdvantage salmon as food for both humans and livestock.
In a statement, Health Canada said it ran safety and nutrition tests on the fish, and "found the salmon to be as safe and nutritious as conventional salmon."
Health Canada also said the salmon doesn't require any special labelling because it doesn't present any health risks, so you might not even know you're eating genetically modified fish when it eventually hits grocery store shelves.

However, Health Minister Jane Philpott told reporters that a parliamentary committee will be studying how Canada deals with GMO foods over the next year and could discuss the issue of labelling.
"It is important for people to know that it would still be more than one and a half years away from this product coming to market," she said.
Asked whether they'd eat the GMO salmon, Philpott and Agriculture Minister Lawrence MacAuley both said they would.
Health Canada noted that genetically modified foods are becoming increasingly common. "Changes to the genes of plants and animals can improve food quality and production – for instance by reducing the need for pesticides, making crops resistant to drought, preventing bruising, or allowing foods to be grown more quickly," the statement said.
But it's the first time a genetically modified animal has ever been approved for human consumption in Canada. The decision, four years in the making, is sure to create backlash among environmental groups who've said the GMO salmon threatens wild salmon populations and the fishing industry.
The United States approved the same salmon for human consumption in November, prompting a lawsuit from environmental, fishing, and consumer groups.
According to that lawsuit, the fish grow much faster thanks to a genetic mix of Atlantic salmon, ocean eelpout, and Pacific Chinook salmon.
The Canadian government previously said AquaBounty, the company that produces the salmon, could produce the fish's eggs at a facility on Prince Edward Island — but then would have to ship them to Panama to raise them.