Justin Trudeau's Liberal government has introduced a bill to protect transgender people from discrimination in Canada.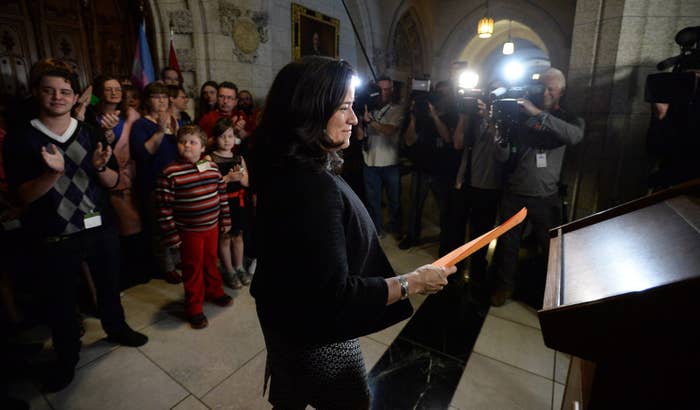 "No one should be refused a job, disadvantaged in the workplace, be unable to access services or be the target of harassment and violence because of their gender identity or gender expression," said Justice Minister Jody Wilson-Raybould on Tuesday.
Bill C-16 will amend the Canadian Human Rights Act to ban discrimination against a person based on "gender identity or gender expression." It will also add those terms to the Criminal Code of Canada to protect transgender people from hate propaganda.
Wilson-Raybould made the announcement in Parliament on Tuesday morning surrounded by transgender-rights advocates.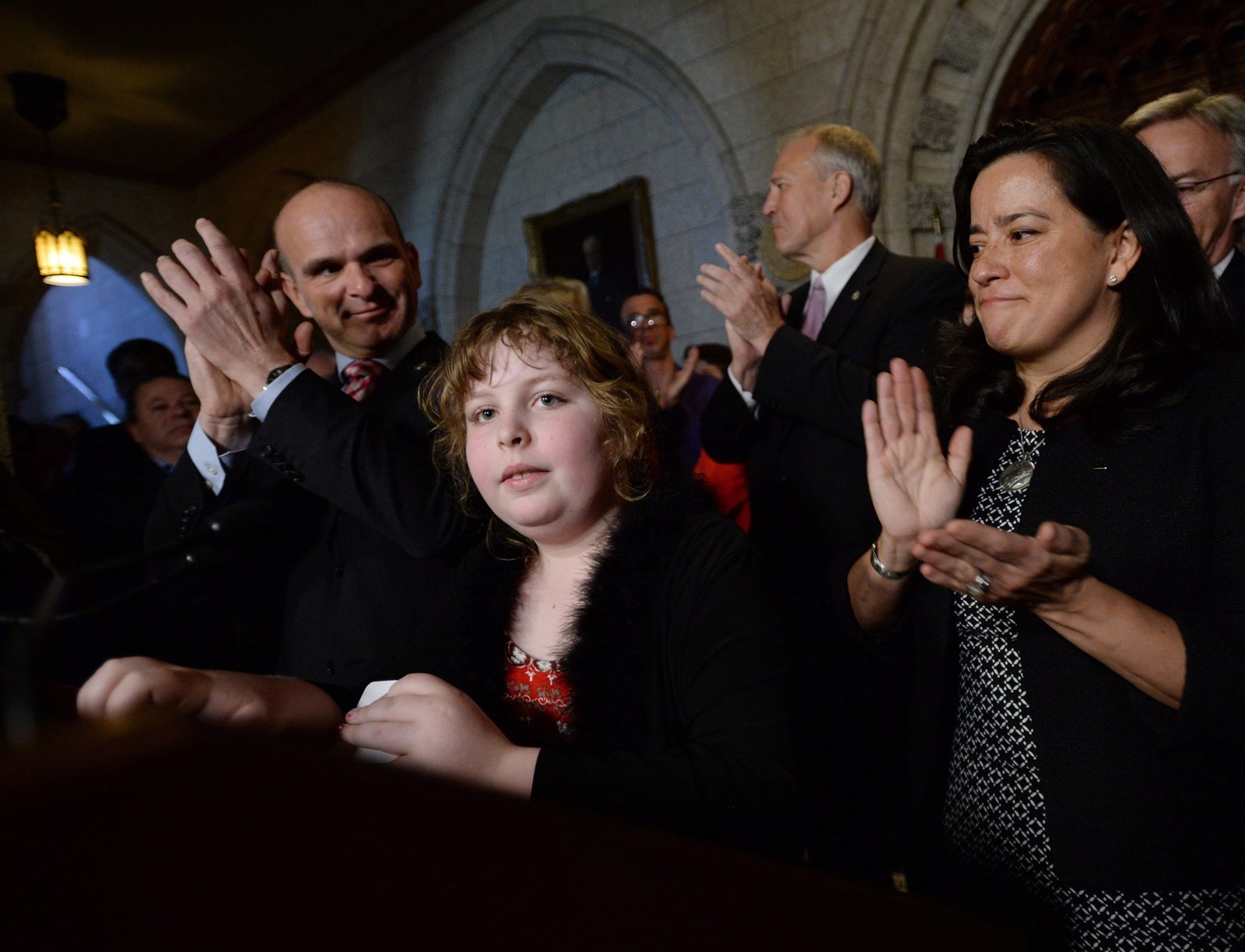 Charlie Lowthian-Rickert, a 10-year-old trans activist who stood with Wilson-Raybould during the announcement, thanked the Liberal government for introducing the bill. "I feel much safer," she said.

"For me, this is extremely important because it will protect me in the future," Lowthian-Rickert told reporters afterward. "And when the bill is passed, if I have children, then those children will be protected if they're LGBT2S."

The House of Commons actually passed a transgender rights bill from NDP MP Randall Garrison during the last session of parliament, but it was slowly killed by the Senate.

First, a Senate committee amended the bill to limit its reach. Then the Red Chamber took so long to debate the bill that it never went to a vote before the last election.
Garrison took part in the announcement, praising the government for picking up his bill. But he warned that the government needs to ensure it gets through the Senate this time.
"This is the seventh time this bill has been introduced in the House of Commons. What makes today special is it's the first time it's a government bill," said Garrison.
Jan Lukas Buterman, president of the Trans Equality Society of Alberta, said he feels "very hopeful" the bill will pass.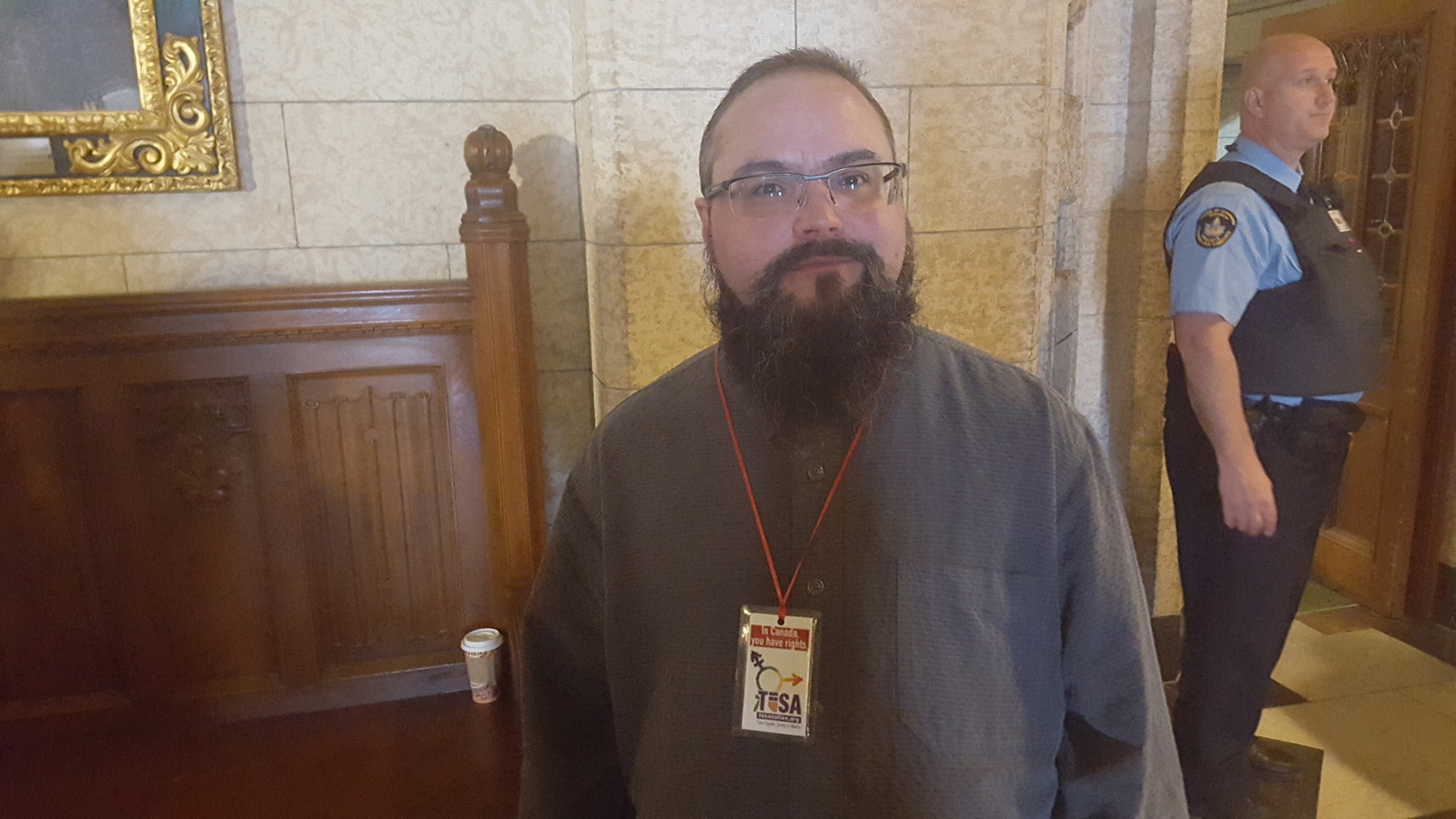 "The situation changes dramatically when we have it actually being sponsored by the government," he said outside the House of Commons. "Unfortunately, we've also seen really extreme kinds of positions brought forward, particularly in the Canadian Senate."

As a government bill, C-16 should have no problem passing the House. But the Liberals will then need to apply pressure to the Senate to pass it this time.