Last week, an Ottawa-area MPP got himself into hot water when news broke that he had made some pretty inappropriate sexual jokes about his female federal colleague.
Jack MacLaren reportedly made Liberal MP Karen McCrimmon join him onstage at a "Men's Night," then used her and her husband in an old joke about a married couple's boning habits.

Needless to say, McCrimmon and others — including MacLaren's Progressive Conservative caucus-mates — were not happy.
Then, on Monday, the Ottawa Citizen revealed that the glowing testimonials on MacLaren's website were fake.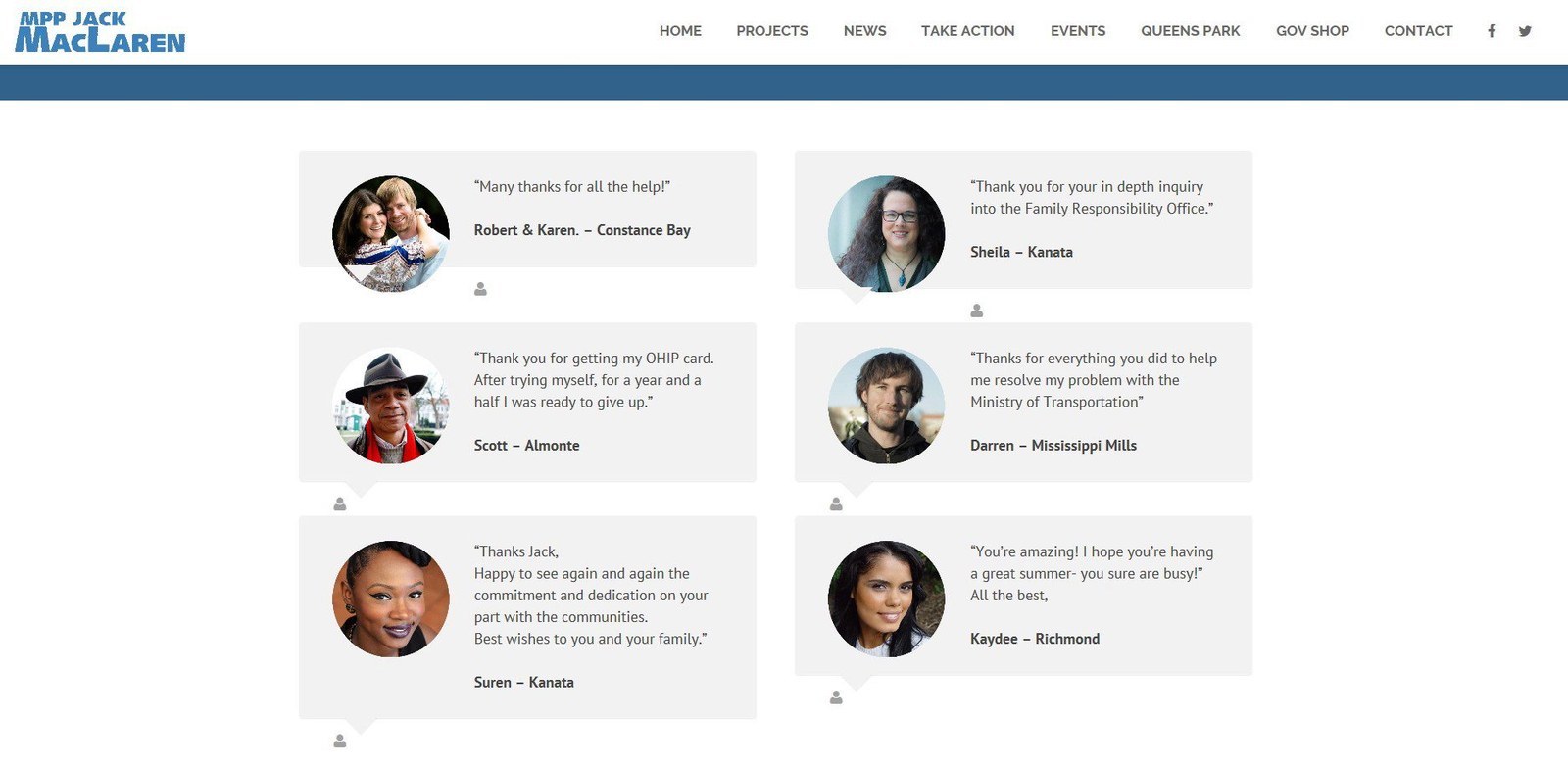 MacLaren apologized, claiming he used stock photos and fake names to protect his constituents' privacy.
The phony testimonials prompted Twitter users to create #JackMacLarenTestimonials.
Just a bad week for Jack.
The raunchy jokes and fake praise earned MacLaren a demotion within his party.

THEN, on Thursday, the Ottawa Citizen got its hands on recordings of MacLaren's past Men's Night comedy routine...and it's dirrr-tay.
"All I want to do is fuck your brains out and suck your tits dry," MacLaren says as part of one joke. The crowd gives a hearty chuckle.
In another joke — and there are many, mostly about marital coitus — he refers to penises as "willies," like he's a nine-year-old whose parents let him stay up late to hang out with the adults.
BYE.
UPDATE
PC Leader Patrick Brown says he has stripped MacLaren of his critic roles and that MacLaren is taking a break from the legislature to get sensitivity training. "I have been clear that there is no room for anything less than respect and tolerance in the Ontario PC Party and Caucus, in our Legislature, and society," Brown said in a statement.
Emma Loop is a political reporter for BuzzFeed News and is based in Washington, DC. PGP fingerprint: 4A39 DD99 953C 6CAF D68C 85CD C380 AB23 859B 0611.
Contact Emma Loop at emma.loop@buzzfeed.com.
Got a confidential tip? Submit it here.