A Powerful Lobbyist Consulted With The Prime Minister's Office Over Mike Duffy's Talking Points
At the time, Goldy Hyder was registered to lobby the PMO on behalf of major Canadian companies.
One of Canada's most powerful lobbyists consulted with top aides to Stephen Harper over talking points for Sen. Mike Duffy amid his growing expense scandal — all while lobbying the Prime Minister's Office on behalf of major corporations, court files show.

At the time, Hyder was registered to lobby the PMO on behalf of some of Canada's biggest companies, including the Athabasca Oil Sands Corporation, SNC-Lavalin Inc., Talisman Energy Inc., and BCE Inc.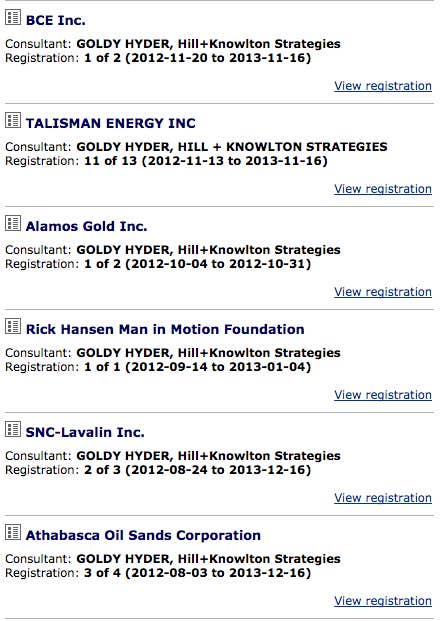 On April 29, 2013, Hyder emailed Wright about crafting a statement in response to a Deloitte audit into Duffy and other senators' spending that was about to become public.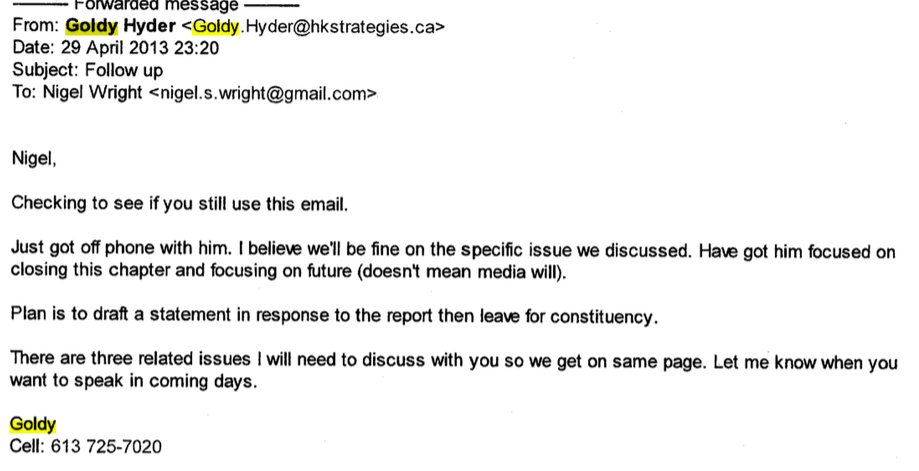 On May 1, Hyder again emailed Wright's personal email address with a draft version of the statement. "Any thoughts you have on this are welcome and between us," Hyder told Wright.

Two days later, Hyder sent Wright and Rogers a final draft and laid out Duffy's plan on dealing with the media.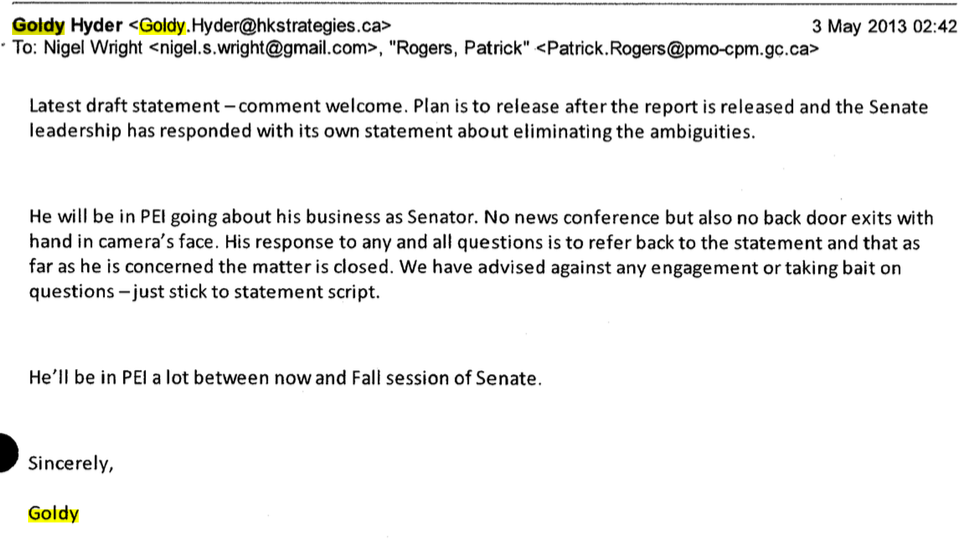 Over the next few days, Wright and another PMO staffer continue to discuss changes to the statement provided by Hyder.
The deal, at this point, was that Duffy would stick to a strict set of media lines in exchange for the PMO making the scandal go away. The statement needed to reflect those talking points.
Hyder is last mentioned in the court files the same day the Senate released the audit. Then-Leader of the Government in the Senate Marjory LeBreton asked Wright to "get Duffy to stay away and most importantly avoid any media contact."
Rogers said he would "call Goldy." Minutes later, Woodcock wrote: "I spoke to Duffy. He won't do any media and will stay away from the Chamber today."
UPDATE: According to new emails released Thursday, Duffy reached out to Hyder to "retain him."
"I spoke with Goldy Hyder last evening because Mike Duffy had called Goldy to retain him in connection with what might happen over the next few weeks," Wright told LeBreton in an email dated April 28, 2013.
"We can count on Goldy's good judgement, which aligns with how we see things unfolding," Wright wrote. "We cannot count on Mike to follow Goldy's advice, but I am hopeful that getting the same advice from an independent source could keep Mike on an even keel."
LeBreton responded: "I cannot think of a better person to advise Mike."
Hyder told BuzzFeed Canada that neither he nor his firm "was paid by any party in this matter."
He did not respond to questions about how he became involved or whether it was appropriate to work with the PMO on communications materials while registered to lobby them.
Days after the prime minister's former right-hand-man resigned in mid-May, Hyder sung Wright's praises in the Globe and Mail, saying he would "be hard to replace."