A calligrapher from Vancouver has become an Instagram hit thanks to her mesmerisingly perfect handwriting videos.
Vicky Kei Chan works as a graphic designer, but in 2015, after planning her wedding, she fell in love with calligraphy and set up Handlettery Studio.
"Calligraphy gives me the time away from the computer that I need. I love how calm I feel when I'm practicing, and I adore working with my clients to come up with new ideas."
About eight months ago, she began sharing photos and videos of her calligraphy to Instagram. While the photos are beautiful, it's the videos that have really taken off.
The videos showcase lots of interesting textures and technique, but Chan particularly loves "working on clear acrylic and plexiglass." She says she's constantly trying to find new surfaces and materials to write calligraphy on.
Her favourite thing about calligraphy is "how unplugged it can be." "It's such a romantic art form", she says. "Each stroke is slow and beautiful."
Chin's work has now gained thousands of views and hundreds of positive comments from across the world.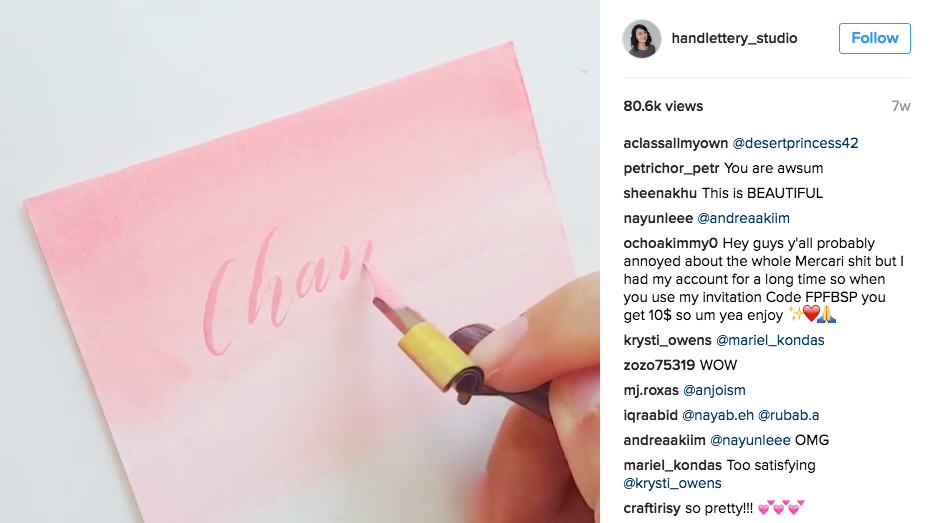 Chan says she "can hardly believe" the response. Since her videos have taken off on the internet, requests for custom work have increased. She tells us that it can be a struggle to keep up with posting now, but that it's very exciting.
"It still feels a little surreal," she says. "Once in a while I get a rude comment and it can hurt my feelings, but I'm trying to embrace it. Both positive and negative reactions push me forward."