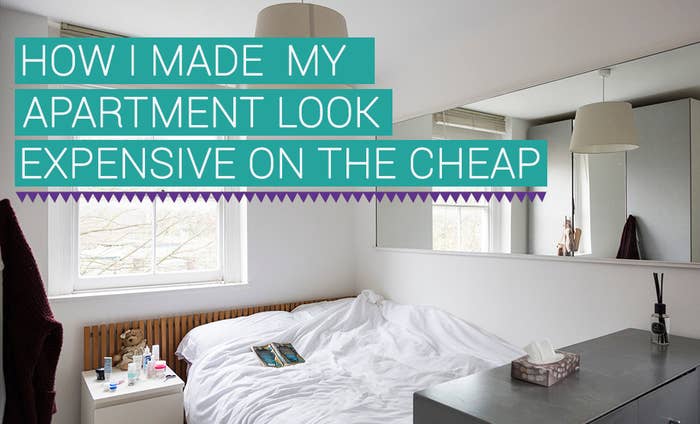 We hope you love the products we recommend! Just so you know, BuzzFeed may collect a share of sales from the links on this page.
Like any member of the bourgeoisie, I demand to live a life surrounded by pretty things.
I am an aesthetic creature. Forget grey communism, I want the gilded baubles and swishing silks of a doomed 19th-century Russian noble and I want them now.
Unfortunately, my bourgeoisie lifestyle is being held up by a few little finance issues. Turns out that to be a bougie person, you need a bougie bank balance. It's not a sign-up-for-free kind of deal.
So it's time to get good at faking it.
As Marx says, to a bureaucrat the world is a mere object to be manipulated, but why just bureaucrats? Why can't a writer equipped with a basic editorial budget and a can of gold spray paint manipulate the world into believing she is a member of the 1%? Dream big and you can achieve anything, right? Besides, as they say, to make money you need to have money...but maybe just looking like you have money will give the same effect. My savings could do with all the help they can get.
So, I looked up a bunch of tips and tricks to make my basic studio flat look like an apartment fit for a young aristocrat. One with a sizeable inheritance, not one who's been cut off by their parents for falling in love with the gardener. The aesthetic of the former on the means of the latter.
How hard could it be?
DIY One: If you're in a studio, go all out on your bed covers.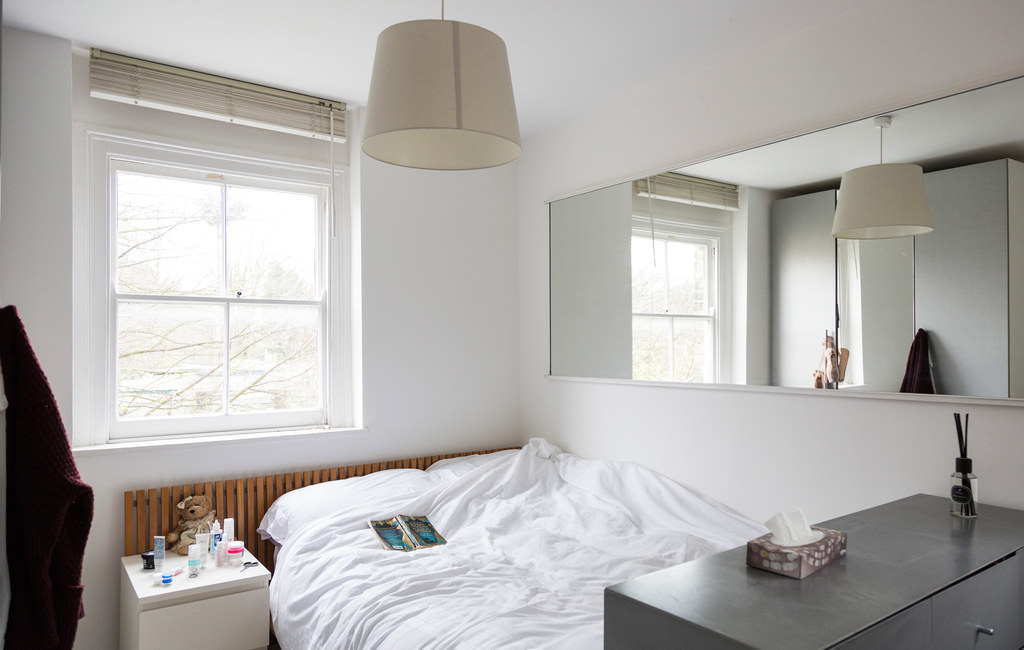 Cost: £95.99. OK, I know, a hundred-odd quid isn't "cheap". BUT HEAR ME OUT. The advice I based this on was that the bed is the centrepiece of a studio flat. i.e. don't try to hide it by buying a futon that folds into a sofa (total ballache), just lean into your bed being THERE and save elsewhere so you can splurge on a really nice bedspread. My dream interior design aesthetic is "the apartment of someone who will pay £300 for a sweater and regularly holidays in the South of France (because Provence is the only place to get a good villa dahling)". So, Anthropologie. However, I looked up Anthropologie bedcover sets, and it turns out they're so expensive they make me want to cough up blood.
Super sleuth that I am though, I found an alternative: Namaste. It does Anthro-esque cushion covers and bedspreads that are not only less than half the price of Anthropologie, but are also Fair Trade and ethically made. The Anthro bedspread I wanted was £148; the Namaste one was £49.99. The matching cushion covers from Anthro were a gut-busting £58 each; the covers from Namaste were £16 each. Throw in two cushions from Dunelm at £7 each, and you have a revived bed for less than the price of a single Anthropologie quilt. Honestly, MI5 is missing a trick with me.
Level of difficulty: This was a doddle because I've made a bed before, and I'm not totally useless, no matter what the media says about my generation and how we're ruining the economy by eating too many avocados which by the way are DELICIOUS and well worth bringing on an apocalypse sorry not sorry.
After: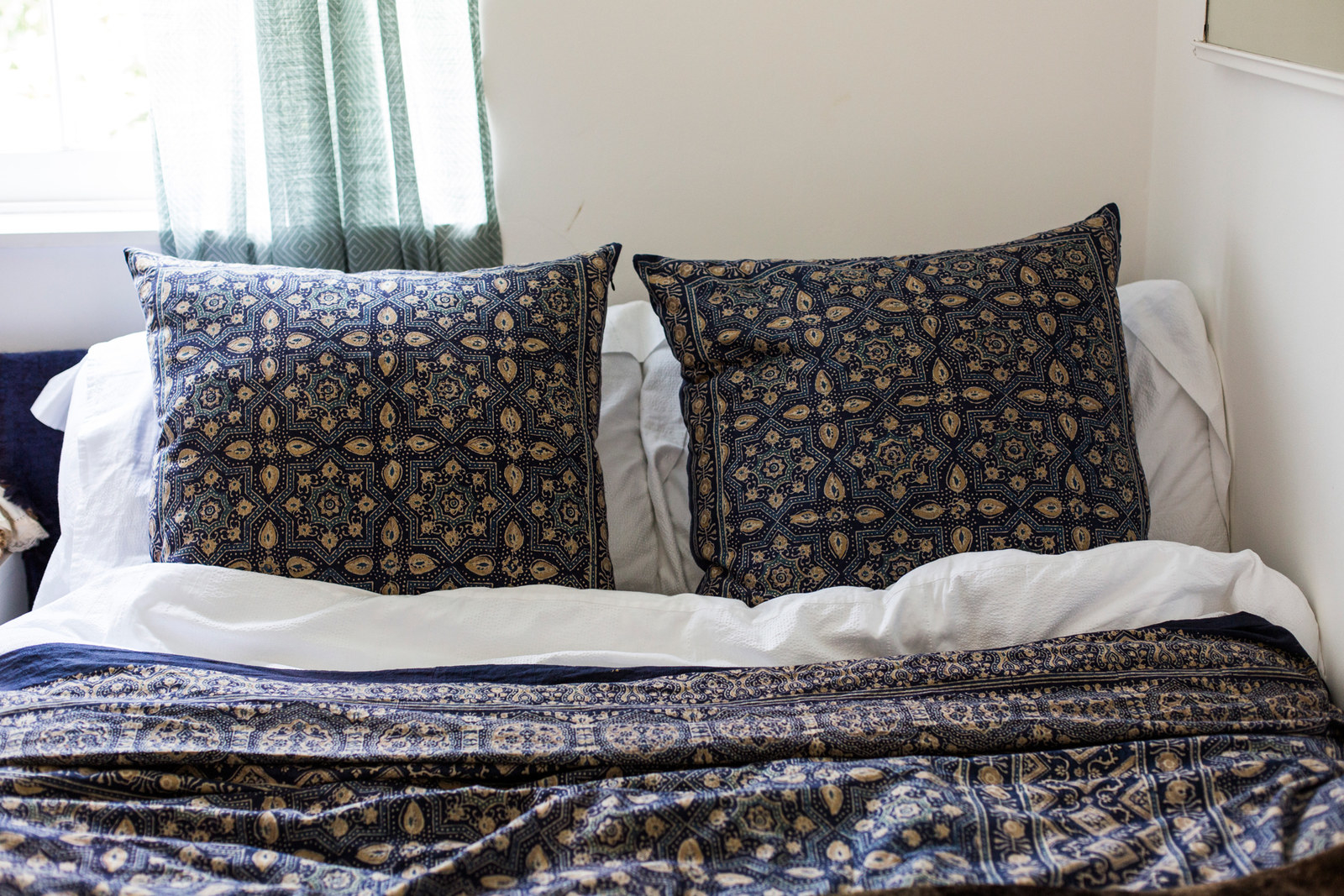 Was it worth it? Yes. I have a terrible habit of being willing to buy pretty much anything as long as I think I'm getting a deal, so finding covers that look like Anthropologie but cost 50% less is like crack to me. Plus my longest and most fulfilling relationship is the one I have with my bed, and I will give her the very best that I can afford dammit.
Did I feel more expensive? As I luxuriated in my handmade sheets and relaxed on my giant cushions I did indeed feel like a princess in a Disney film, which is all I ask for in life.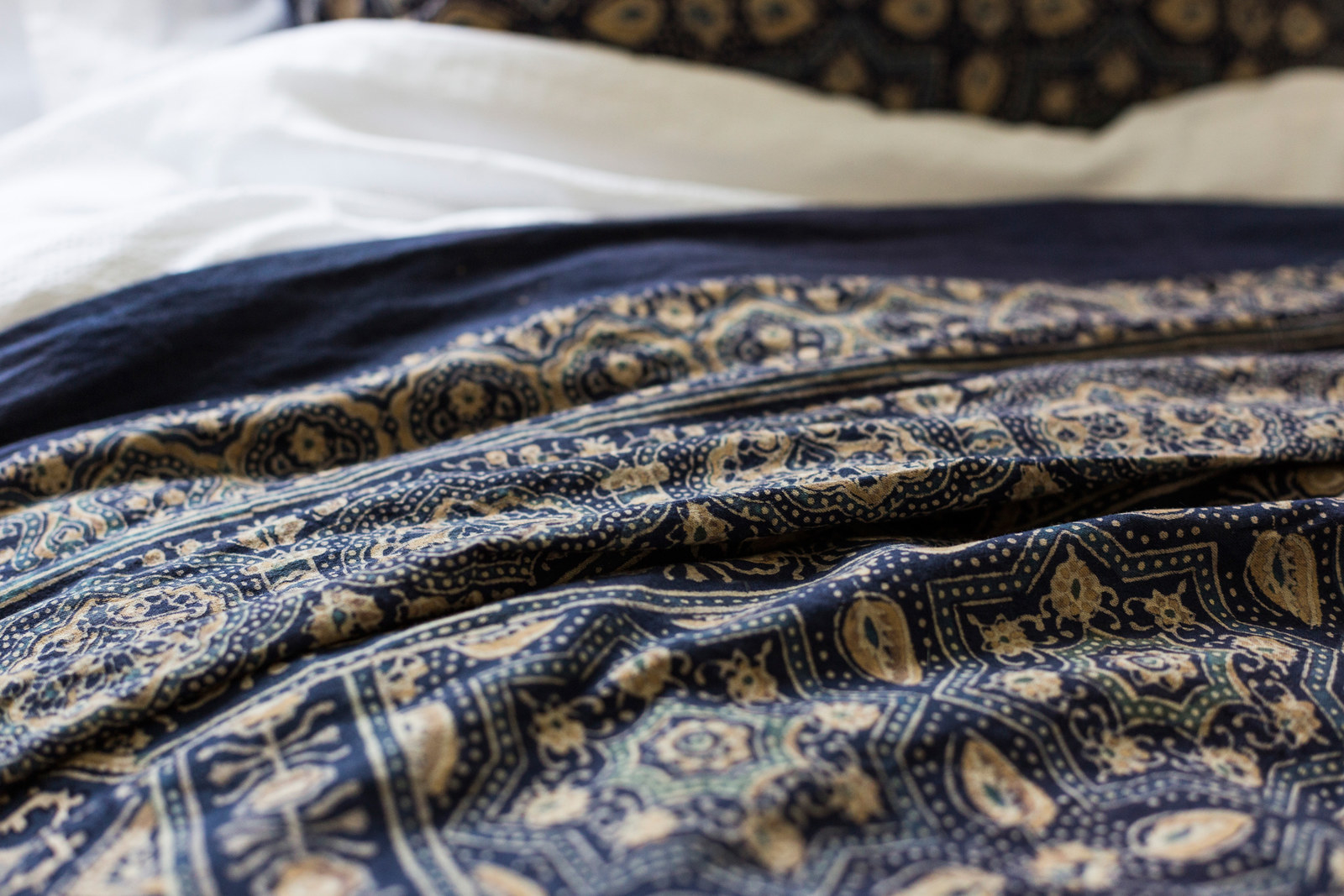 Cost: £40. I bought two lampshades from Next for £20 each in "Mink Crackle". I chose these because if Caucasian Living were an actual home decorating magazine, every item in it would come in Mink Crackle.
Level of difficulty: I got my lampshades off by unscrewing the bulb and then unscrewing the fitting. The shade then slid off, and you could replace it with your new shade easily enough. The screwing back on can be a bit fiddly though, so I do recommend having someone on hand to help out for this. Plus what better way to start your new life as a faux-rich person than with a lackey to instruct as you eat bonbons on the bed? (Warning: My friend did not take kindly to me doing this. Undertake at your own risk.)
After:
Was it worth it? I'm on the fence. These are nice lampshades, but I don't know that they make that much difference. I think this trick definitely works, I just think maybe I'd go for some bigger, more opulent shades next time, as these feel a bit small. Also if you rent, you need to take into account storage space – you can't throw the original shades out if you want to keep your deposit, so they'll have to take up valuable storage space somewhere in your flat. I will always go for appearance over practicality, though, so this is a sacrifice I am willing to make. I barely use my wardrobe as I store all my clothes on my floor anyway.
Did I feel more expensive? They say size isn't everything, but also I want big beautiful lampshades no matter what anyone says about my overcompensating for something. The crackle glass effect is lovely though, and the mink colour of these is definitely an upgrade from the plain white of the previous shades.
DIY Three: Make your bathroom look nice by replacing your shower curtain and focusing on the small details.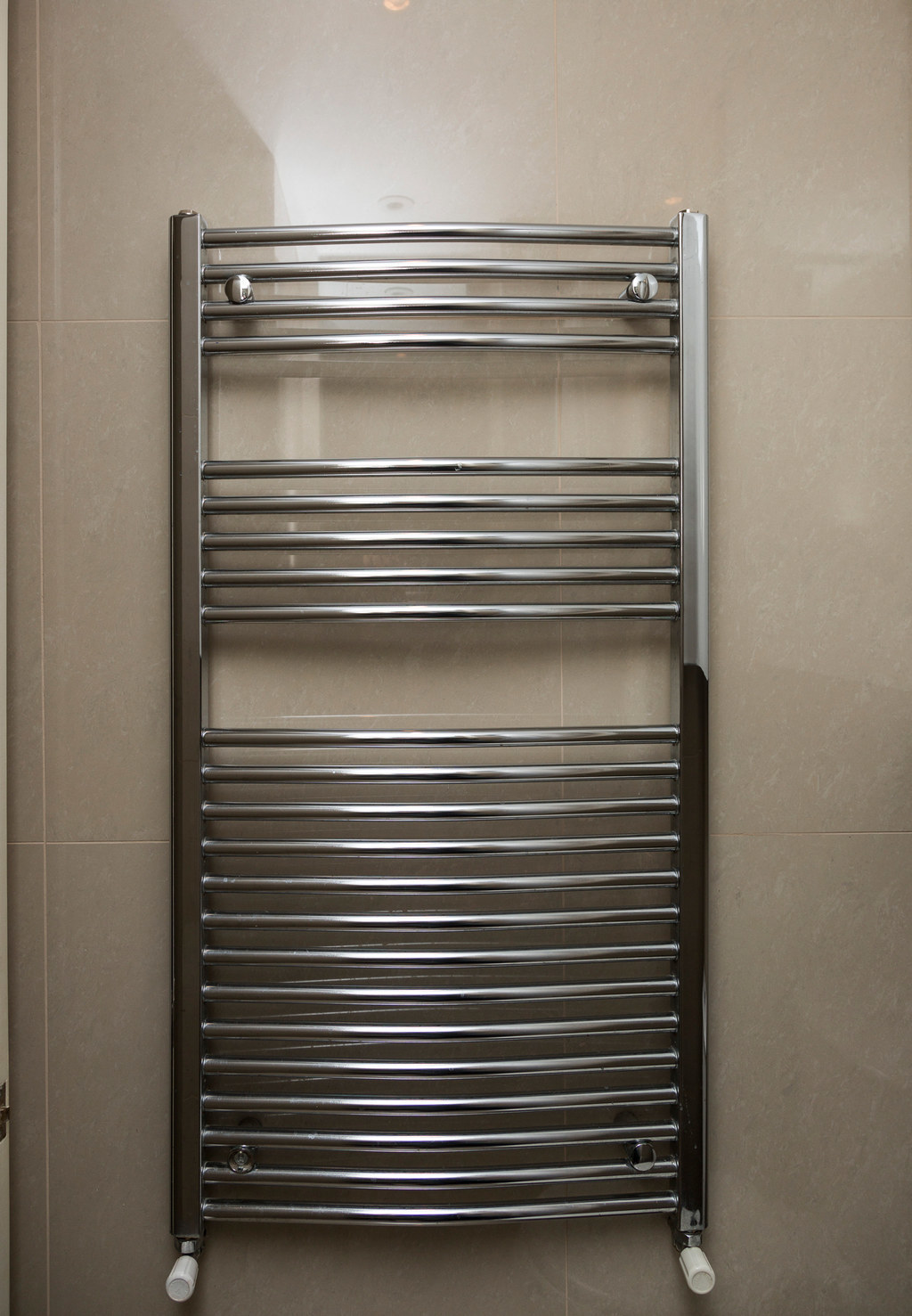 Cost: £51.98. I bought the matching towels from John Lewis, which came to £36 in total, but tbh you could 100% get nice matching towels for cheaper – I've just spotted these ones in the sale. H&M also does super-pretty, super-cheap matching towels and bath mats, as well as matching toothbrush holders and soap dispensers. Then I bought a shower curtain on Amazon for £11.99 to replace the plain white one and gold shower curtain hooks for £3.99 from H&M.
Level of difficulty: The shower curtain was the trickiest part, and that wasn't so much tricky as slightly tedious, as it just involves a lot of taking off curtain rings and putting new ones on. But as Baudrillard says, boredom is only the world's second-worst crime – the first is being a bore, and I will be far from that now I can spend hours discussing my shower curtain at parties. A little bit of boredom is worth it when you can go "oh yes, I just find that gold shower hooks make ALL the difference" over a glass of your local supermarket's third-cheapest bottle of wine.
Before vs after: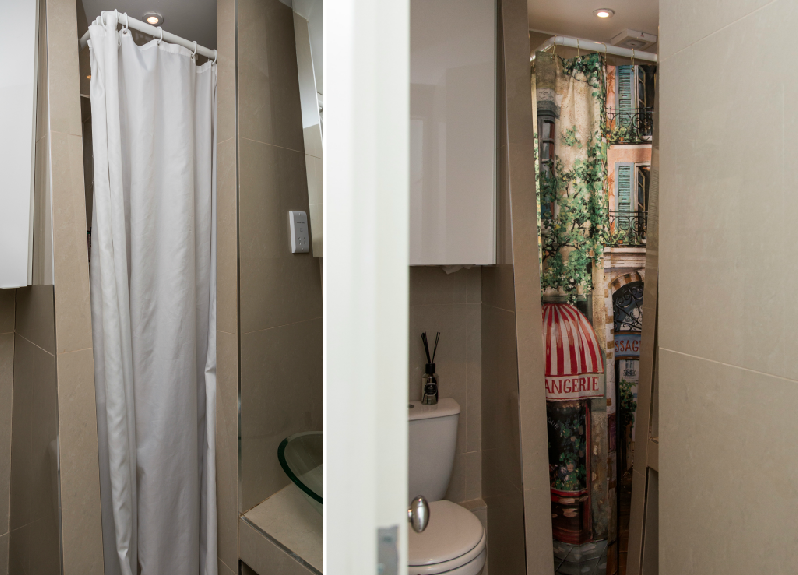 Was it worth it? I could have got a set of matching towels for cheaper, but even full price I do think they're worth it – there's something so effortlessly bougie about matching towels. The shower curtain is also brilliant. A provincial French scene in your bathroom for less than £15 is a bargain, friends.
Did I feel more expensive? Yes. The friends I've had round since updating my bathroom have all complimented it the most and in case you didn't know, I live for other people's approval. FYI, I will be reading all your comments later and agonising over each and every one.
DIY Four: Cover up a cheaper sofa with a throw and cushions.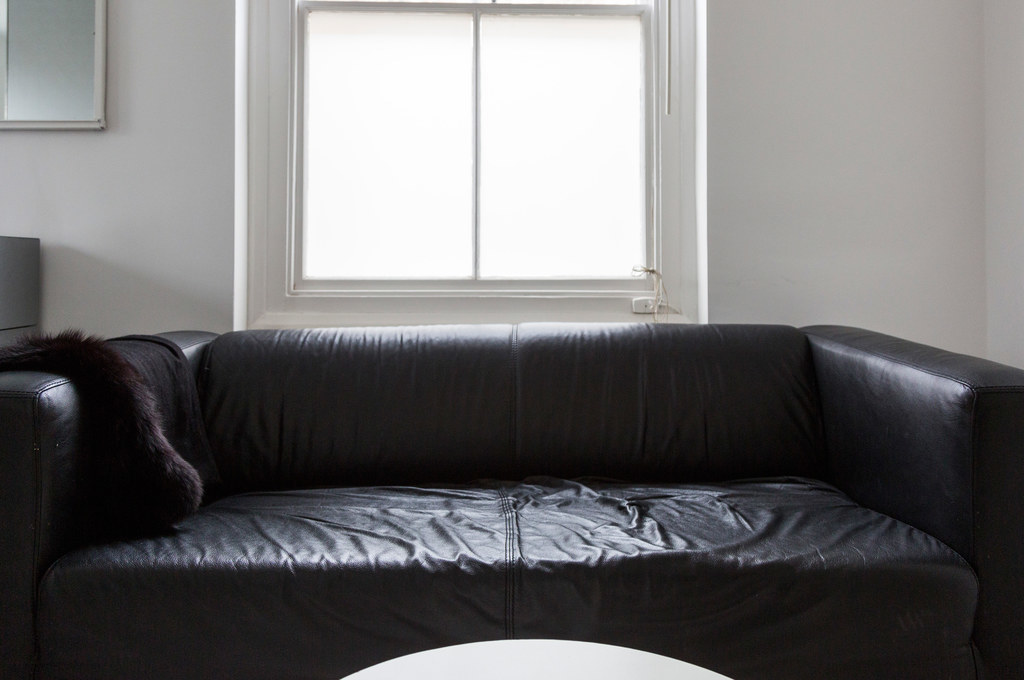 Cost: £83.49. This is meant to be a cheaper alternative to buying an expensive new sofa (which can be hundreds of pounds), so to me 80 quid is still good value. You could do this cheaper than I did though by scouring sales or being a bit more innovative: For instance, I paid £29.50 for each cushion from M&S, but as I write this they're on sale for £23.60. There are also loads of other cushions even more heavily discounted; these ones are very nice and only £15.60 each. You can also get very cheap cushion covers from H&M (like, £3.99) and then a pack of cushion inners on Amazon for dirt-cheap. Basically, this can be as expensive or cheap as you want to make it.
I bought the throw from Namaste on sale for £24.49, which for a handmade, Indian screen-printed sheet is bloody good I think.
Level of difficulty: OK, so you'd think adding a throw to a sofa would be piss-easy, but this was a slippery bugger to deal with. It's like the faux-leather sofa knew why I was putting on the throw and was going NO I AM BEAUTIFUL TOO, LET ME BE SEEN, JUST GIVE ME A CHANCE. I solved this by putting about a third of the fabric behind the sofa and pushing it against the wall so it was trapped there. The leather sofa screams helplessly under the throw but I care not – there is no place for black faux-leather in my palace of soft furnishings.
Before vs after: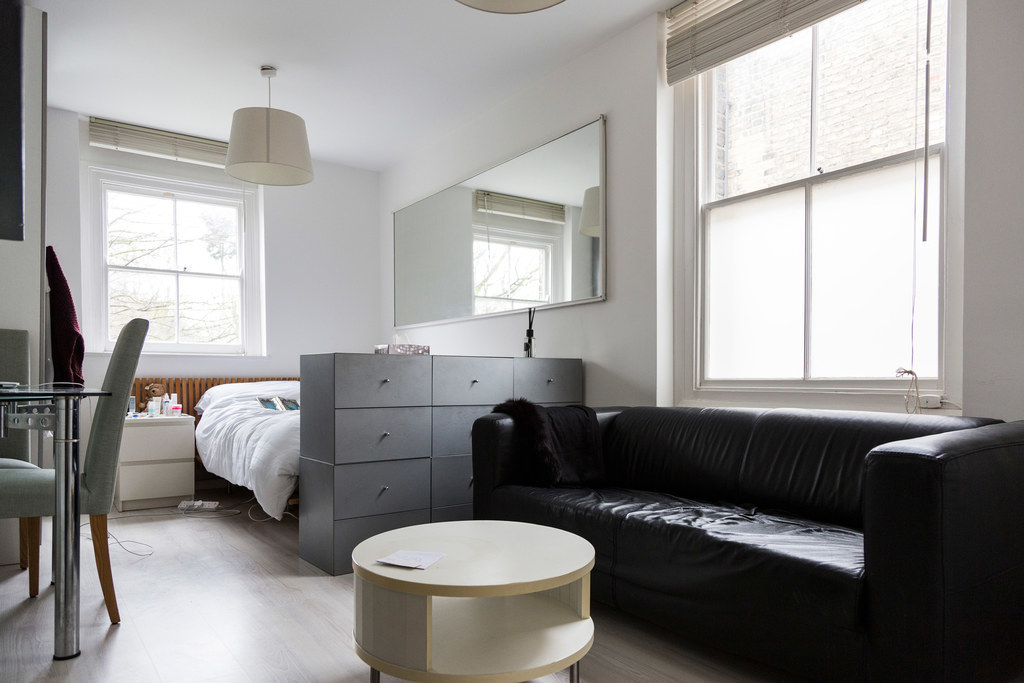 Was it worth it? Yes in terms of comfort. There are some people who like black faux-leather sofas and that is fine, but I'm not into them. They are sticky and squeaky to sit on in summer and generally uncomfortable all year round and for that they deserve to be left to the horror of their cloth prisons. Don't look at me with your judgment eyes.
I don't know whether it *looks* more expensive, as it's still not the same as just buying a nice sofa, but it definitely feels nicer to sit on.
Did I feel more expensive? As we all know, the bourgeoisie are made rich by sitting on the backs of the proletariat; the sofa is the proletariat and my throw and I are reclining on it feeling bougie as fuck, thanks very much for asking.
DIY Five: Add curtains.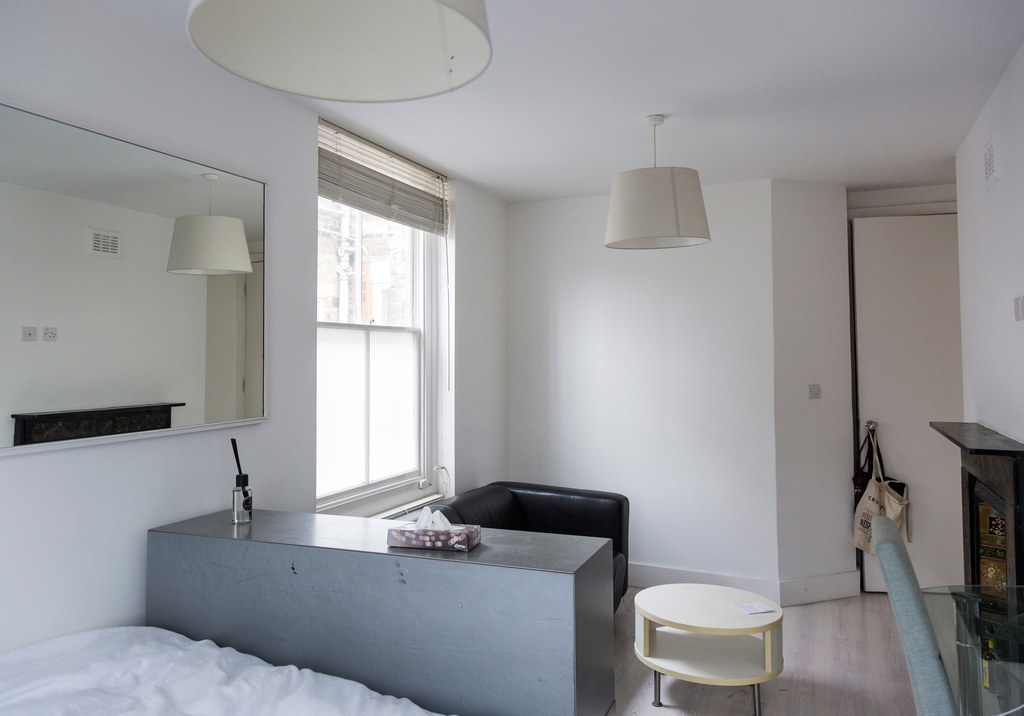 Cost: £49.96. Two packs of H&M curtains for £19.99 each and two tension rods to hang them on for £4.99 each.
Level of difficulty: I was the most concerned about this DIY as I didn't actually measure my windows before ordering the tension rods (I just estimated the size), so I spent a panicky week waiting for them to arrive, convinced they'd either be too small or too big. Luckily, they were perfect – you can twist them out to different lengths, and they're SO EASY to put up. I honestly don't know why you'd bother installing an actual curtain rod when you can use a tension one. It's cheap, and you just put the curtains on it and push it into your window alcove. Plus there's no awkward conversation with your landlord later about why there are huge holes above all the windows.
After: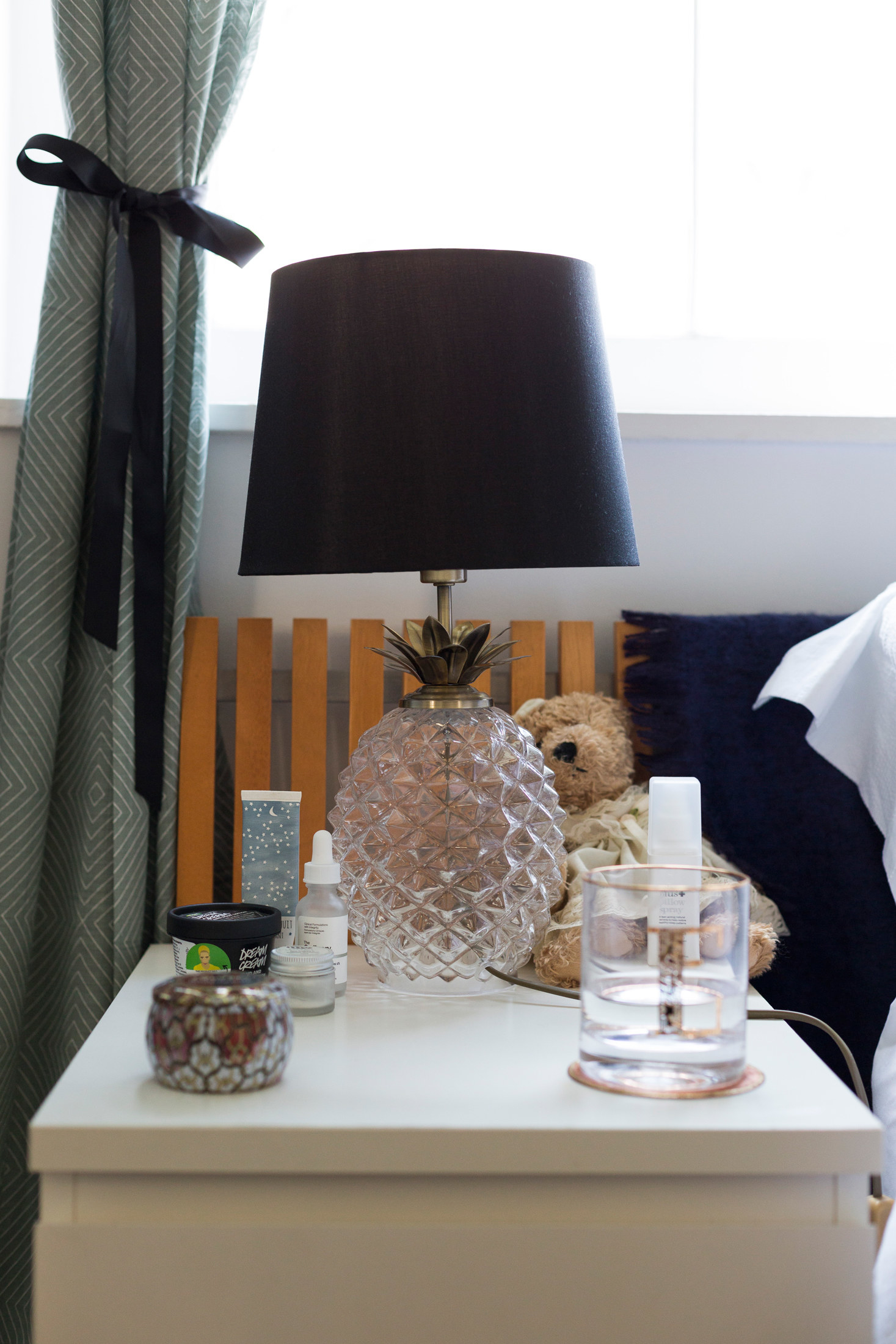 Was it worth it? YES, I am a big fan of adding curtains. It's not super expensive, it's ridiculously easy, and it TRANSFORMS how your space looks. Everything instantly felt cosier and homier. Pro tip: Using mismatched ribbons to tie up your curtains is also a nice touch.
Did I feel more expensive? The only thing that could make me feel more expensive is spray painting my tension rods gold, which I will be doing ASAP.
DIY Six: Add plants and picture frames.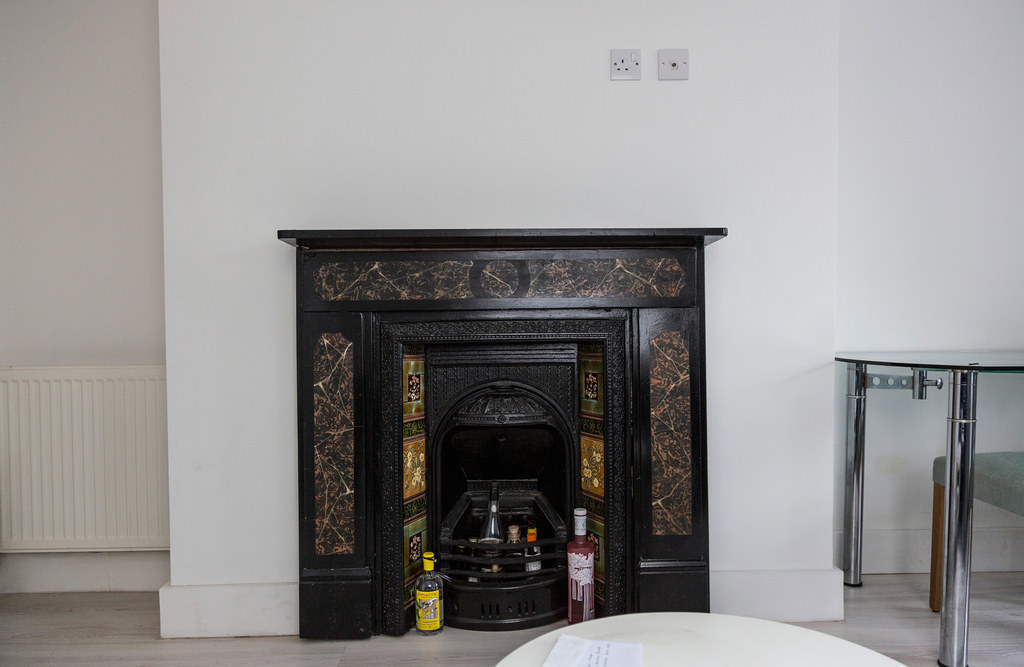 Cost: The plants were £25.85 in total and the photos and frames were £47.94 in total. I bought a Chopin air-purifying plant for £5.99, and then a little plant pot for it for about £1.50 and spray painted it gold (pictured above on the fireplace). I then bought a Bare-Rooted Anthurium for £14.95 that comes with a glass vase, which I added a strip of gold to (pictured below).
For the photos, I bought a print of "The Kiss" for £14.99 with a pewter frame for £8, and a print of "The Singing Butler" for £15.95 with a pewter frame for £9. Don't get your frames from the same site as your prints, as they will overcharge you a ridiculous amount. I was also given two framed Cuban film posters by a close friend, so you can get pictures for free as long as you choose your friends wisely. If you can hang out with the kind of people who have spare vintage film posters knocking about, do it: You're living the way Baudelaire would have wanted you to.
Level of difficulty: This was 100% the trickiest bit of the whole apartment makeover. Hanging up pictures as a process is hard. If you rent, you'll need to get permission from your landlord to hang anything up with nails (if you can't get permission, try stick-on hooks). Then you'll need to hold your picture up to the wall to try to get an idea of where you want it, with zero perspective, before banging a nail in roughly where you think it should go.
Or, more sensibly, you could use a tape measure to work out where the exact mid-point is on your wall to stick your nail in. Unfortunately, I only came to the second method after I'd tried the first, so one of my pictures is slightly wonky.
Then it's on to the plants. The Chopin plant was easy enough – you stick it, pot and all, into the white holder, which you've spray painted entirely gold because you tried to give it a gold stripe and failed miserably. The Anthurium, however, you must de-pot, which will get soil EVERYWHERE no matter how hard you try to do it neatly over a bin bag. Then you have to keep rinsing the roots for the rest of your life because you will never, ever get them as soil-free as they look in the website's picture.
Then you must painstakingly put masking tape around the vase, leaving a three-inch strip bare at the top; spray paint it; and leave it to dry. When it is ready, fill the vase up with water, put your now 80% soil-free Anthurium in, and watch it anxiously forever because you know there's no way you could have got that much soil off its roots without doing some kind of damage. Congratulations, you have now spent three hours faffing around with plants and are officially middle-class. Your certificate is in the post.
After: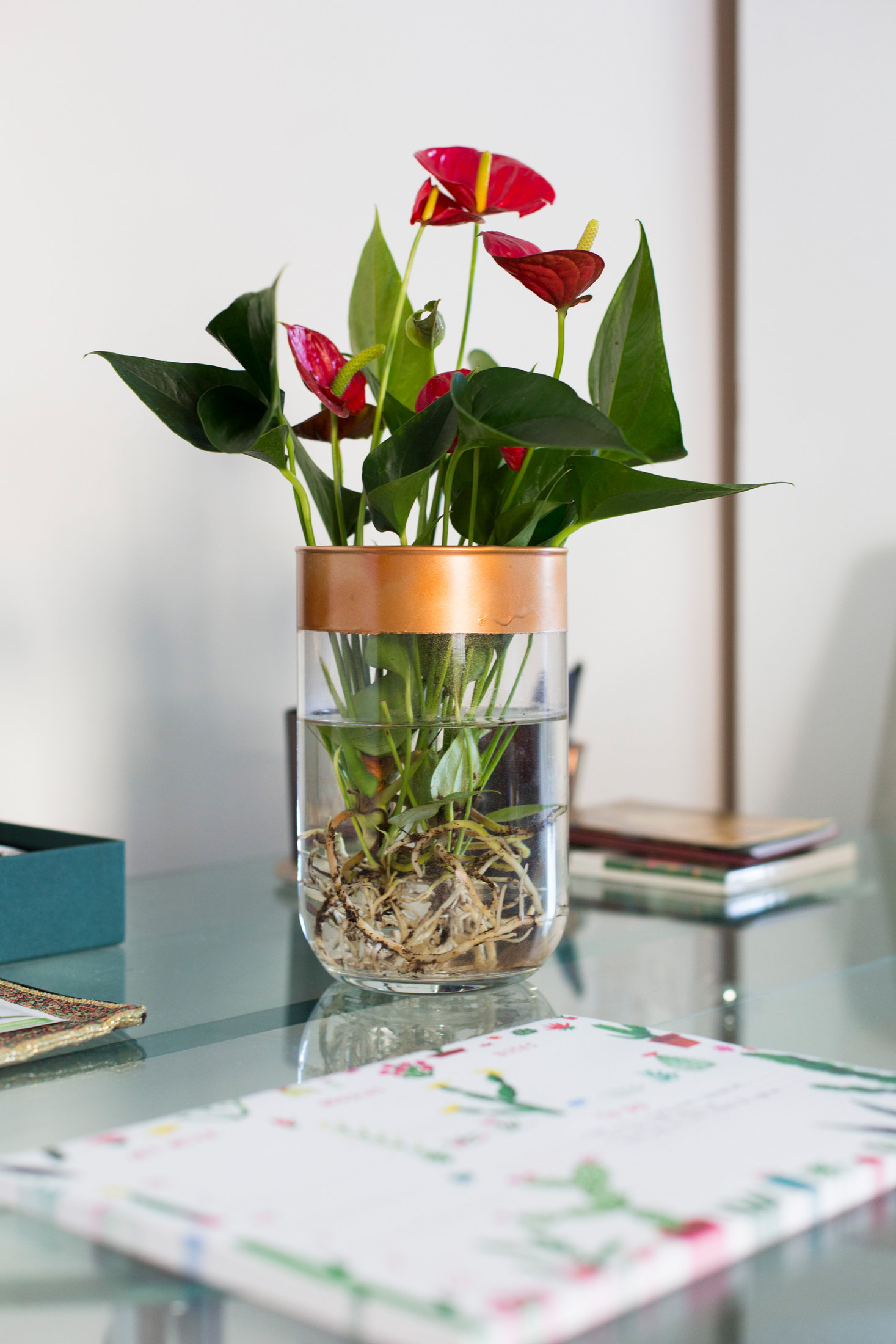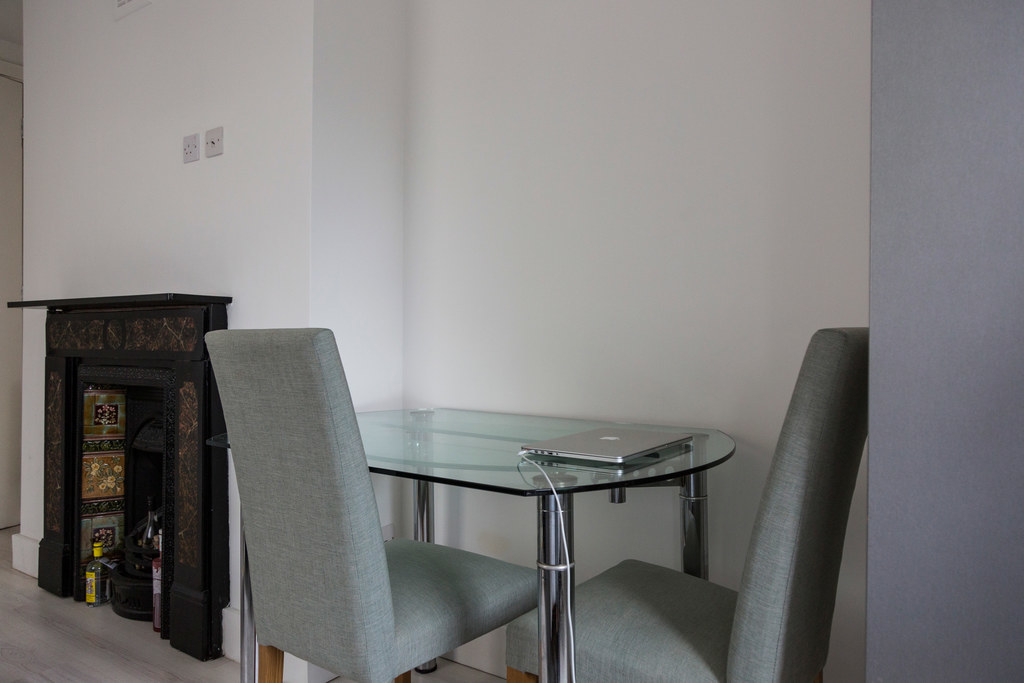 DIY Seven: Add gold accents, rich fabrics, and mismatching patterns.
Cost: It's hard to put a total cost on this, as this is less a set purchase, more a general look. I bought bronze spray paint for £9.49, and I spray painted cheaper items to make them look more expensive, like this over-the-door coat hanger I bought for £3.53 on eBay. I bought rugs for £30 each from the souk while on holiday in Marrakech, a bronze pineapple lamp from M&S for £39.60, and gold bowls for £4.80 in the M&S sale. I bought discounted throws from Brandalley, raided every Anthropologie sale ever for candles, coasters, and glassware, trawled charity shops and vintage markets for knick knacks, and made sure everything I bought in the above hacks was in line with this aesthetic.
Level of difficulty: Spray painting things can be a bit fiddly, but other than that the only difficulty is learning to deal with other people's disapproval – the minimalist Scandi style of decorating is SUPER in right now and by deviating from that you will draw a lot of people's ire, but it's just not my thing. There are lots of different styles out there, and it's up to you to decide which one you want – and remember that nothing you do will ever please everyone. I prefer eclectic patterns over bare white space and a house that doesn't look lived in, so I like this tip. But if it's not for you, that's ok too.
After: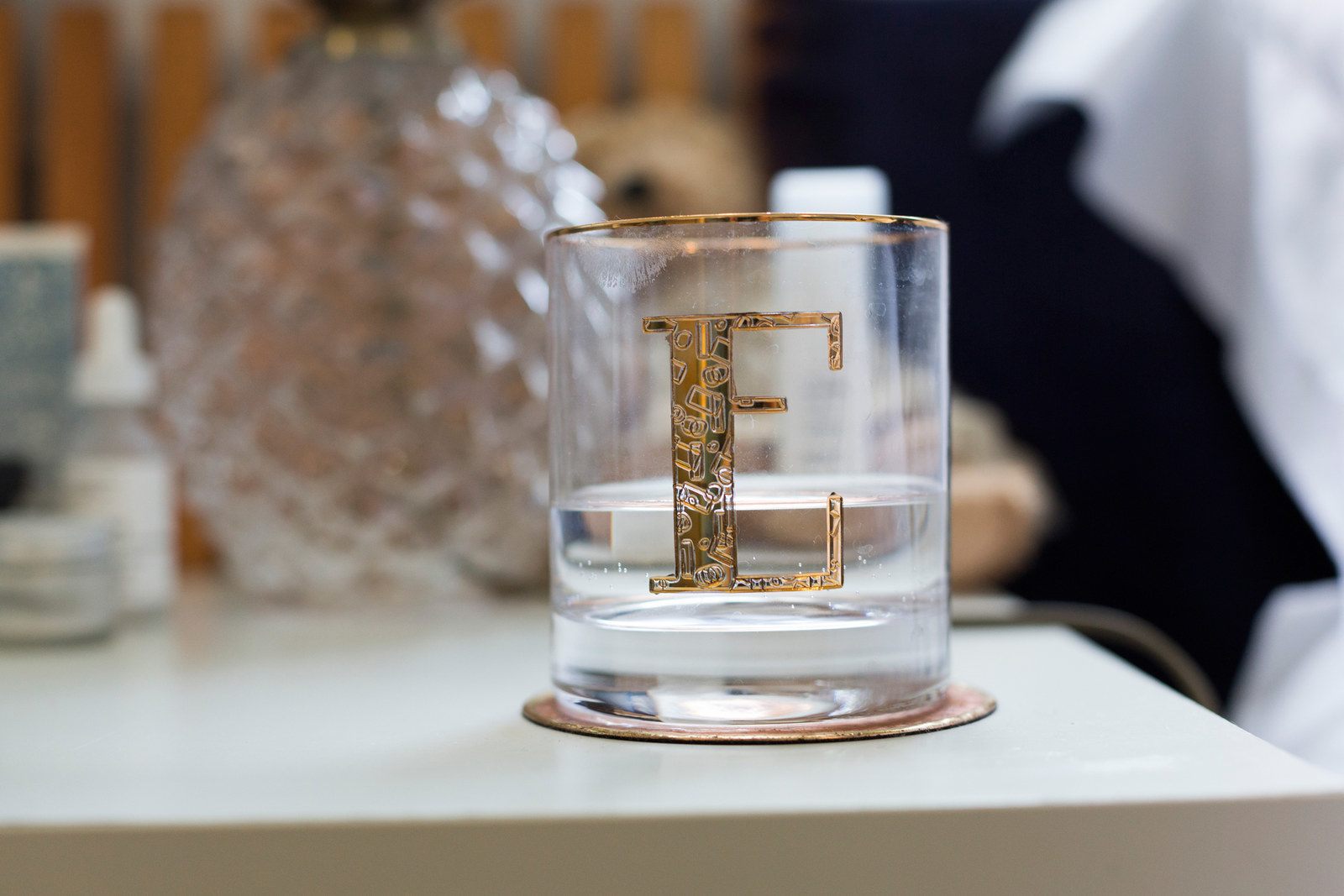 Was it worth it? Yes. In general, if you're getting a cheaper item (that's not in a sale or discounted), if it's gold, bronze, or a jewel colour, it tends to look more expensive. Mismatching also works well, so don't be afraid of going wild with patterns and textures. And it's always worth hunting for unique items; there's a real high to be had off pulling something beautiful out of a pile at the back of a charity shop.
Did I feel expensive? I'm a bargain-bucket Marie Antoinette and I love it.

This is the first DIY post I've done where I've had no major upsets and everything has more or less worked for me. Maybe I'm actually getting better at this? Maybe this is my final form. Maybe I am actually destined to be the next Martha Stewart, but with hopefully less prison experience. Either way, I was pretty happy with every hack I tried, and I think they're pretty easy to adapt to your own style if you're not into the eclectic, mixed-prints look (everyone has different taste after all). I personally am a hoarder so this look works quite well with all the clutter I've accumulated over the years (the before pictures were taken before I'd fully moved in), but even if you like the minimal look, changing your lampshades, adding some voile curtains, plants and photo frames are an easy way to make your space look nicer.
Finally, always remember that passing off your home and material goods as more expensive than they are is not a light undertaking. It's a way of life. One is not born iconic. One becomes iconic. So go forth, spray paint your plastic gold, and be the scammer you wish to see in the world.