How Food Could Help Patients Fight Dementia
Nostalgia at its most useful.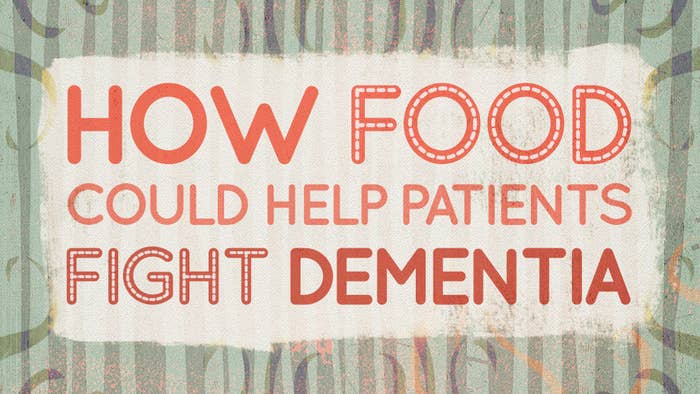 Our memories are a complex cocktail of the senses: sight, taste, smell, sound, and touch.
Scent in particular ​plays a powerful role in forming memories, and plays a key part in understanding the loss of it.
Tim Parry of Alzheimer's Research UK, the UK's leading dementia research charity, says, "loss of scent is known to be an early symptom in Alzheimer's disease, compromising a person's ability to link scent and memory", which highlights the importance of scent in creating memories.
To counter this, care homes across the UK are taking part in something called "reminiscence therapy".
Parry describes this as a "non-drug tool that can be used to help relieve some of the symptoms of dementia, including agitation".
In layman's terms? Reminiscence therapy is just that: reminiscing. Parry says it is where "past activities and experiences that the individual enjoyed are used to help with cognition, mood, and behaviour". And as cooking involves scent and taste, it is one of the strongest of these activities.
Just as the loss of scent can trigger the loss of memory, so scent can also be used to help bring those memories back.
We contacted three senior citizens, to reminisce about a recipe connected to a specific memory from their lives.
From bouillabaisse in the South of France to frangipane tarts that smell of Christmases in Malaysia, each recipe is the key to a memory for one of these residents.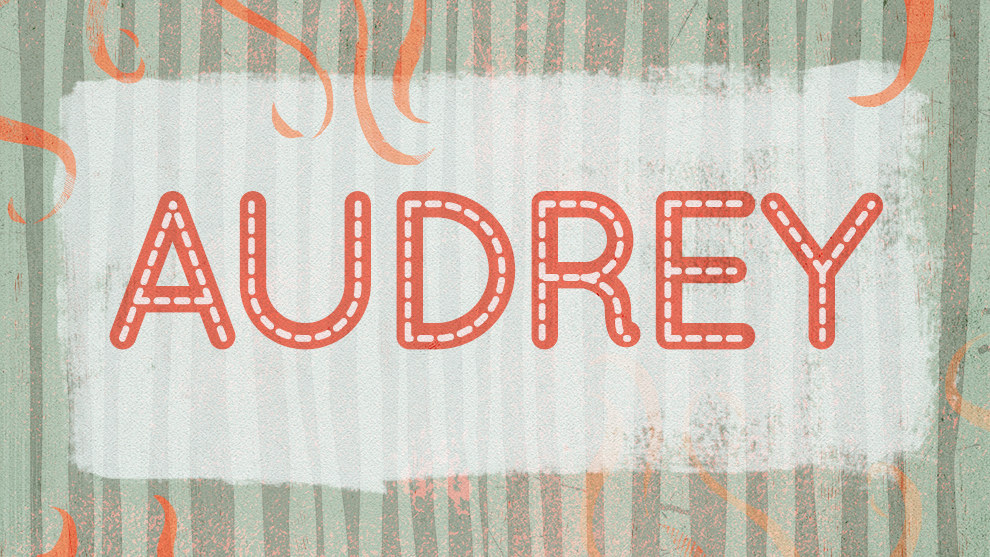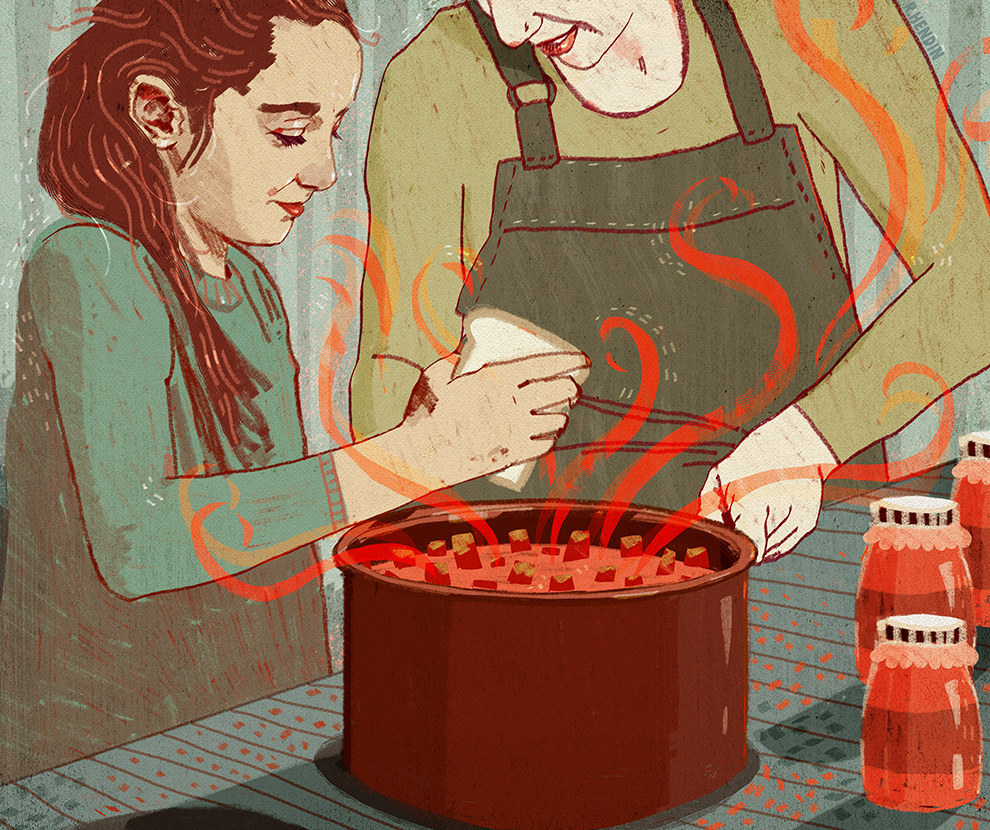 The homemade jam of her childhood is one of 78-year-old Audrey's most treasured memories. Tart with rhubarb, it would be made by her mother and softened with rich vanilla bean. The best bit, she says, was when her mother let her take chunks of bread and butter to dip into the warm jam as it cooled in the pan.
To this day, she swears that no jam has ever matched up to those mouthfuls of just-cooked jam. "It tasted like happiness," says Audrey.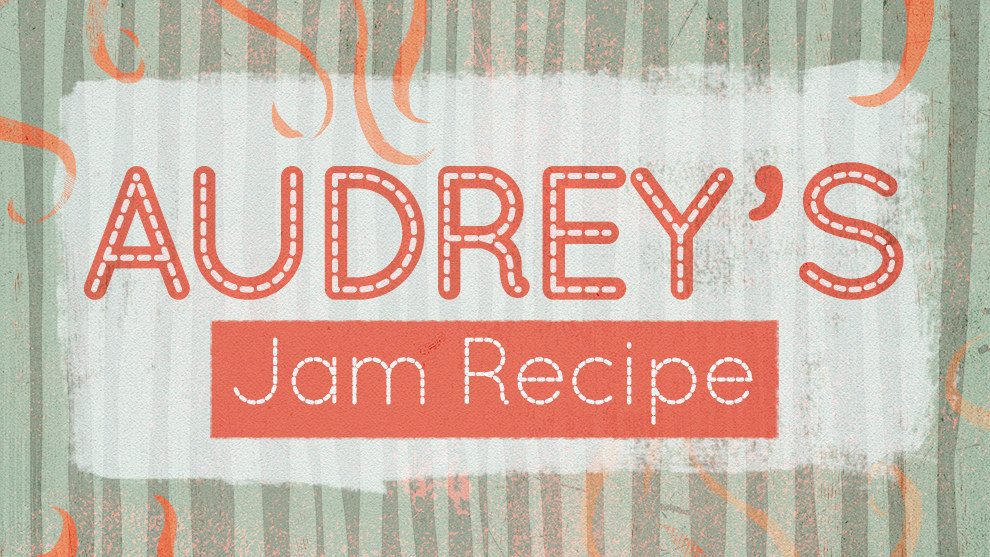 You will need:
1kg rhubarb, trimmed and cut into 3cm chunks
1kg jam sugar
One 8g sachet of pectin
2 vanilla pods, halved lengthways
The juice of 1 lemon
Step 1: Put a small plate in the freezer. Put the rhubarb into a preserving pan, or your largest saucepan, with the sugar and halved vanilla pods. Heat gently, stirring, until all the sugar has dissolved, then squeeze in the lemon juice and increase the heat.
Step 2: Boil for about 10 minutes, skimming off the scum as you go (the fruit should be soft). You can test for when it's ready to set by spooning a little of the mixture on to your chilled plate, then after a few minutes, pushing your finger in it – if the surface wrinkles, it is ready; if not, keep cooking in two-minute intervals, testing in between.
Step 3: Once the jam is ready, let it cool for about 15 minutes, before ladling it into warm sterilised jars and sealing. Your jam will keep for six months in a cool, dark place.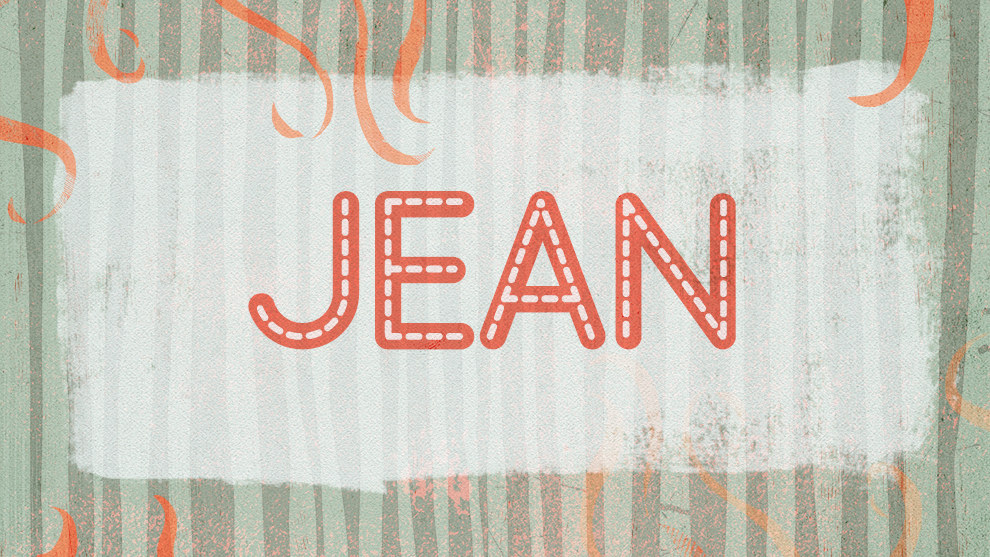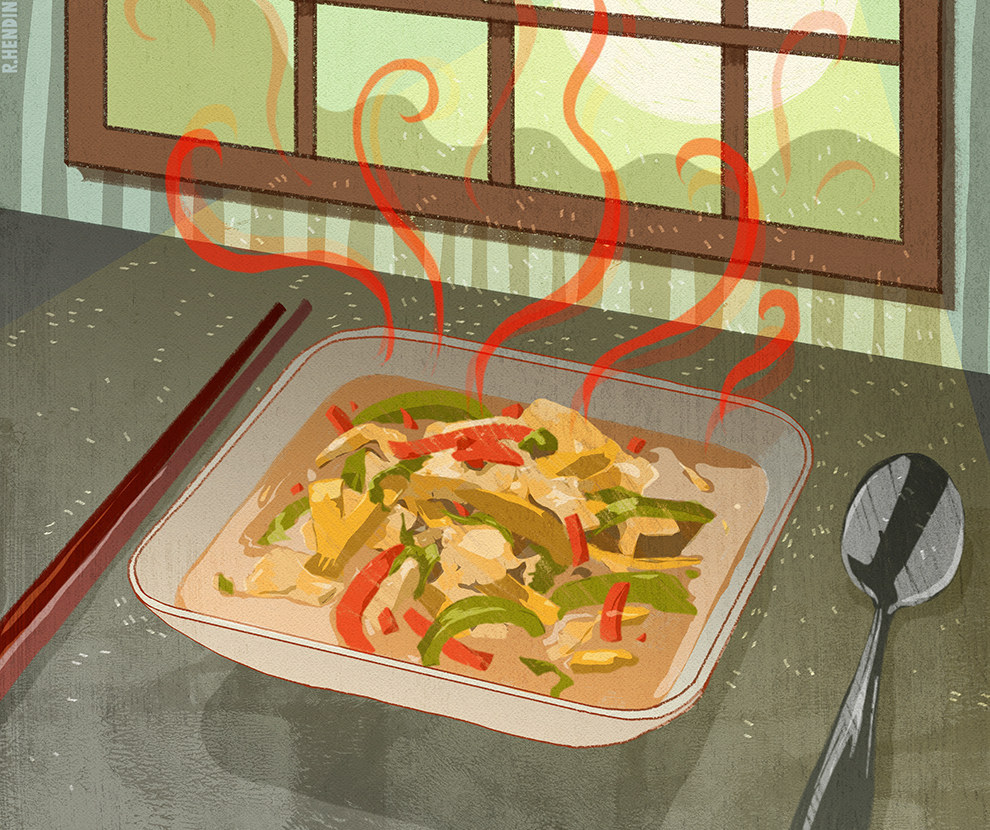 In her youth, Jean, 85, lived in Malaysia. On cold winter days in England, she remembers the heat of the South East Asia sunshine and the low hum of ceiling fans that were a constant soundtrack to the long summer days.
Red Thai curry takes Jean back to her time in South East Asia. The warmth of the spices helps her remember the "heat of Asian summers, even when it's cold outside".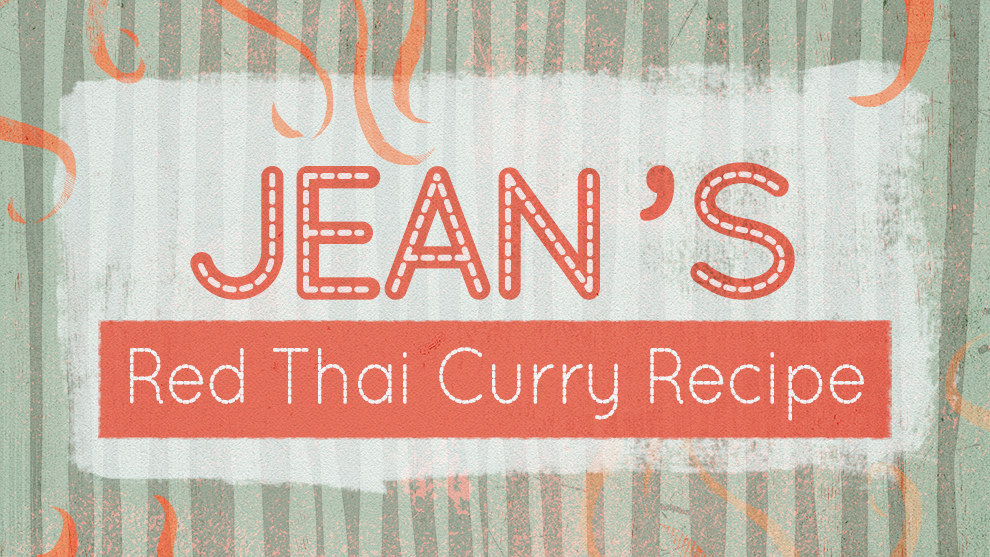 You will need:
2 tbsp red Thai curry paste
2 tins coconut milk
100g brown sugar
A courgette, an aubergine, and mixed peppers, sliced and sweated
1 chicken breast, thinly sliced
Cream
Step 1: Poach the sliced chicken until cooked, then set to one side.
Step 2: Heat some olive oil in a pan, add the curry paste, then stir in the coconut milk.
Step 3: Place the vegetables in the sauce, then add the chicken once the vegetables are soft.
Step 4: If necessary, thicken the curry with a little cornflour, then finish by stirring in some cream. Serve with rice.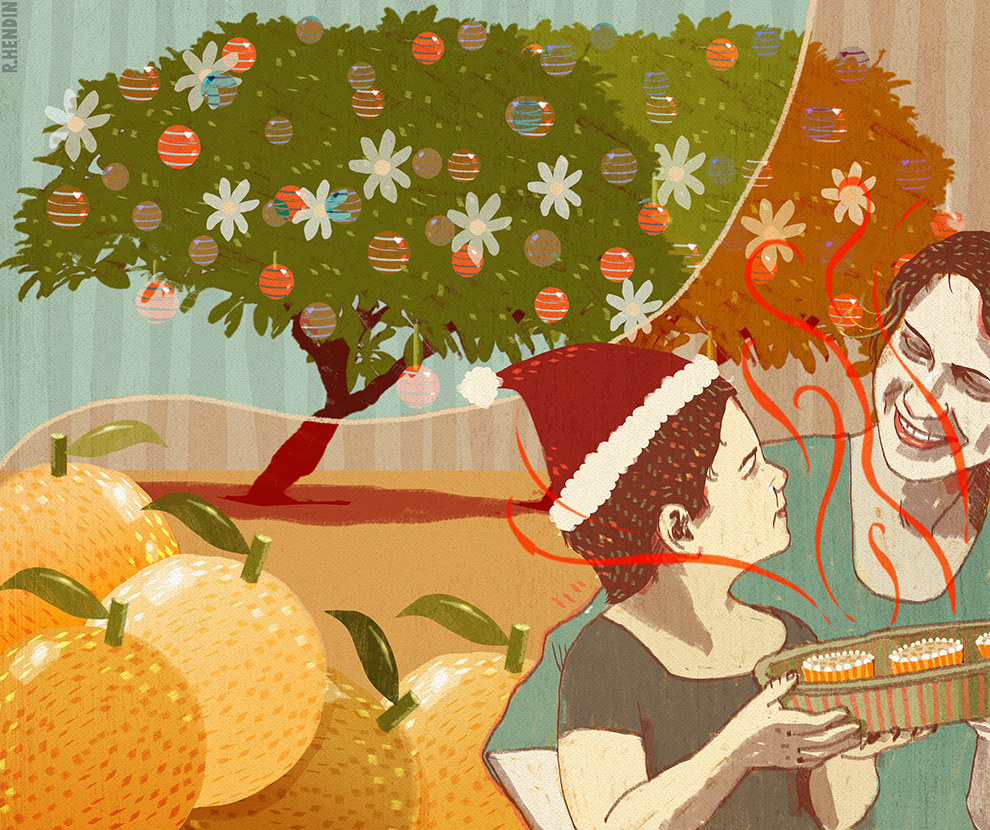 Jean's childhood smells of frangipane. Growing up in Malaysia, her house's garden was dotted with frangipane trees that she played among as a girl. Freshly cooked frangipane tarts evoke memories of the trees full of white blossoms, their scent hanging in the still summer air.
Christmastime with her family is one of Jean's favourite memories. She remembers the excitement of waking up on Christmas morning to stockings "filled with fresh oranges". Mixing mincemeat and orange into the classic frangipane tart creates a perfect cocktail of nostalgia for Jean: a Malaysian Christmas in every bite.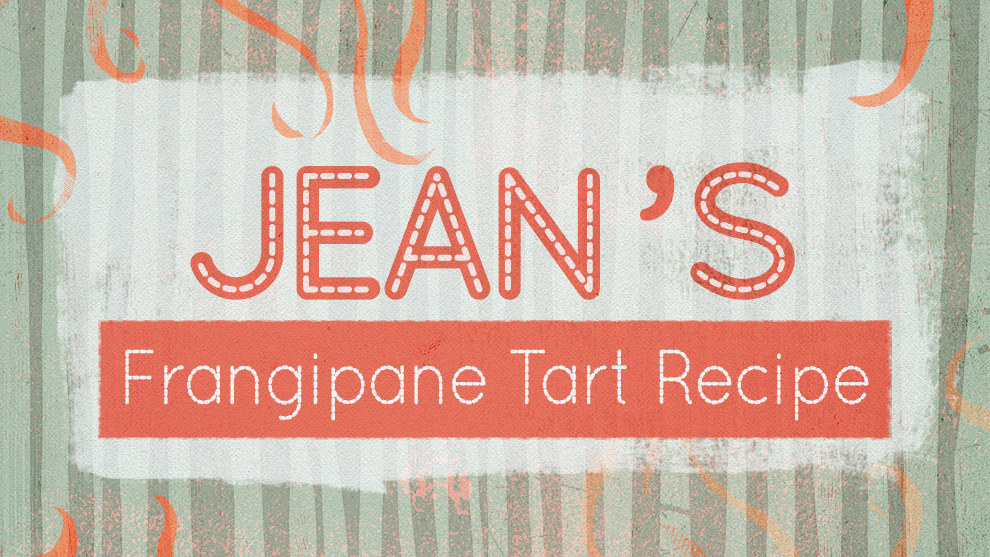 (Make approx. three tarts)
For the sweet shortcrust pastry you will need:
240g plain flour
140g butter
80g sugar
20g double cream
1 tsp baking powder
To make the pastry, mix the flour, baking powder, butter and sugar together, then add the double cream and leave to rest.
For the filling, you will need:
100g butter
100g sugar
2 eggs, lightly beaten
100g ground almonds
10g flour
The zest of 1 orange
Mincemeat (the kind that goes in mince pies)
Step 1: Whisk the butter and sugar till fluffy, then add the beaten eggs slowly.
Step 2: Fold in the almonds, flour, and orange zest. This is now your frangipane filling.
Step 3: Roll out the shortcrust pastry you made earlier, and cut three tarts out of it.
Step 4: Fill the tarts with the frangipane filling, then cover the frangipane with a smaller layer of mincemeat. Bake the tarts at 160°C until the top is golden brown.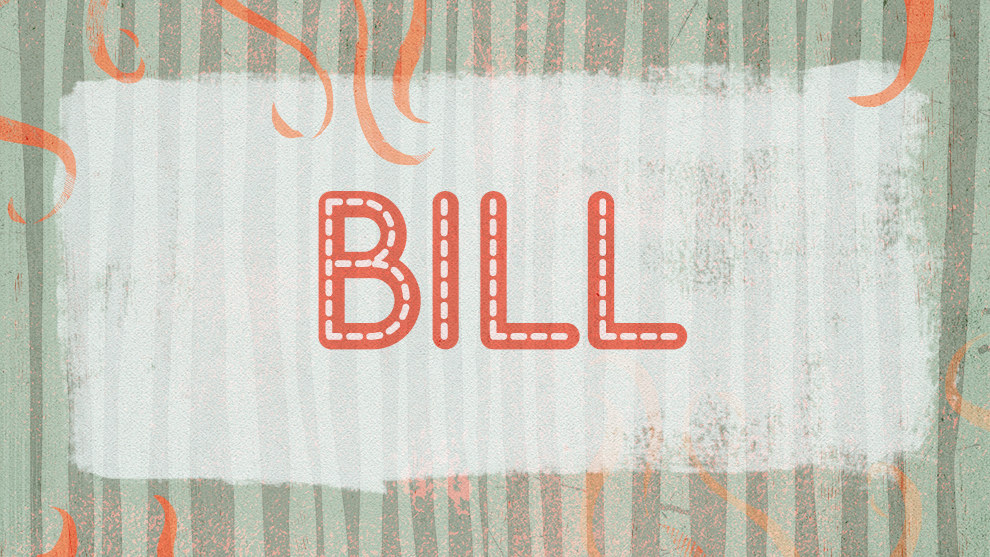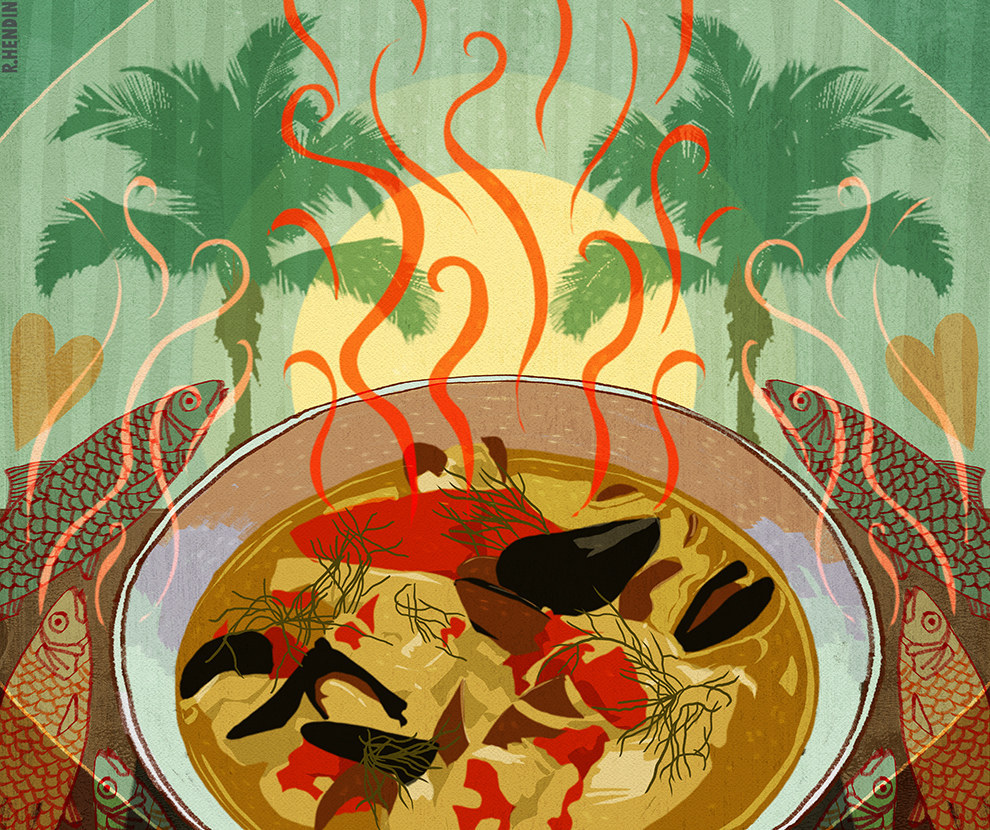 Ninety-year-old Bill loves bouillabaisse. It reminds him of his thirties, when he and his wife used to holiday in Cannes. He recalls that he "at first didn't want to try the local stew", with its hodgepodge of seafood, but after his first reluctant taste, he was surprised to find he loved it.
Although he can no longer make it himself, he still asks the chefs at his home for the Provence dish. Every bowlful brings back memories of sun-kissed days spent with his wife.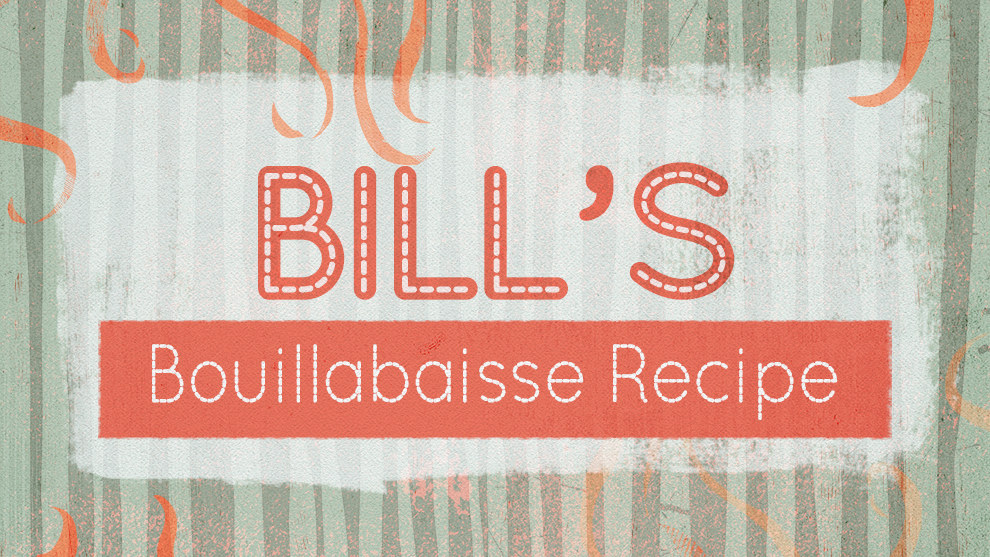 For the bouillabaisse broth you will need:
200ml olive oil
2 bulbs chopped fennel
2 chopped red peppers
Salt and pepper
20g tarragon
1kg fish bones
1kg chopped plum tomatoes
30g tomato paste
2 pinches of saffron
The juice of 2 lemons
40g butter
Step 1: Put the olive oil into a large pan over a medium heat. Once hot, add the fennel and cook for 3-4 minutes without colouring it.
Step 2: Add the red peppers, sea salt, tarragon, and pepper, and cook for another 2-3 minutes.
Step 3: Add the fish bones and tomatoes, then cover with water (the depth should be about 2.5cm) and bring to a simmer.
Step 4: Skim off any scum, add the tomato paste and saffron, and bring back to a simmer. Cook for an hour and a half, or until reduced by approximately one-third.
Step 5: Use a blender to blend the mix into a smooth sauce. Pour through a fine sieve, pressing the solids with a ladle to extract all the liquid. Then pour through a fine chinoise, this time without pressing.
Step 6: Add the lemon juice then pour into a blender and add the butter. Blend, check the seasoning and pass again through a fine sieve. Chill until needed.
For the rouille you will need:
3 egg yolks
Salt and pepper
The juice of 1 lemon
1 pinch saffron
1 pinch cayenne pepper
200ml olive oil
200ml vegetable oil
4 garlic cloves
Step 1: Whisk the egg yolks with the seasoning, lemon juice, saffron, and cayenne pepper.
Step 2: Slowly add the oil in a thin stream, whisking continuously. Stir in the garlic. Add a little warm water to thin it down if you need to. Then set aside until needed.
To plate you will need:
1 plum tomato
200g salmon fillet, skinned
200g pollock, skinned
200g monkfish, skinned
2 sardine fillets
8 mussels, cleaned
Chopped basil, tarragon, and chives to garnish
Step 1: Peel and seed the tomato and chop the flesh finely.
Step 2: Cut the salmon, pollack, and monkfish into chunks and season lightly with salt and pepper. Then cut the sardine fillets half.
Step 3: Heat 500ml of the bouillabaisse broth to a simmer, then add roughly 30g of the rouille and whisk well.
Step 4: Add the monkfish and mussels and poach for three minutes. Add the salmon and pollock and cook gently for another 7-8 minutes.
Step 5: Add the sardine and cook for two minutes, then add the herbs and chopped tomato. Serve immediately.
CORRECTION
The people featured in this article do not have dementia. Due to a miscommunication ​beyond our control during its preparation, an earlier version of this post said they did.