If you listen to K-pop, then you know that NCT 127 is essentially royalty.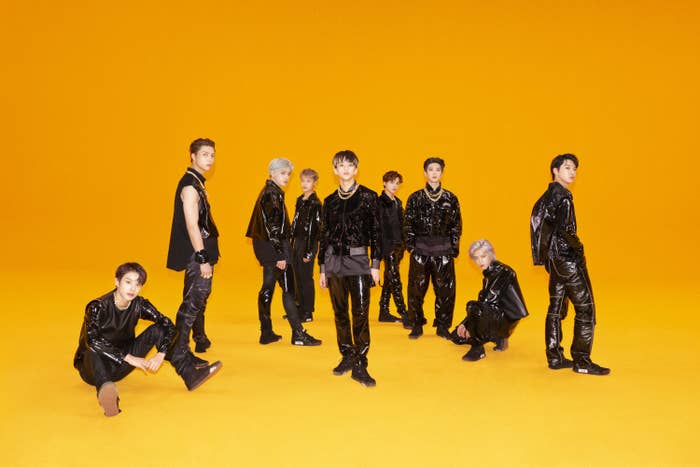 This year, NCT 127 is back and ready to dominate with their new single "Kick It," upcoming US arena tour, and new album — Neo Zone — out March 6.
We caught up with NCT 127 to chat about their latest album, Neo Zone, childhood dream jobs, and the first albums they ever purchased.
What was the first album you ever purchased?
What is your current favorite film?
What's your favorite song off of your new album, Neo Zone, and why?
What's one secret that you believe NCTzens would be shocked to find out about you?
What's one thing that you're extremely obsessed with right now?
Taeil: "Justin Bieber's Changes album."
Yuta: "[The video game] Dragon Ball Z: Kakarot."
Jaehyun: "Boxing! It's been about 3 months since I started, but I love sweating out all my stress — it's a fun new hobby of mine."
Mark: "My health! I'm focusing on taking care of myself."
And, conversely, what is one thing that you were a huge fan of while growing up?
Which NCT 127 song do you think best showcases your personality?
Doyoung: "'Knock On.' I think the overall atmosphere and feel of the song represents me as a person well."
Jungwoo: "'Replay (PM 01:27)!' This song suits me overall — and it's one of those songs that I can't help but to also get hyped and excited while I'm singing it as if I'm becoming the song!"
Yuta: "'Kick It.' I like this strong, powerful energy. It's a song where I hope I get to showcase my energetic side."
Haechan: "'Dreams Come True!' I like songs that have a hopeful tone and message, and this one is one of those! I want to sing more of these bright, cheery songs."
What's your favorite type of amusement park ride?
Team rollercoaster: Taeil, Yuta, Doyoung, and Jungwoo.
Team "tallest, scariest ride at the park": Johnny, Taeyong, Jaehyun, and Haechan.
Mark: "I don't really like amusement park rides... But I like cotton candy! For rides — something that's not TOO scary."
Before you became a K-pop idol, what was your childhood dream job?
Finally, what's your favorite part of the "Kick It" choreography?
You can also hear all of your new fav Neo Zone songs live when NCT 127 visit the US on their upcoming arena tour Neo City: The Awards.
Kicking off in June at Madison Square Garden in NYC, the 127 Squad will perform in Atlanta, Chicago, San Jose, Los Angeles, and Seattle. Tickets are available now if you're ready to ~kick it~!