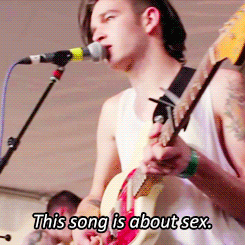 1. Because he's into politics...
When The 1975 took to the stage at last years Glasto, Healy delivered an important message about Brexit, reminding audiences to show compassion and love to one another…right on! <3
"I don't f*cking know anything. I'm a popstar in a suit, but what I feel, and I know what a lot of people my age feel is that there's this sentiment of anti-compassion that's spread across an older generation and voted in a future that we don't f*cking want. Compassion, social responsibility, unity, community, everything like that, f*cking loving people... I think that when you stand on a stage like this, in front of so many obviously beautiful, intelligent people, it's difficult to say nothing!"
2. Because he can admit when he's been a d*ck…
According to the bands' drummer George Daniel, Healy did the unthinkable and openly sung in an American accent on some of the tracks from their second studio album 'I Like It When You Sleep For You Are So Beautiful Yet So Unaware Of It'…
Healy said "He (Daniel) said the other day, 'you're crooning on this album, like you're f**king Elvis or something!' So I listened back to 'Change Of Heart' and thought, 'Oh yeah, what a d*ck!'"
...At least he admits it!
3. Because he makes classical music cool...
Yep, the video IS an hour long... but you won't even notice the time because IT'S SO GREAT!
4. Because he doesn't need a mans love to feel validated…
Whilst staying in a popular LA hotel, Healy was approached by The Who frontman Roger Daltrey. Daltrey asked Healy if he was "that guy from The 1975"... Healy walked off shyly to go and smoke alone in his room. Effortlessly independent!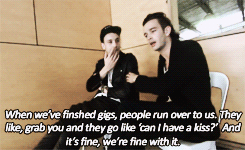 5. Because he has good taste...
Last Halloween Diplo invited Healy to his house to hang out (cute). But Healy wasn't sure he'd got the right house because apparently he thought the Halloween decorations hanging outside Diplo's house looked too "cheap" to be his...
6. Because he can turn down One Direction!
It takes a strong human to say no to those beautiful haircuts in 1D, but Healy did!
The frontman was invited in to write with 1D on a new song of theirs which had a "1975-esque feel". Healy decided to play them 'The Sound' as an example track. The band reaaaally liked it but Healy decided to keep the track for himself and those One Direction's wrote "Change Your Ticket" which was a spin on The 1975's track "Girls". Because who needs the entire 1D fanbase buying their music, huh? NOT HEALY, THAT'S WHO!
7. Because he just gets sh*t done!
Matt's no slave to procrastination! He simply gets stuff done! Whether he's allowed to or not... "We'll put something out next year, whether it be a single or an EP, album in 2018, headline Reading and Leeds that year, headline Glastonbury the year after or the year after that. I mean, I haven't got the offers yet. But 
I tell you now, I'm doing it. Who else is going to do it?" Literally not us so...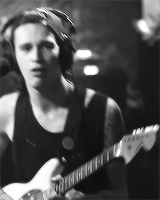 This post was created by a member of BuzzFeed Community, where anyone can post awesome lists and creations.
Learn more
or
post your buzz!