1. January -
Classic-rockers Guns n Roses launched their own online slot machine back in January!
"Guns n Roses Video Slots" is a game where you can listen to 5 of the biggest G'n'R hits whilst you gamble your little hearts out! *Violently sings Sweet Child O' Mine whilst shoving spare change into slot machine*
2. February
Wu-Tang Clan were helped out by a Paralympain Gold Medalist when they were refused entry to Australia.
The band were refused entry to Oz on Visa grounds, until Paralympian Gold Medallist Dylan Alcott showed up to assist the band with their Visas. Alcott later appeared on stage with them.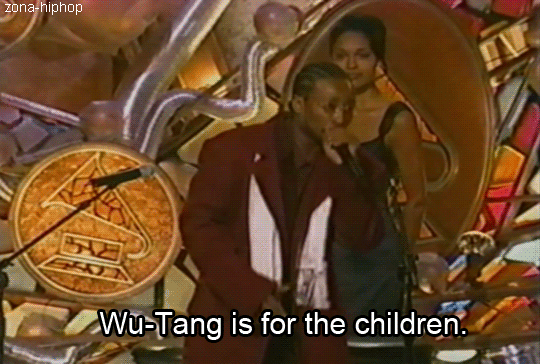 3. March
Pop-princess Rihanna was revealed as the most listened to artist in the world on Spotify! YAS RI-RI!
4. April
National treasure Adele was named the UK's richest female musician EVER!
Rolling in the Deep? More like rolling in the Benjamins! AMIRIGHT?!
http://gph.is/1Y2FMT8
None
5. May
XL Records loses their biggest artist Adele, who signs a new record deal with Sony. Just a casual £90 million pound record deal. No biggie. Pocket change for you and me!
6. June
Fooood glorious foooood! In June 2016 The Jonas Brothers teamed up with the rest of the Jonas family to launch their own restaurant in America. Nellie's Family Kitchen in Belmont, Los Angeles is owned and run by members of the Jonas family.
The restaurant is on the lookout for servers who can sing and dance as they serve. So if you've got the moves...
7. July
Apple Music won a battle between the other streaming services for exclusive broadcasting rights of a new spin-off series of James Corden's Carpool Karaoke and Apple Music subscribers were like...
8. August
The Daily Mail reports that the Queen single Bohemian Rhapsody has been censored in some prisons due to the songs "violent" lyrics...
The line "…gun against his head, pulled my trigger now he's dead" has been edited out. Safety first, I guess!
9. September
The "other brother" from Oasis, Liam Gallagher tells the BBC that he "might" consider reuniting with Oasis. You gotta just roll with it, Liam. Don't let anybody get in your way! (HAHAHAHAHAH...ahem)
10. October
Chess Records founder Phil Chess passes away. Just one of many unfortunate celebrity deaths of 2016, but the death of Phil Chess wasn't as well reported as the others. So who is he? Well, Chess was responsible for the careers of Chuck Berry, Muddy Waters, Etta Jones and Howling Wolf! Pretty cool stuff!
11. November
Nothing much to report in November, only that ELVIS PRESLEY WENT ON TOUR! Yep, death is no longer an excuse not to do things! In November the"Voice of The King" tour featured the Royal Philharmonic Orchestra alongside recordings of Elvis Presley's vocals. A recording of the night is now out at all good record shops (and even some bad record shops!) The King is not dead!
12. December
Phew! We made it guys! WE SURVIVED 2016! But don't get too comfortable as James Blunt announced in December that he has new music to come in 2017. (And he did it in the most James Blunt way possible!)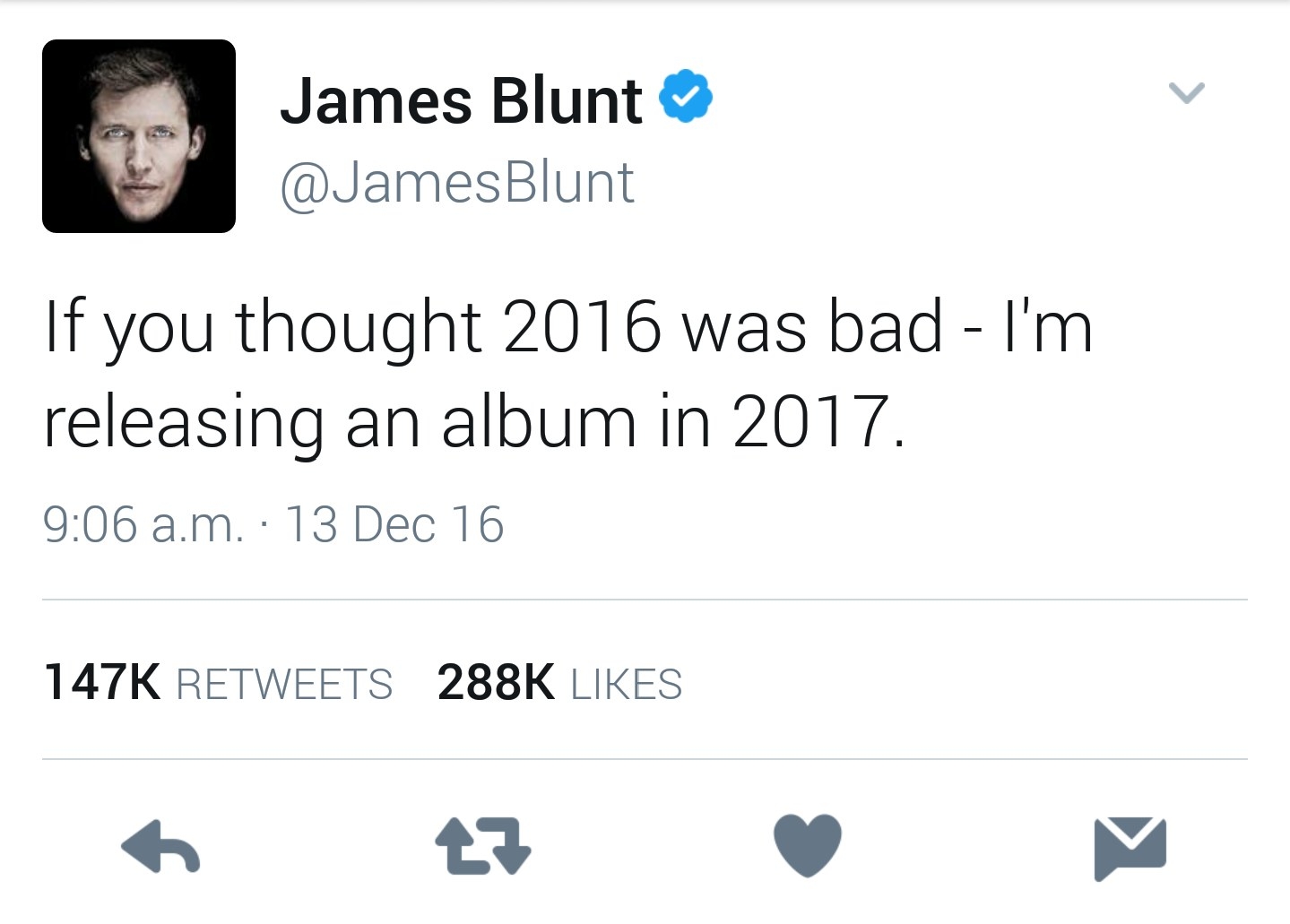 This post was created by a member of BuzzFeed Community, where anyone can post awesome lists and creations.
Learn more
or
post your buzz!