1.
Going out to eat can be a challenge at times.
2.
But we make do with what we have.
3.
And tbh, going out to eat with other vegetarians is always a joy.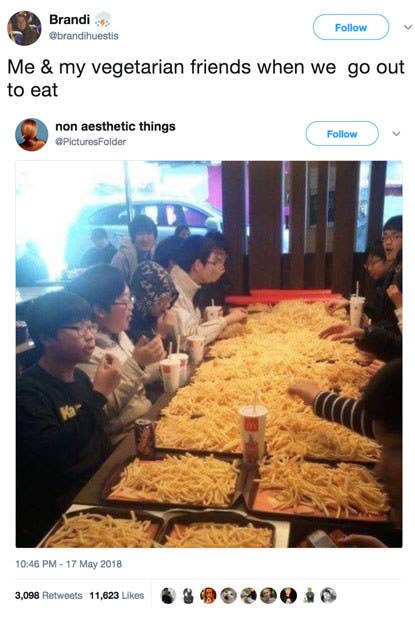 4.
The holidays are always a struggle though...
5.
...because of that one relative who always seems to misunderstand the concept of "no meat."
6.
But they're really doing their best, probably.
7.
Salads aren't all we eat by any means.
8.
But we've really developed a liking for our greens.
9.
That's not to say we only eat "rabbit food."
10.
And it sure as HECK doesn't mean we're healthy by default.
11.
It's not nearly as hard for us to find something to eat as people think it is.
12.
Being a vegetarian isn't always a walk in the park.
13.
But we've pretty much got it figured out by now.
14.
Meat-eaters have been trying to get us to give up our vegetarianism since the dawn of time.
15.
And then they go absolutely berserk when we take a lil' break.
16.
At the end of the day, we're not all that different to our carnivore friends — our priorities are just a tiny bit different.