There's At Least One Happy Moment In This Week's "Parenthood"
In BuzzFeed News' exclusive clip of the penultimate episode of the beloved NBC series, which airs Jan. 22, the Grahams are getting their happy ending. Plus, star Erika Christensen talks about one more twist for the couple.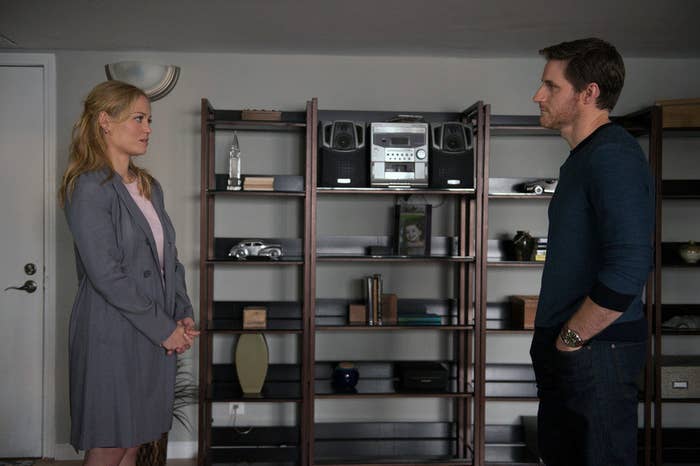 After two long seasons of watching Joel (Sam Jaeger) and Julia's (Erika Christensen) marriage crumble to the point of the pen coming close to the dotted line on divorce papers, this week's episode of Parenthood will finally give the couple — and the fervent fans of #TeamJoelia — resolution.
The two have spent the last few episodes sleeping together, but sneaking around so as not to give their children Sydney (Savannah Paige Rae) and Victor (Xolo Maridueña) false hope. But after sharing a kiss on the ice skating rink in front of their kids in last week's episode, it seemed the two were heading toward making it official. In BuzzFeed News' exclusive clip of the Jan. 22 episode, titled "We Made It Through the Night," Joel and Julia finally talk to their children about where things are going: Joel is moving out of his sad apartment and into the home where the Grahams built their family.
Watch BuzzFeed News' exclusive clip here:
The scene directly mirrors one from a couple years prior, when Joel and Julia first told their children that Joel was moving out. The Grahams are sitting in the same spots on the couch in their living room, but this time, Sydney jumps into her dad's arms out of joy, rather than in tears. "It was intentional, but I think part of the reason why we did it like that is because it made it that much scarier for the kids," Christensen told BuzzFeed News in a phone interview. "They've been put through so many changes and to just sit them down like, 'OK, we have news,' is terrifying."
Victor processes the news with more skepticism than his sister, questioning his parents about what will happen next time issues arise. "He hit on something really valid," Christensen said. "It's one of those things that Joel and Julia know they will have to confront, but they're still working through this stuff."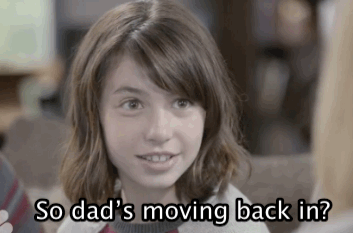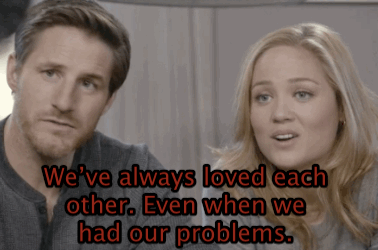 Christensen and Jaeger didn't keep it a secret that they wanted Joel and Julia to reconcile (see the "Team Joelia" T-shirts they sported on set in November), but Christensen said they didn't have any sway regarding the fate of their characters. "We were lucky that ultimately, the writers agreed with us," she said. "We invested six years into this marriage too. We wanted it to work out! And everyone earned it. The fans earned it. They deserved, and we deserved, to have a happy ending."
Since Joel and Julia's sexual and emotional relationship started up again in the middle of Parenthood's sixth and final season, things have moved pretty quickly for the couple, but Christensen is pleased with the pace of the reconciliation. "I thought it was good that it was not swept under the rug that they'd had their problems — they had that conversation at the coffee shop where Julia was saying, 'I'm aware of the fact that I was really difficult to live with. So you have to tell me that you're aware of that too, and you're still not going to leave me again!' Those are the conversations they had to have," Christensen said. "I liked that it was a kind of slower process. I mean, not two years slow — we definitely were anticipating it happening sooner — but when it was finally happening, I'm glad that they were being deliberate about it and being very conscious of their decisions and they weren't just saying, 'Oh, let's pretend like nothing happened.'"
Before they reached the point of reconciliation, Julia was dealing with the potential of two losses in her life: her husband and her father. And Christensen admitted that Joel and Julia's decision to get back together was influenced by her father, Zeek's (Craig T. Nelson), declining health. "I don't know how much you can separate things or how directly they influence each other, but you have to think when you're faced with the possibility of losing a family member and losing someone who is so important to you, that you re-evaluate and you want to make sure that ... any time you have a say in it, you want to avoid [losing someone]," Christensen said. "It helped Joel too. He loves Zeek and it was really rough on him too. As much as he really just wanted to support Julia, he has an amazing relationship with Zeek and so, I think the whole experience probably affected them both."
No matter what motivated their decision to get back together, in Christensen's eyes, Joel and Julia's relationship is better and stronger than it's ever been. "It was so good before, but they're so appreciative of what they have now and now that it's been tested and survived, they know, beyond a shadow of a doubt, that they will make it for the rest of their lives," she said. "It was almost like they were teenagers again when they were falling back in love. It was such a special time and it was so exciting and romantic, as well as having to confront what they'd each done."
But it's not all clear for the Grahams just yet. Parenthood showrunner Jason Katims told The Hollywood Reporter earlier this week that there will be one more twist for Joel and Julia. Christensen assured BuzzFeed News that the couple will not be facing any more martial bumps ("Let's not even imagine it," she said with a laugh).
"It's kind of a classic Jason Katims move," she hinted instead. "When Joel and Julia have this twist, when they make their next move in life, it's pretty unexpected for the two of them as well. They didn't necessarily see it coming before it happens."
Find out what happens with Joel, Julia, and the rest of the Bravermans in Parenthood's penultimate episode, airing on Thursday, Jan. 22 at 10 p.m. on NBC. The final episode airs Thursday, Jan. 29, so you best have your tissue supply ready.