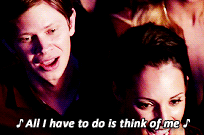 1. Creator Mark Schwahn originally wrote One Tree Hill as a feature-length project called Ravens.
2. Executive producers Brian Robbins, Mike Tollin, and Joe Davola spent four years convincing Schwahn to turn the movie into a TV series.
3. The show title comes from the U2 song "One Tree Hill" from the Joshua Tree album.
4. One Tree Hill was originally set in Illinois, but The WB asked Schwahn to set it in a warmer climate, which is how the show ended up taking place in North Carolina.
5. Schwahn wanted Chad Michael Murray to play Nathan, but Murray wanted to play Lucas, so the producers agreed to cast him in that role.
6. James Lafferty didn't have to fake too much to play Nathan. The actor was on his high school basketball team before being cast on One Tree Hill.
7. Sophia Bush read for the role of Brooke three times. The first time she was told she didn't look sexy enough, the second time she was told she looked too sexy, and the third time she was offered the part.
8. Moira Kelly (Karen) found out she was pregnant after the pilot was shot, but Schwahn didn't want to write the pregnancy into the show, so they used an array of props to hide her belly.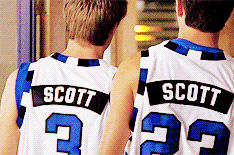 9. Though Jackson Brundage was only 6 when he was cast as Jamie, he was really good at memorizing lines.
10. When Jamie was first written into the show, a lot of his scenes were dictated by what Brundage wanted to do. He would tell Schwahn he wanted to eat ice cream, and in nearly every scene, he'd be eating ice cream. Then, he'd want to play with Antwon Tanner, who played Antwon "Skills" Taylor, so Schwahn wrote storylines for them.
11. Tanner read his lines only in the pilot, so after it aired, he called Schwahn up and said, "I didn't know [Nathan and Lucas] were brothers!"
12. To separate her from co-star Hilarie Burton (Peyton), Bethany Joy Lenz (Haley) was told she had to dye her blonde curls before starting to shoot One Tree Hill.
13. Millicent's (Lisa Goldstein Kirsch) glasses are actually Kirsch's.
14. The check Millicent writes out to Brooke for the first dress sold in the Tree Hill Clothes Over Bros store was never cashed because Brooke knew Millicent couldn't afford it. But instead of throwing it out, Bush took the prop home.
15. Lafferty took the Ravens jersey he wore in the pilot and the NS23 shoes from the set.
16. Haley has a huge arc surrounding her singing chops because Schwahn overheard Lenz singing in a parking lot and decided to give her character a singing career.
17. Just like their characters, Lenz joined Tyler Hilton (Chris Keller) on tour.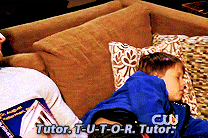 18. The court where the Tree Hill basketball games were shot is the same one Michael Jordan played on when he was in school, proving legends really are born in the Tree Hill High gym.
19. Paul Johansson (Dan) was a great basketball player when he was young.
20. Johansson filmed Season 1, Episode 12 with pneumonia and was quite high on cough syrup during most of the shots.
21. Music was such a huge part of One Tree Hill that the fictional club Tric was written into the show in Season 2 so the writers could feature more bands and artists.
22. Peyton's website, Punk & Disorderly, is still live on the internet.
23. Burton, like Peyton, was a cheerleader at her high school.
24. Schwahn created Peyton's infamous album wall in her bedroom because he saw a wall of old movie posters in a theater and thought it looked cool.
25. He did a trial run in his OTH office and then re-created it on set.
26. Schwahn was inspired to write the school-shooting episode (Season 3, Episode 16) after hearing someone talk about Columbine and whispering the name. He felt someone should "say something loudly" about the tragedy.
27. It never made it to air, but Clay's (Robert Buckley) original first scene on One Tree Hill was him giving a lecture to a room of 250 students.
28. There is a book with the same title as Lucas' novel, An Unkindness of Ravens, that was published in the mid-'80s.
29. When the series premiered, Schwahn had it in his mind that it would end with Keith (Craig Sheffer), Karen, and Lucas living happily ever after. Things changed a bit.
30. Sheffer thought the way Keith died was "brilliant."
31. Johansson, on the other hand, "hated" the script for Season 3, Episode 16 when he read it because he didn't want to pull a gun on Sheffer.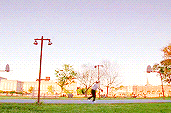 32. In Season 4, Episode 17, the cast goes to Honey Grove, Texas, to rescue Marvin "Mouth" McFadden (Lee Norris). The episode was really filmed in Honey Grove after the town won a contest in which fans wrote in, saying why One Tree Hill should come to their city. All of the extras in the episode are kids from the town.
33. One Tree Hill uncharacteristically jumped ahead four years to bypass college so the actors would play their own ages.
34. Nanny Carrie (Torrey DeVitto) going crazy was originally just a joke Mike Daniels threw out in the writers room. But going into Season 5, Schwahn decided he wanted to actually incorporate the idea.
35. Schwahn wrote One Tree Hill's 100th episode — Season 5, Episode 12 — in the Tree Hill High library.
36. In the 100th episode, Peyton stands up in the middle of Lucas' wedding and tells him she's still in love with him. During a take, Burton forgot her line and Brundage recited it back to her!
37. One Tree Hill was shot in Wilmington, North Carolina, and you can visit a lot of the shooting locations still today.
38. 300 N. Front Street, which housed Karen's Cafe and Clothes Over Bros, is currently a fully functioning coffee shop called Port City Java.
39. And the River Court was really outside along the river, but was dismantled after the show wrapped.
40. Brooke and Julian (Austin Nichols) had such great chemistry on screen because Bush and Nichols were dating in real life at the same time.
41. Like his character Julian, Nichols really wanted to direct. And did direct two episodes of the show: one in Season 8 and one in Season 9.
42. When Haley gets pregnant in Season 8, Lenz was pregnant in real life.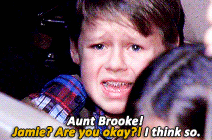 43. Schwahn makes a cameo in two episodes as Max, the record store owner.
44. The USO show was a real concert for real USO troops, some of whom were leaving for Iraq the night of filming.
45. In Season 8, Episode 11, there is a terrible thunderstorm in Tree Hill in which Brooke and Jamie get stuck in a car in the river and the dam breaks. The scene was really filmed in a lake with tons of fake rain pouring down. The whole crew was nervous about putting Brundage in that situation, but he wanted to do it and said he had a blast.
46. The moment Nathan finally makes it to the NBA and has his first game with the Charlotte Bobcats was filmed in the Time Warner Cable Arena in front of real Bobcats fans.
47. Though he was credited as a series regular during Season 9, Lafferty signed on for only half the season, which would explain why Nathan was missing.
48. Lenz's last scene for the series was her walking across Julian's soundstage.
49. Bush directed the second-to-last episode in the series.
50. And Schwahn directed the series finale.
51. Bush was the last actor to finish filming One Tree Hill.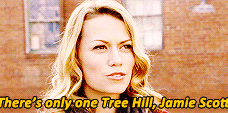 This post has been corrected to accurately spell Millicent's name. Sorry, Millie!
This post has been corrected to accurately state that Sophia Bush directed the second-to-last episode in the One Tree Hill series all by herself! Thanks Sophia Bush for clarifying!