 ABC announced on Wednesday morning that Diane Sawyer will step down as anchor of World News after nearly five years in the chair. David Muir with succeed her, though he will also continue to anchor 20/20.
Sawyer's departure and Muir's promotion will completely topple the gender scale in nightly news coverage. With Muir at ABC's helm, Scott Pelley at CBS's Evening News, and Brian Williams at NBC's Nightly News, all three major networks will be anchored by white men.
The shake-up also seems to be an attempt by ABC to attract younger viewers. After years of being No. 2, ABC's Good Morning America has surpassed NBC's Today as the most watched morning news program. By placing a man nearly 30 years Sawyer's junior (she is 68, Muir is 40) in the Word News seat, the network appears to be trying to dominate the key 25–54 demographic.
Muir, who's set to take over Sawyer's seat on Sept. 2, 2014, tweeted about the news shortly after the announcement.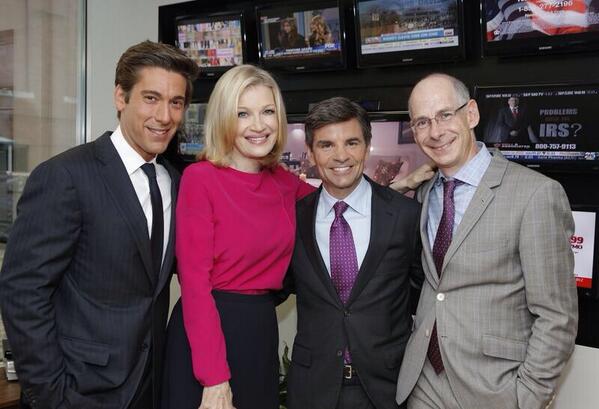 The network also announced that George Stephanopoulos, co-host of ABC's Good Morning America and host of ABC's This Week, has been promoted to chief anchor of ABC News.