Owing to the historic success of Spider-Man: No Way Home during its opening weekend in theaters, we've been talking about Zendaya — also, Tom Holland — all day long. And we aren't done yet, since the first official trailer for Euphoria Season 2 just dropped and, as expected, there's a lot to unpack.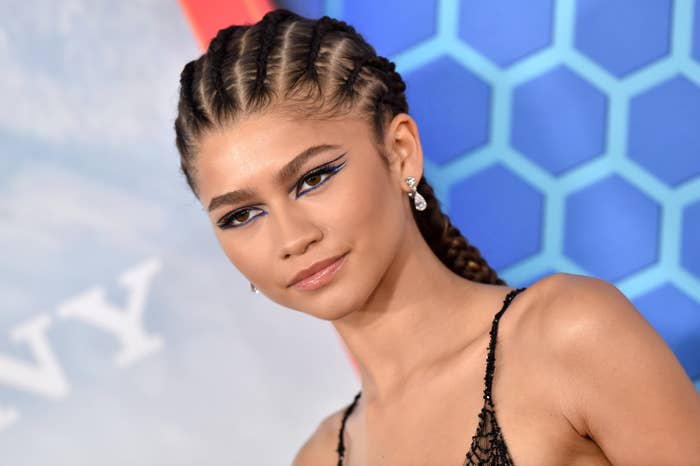 Those who watched Zendaya's Emmy-winning performance as Rue in Season 1 of the HBO Max drama might know sparing details about its upcoming successor already. But outside of a very brief and characteristically chaotic teaser released several weeks ago, most information about Season 2 was kept under wraps before this afternoon.
"I know it's been a long time, but we'll see you January 9th," Zendaya captioned the new preview on Instagram. As promised, it sees the return of familiar Euphoria faces like Hunter Schafer, Jacob Elordi, Sydney Sweeney, and Barbie Ferreira.
Season 2 will pick up in the aftermath of HBO's pair of solo episodes, which aimed to fill the lengthy gap between seasons due to COVID-19 safety regulations and were dedicated to Zendaya and Hunter's characters, respectively.
Feelings experienced while watching the trailer's two-plus-minute run range from moderate anxiety to extreme confusion. It starts with Rue, who's recently relapsed, narrating wistfully about Hunter's Jules and showing up to an AA meeting with a suspicious rolling suitcase in tow.
Events that unfold throughout the rest of the trailer seem to indicate the suitcase contains illegal substances, which Rue has agreed to sell. Here she is cycling with the bag and her eyes closed.
Elsewhere in the trailer, we have a significant amount of yelling, from Jacob's character Nate, Sydney's Cassie, and Rue's family members as they chase her down a highway.
Most alarming are two moments where Rue and Cassie are individually shown with someone else's hand covering their mouths. We'll likely have to wait until January to understand what that's about.
Euphoria Season 2 premieres Jan. 9 on HBO Max. Will you be watching?