With championship medals by the dozens and a record-setting Olympic career in full swing, Simone Biles is objectively one of the most distinguished gymnasts in world history.
The 24-year-old athlete has already trademarked several signature moves and collected more titles than any US gymnastics professional ever, so the fact that many regard her as the sport's Greatest of All Time (G.O.A.T.) is not only fitting — it's pretty much factually accurate, too.
Simone has stepped into the prestigious nickname in style. During the US Gymnastics Championships earlier this month, she became the first woman to win seven all-around titles and earned the victory while wearing leotards adorned with sparkling goat emblems. As she prepares for next week's Olympic trials, Simone explained the inspiration behind her fashion choice in a recent interview with Marie Claire.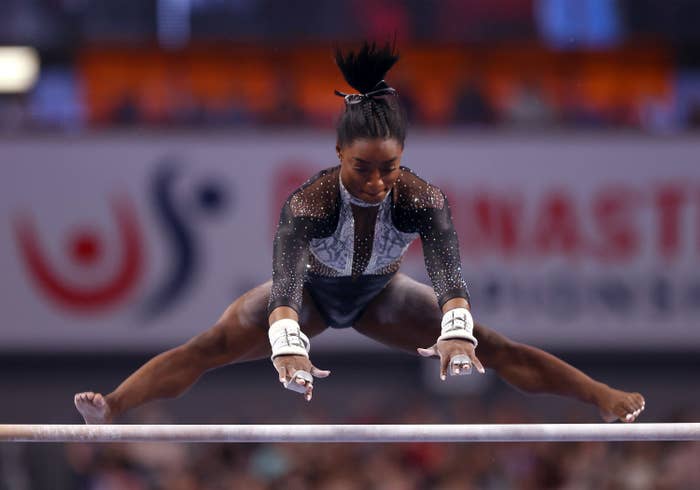 "The idea was to hit back at the haters," she told the magazine. "[The haters] were joking like, 'I swear, if she put a goat on her leo, blah, blah, blah.' That would make them so angry. And then I was like, 'Oh, that's actually a good idea. Let's make the haters hate it, and the fans love it.' And so that's exactly what we did and why we did it."
"I just hope that kids growing up watching this don't or aren't ashamed of being good at whatever they do," she continued. "I want kids to learn that, yes, it's okay to acknowledge that you're good or even great at something."
For young women planning to heed Simone's wisdom about confidence and taking dissenters' criticism in stride, rest assured, you'll be learning from the best.