Aaron Rodgers is facing considerable backlash this month, not least of all from comedians and late night television hosts like Jimmy Fallon, Jimmy Kimmel, Jon Stewart, Pete Davidson, and Stephen Colbert.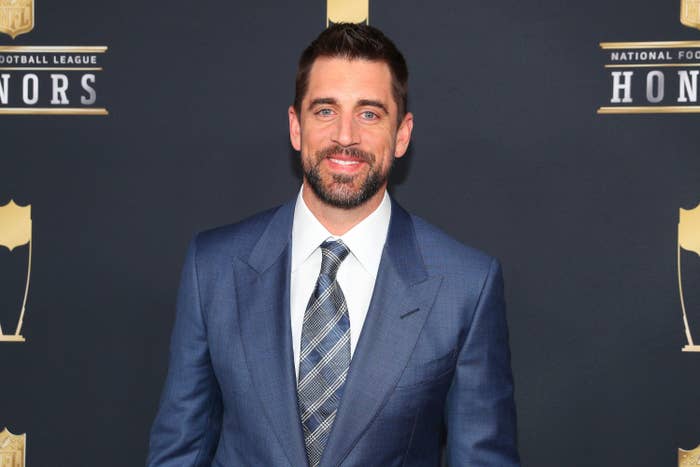 The Green Bay Packers quarterback, who's engaged to actor Shailene Woodley, became the subject of widespread criticism after testing positive for COVID-19 last week and subsequently defending his unvaccinated status with a myriad of false statements.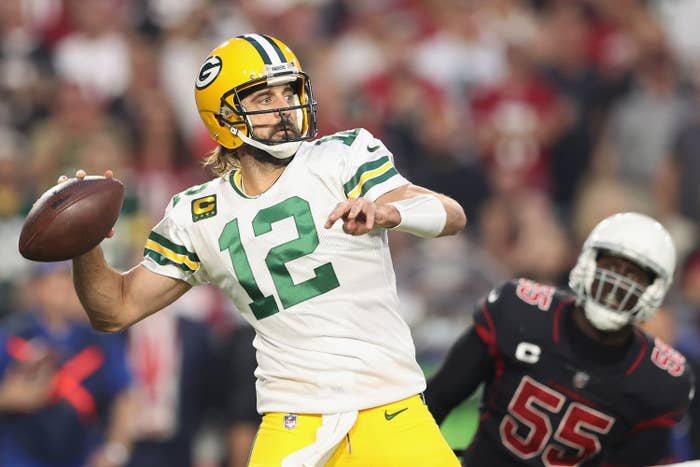 Jon Stewart was the latest voice to take aim at Aaron in a public forum. While performing a stand-up routine at the 15th Annual Stand Up for Heroes event, he said, "There is good news on the pandemic. I was talking to my Dr. Aaron…Rodgers, and it looks good. It's almost over."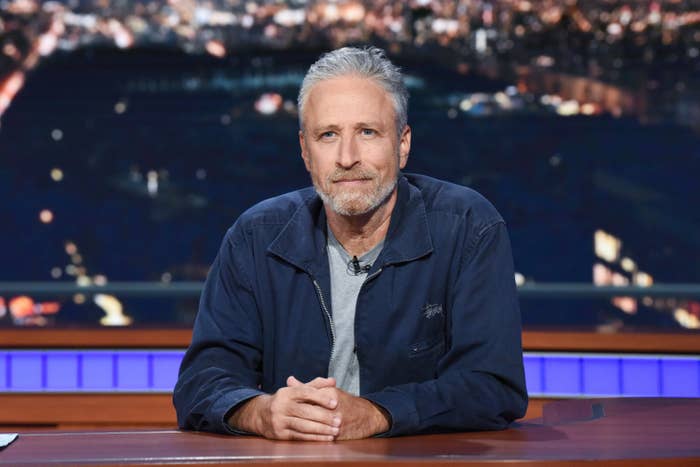 Jon's roast is just one example. On last night's Jimmy Kimmel Live, the host addressed comparisons between Aaron and Kyrie Irving, the Brooklyn Nets player who's been benched this season because his refusal to get vaccinated against COVID-19 violates New York's health guidelines.
Jimmy initially roasted Aaron during an earlier show last week, in a segment where he called him "a Karen" and suggested that giving people the impression that you're vaccinated when you aren't is "basically the COVID equivalent of 'the condom fell off.'"
The Tonight Show Starring Jimmy Fallon included some digs involving Aaron several days ago, referencing the White House's January deadline for employees to get their vaccines.
The Aaron situation came up on Late Night with Seth Meyers as well.
Meanwhile, from Stephen Colbert on The Late Show: "My Goop senses are tingling. I'm no expert, but I'm guessing it's a lot easier to just play football with a shot in your arm then a jade egg stuck where the sun don't shine. Then again, they are called the Packers."
And lest we forget Pete Davidson's impersonation on this past weekend's Saturday Night Live. "It's my body and my COVID, and I can give it to whoever I want," said the comedian, before going on to reference some of Aaron's false comments about the COVID-19 vaccine.
Even as national and global vaccination numbers rise, COVID-19 continues to pose an ongoing public health threat. The Centers for Disease Control and Prevention (CDC) maintains that getting vaccinated is the best way to protect yourself and others from the disease. Head to the CDC's website for more information about COVID-19 vaccines and where to get one in your state.