Alexandria Ocasio-Cortez was invited to attend the 2021 Met Gala on Monday, alongside an exclusive group of celebrities and public figures.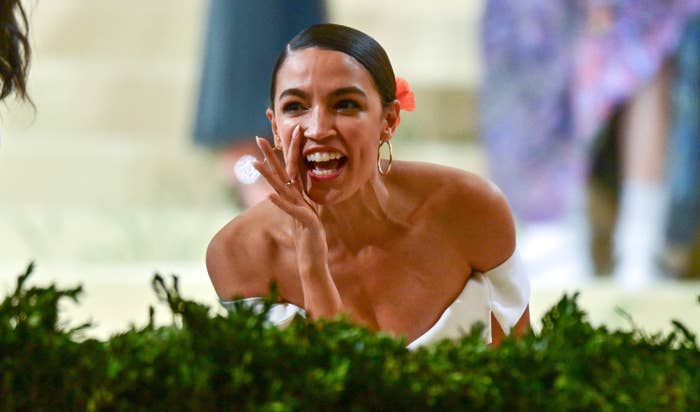 And she dressed for the theme — "In America: A Lexicon of Fashion" — in a white dress that was emblazoned with "Tax the Rich." But not everyone was a fan of her look.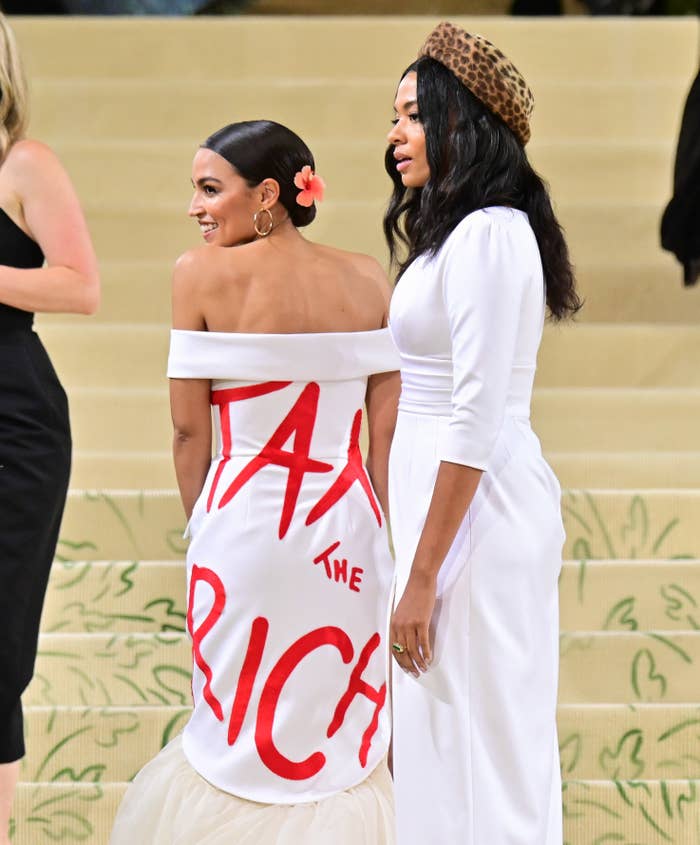 Democratic politicians like AOC have floated proposals to raise taxes on people in the highest income brackets for a while, in hopes to reduce wealth inequality. But AOC received backlash for her gown from all sides of politics after the Met Gala.
In addition to conservative backlash, many people on social media are pointing out the hypocrisy of AOC making a statement about economic inequity at an event where tickets cost $30,000. Well, AOC has now responded in a lengthy note on Instagram.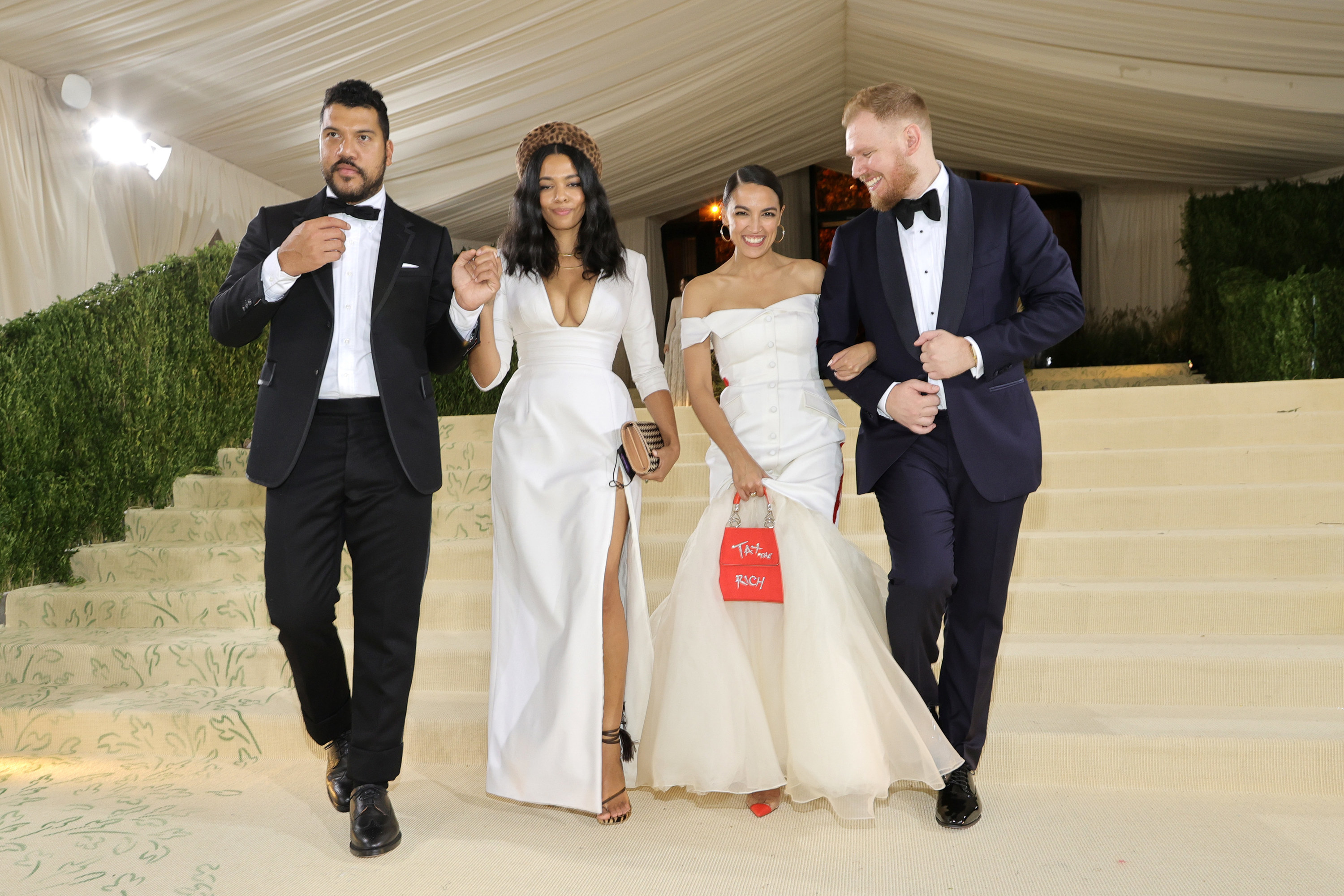 "I thought about the criticism I'd get, but honestly I and my body have been so heavily and relentlessly policed from all corners politically since the moment I won my election that it's become kind of expected and normalized to me," she wrote.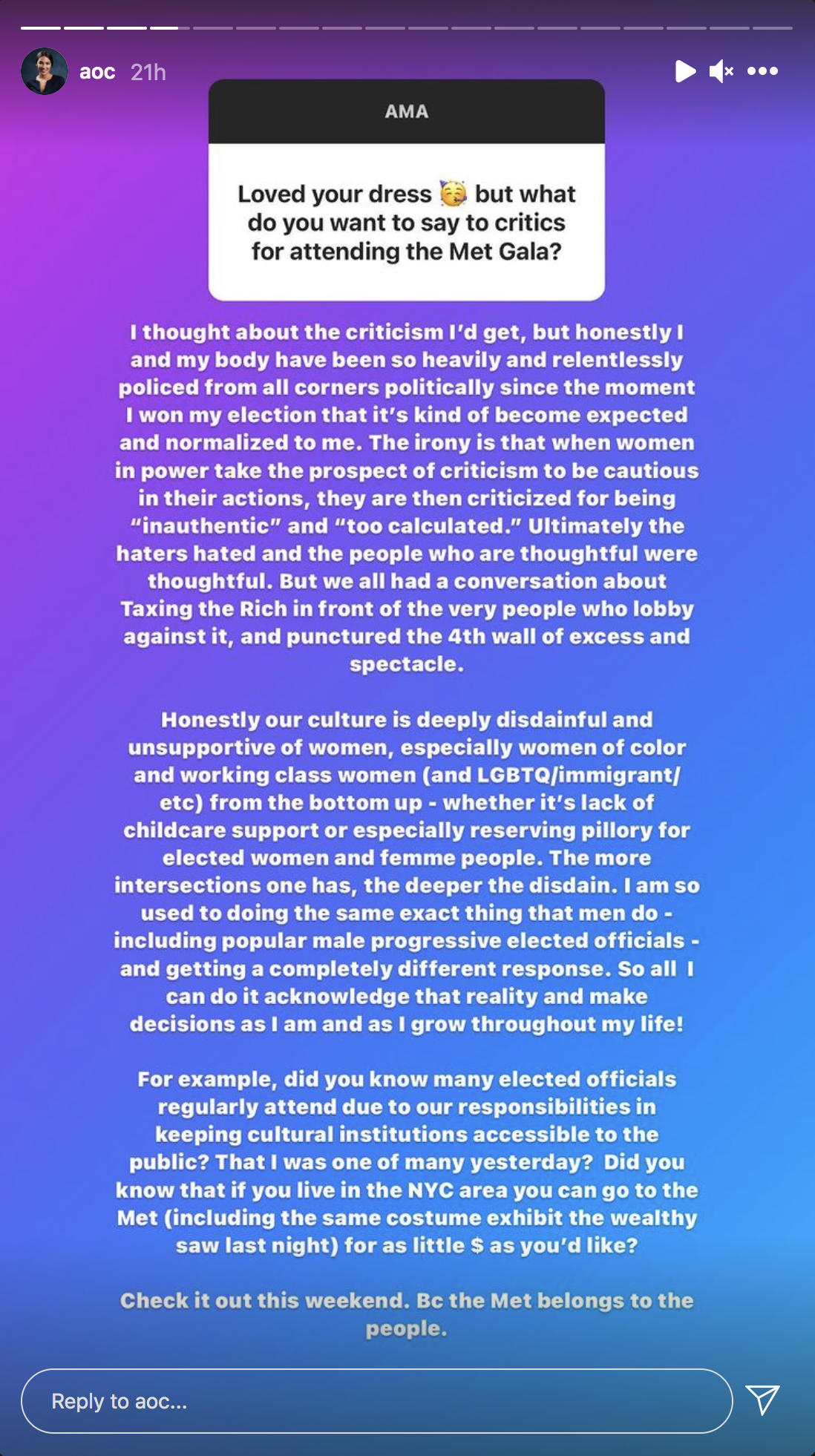 "The irony is that when women in power" are "cautious" about the "prospect of criticism," "they are then criticized for being 'inauthentic' and 'too calculated.'"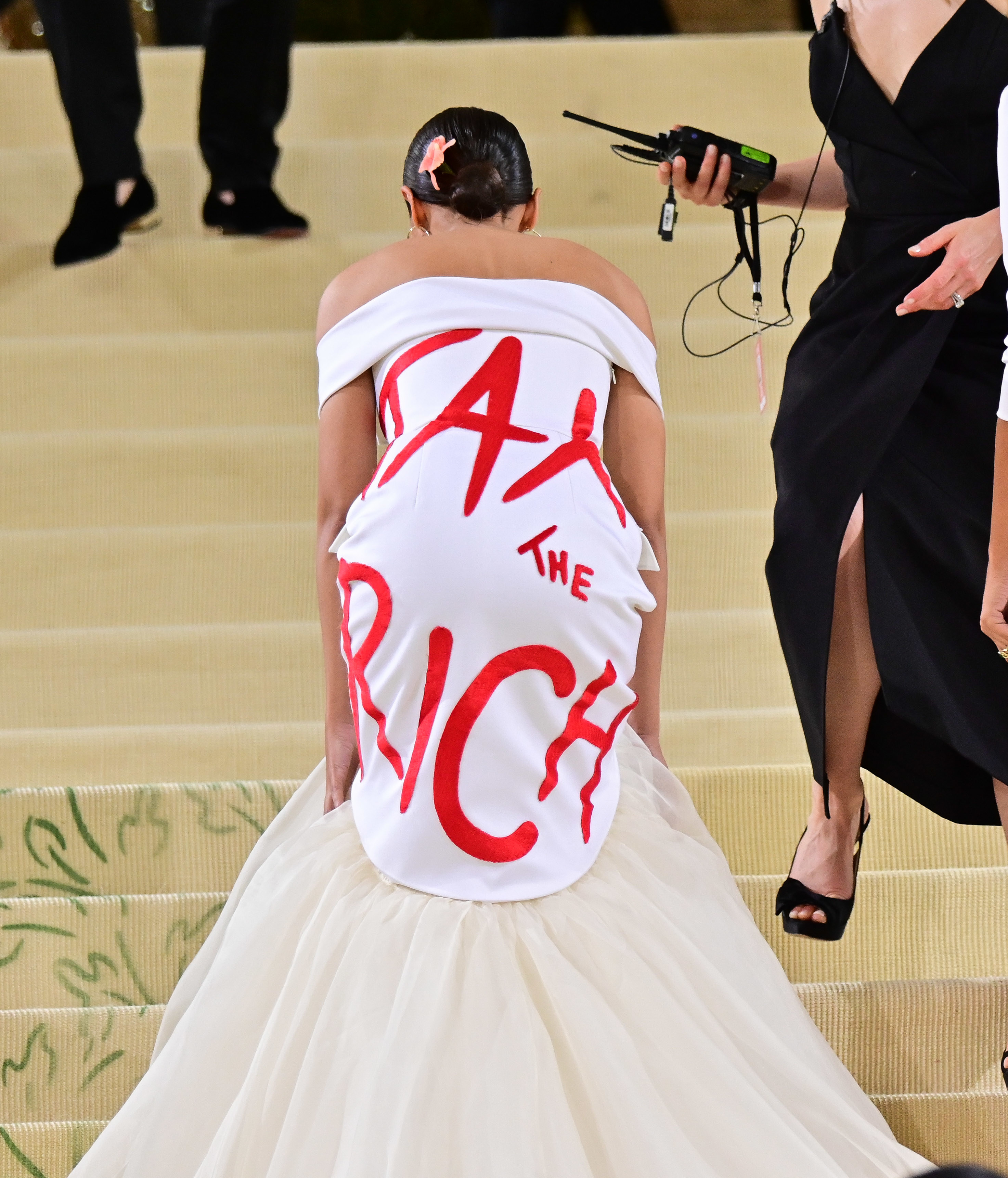 "Ultimately the haters hated and the people who are thoughtful were thoughtful. But we all had a conversation about Taxing the Rich in front of the very people who lobby against it, and punctured the 4th wall of excess and spectacle."
AOC also took the opportunity to remind people that "our culture is deeply disdainful and unsupportive of women, especially women of color and working class women (and LGBTQ+/immigrant/etc) from the bottom up — whether it's lack of childcare support or especially reserving pillory for elected women and femme people." "The more intersections, the deeper the disdain," she wrote.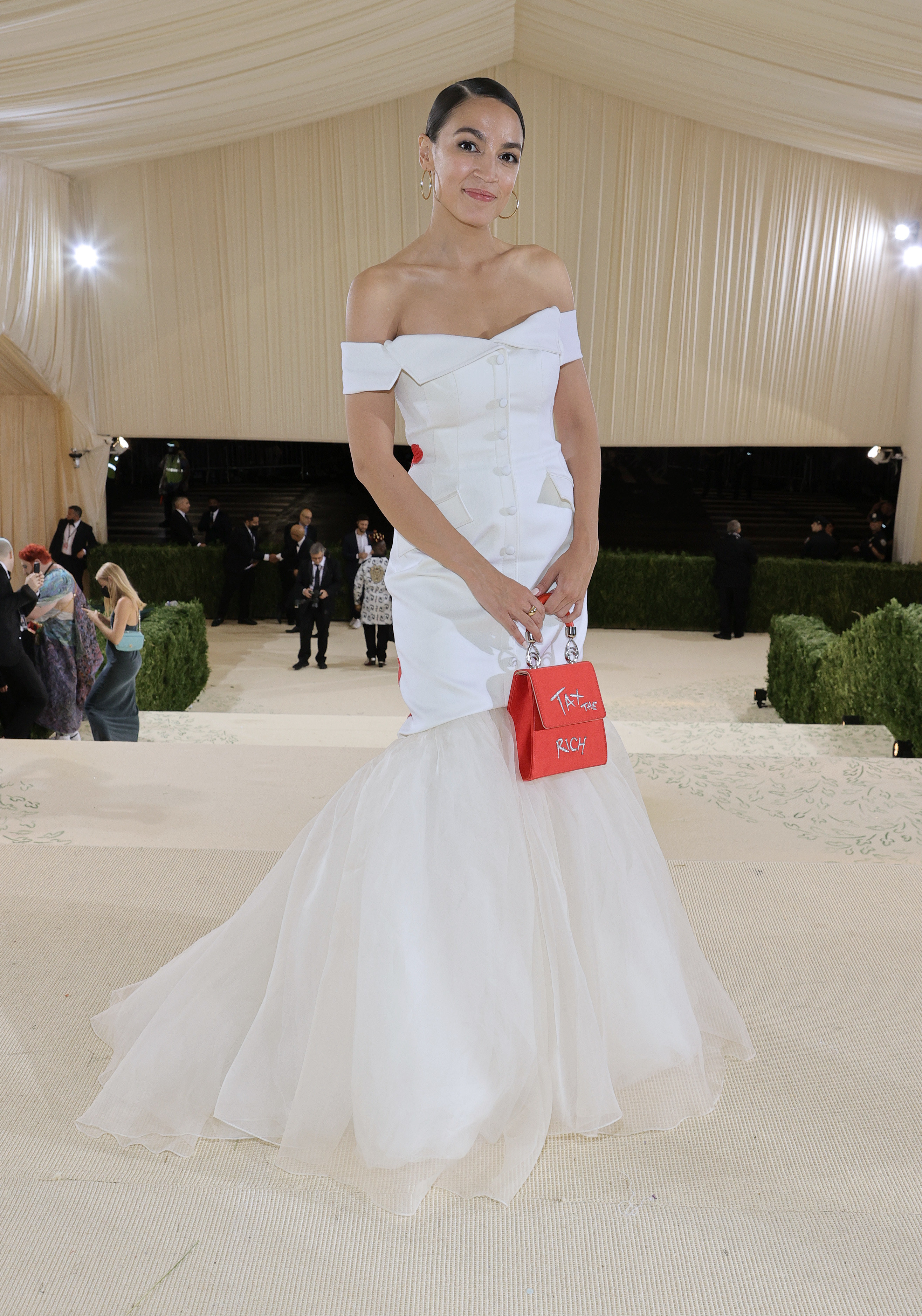 And to those questioning why she was even at the Met Gala, AOC explained, "Many elected officials regularly attend due to our responsibilities in keeping cultural institutions accessible to the public."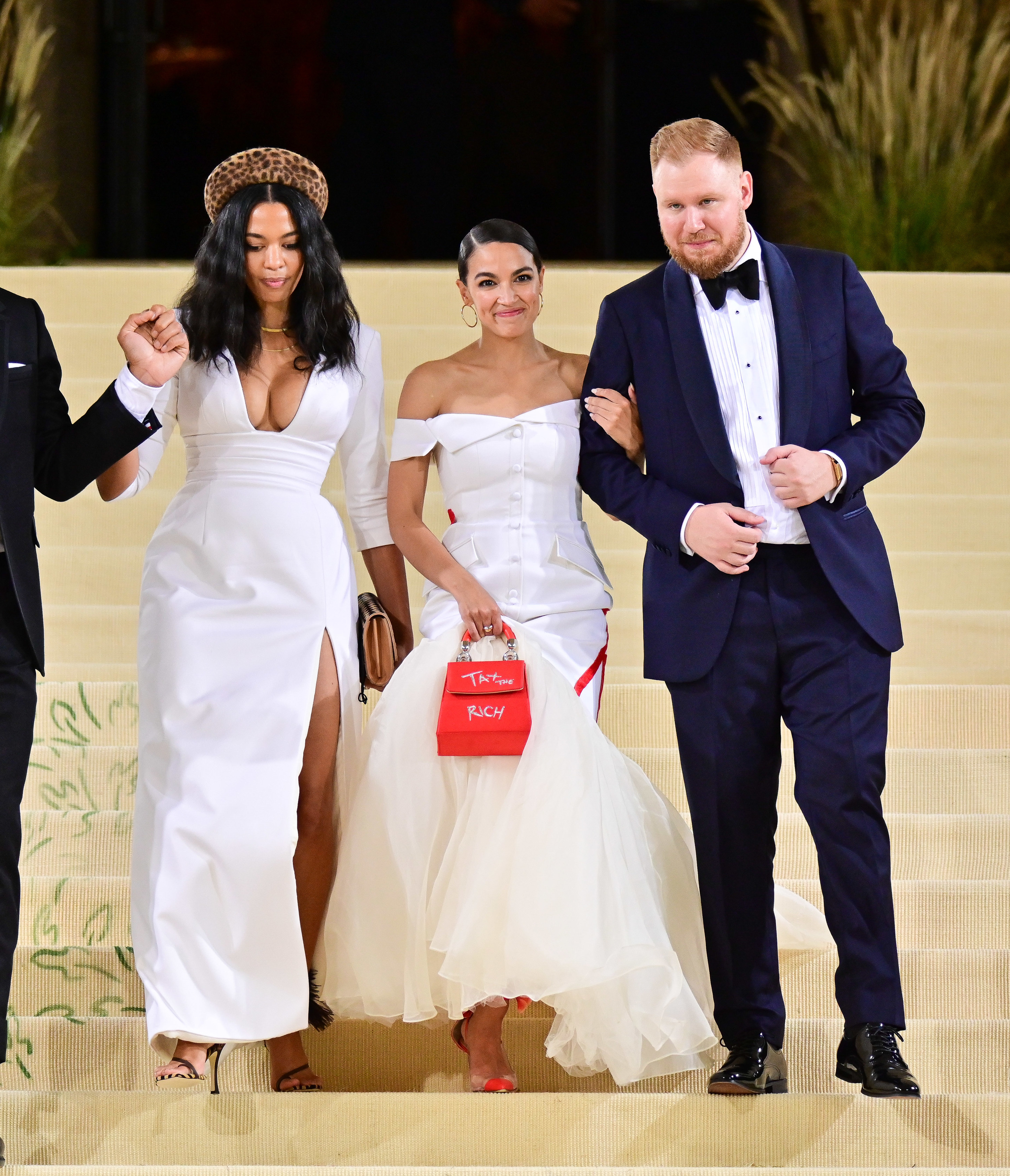 "Did you know that if you live in the NYC area you can go to the Met (including the same costume exhibit the wealthy saw last night) for as little $ as you'd like?" she added. "Check it out this weekend [because] the Met belongs to the people."
What did you think of AOC's Met Gala gown? Feel free to discuss below, and head over to the congresswoman's Instagram story for more information about income inequality and a proposed "wealth tax."