Brush Up Your Vietnamese-Style Cooking Chops With This Banh Mi Meatball Sandwich
Chop it up!
Vietnamese-Style Banh Mi Meatball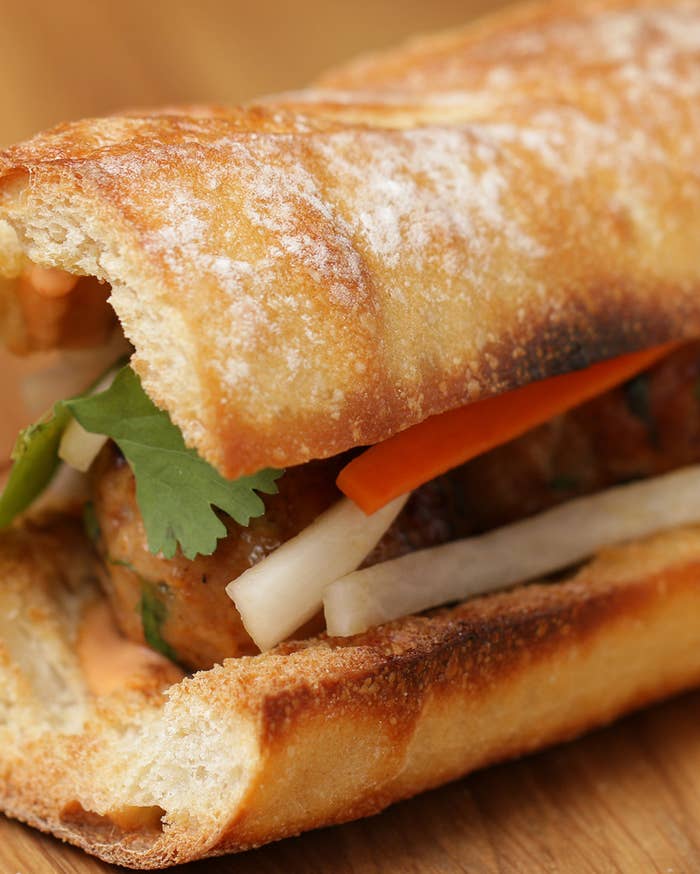 INGREDIENTS
For the pickled Carrot and Daikon:
1 1/2 cups of daikon radish
1 1/2 cups of carrots
2 jalapeños
2 Tbsp. of sugar
1/2 tsp of salt
2 tsp of sesame oil
3 Tbsp. of rice vinegar
For the meatballs:
1 lb of ground pork
2 tbsp of chopped cilantro, basil or parsley
1 scallion, chopped
3 cloves of garlic, minced
1 Tbsp. of fish sauce
1 Tbsp. of Sriracha
2 tsp of sugar
Salt and pepper to taste
1 Tbsp. of cornstarch
For the sandwich:
Baguette
Sriracha mayo
Cilantro
PREPARATION:
Combine the pickled carrot and daikon ingredients in a mixing bowl. Set aside and let them pickle for at least an hour.
Combine all of the banh mi meatball ingredients in a large mixing bowl. Form ping pong sized meatballs. Pan fry until browned on all sides and cooked all the way through.
Put together the sandwich. Smear a layer of Sriracha mayo on one half of the baguette, add the meats, a few of the pickled carrots and daikon and some fresh cilantro. Top with other half of baguette. Enjoy!
Want BuzzFeed Tasty right in your inbox? Sign up for our newsletter!