Pick it up!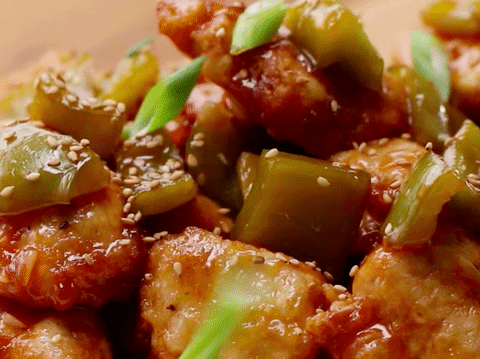 Sweet & Sour Chicken
INGREDIENTS
Servings: 2 - 3
For the chicken:
1 pound boneless, skinless chicken breasts, cut into bite-sized pieces
Salt and pepper
½ cup cornstarch
2 eggs, beaten
Oil to fry

For the sauce:
1 tablespoon oil
½ tablespoon minced garlic
1 bell pepper, diced
¾ cup cider vinegar
1 tablespoon soy sauce
¼ cup ketchup
½ cup sugar
For the garnish:
Chopped scallions
Sesame seeds
PREPARATION
Season chicken with salt and pepper. Coat with cornstarch, dip in beaten egg and fry until golden, crispy and cooked through. Set aside. Dab with paper towel if greasy.

In a large pan, heat oil and fry garlic until fragrant.

Add the bell pepper, cider vinegar, soy sauce, ketchup and sugar. Bring to a boil.

When the sauce has thickened, add the fried chicken. Toss to coat.

Garnish with chopped scallions and sesame seeds. Serve with rice.

Enjoy!