Fried Shrimp and Mango Salsa Hand Rolls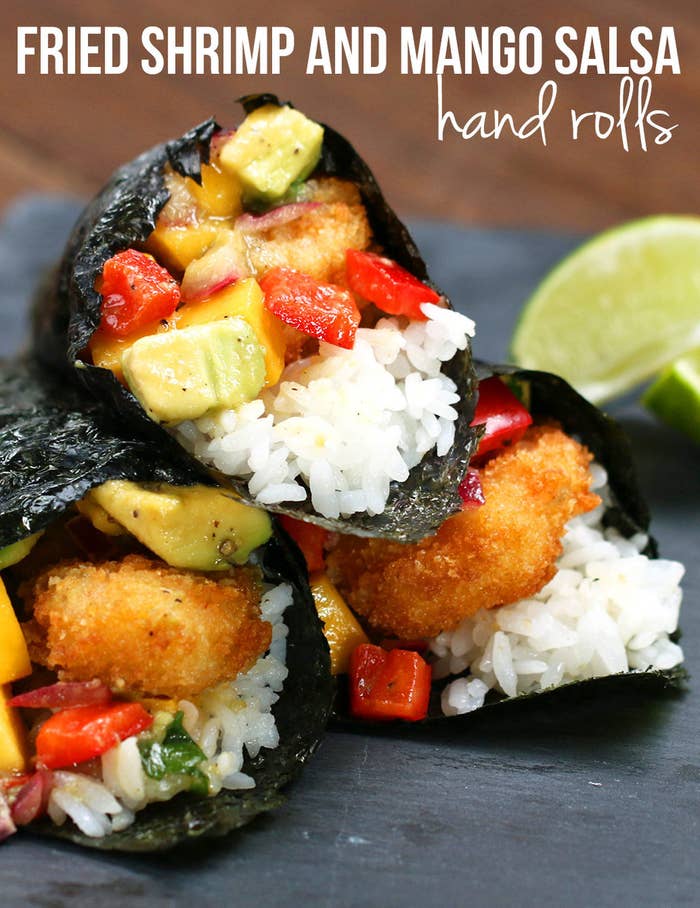 Here's what you will need:
* 1 mango, cubed
* 1/2 cup of red onion
* 1 bell pepper, cubed
* 1 avocado, cubed
* 2 Tbsp. of lime juice
* 1 Tbsp. of olive oil
* Salt & pepper
* 1/4 cup of cilantro
* 4 cups of cooked rice
* 3 Tbsp. of rice vinegar
* 1 Tbsp. of sugar
* 1/2 tsp of salt
* 1 lb shrimp
* Flour
* Eggs
* Panko
* Oil for frying
* Nori
Directions:
Mix the mango salsa. In a mixing bowl, combine the mango, red onion, bell pepper, avocado, lime juice, and olive oil. Add salt and pepper to taste. Then, set aside.
Next, it's time to season the rice. In a large mixing bowl, mix the cooked rice with rice vinegar, sugar, and salt. Set that mixture aside.
Prepare the shrimp for deep-frying. Season the shrimp with salt and pepper. Coat the shrimp in flour, then eggs and, lastly, panko. Fry in oil until crispy and golden brown.
Finally, it's time to make the hand rolls. First, place the nori sheet in your left hand. Second, spread some rice in the left third of the nori sheet. Then, layer on a few of the fried shrimp, spoon some of the mango salsa over and roll into a cone shape. Enjoy!
Want BuzzFeed Tasty right in your inbox? Sign up for our newsletter!