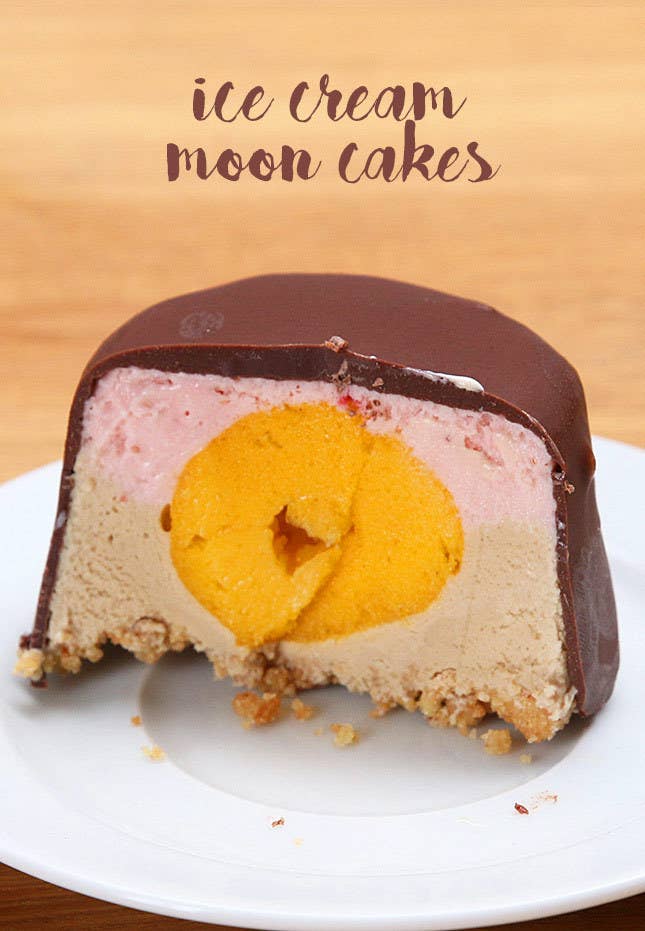 Here's what you will need:
* Orange or mango sherbet (for the moon part in the middle)
* Vanilla ice cream (for the moon part in the middle)
* Strawberry ice cream
* Coffee ice cream
* 1 cup of crushed biscuits
* 3 Tbsp. of melted butter
* 2 cups of chocolate chip
* 1/4 cup of coconut oil
Directions:
Using a melon baller or a cookie scoop, scoop out balls of orange/mango sherbet or vanilla ice cream. Place on parchment and freeze for two hours. These will be the "moons" inside the ice cream mooncake.
While the ice cream balls are freezing, prepare the biscuit crumbs. Crust one cup of biscuits, add the melted butter, and stir until the biscuits crumbs are coated in butter and stick together when packed.
Take your ice cream mold or cup, put down a layer of strawberry or coffee ice cream. Place a ball of orange/mango/vanilla into the center. Layer on more strawberry or coffee ice cream. Top it off with the biscuits crumbs and press down. Freeze for another two hours.
Prepare the chocolate coating, melt the chocolate chips and coconut oil. Stir until combined and smooth. Set aside until it has cooled to room temp.
When ready, unmold your ice cream mooncakes. Pour the melted chocolate over. Freeze overnight. Enjoy!