Breakfast Biscuit Fries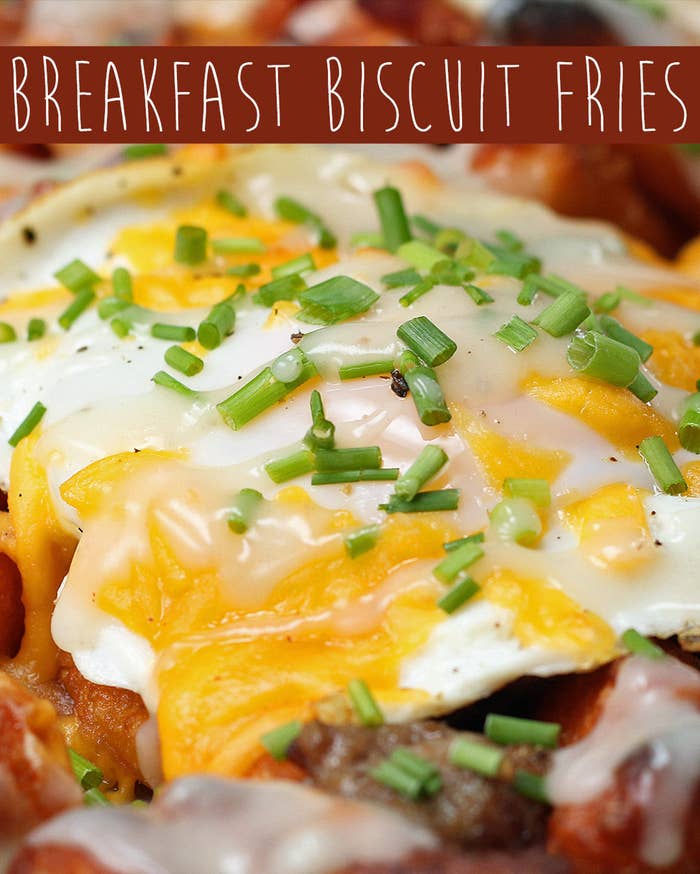 INGREDIENTS
Servings: 3
3 strips of bacon, chopped
1 cup of flour
1 to  2 cups of chicken stock
1 can of pre-made biscuit dough
Cooked breakfast sausage (4 cooked links)
Shredded cheddar (~⅓ cup)
3 eggs, cooked to your preference
Chopped chives (~2 teaspoon)
PREPARATION
1. Fry bacon until browned and crispy, render out as much fat as possible. Remove the crispy bacon and set aside for later use. Keep the bacon fat which will be used to make the gravy.
2. Make the bacon gravy in the same pan that you fried the bacon. Add flour to the pan and stir until flour forms thick paste. Cook for about a minute without burning the flour. Slowly stir in the chicken stock. Keep stirring until you have a smooth consistency. Simmer until the sauce thickens. Keep warm and set aside.
3. Flatten biscuit dough and cut into strips. Deep fry (oil at 350°F/175°C) until brown and crispy. Drain on paper towels, and place on baking sheet. Repeat with remaining biscuit dough.
4. Layer the fried biscuit dough on the baking sheet. Sprinkle the cooked breakfast sausage, fried bacon, shredded cheddar and top with eggs.
5. Broil for 5 - 10 minutes or until the shredded cheddar has melted.
6. Remove from oven, sprinkle on the chopped chives and drizzle on the bacon gravy. Enjoy!
Want BuzzFeed Tasty right in your inbox? Sign up for our newsletter!