How to Roast a Leg of Lamb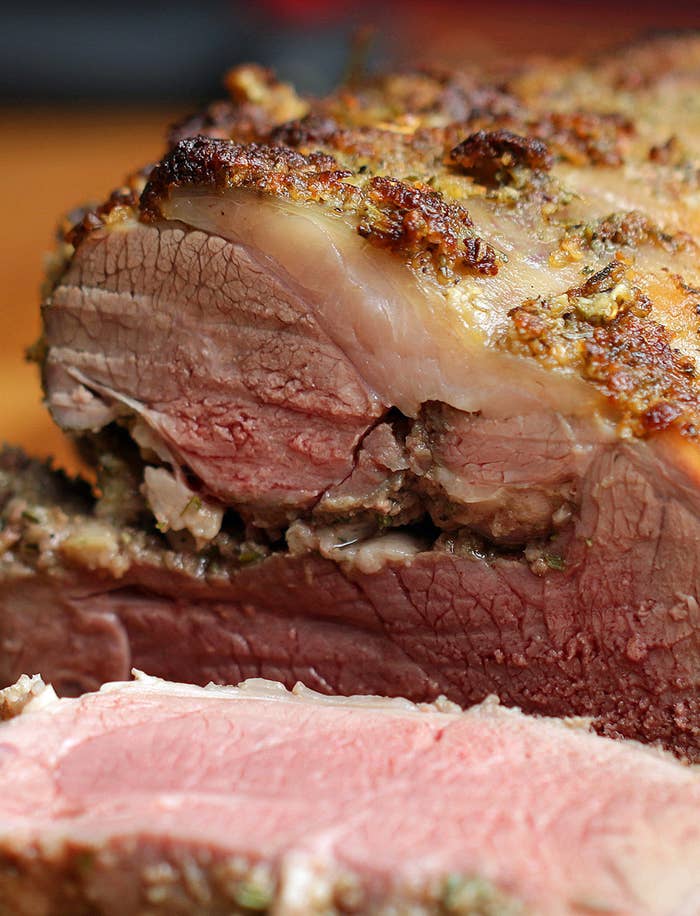 INGREDIENTS
6 Tbsp. of olive oil
1/4 cup of rosemary
6 cloves of garlic
3 shallots
1/2 Tbsp. of thyme
2 tsp of pepper
3 1/2 tsp of salt
5 lb leg of lamb, boneless
Carrots
Potatoes
Onions
Garlic cloves
Salt and pepper
Olive oil
PREPARATION
Create the herb rub in a food processor. Pulse the olive oil, rosemary, garlic, shallots, thyme, pepper and salt together until you have a thick paste. Spread out the leg of lamb and rub half of the herb rub all over the exposed side of the lamb. Roll up and securely tie the leg of lamb together with kitchen twine.
In the roasting pan, spread out the carrots, potatoes, onions, and garlic cloves. Rest the leg of lamb on top of the vegetables. Pour the rest of the herb rub all over the leg of lamb, spread out so it coats evenly. Roast at 450°F/230°C for 50 - 60 minutes or until the internal temperature reads 130°F to 135°F for medium rare.
Remove the leg of lamb and let it rest of 20 minutes before you remove the kitchen twine and before you carve.
Serve with the roasted vegetables. Enjoy!
Want BuzzFeed Tasty right in your inbox? Sign up for our newsletter!