Rice Noodle Pancakes With Sweet Chili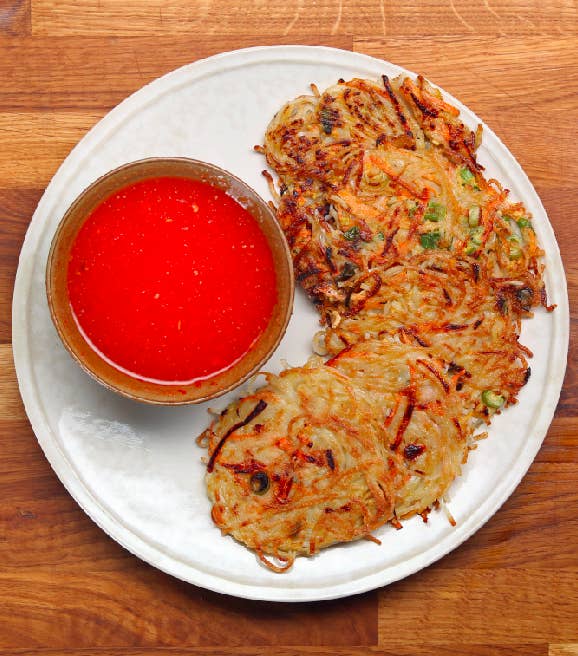 Here's what you will need:
Sweet Chili Sauce Ingredients:
* 3/4 cup of water
* 1/4 cup of vinegar
* 1/2 cup of sugar
* 1/2 Tbsp. of salt
* 3 garlic cloves
* 2 Serrano peppers, deseeded
* Cornstarch slurry (1 Tbsp. of cornstarch dissolved in 2 Tbsp. of water)
Rice Noodle Pancake Ingredients:
* 2 servings of rice noodles
* 5 cups of boiling water
* 1 cup of shredded carrots
* 1/2 cup of chopped scallions
* 1 tsp of grated ginger
* 1 Tbsp. of sesame oil
* 2 beaten eggs
Directions:
In a blender or food processor, blitz all of the sweet chili sauce ingredients together. Pour into a saucepan and bring to a boil. Add the cornstarch slurry, stir and remove from heat. Set aside until ready to use.
Place a colander over a large mixing bowl. Add the rice noodles, pour the boiling water over and let it sit and soften for 10 minutes. Drain, discard water and add the noodles to mixing bowl. Using a pair of kitchen scissors, cut the noodles so they are easier to manage. Add the carrots, scallions, ginger, sesame oil, beaten eggs. Mix well. Grab a handful of noodles and place until your heated pan. Using your spatula, flatten the noodles. Pan-fry until both sides are golden brown and crispy.
Serve with the sweet chili sauce.