Vulnerable women in a privately run prison were illegally strip-searched on a routine basis, BuzzFeed News can reveal.
Staff at HMP Bronzefield in Surrey were not properly trained in laws protecting women prisoners and subjected inmates, including rape victims and those with severe mental health problems, to full-body searches, a practice described as "humiliating, degrading and undignified" in a 2007 government review.
Sodexo, the outsourcing giant that runs the prison, has admitted in High Court documents seen by BuzzFeed News that its staff search procedures broke the law because they allowed for immediate strip-searching on spec. It also admitted that its inadequate training of staff on full-body searches was unlawful and has since changed its policy and retrained its staff.
The illegal strip searches at Bronzefield, which was the first private prison for women when it opened in 2004, took place for at least five years until eight prisoners and former prisoners filed a judicial review case against Sodexo in the High Court last year. It was never heard in the court but a damages case is ongoing.
In interviews with BuzzFeed News, some of the women described the searches and the impact they had on them. One rape victim alleges she was ordered to squat on the floor while naked from the waist down with male officers waiting outside her cell. She says she was so traumatised afterwards that she cut herself with a broken coffee jar. BuzzFeed News understands that she is one of two prisoners whose version of events Sodexo disputes in their entirety.
BuzzFeed News has been given similar accounts from other prisoners. A survivor of child rape described in a sworn witness statement being told to take her knickers off while on her period during a routine cell inspection, despite there being no intelligence that she was hiding anything under her clothes. She had recently had a psychotic breakdown and says when she refused she was put on report and segregated.
In court documents seen by BuzzFeed News, Sodexo admitted that the search was unlawful because officers wrongly believed that a full strip search was required as part of the mandatory drug testing procedure. However, they said the search was not arbitrary but was based on intelligence about the prisoner's drug use and that she subsequently tested positive for drugs.
Sodexo did not respond to the specifics of the prisoners' descriptions of searches as put to them by BuzzFeed News. The company disputes the women's accounts of their searches and says officers believed – albeit wrongly – that they were acting within the current law.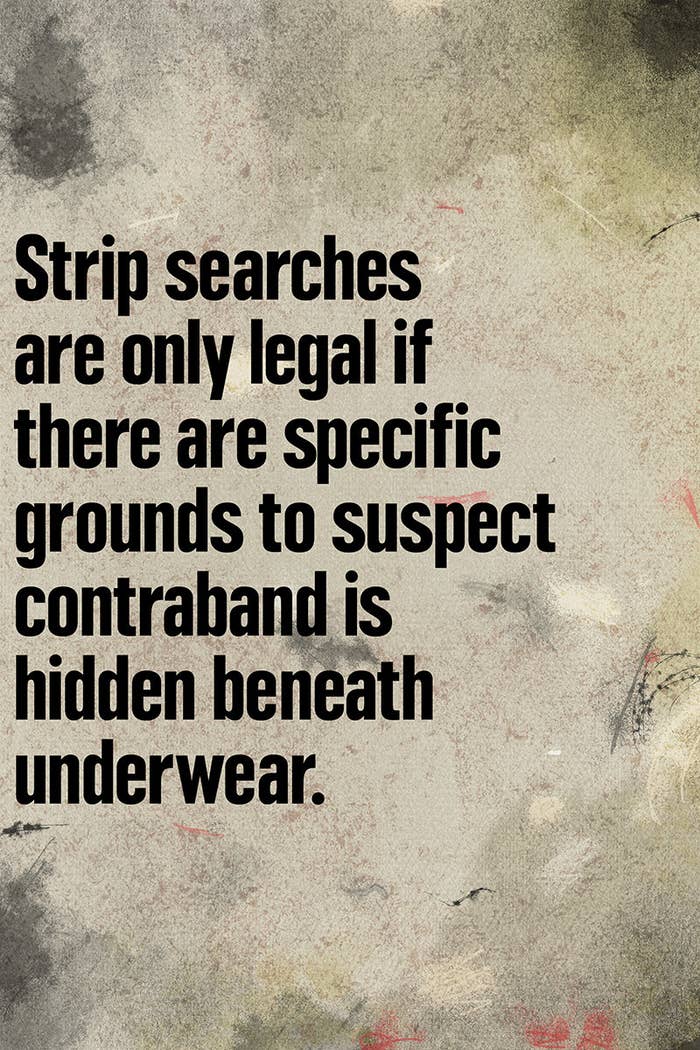 Sodexo points out that the women have withdrawn the part of their human rights claim relating to the right to be free from degrading or inhuman treatment. The women say they want a swift conclusion to the case on the areas Sodexo has conceded and they are pursuing their claims for damages for the unlawful searches. But they still stand by their accounts of what happened.
Strip searches are only legal if there are specific grounds to suspect contraband is hidden beneath underwear and if a pat-down has been carried out first. The law says they should never be routine and that staff must "in particular bear in mind the impact searches may have on prisoners who may be at risk", for example those with a history of abuse or mental health problems.
Prisoners say it was routine for searches to go straight to a full-body check in Bronzefield, before any pat-down happened. Some were strip-searched as part of a routine drugs test, before they had even undergone the testing and when there was no intelligence that they were carrying drugs that day.

Prison officers are supposed to consider the risk to vulnerable prisoners, such as those with mental health problems, before conducting a full search. Yet seven of the eight women who brought a legal claim against Sodexo have a history of mental health problems, including self-harming.
Prisoners say they were strip-searched routinely before mandatory drugs tests, when there was no evidence to support a full-body check. Nothing was found in these humiliating searches, though in some cases drugs were later detected in urine when the tests were done afterwards.
Sodexo's position is that, though unlawful, the searches were not arbitrary. The company says that of the eight prisoners who brought legal proceedings, four were searched as part of mandatory drug testing and two were searched because of intelligence reports that they were in possession of illicit items. It disputes the remaining two claims.
The revelations raise the possibility that hundreds – or even thousands – of women were subjected to unnecessary full-body searches before Bronzefield's staff were retrained. The problem may also extend to other UK prisons, according to a solicitor acting in the Bronzefield case, who says he has met women elsewhere in the country who have had similar experiences.
The category A prison also holds young offenders. Sodexo declined to comment on whether teenagers in the young offender wing were also affected by the unlawful policy.
Sodexo insisted that the allegations relate only to those eight women who brought legal complaints and said it was untrue that thousands had been subjected to unlawful searches.

Frances Crook, chief executive of the Howard League for Penal Reform, said: "This practice by Sodexo has humiliated women. As other prisons have not been routinely stripping women, there is no security reason to inflict such degrading and cruel treatment on women.
"It is disgraceful that a private company running a prison full of vulnerable women, many of whom have been victims of the most appalling sexual abuse in the past, should inflict such violation on women in its care."
Laura, 51, still gets nightmares about the day in March last year when she says prison officers made her squat naked from the waist down in her cell, with male officers outside.
Recalling the events that led to it, Laura told BuzzFeed News: "I was in the laundry room and as I bent over to pick up some laundry my rosary bead got stuck and the officer saw me fiddling with my bra strap."
She says the male officer who saw it thought she was hiding something, and locked her in the laundry room. A few minutes later she remembers being taken up to her room to be strip-searched by a female officer with him and a more senior male officer in tow.
"The men were standing outside and I could see their shoes. The bolt was on but the door was unlocked, which made a big gap... I couldn't keep my eye on the door because I had to turn round."
Describing the search by the female officer, Laura says: "The woman said, 'Right, you need to get undressed' and can I be as quick as possible please. I took my top off and she went through my bra and everything and then asked me to put it back on. She went through all my hair.
"There was no other search before. I said, 'Why? I haven't done anything,' and she said, 'I'm just doing my job, I've been told to strip-search you.' Then they came to the bottom half. She went through my shoes and socks and then said, 'Can you just squat for me please?' So I did. I just wanted it out of the way. I had nothing on me and I wanted it over with."
In the years before a series of affrays and possession of a firearm landed her in Bronzefield, Laura says she was raped at home by a family acquaintance and attacked by an abusive partner who fractured her face in 17 places. She was diagnosed with PTSD in 2014 and says the intrusive searching at Bronzefield made her condition worse.
"I had nightmares come back after that search. I have never self-harmed till the time I was searched in my cell. I cut my arm with a broken coffee jar. I was so depressed and couldn't find any release but to physically hurt myself.
"It was and still is traumatic – and still has a profound effect on me. Just being treated like that again, it's not a nice thing when it's happening. You're cold, you're scared, and you don't know what's going on. It makes you feel so horrible. When you've already got things that have happened in the past it makes the problems worse. It's 10 times magnified."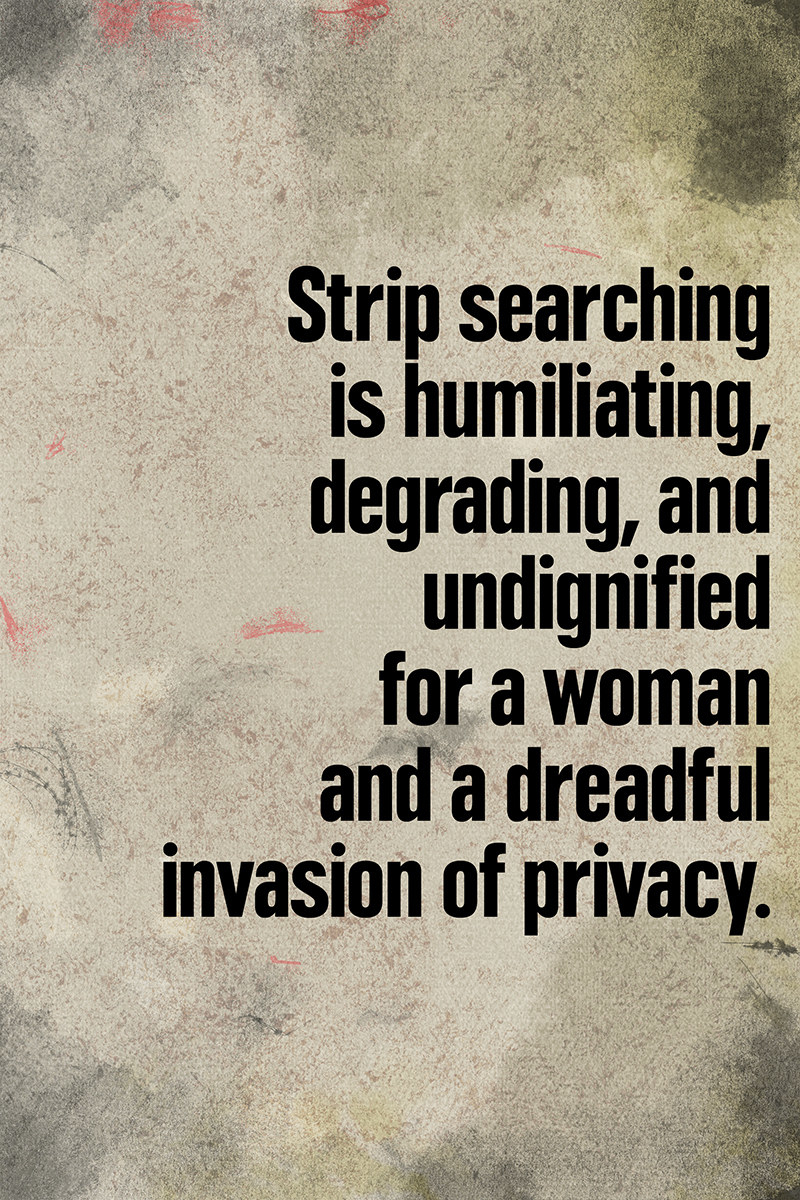 Sodexo says that allegations that any women were forced to squat are false and it disputes all of Laura's claims.
The routine strip-searching of women prisoners has been unlawful since 2011, in the wake of a national review of the female prison estate. The review, led by Baroness Corston, was prompted by the deaths of six vulnerable women in Styal prison in Cheshire.
In her report, Corston concluded it was "wholly unacceptable for women" to be subjected to "regular, repetitive [and] unnecessary" strip searches. She added: "Strip searching is humiliating, degrading, and undignified for a woman and a dreadful invasion of privacy. For women who have suffered past abuse, particularly sexual abuse, it is an appalling introduction to prison life and an unwelcome reminder of victimisation."
Since the Corston report, ordering women to squat as part of a full-body search has also been unlawful, something women describe happening at Bronzefield. Sodexo denies that any of the women were forced to squat – and contests their account of the searches.
Samuel Genen, solicitor for the eight women who brought cases against Bronzefield, said: "The prison has admitted that they have misapplied the policy. It is thought there are hundreds of women, if not more, who could have been unlawfully strip-searched. We call on Sodexo to set up a compensation scheme to reflect this problem."
Sodexo pointed out that Bronzefield had a glowing inspection report in 2015, before many of the strip searches these women describe took place. Following an unannounced inspection in November 2015, the chief inspector of prisons described it as a "good and improved prison", adding that the "quality of respect" shown to prisoners was "particularly strong".
Genen is concerned about the inspection process. He said: "In the cases that are currently with the court the Ministry of Justice entirely failed to identify that HMP Bronzefield were acting unlawfully on such a wide scale. What is further concerning is that there are three separate reviewing bodies who all failed to identify this issue.
"During the litigation, we invited the ministry to consider amending their new policy to include a risk assessment of potentially vulnerable prisoners. The Ministry of Justice declined to do so; we continue to take instructions from women across the country that are being unlawfully strip-searched."
Undoubtedly prison officers face a challenge when it comes to searching for drugs. In Holloway prison, for example, it was so common for prisoners to hide contraband in their vagina that it became known as the "Holloway pocket". But prisons have had to accept that intrusive full-body searches must only be done in extremis because of the psychological impact on women.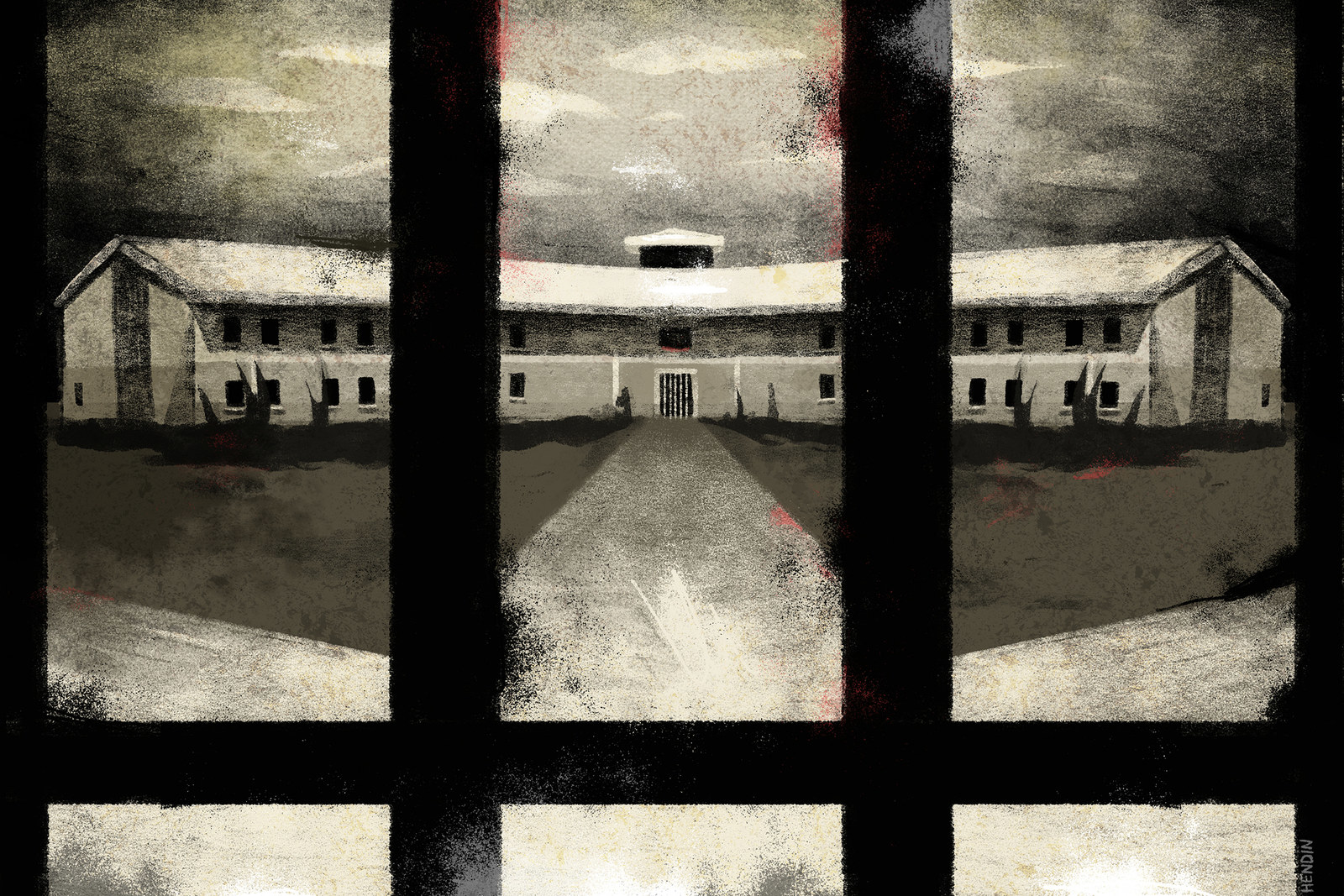 Tracey, another former Bronzefield inmate, said in a sworn witness statement seen by BuzzFeed News that she has been subjected to so many strip searches at the prison that she "cannot recall the exact number". She was raped as a child by an older man and recently had a psychotic breakdown. She is on medication for depression and bipolar disorder.
In court documents she described one recent search: "During a cell spin on a previous sentence no more than a year ago, the officers came in with gloves on, they searched me first. During the strip search, I objected and I only had my pants on at the time. I felt ashamed and humiliated and I asked if it could be stopped; I was on my period.
"The officer conducting the search agreed that it should stop. The officer went out and the other officer said no, the search had to go ahead. The officers asked me to take my underwear off. I refused and they asked me if I was refusing and they placed me on report. I was then segregated despite raising the fact that I was abused in the past. I am a victim of rape and abuse as a child. An older man who went to jail because he raped me. I raised this in mitigation during my adjudication but this was ignored."
She added that she felt the search she was subjected to was degrading and demeaning. "I thought the reason they stopped searching was for girls like me, to prevent them from having flashbacks of what happened to them. I have been subject to too many strip searches, I cannot recall the exact number. Each time you feel all sorts of things but you feel very vulnerable. You feel like you have no control over what happens to you."
Tracey said she thought strip searches were "standard procedure" before a drugs test because that was her experience at Bronzefield. In court documents, she recalled being taken aside on 15 February last year and given a full-body search before she had done a drugs test. Nothing was found.
When she later gave a urine sample, it was found to contain codeine – but the search she had been subjected to was illegal. "I have never been found with anything on me despite being strip-searched on multiple occasions," she said.
Beth is an acutely vulnerable prisoner known to have attempted suicide and to self-harm by burning. In her witness statement she recalled being searched on the same day as Tracey last year ahead of a routine drugs test. She was on her period and had an eczema flare-up from stress. She was very embarrassed by the experience, particularly given that an officer handled her knickers.
She described strip searches as being so routine that "Whenever another girl has been seen passing something between each other, officers just approach and ask that girl to be strip-searched. More often than not it is because you are talking to the wrong person or you give someone a rolling cigarette."
Though Sodexo has admitted to deficient training of staff and illegal strip-searching, it does not accept that prisoners were subjected to degrading or inhuman treatment. Tracey, Beth, and the other women pursuing a case against Sodexo have withdrawn that part of human rights law from their claim. They want a swift conclusion to the case on the areas Sodexo has conceded.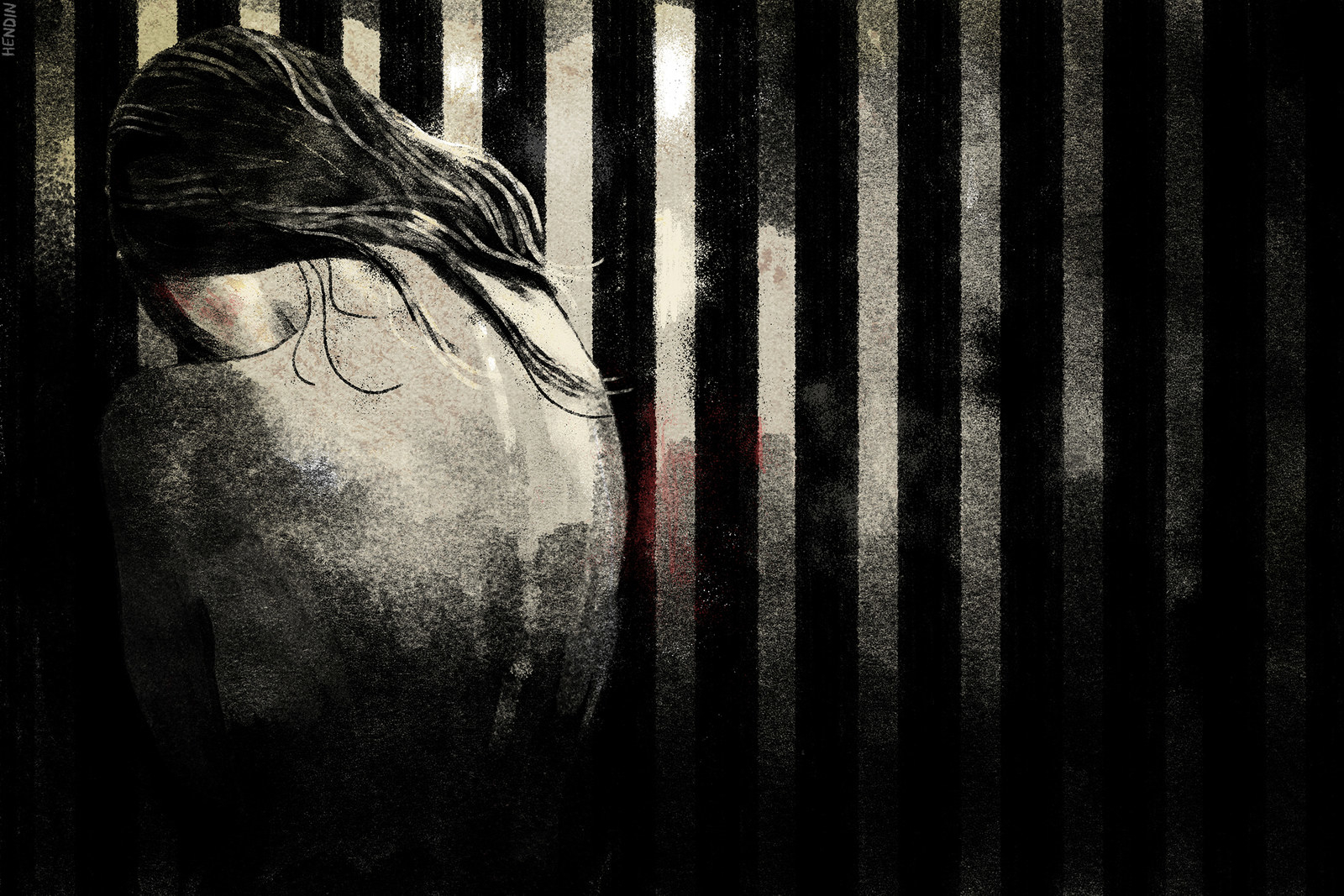 Sodexo's chief executive, Michel Landel, is proud of his company's record on women's rights. He boasted recently that its efforts on gender equality were "a point of pride" and went on to list all Sodexo's initiatives that are helping women, including domestic violence projects. "We have a responsibility to conduct a business that brings positive impact to the world," he said in an interview with Forbes magazine.
"Positive" is not a word Gemma uses to describe her memories of Bronzefield. She told BuzzFeed News she remembers being strip-searched "six or seven times" while at the prison and that nothing was ever found on her. Before prison she was in an abusive relationship and says the power imbalance of being asked to take her clothes off by officers made her feel vulnerable and scared.
"The way they do it is like they couldn't give a shit how you're feeling," she said. "They're not apologetic or saying anything like, 'You know we've got to do this.'"
She said: "I've got body issues and it made me feel conscious of people looking at my body. I'm not happy with my body, so it made me feel rubbish. They never found anything, so it was pointless. One time I cried because it was an officer that I got on really well with that strip-searched me... It was really embarrassing for me because it was an officer that I got on well with and then now she's seen me naked you can't look at them the same way."
According to Gemma's witness statement, officers strip-searched "as and when they pleased" without any specific intelligence that something was hidden in underwear and without any initial pat-down.
Another prisoner, Jess, had a similar view. "There is never specific suspicion," she said in her witness statement. "Prisoners are just taken out and strip-searched without reason. This happened to me previously. I felt embarrassed and violated because the officers see me every day and I hate them seeing me naked."
She added: "I have a history of self-harm, I recently stabbed myself in my stomach because I am tested on such a regular occasion. I was last strip-searched about 6–7 months ago in the exact same way. I got 23 stitches total from my self-harm. I am very angry about being searched."
Sodexo says the strip searches at Bronzefield were not arbitrary and that they were either undertaken as part of a targeted mandatory drugs-testing procedure or to check for suspected possession of illicit items. They also say they were appropriately authorised by senior officers within the prison.
A Sodexo Justice Services spokesperson said: "It is fundamental to how we run HMP Bronzefield, and all our prisons, that we treat all prisoners with dignity and respect and this was highlighted positively in Bronzefield's last independent HMP Inspectorate Report."
Sodexo has conceded that its search policy at the prison was unlawful and a breach of inmates' human rights. In papers submitted to the High Court, the company said: "It is admitted that inadequate training was provided to [Bronzefield's] officers resulting in a violation of the positive obligation relating to Article 8 [the right to a private life]… [Bronzefield] has already taken steps to commence re-training of its officers in the use of searches complying with [the law]."

It also said: "As a result of a full search of the claimants being conducted otherwise than in accordance with [the law] and without thought being given to the necessity for a Level 2 search, it is conceded that the interference with the Claimant's Article 8 rights was not 'in accordance with law' and was therefore unlawful."
Sodexo also runs HMP Peterborough, which holds around 360 women. The company did not respond to questions over whether its policy there had been amended and if staff had been retrained. It simply said it had not to date received any claims or allegations relating to strip-searching at the prison.
Genen, solicitor for the eight women, is determined that prisoners' experience in Bronzefield is used to improve the law on strip-searching. He said the current wording is still too inaccessible, leading to it being misinterpreted.
"We continue to invite the Ministry of Justice to amend the policy, which, we think, would be straightforward and relatively inexpensive," he said. "With the recent rate of deaths of women in custody a short risk assessment after a search is one way to minimise potential harm.
"This case shows that the rule of law continues to be important in cases concerning the state. The strip search policy was misapplied in part because it was not accessible and clear. From all the cases we have brought it is clear that the law was not being applied equally and that the power held by this institution was not being exercised fairly. It is clear to us that the policy continues to provide inadequate protection of fundamental human rights."
Richard Burgon MP, shadow justice secretary, said: "The law on strip searches is there for a reason. It protects both prisoners and prison officers. Compliance is not optional.
"The experiences these women were subjected to were degrading and plainly wrong. While it is right that HMP Bronzefield has responded by introducing a new policy it is of course troubling that the practice was not uncovered earlier.
"The justice secretary needs to ensure that proper search policies are in place today across the prison estate and that they are followed. She should consider whether further measures – such as risk assessments for searching vulnerable prisoners – are needed."
Responding to BuzzFeed News' revelations, a Ministry of Justice spokesperson said: "The safety, security, and welfare of those in our custody is our top priority and we work closely with all contractors to ensure they are operating establishments to the highest standards. Where it is clear that a provider is falling below those standards, we will take the most appropriate action in accordance with our contractual arrangements."