Neal Jones hasn't eaten for 24 hours. Sitting in a makeshift cafe in a church food bank on the outskirts of Rugby, the 42-year-old ex-serviceman clings to an empty camouflage rucksack, hoping to fill it with something to eat.
He is one of a growing number of people in the Warwickshire town who have been moved on to universal credit and found themselves with nothing. His bank account is empty and the only things left in his kitchen are coffee and the remains of a bag of sugar.
Rugby was chosen as one of a handful of towns to test the Conservative party's flagship welfare reform when it was introduced by the coalition government in 2013.
Universal credit was supposed to make the welfare system simpler by bringing six different benefits and tax credits into a single monthly payment that could be managed easily online. It was also meant to encourage people to work.
For the people BuzzFeed News has met, the reality has been rather different.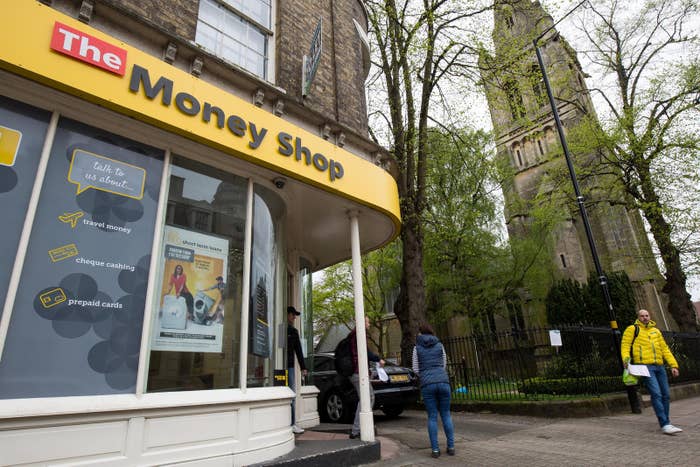 Rugby has been putting all new benefits claimants on universal credit since May last year. And the early indications are worrying.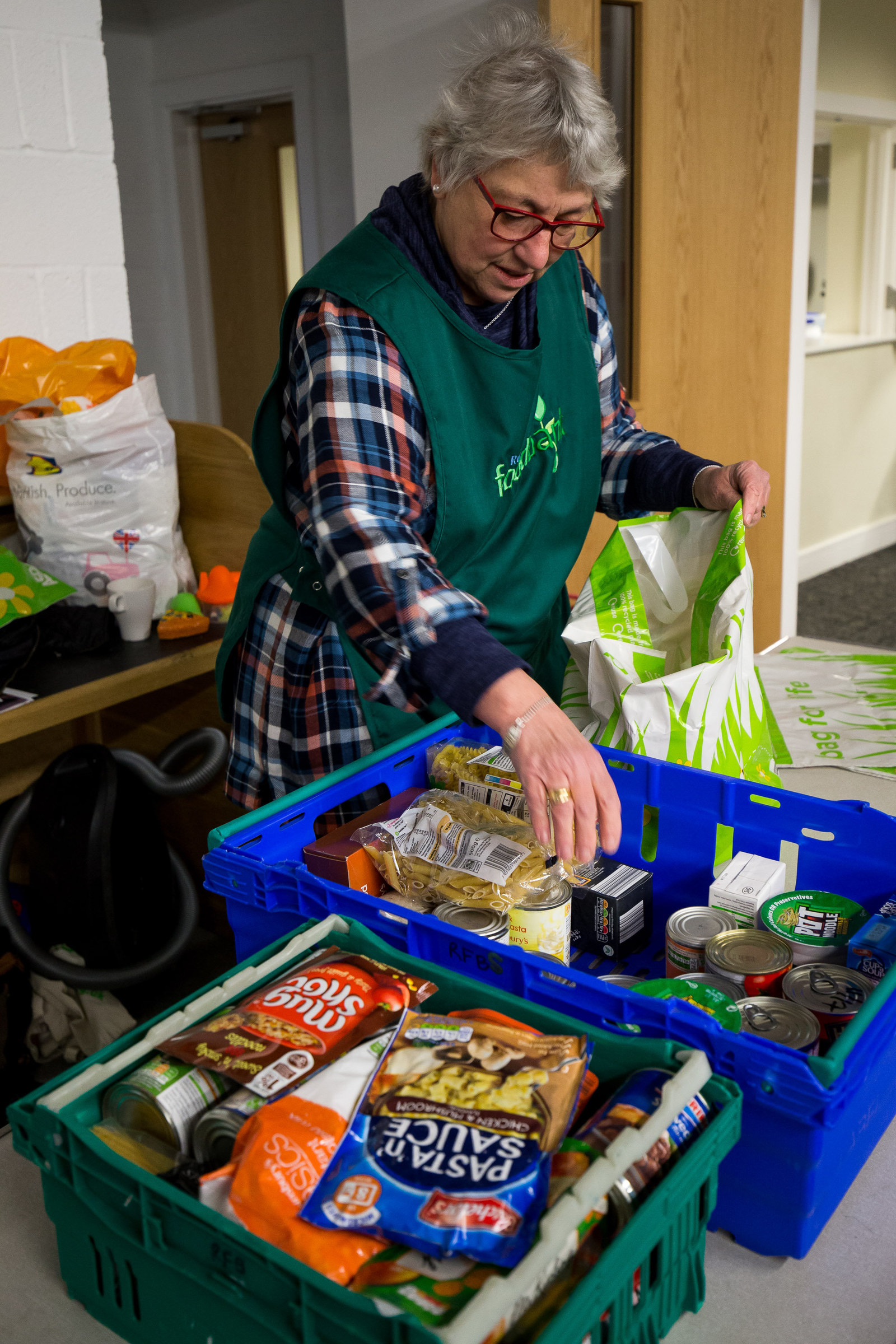 In the last six months, the number of people referred to the Trussell Trust's food banks in Rugby has gone up by 61% compared with the same period in 2015/16. Issues with benefits were the primary reason for getting help in 42% of all cases in the last year, up from 36%.

This picture is reflected nationally too. Food banks in areas of full universal credit rollout have seen a 16% average increase in referrals for emergency food, more than double the national average of 6%, research published by the Trussell Trust on Tuesday shows.

Sitting on a small stackable chair, Jones fiddles nervously with his hands as his food is packed into carrier bags by volunteers. After working all his life, he went on disability benefits last September following a mental health crisis. Then a month ago, he was abruptly taken off them and put on to universal credit.

He moved from Clifton to Rugby, where employment support allowance (ESA) is subsumed by universal credit – and paid at a lower rate.
Jones was in the army in the '90s and has post-traumatic stress disorder after serving in Bosnia. He has also been diagnosed with depression and anxiety. "Universal credit can just do one," he says. "It's brought everything back again. They want me to go to a psychiatrist again and get sick notes again."

Last year he started having anxiety attacks so bad that he couldn't leave the house. On one occasion when he did make it to work, he had a panic attack so severe that he had to be taken to hospital in an ambulance.
His mum, Gill Taft, 64, who has come with him to the food bank for support, says the psychiatrist who assessed him for ESA last year was so concerned that he called Jones' GP. "Neal had been cutting himself and the person who assessed him was so worried they asked his doctor to see him," she says, blinking back tears. "He's tried to commit suicide three times.
"PTSD is a factor. He never spoke about it until he met a psychiatrist. Then he described going into a house in Bosnia where a family had been slaughtered."
Universal credit has a built-in wait of at least six weeks before the first payment that is one of the biggest factors pushing people into hardship. A month ago, Jones was given an advance of £160 to survive on until his first proper universal credit payment, which won't arrive for at least another 10 days.
"I've used most of my savings to help him," his mother says. But last week she went away for a week and Jones' food ran out.
He was referred to the food bank by the British Legion a couple of weeks ago but it's only now that he's cashing in the voucher. He was too proud to come before, he says.
When the monthly benefit payments do finally start, Jones' income will go from £109 a week to £73 – and now he also has to pay a £24 service charge towards his supported housing.
Adding to Jones' anxiety is the compulsory online account that goes with universal credit. He has to check into it every day and complete tasks. "If you don't log in, you don't get your money," he explains.
He brings up the "To-Do List" tab on the site on his phone, which includes providing a fresh fit note and attending a "work search review". "I can't look for work, so they give me these jobs to do. It feels like they think I'm lying. I don't think they understand mental illness."
Jones is not alone in finding the new benefit's online system confusing. The Trussell Trust found people across the country reported problems with it, including some examples where the system did not register people's claims correctly at all, making them invalid and introducing further delay.
Jones has always worked full-time. After the army he had a job as a parts manager for a big truck company. It visibly galls him not to be working and he is frustrated that his GP (and his mother) are so keen for him to improve his health first. "I want to go back to work but my doctor says I'm not fit enough to do it," he says.
Yvette Palmer, a mental health support worker for the charity Mind, who visits the town's food banks every month to direct people to its services, says: "There's a lot of anxiety and a lot of depression. Our hub [a mental health service] is busier than ever. I've been there nearly three years and our numbers are growing and growing."
She adds: "I'd like to think that's because there's a reduced stigma around mental health and people are happy to get some help. But I think [universal credit] has got to be having an effect. People are more and more concerned about it.
"A lot of people have to have assessments and if you're anxious that sort of thing can cause a lot of problems. The six-week delay automatically puts your rent in arrears and I've found I've had to give out a lot more food bank vouchers in one-to-one supports now, just to reduce people's levels of anxiety."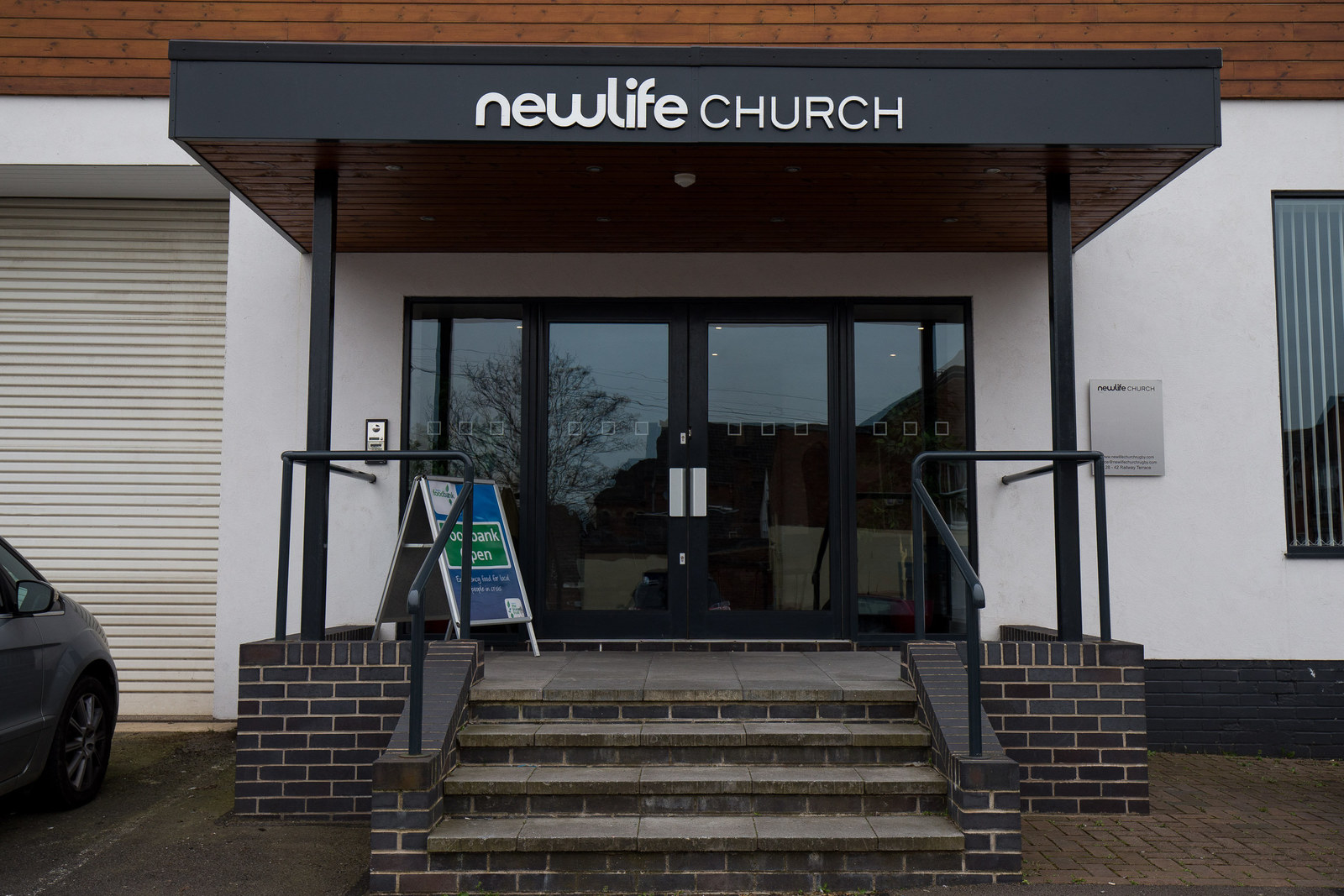 Earlier in the day, a waiting room at New Life Church, another food bank in the centre of Rugby, is bustling with people waiting for emergency food. Many of those sitting here ended up hungry because they cannot survive the built-in delay of a first universal credit payment.

Astra Leitch, 21, is waiting to go on universal credit after his shifts at Toyota dried up just before Christmas. "I've been struggling, it's hard. If it weren't for my mum I wouldn't have managed. She's a cleaner in a care home and she helped me at first but it's too much on her. She can't keep lending me money."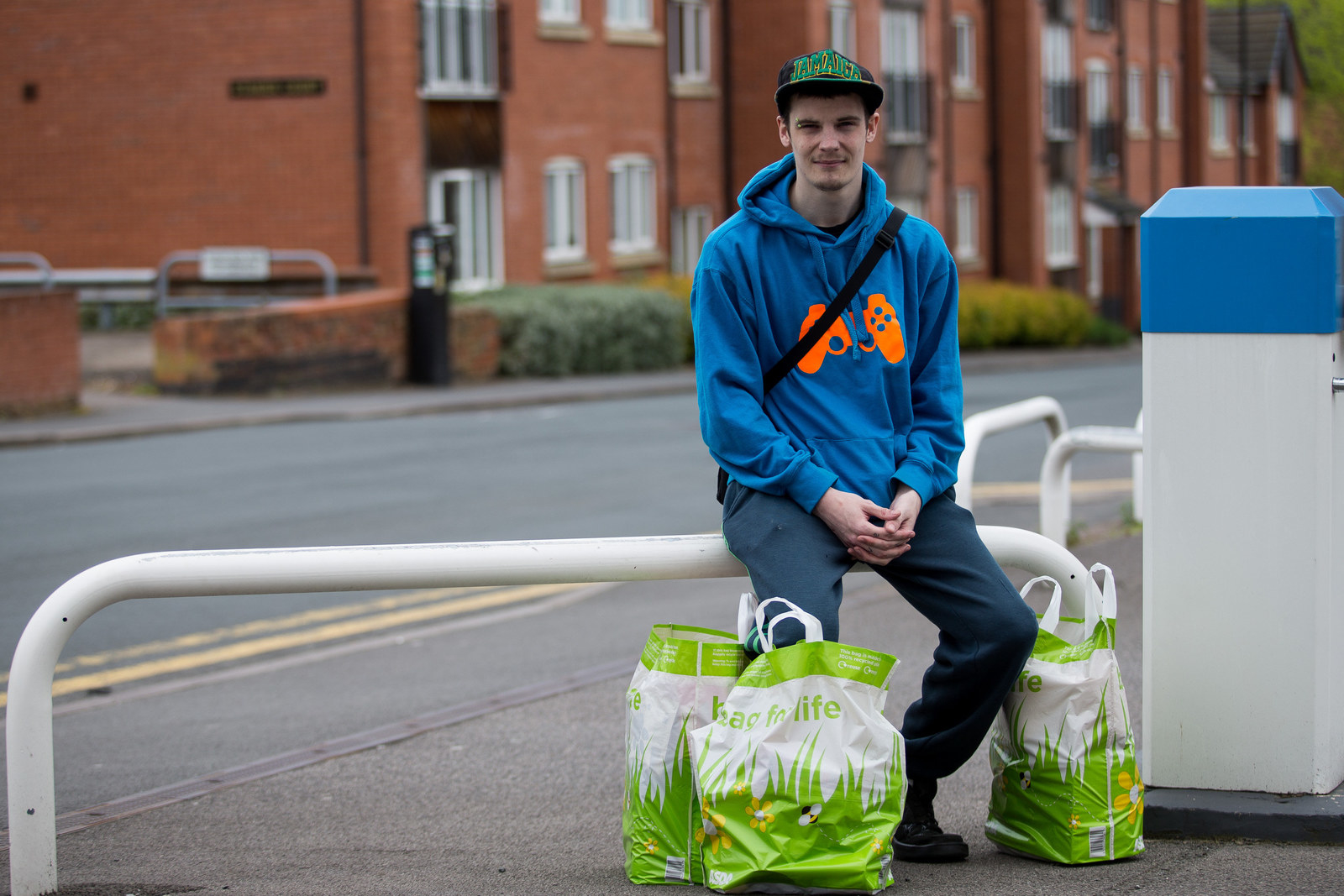 He has been waiting since early March for his first proper universal credit payment. "All I've got left is some bread and a few tins of soup. That's what I've been living off. I skip meals when there's not a lot of food. There are some nights where I go without eating.
"If they processed universal credit a bit quicker it would be a lot easier on people."
To get emergency food from the Trussell Trust, people have to be referred by another agency, typically debt advisers, GPs, housing associations, charities, and social workers. This means anyone getting help has already been vetted as in need.
In the warehouse, volunteers in green pinnies pack up plastic bags with essentials. Big bags of pasta and rice sit in blue crates alongside long-life tins of sauces, meat, and vegetables. Other essentials like loo roll, nappies, and washing-up liquid are added for anyone who has run out.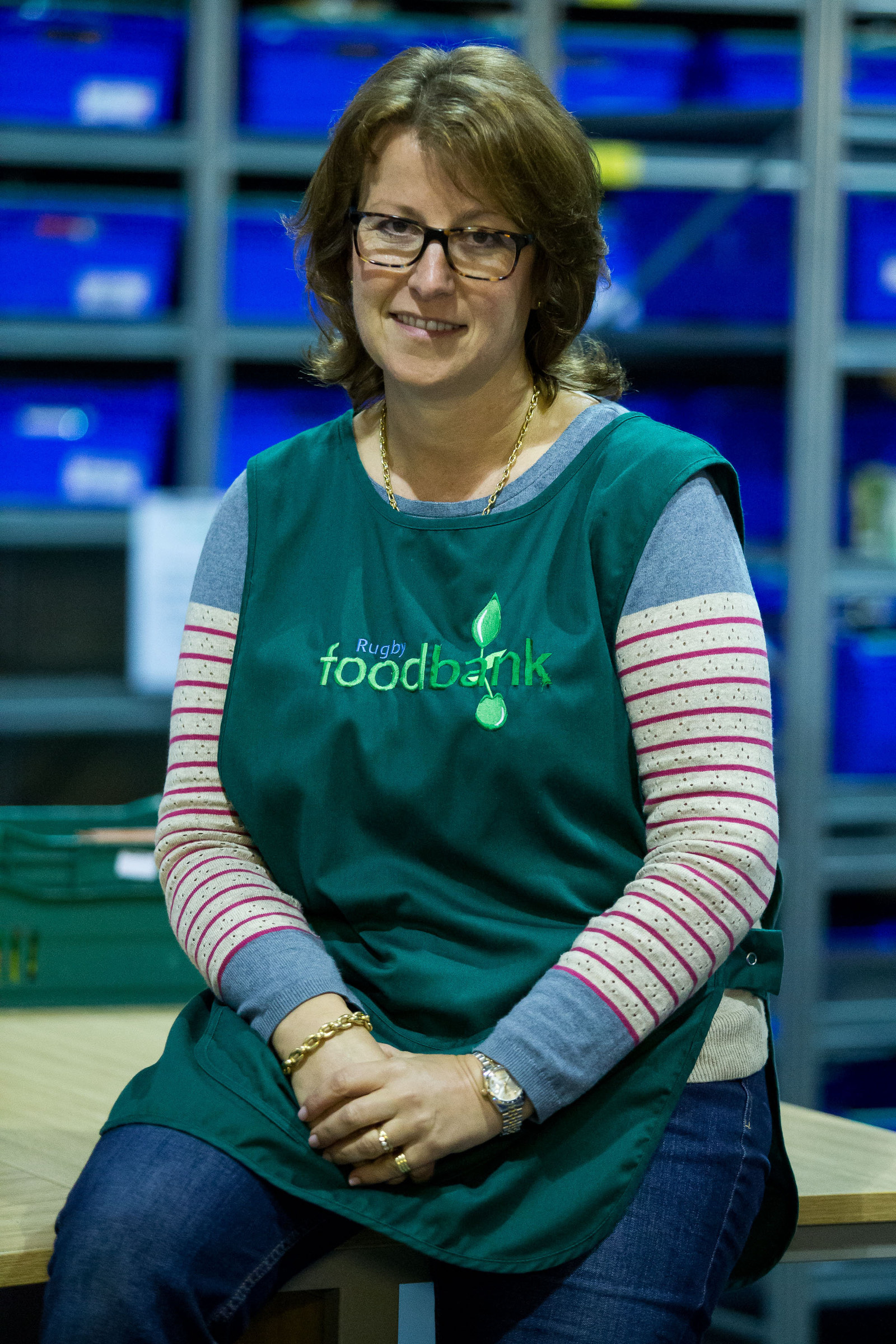 Diana Mansell, the food bank manager, explains that Leitch's case is far from unique: "The worst thing is the six-week wait. On top of that, often computer paperwork gets lost and applicants have to start again."
The initial (largely unsuccessful) pilots of universal credit were for single people with no children. But in towns like Rugby, everyone making a new benefit claim, including families, is automatically put on to universal credit.
In the last financial year, the town's food banks gave out 4,123 three-day emergency food supplies, 1,537 of which went to children, up 30% on the previous year. Nationally the average increase in food bank referrals was just 6%, suggesting that universal credit is having a significant impact.
On paper, Rugby should be a town that can cope more easily than some with a benefits shake-up. Unemployment is at 3.8%, well below the national average of 4.7%, and wages are typically £1 more per hour than elsewhere in Britain. More than half of people here are in professional, highly skilled work.
Having seen the impact of universal credit on her town, Mansell is worried for the rest of the country. "It's worrying because Rugby is not the poorest town in the country. It's one of the places that's had universal credit rolled out first, and my concern is that in poorer towns when universal credit is rolled out more, then food banks and other charities are going to really feel the pinch, with resources stretched and more people needing their help."
She added: "I really hope that people realise that the problem isn't going to lessen. In my view it's going to increase."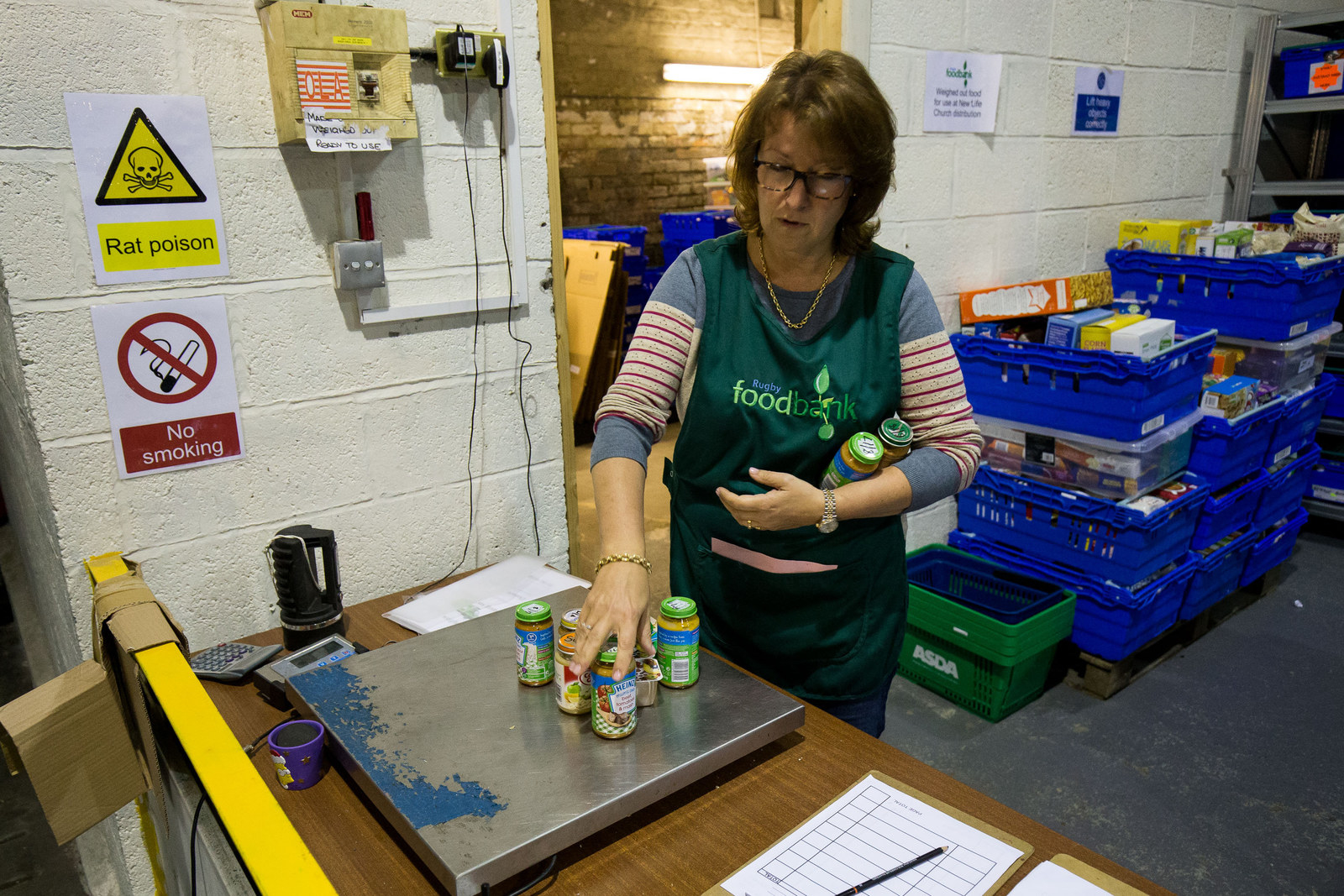 Rugby's employment statistics may be above average but it would be wrong to think there isn't poverty in the town. Average wages (and house prices) are brought up by wealthy commuters to London. Meanwhile, a significant minority rely heavily on seasonal work and zero-hours contracts at the many warehouses attracted to the town by its proximity to motorway intersections.
Now 51, Mansell has lived in Rugby for 24 years and set up the food bank in 2012. She thinks life has got a lot tougher for people in the town.
"I think we all recognise that the country needed to address its financial state," she says. "But it feels like the least able in society are the ones that got hit."
She thinks not enough thought has been put into the built-in wait for a first universal credit payment. "When you're applying for universal credit it's not like you've got many savings. You're probably keeping your head above water and that's it.
"We see people with such high anxiety. Six weeks is a very long time if you've food in the cupboard, a full freezer, savings, and a credit card. But for those who haven't got some or all of those things it's a huge challenge."
Trussell Trust research found that those in insecure or seasonal work are particularly affected, something the charity says suggests the work incentives in universal credit are not yet helping everyone.
Even once the initial six-week wait is over, the problems can continue.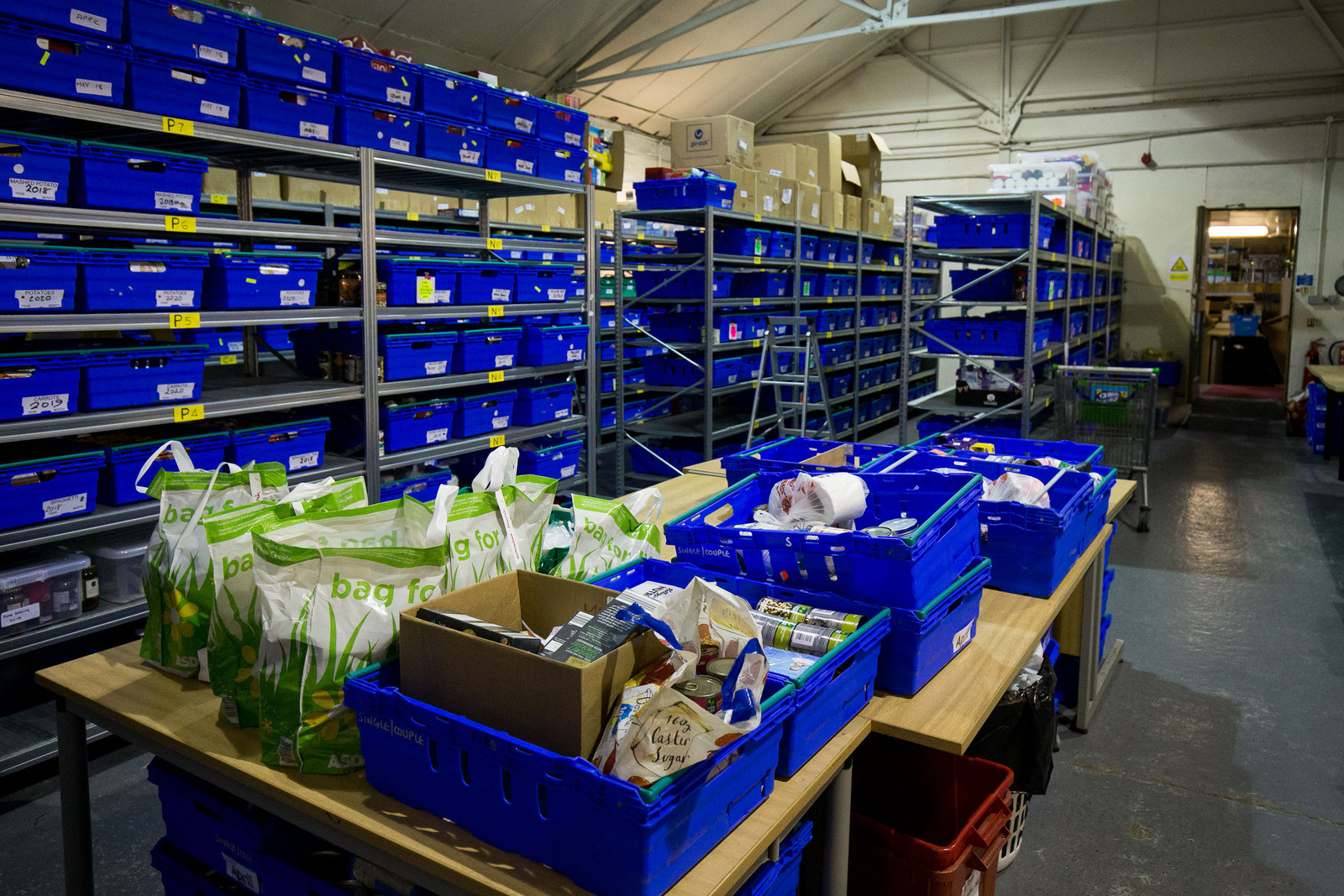 Stewart Allan, 31, has been on universal credit since February but has 17p in the bank and no food in the fridge. He says the monthly money is so little that it has run out less than a fortnight after it was paid.
Part of the problem is the initial wait pushed him into debt to friends and family – and by the time the money comes in each month a lot has to go straight away towards paying people back.
"Universal credit is a...kerfuffle," Allan says. "They think it's OK to leave people for six weeks. I was working in a warehouse from October to December doing a night shift but that stopped after Christmas because there weren't enough jobs, so on the 3rd of January I had to claim for universal credit. It didn't come in until the 17th of February.
"I was given a £158 advanced payment but I had to borrow money from family and friends to make it to the end of the six weeks."
He admits he's "not great with money" and says benefits being paid monthly rather than fortnightly as they previously were makes it harder to budget. "Two and a half weeks is usually when the money runs out," he says.
Another problem is unexplained deductions. "They took £62 off this month without telling me. It said it was for excess loans or overpayments, but I don't know what it's from. I was on the phone to them all day back and forth and nobody could give me a straight answer."
Allan says he is looking hard for another job but has so far had no luck. "I'd love a full-time job but finding one is hard."
A Department for Work and Pensions spokesperson said: "The reasons for food bank use are complex, so it's misleading to link them to any one issue.
"Employment is the best route out of poverty, and there are now record numbers of people in work. Under Universal Credit people are moving into work faster and staying in work longer than under the old system.
"Universal Credit is designed to mirror the world of work and give people control over their own finances. The majority of UC claimants are confident in managing their money and we work closely with local authorities to support those who need extra help. Budgeting support, benefit advances, and direct rent payments to landlords are available to those who need them."
However, Rugby's food banks are not alone in seeing soaring demand for their services because of universal credit. The Trussell Trust has found the same trend across its food banks in places dealing with the full rollout of the new benefit.
The charity's research found that the six-week wait is leading to debt, mental health issues, rent arrears, and eviction. It also showed that the effects of the delay often last after people receive their first universal credit payments, as bills and debts pile up.
David McAuley, chief executive of the Trussell Trust, said: "The move to simplify an often complex welfare system is a welcome one but any large reform can have unforeseen consequences. Food banks see first-hand how changes to the welfare system affect people on the ground, and so can offer an early warning to decision-makers."
He added: "We are sharing our early observations with the Department for Work and Pensions to ensure any adverse side effects universal credit can have on people are addressed before full rollout is completed. We have been heartened by secretary of state Damian Green's willingness to engage, his department's work to pilot improvements, and the recent changes to the universal credit taper rate, which mean people moving into work will keep more of their earnings.
"We hope our insights can inform efforts to make sure the values on which universal credit is built are delivered in practice. To stop UK hunger we must make sure the welfare system really does work for everyone."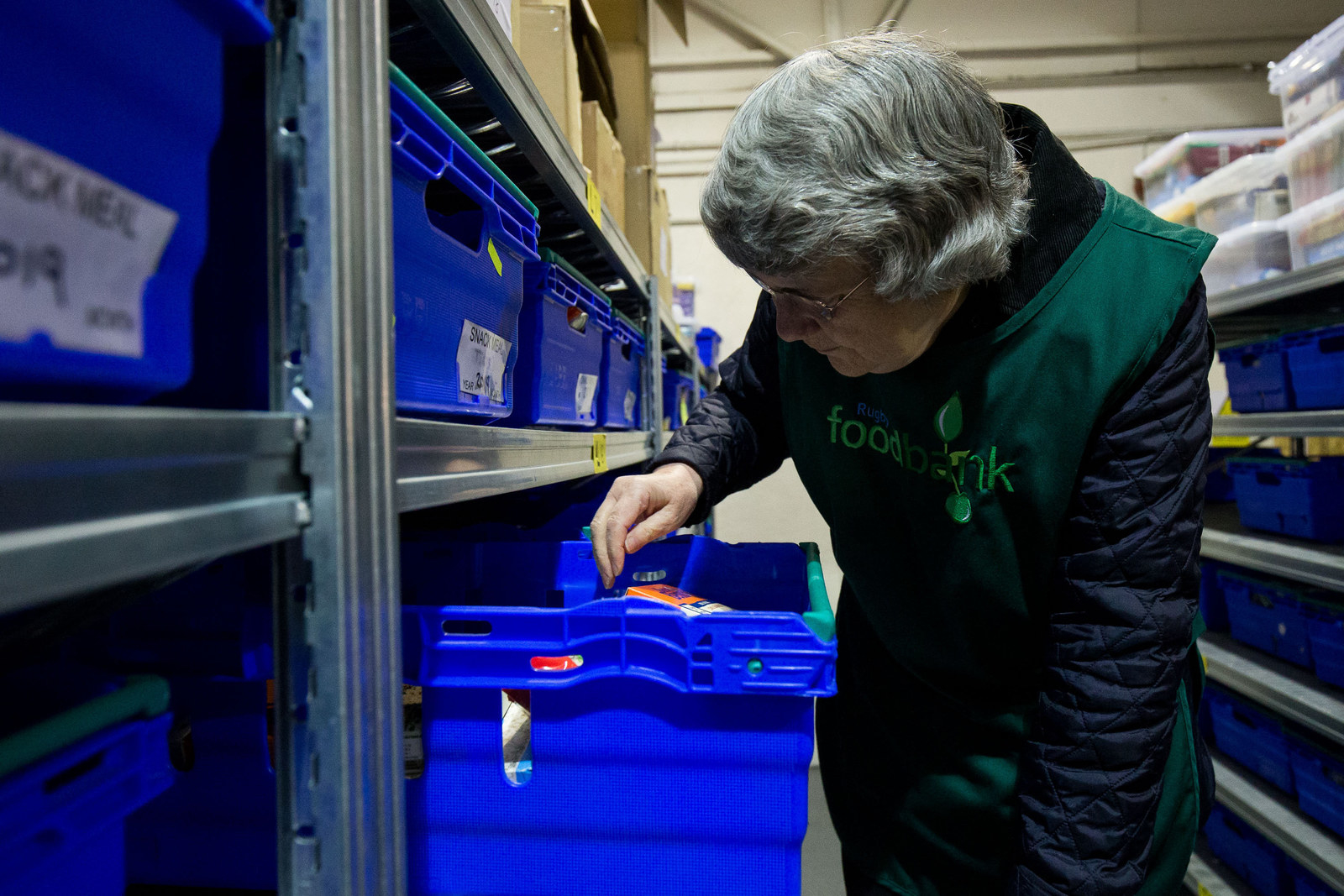 Some will see the delays built into universal credit as a positive way of making sure people do not choose a life on benefits. Julie Watkins, 41, was convicted of benefit fraud three years ago after she claimed benefits as a single mother when in fact her partner was living with her.
Cases like hers have become the go-to way of suggesting that anyone on benefits should be treated with scepticism – and that payments should be minimised to make them tougher to live on.
These days Watkins is paying for her crime. Last year she signed up for universal credit and is still waiting because of a fresh investigation for benefit fraud that she says has finally been dropped because her ex-partner has been living with another woman for three years.
Watkins speaks to BuzzFeed News a day after she and two of her seven children were kicked out of their home because she was behind on her rent.
"Universal credit is the worst thing ever," she says. "It took them until March this year to close the case. We've been waiting a whole year, living on just tax credits. My first payment of universal credit was meant to be last Tuesday and now it's not till the sixth of May."
She says waiting for universal credit has escalated her debts and left her with nowhere to live.
"I'm homeless now because my rent wasn't paid. I had to leave my house yesterday and my children have gone to live with their dad."
Many will feel little sympathy for Watkins, given her history. But cases like hers are in the extreme minority. According to government figures, only around 1% of claims are overpaid because of fraud.
Almost all of the people getting emergency food who BuzzFeed News speaks to in Rugby are going hungry waiting for a benefit they need to survive on after recently losing work.
Others, like Charlotte Humphreys, 27, are working but are struggling to make work pay thanks to cuts in housing benefit and insufficient tax credits. Humphreys is a single mother to 7-year-old twins, one of whom has several disabilities.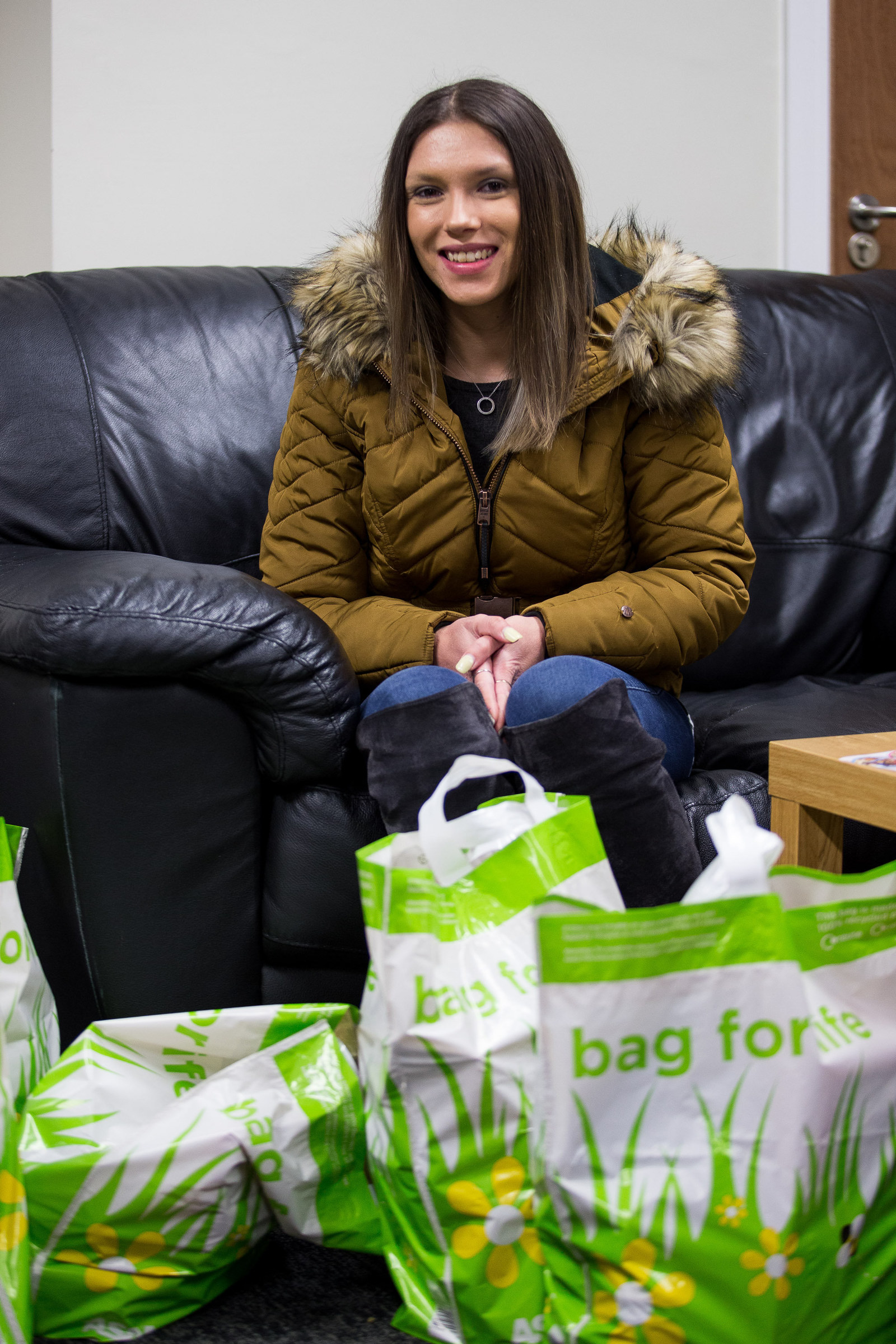 She used to volunteer at the food bank but now she's having to rely on it herself. "We used to get £95 a week housing benefit and now that's dropped to £35, which is our shopping budget gone.
"The amount that we're allowed to live on has gone down but our situation is the same. My daughter has autism, sensory processing disorder, and selective mutism, which is quite challenging, so I can only work when they're at school.
"Disability living allowance [DLA] has to pay for everything she needs but the bulk of it goes on our car. She really struggles to get out, so she has to have a special needs pushchair, which needs a big car to fit it in."
Humphreys is contracted to do 30 hours' admin work for a multinational in the town but often has to work less because of hospital appointments for her or her daughter. "I've had problems with my health lately and I'm on a flexi contract, which means I'm only paid for what I work. ... They allow me time to see to my health, but I'm not paid for it."
She has credit card debt of more than £6,000 that dates back to when she was made redundant from her her last job. "It's not massive but when you've only got one low income it's quite a lot of money."
She has come to the food bank to make sure she can feed her children at the weekend. "I've got odds and sods in the cupboards," she says, "but nothing that could really make a meal."
Humphreys is one of a few people in the town who have so far been protected from universal credit, because her daughter receives DLA. But in the next two years, all parents of disabled children with existing disability benefits will be moved on to universal credit – which pays a lower rate for many.
Families like that of Humphreys, whose children do not qualify for the higher DLA rate, currently get £60.06 a week. Under universal credit, this is slashed in half to just £29.05 a week.
"I haven't heard good things about universal credit," she says. "We'd actually lose out a bit more, from what I know."
The other thing that worries her is receiving her benefits monthly. "It'd be quite a struggle to get it once a month. My tax credits are weekly at the moment and we live from week to week, so I know that if I don't have quite enough for food or school dinners I can take it out of the money for bills and catch up the next week."
Having seen the impact on others in the town, Humphreys is scared about her family's future under universal credit. Before gathering up her bags of emergency food, she articulates what food bank managers here have long realised about the impact of this flagship welfare reform: "It would put us in a much worse situation."