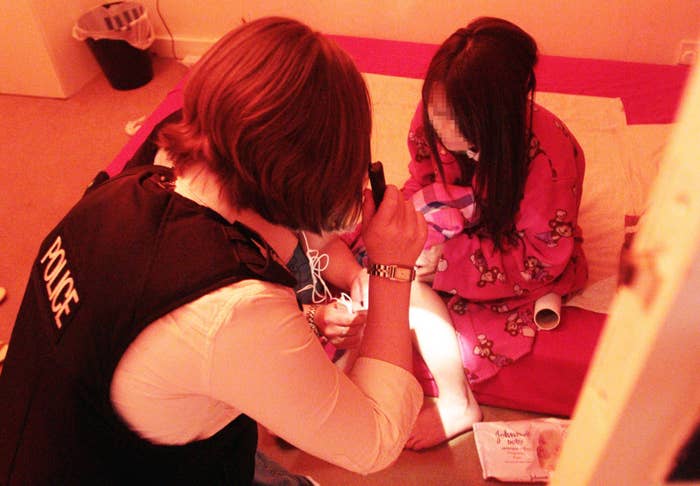 The Home Office is advertising roles for temporary staff, paid just over the minimum wage, to make life-changing decisions about whether or not people are victims of human trafficking.
The advert is for National Referral Mechanism Decision Makers, the people who have responsibility for making an official ruling over whether someone is a victim of modern slavery.
The NRM is a system designed to identify victims so that they get the right support and their perpetrators are prosecuted more easily. A positive decision can have an impact on a victim's immigration future in Britain and their chances of facing criminal prosecution.
The advert suggests NRM decision makers are being paid just over the minimum wage and classed as "admin and secretarial" workers. There appears to be no requirement for previous experience in the listing by the recruitment agency Brook Street, which also says the workers in Leeds are needed for a start date "ASAP".
In April, the minimum wage in the UK will become £8.21 an hour. The Home Office job advertised is "up to £9.08 an hour." Earlier adverts said the rate would rise to £12.08 after 12 weeks, but this was not mentioned in the latest advert.
Christine Beddoe, a consultant on tackling trafficking, who was formerly chief executive of End Child Trafficking and Prostitution (ECPAT), said: "It is ironic that the Prime Minister once saw herself as the champion of modern slavery and yet under her watch the NRM has become nothing more than an administrative nuisance.
"Poor NRM decision-making ruins lives and the cost of challenging decisions in the courts is disproportionately high. Victims are having to wait up to two years for a decision that should take weeks if it was done correctly by trauma trained professionals."
Diane Abbott, Labour's shadow home secretary, said: "Short term recruitment like this is how mistakes are made, and at high risk to the victims involved. It is simply unacceptable to have completely inexperienced staff assessing cases of the most vulnerable people. This must end."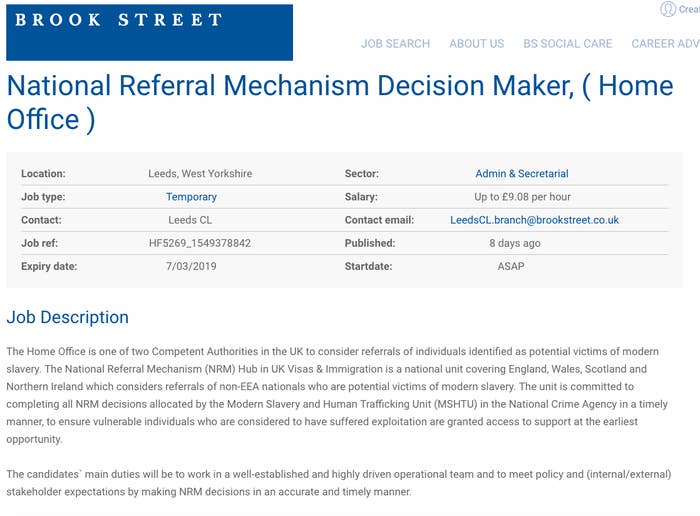 In the job description, it says the candidates' "main duties will be to work in a well-established and highly driven operational team and to meet policy and (internal/external) stakeholder expectations by making NRM decisions in an accurate and timely manner."
It adds: "The unit is committed to completing all NRM decisions allocated by the Modern Slavery and Human Trafficking Unit (MSHTU) in the National Crime Agency in a timely manner, to ensure vulnerable individuals who are considered to have suffered exploitation are granted access to support at the earliest opportunity."
The advert says that "Successful candidates will be provided with full training and be supported through close mentoring by experienced members of the team," but many experts in the field were concerned this was not enough.
Jakub Sobik, a spokesman for Anti-Slavery International, said: "The low level of pay and the requirements for this job go hand in hand with consistent low quality of decisions for slavery victims in the UK. Add to that a very limited ability to appeal these decisions, and you get a picture of a system that fails the survivors.
"To tackle slavery we need to put the victims' interest first and that means investing resources into protecting very vulnerable people who are dealing with their traumas."
Delays in decision-making have put the Home Office under pressure to recruit staff quickly. The BBC recently reported on severe delays in the system, with 2,200 people waiting for more than a year for a decision on their trafficking case in November 2018.
Victoria Marks, director and solicitor at the Anti Trafficking and Labour Exploitation Unit, which provides legal representation to victims, said: "Victims must be able to have trust and confidence in the system that exists to protect them. Yet the Home Office appear not to require NRM decision-makers to have even a minimum level of knowledge or education or any previous experience of working with those who have survived this appalling crime."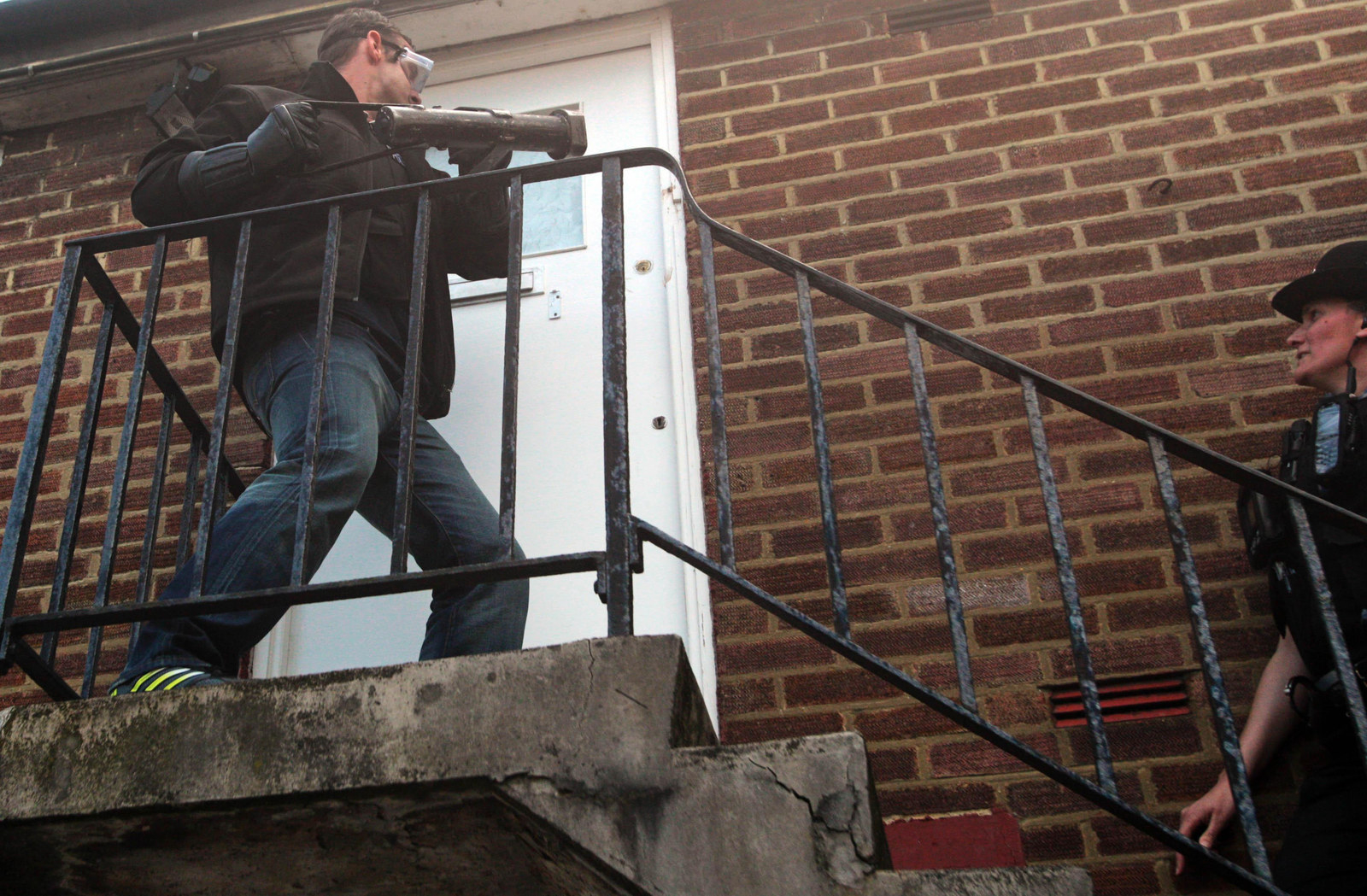 The Home Office said it had more than doubled the number of caseworkers to reduce the number of outstanding cases. A similarly-worded advert listed last year, also on Brook Street, said the Home Office was recruiting 30 decision makers.
The NRM has repeatedly come under fire for the quality of its decision-making. A survey by ECPAT of professionals using the NRM found that 54% of respondents believed the current process needed to be revised and only 25% of thought the decision making remit was held by the most appropriate agencies.
Labour MP Sarah Champion, vice chair of the All Party Parliamentary Group on trafficking and modern slavery, said: "I am genuinely shocked that the Government are not recognising the skills and experience needed to make a correct judgement, instead paying just above minimum wage. This is the wrong decision; undervaluing both the workers and the people directly depending on their decisions."

A Home Office spokesperson said: "The government is committed to tackling modern slavery and supporting all victims through the National Referral Mechanism (NRM). That is why we are reforming the NRM to ensure victims of modern slavery to get the support they need more quickly. New measures include recruiting a number of temporary staff to help ensure quicker, more effective decision-making.
"Successful candidates will receive extensive training from experienced colleagues and their performance will be routinely monitored."