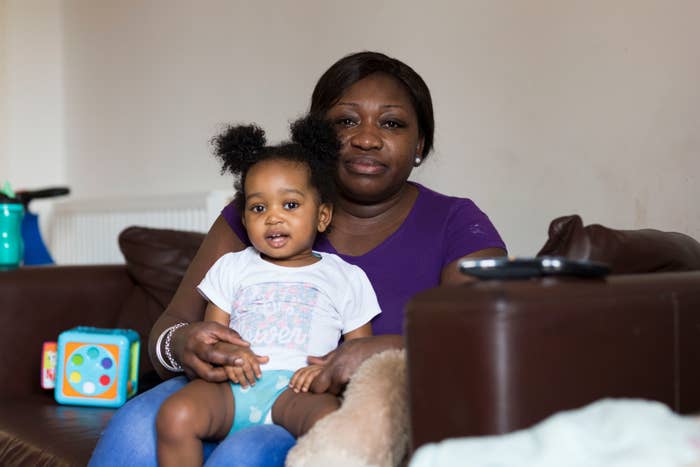 A single mother who almost lost her flat because universal credit administrators failed to pay her rent is still facing an eviction hearing this Friday because the Department for Work and Pensions (DWP) has not made a promised arrears payment in time and her social landlord is refusing to cancel the hearing.
BuzzFeed News revealed last week that Barbara Ampofo from Croydon was one of many people taken to court for eviction because errors in universal credit administration had left them with arrears that were not their fault.
But now Ampofo has been told by the DWP that its payment won't be put through until 25 May – a week after the court date. Even though her landlord, Clarion Housing, had been told that the payment was coming, it insisted on pressing ahead with the hearing to obtain a "suspended possession order".
This means that Ampofo faces the stress of a court appearance and the threat of eviction, despite the fact that the arrears were caused by admitted DWP errors and even though Clarion, Britain's largest social landlord, knows that the payment will be made.
Social landlords are supposed to help tenants solve benefits problems before pursuing eviction proceedings.

"I'm in pieces and I can't even concentrate," she told BuzzFeed News. "I don't know what's going to happen. I've been crying the whole of yesterday. I thought everything was going to be sorted out and the court would be cancelled."
Ampofo's renewed ordeal emerged as the government appeared to confirm in parliament that it sets no timeframe for solving payment errors of its own making on universal credit.
Labour's shadow work and pensions minister, Margaret Greenwood, asked the DWP what timeframe was set "within which staff should correct a payment error following notification". In a written answer, DWP minister Kit Malthouse made it clear by omission that there was none, simply stating: "This department takes errors very seriously and takes steps to correct them as soon as possible."
Greenwood told BuzzFeed News: "The failure of ministers to take action is a shameful and damning indictment of this Conservative government's attitude towards some of the most vulnerable families in our society. This avoidable situation is entirely of the government's own creation."
"It is completely unacceptable that ministers have no timeframe at all for correcting these mistakes when families and children are still facing the threat and stress of eviction.
"Ministers must act immediately to ensure that payments are made in full for all those affected without any further delay. Labour is calling on the government to pause the rollout of universal credit and take urgent action to prevent such devastating mistakes from happening again."
Ampofo was originally told in writing by the DWP that a rent payment had been made directly to her landlord in January but the money never arrived in their account. Despite multiple pleas for help on her journal – the personal online account used for universal credit – she was forced to go to court and explain that the government owed her money.
After BuzzFeed News put the allegations to the DWP for the previous article it said on 26 April that a payment for her arrears would be issued "within the next 7 days".
The next day Ampofo received an underpayment letter and confirmation on her journal saying "we have now paid the arrears of £1,221.34 direct to the landlord". It was only for missed rent payments from November and December and did not include the money administrators said they had paid in January, but she was relieved that things seemed to be improving.
But yet again, the money never came.
When she spoke to Clarion on 30 April it said it had received no payment and that she still owed it more than £2,000. Ampofo, who works part-time in a shop and cares for her young daughters on her own, began to worry.
She wrote a message to the DWP on her journal on 30 April asking what had happened to the money. Around the same time, she received a court summons in the post confirming the adjourned court date of her eviction hearing was going ahead on 18 May.
No reply came to Ampofo's journal message until 2 May, when she was told that in fact the universal credit back payment to Clarion won't be processed until 25 May (a week too late for the court date).
Ampofo's Universal Credit Journal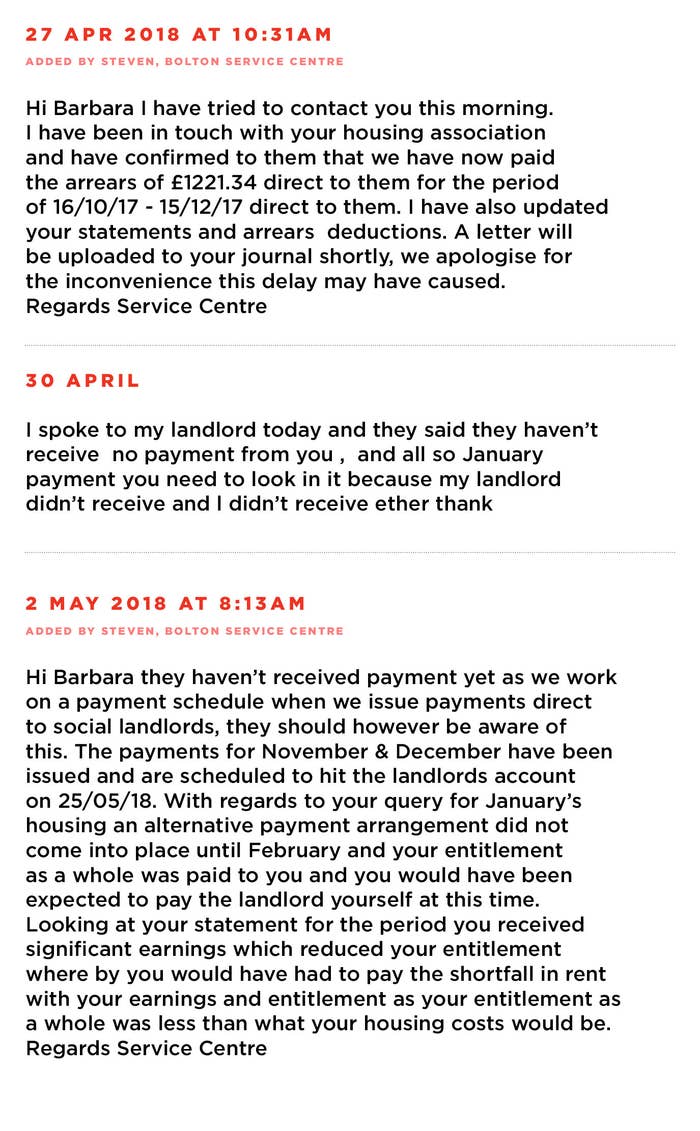 Shortly after receiving a call from Clarion, she contacted BuzzFeed News in distress about the situation. Describing the call, she said: "My landlord just called to say 'Do you know that you're going to get evicted because of the court date?' He said 'Gather all your papers because you're going to be evicted.'"
She added: "I said I don't understand why they're taking me to court when they understand universal credit was normally paying my rent. And they said 'Oh, the arrears was quite high.' And then he says I have to pay for the court fee."
Clarion did not deny that it was pushing forward with the court hearing. A spokesperson said: "Ms Ampofo's forthcoming court hearing is the return of the case which was adjourned in April. We will be seeking a suspended possession order with terms of re-payment to be agreed."
Universal credit was expressly designed to incentivise work but the court date will interfere with Ampofo's job, potentially putting it under threat. "I'm going to lose work because the court time is 12pm and I normally work on Friday from 10 til 4," she said.
The DWP says it contacted Clarion Housing on 27 April to confirm Ampofo's arrears payment would be scheduled that day and would reach its account by 25 May, in line with the social landlord payment schedule. The department claimed Clarion Housing confirmed it was content with this approach. A Clarion Housing spokesperson said: "Despite the payment due to reach us on 25 May there will still be outstanding arrears to clear on the account and we need a commitment that this will be a paid."

The DWP is now claiming that Ampofo's January universal credit was less that month because of earnings and was paid directly to her. But this does not explain why its own journal records say her rent was paid directly to the landlord that month, despite it never arriving.
Frank Field MP, who chairs a cross-party committee in parliament on universal credit that has recently expressed serious doubts that the Conservatives' flagship welfare reform can deliver, said: "This appalling situation seems to be built into the universal credit machinery. If universal credit was built on poorer people's needs, rather than middle-class lives, it would have built in the flexibility to prevent homes being put at risk in this way."
Susan Stallan, whose story was featured in the same article as Ampofo's, has similarly found issues remain unresolved and says she still doesn't have enough money to live on. BuzzFeed News revealed that she was forced to sell her late mother's rings to pay bills after errors by universal credit staff. She stayed in her flat in Purley, south London, with her heating off all through the snowy winter and tried to kill herself as eviction proceedings loomed. She kept her flat thanks to help from a lawyer at her local law centre.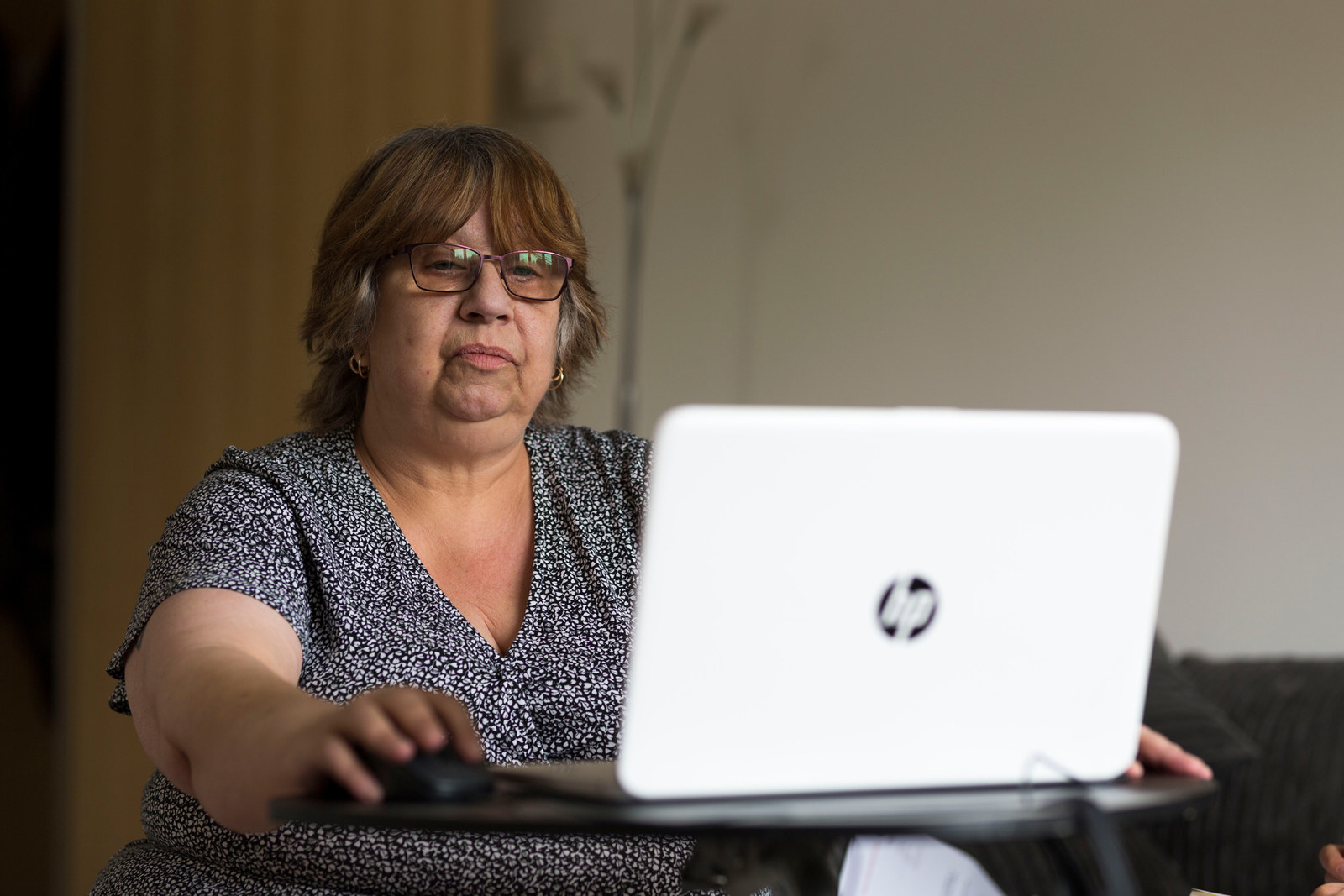 When the article was published, a DWP spokesperson told BuzzFeed news the department had apologised to her, paid the arrears in full, and was "updating her payment statements to reflect this." They added: "We are now working with her council and landlord to ensure all other arrears are cleared."
But Stallan's latest universal credit payment still had more than £50 taken off it for arrears she had been assured no longer existed. The situation means she has almost no money for essentials each month.
After the article was published, Stallan was offered help with her CV and referred by universal credit staff to a personal budget support worker who works for Croydon council. But Stallan says the issue is not one of budgeting; the reduction in benefits caused by paying off a rent arrears that was supposed to be cleared has simply left her without enough to afford essentials like food. Stallan says the budgeting adviser agreed. "He said I was doing the best I could," she recalled.
Since the original article was published, Stallan says she has discovered that there appear to be two Clarion Housing accounts in her name, one of which says she owes around £2,000 in arrears, the other saying she owes around £200. She thought the arrears had all been paid off by Croydon council.
She told her personal budget support worker about the situation. "He was baffled. He just sat there and said 'I don't understand – you've got two accounts.' I thought, if you're baffled and you do it every day, how am I meant to deal with it?"
In response to the allegation that their computer system appeared to show two accounts for Stallan, including one with arrears she knew nothing about, a Clarion Housing spokesperson said: "There may be a misunderstanding which has occurred here. We can confirm Ms Stallan has only one rent account with us."
The DWP says it has paid the outstanding arrears in Stallan's case and confirmed to the housing association that rent and arrears continue to be paid directly to them. The department says it is calculating arrears based on information given to it by Clarion Housing.
For Stallan, who worked all her life until a recent move to Purley to be nearer her daughter, trying to survive on universal credit has been traumatic. "It's like banging your head against a brick wall," she said of trying to solve problems with the benefit. "They're not interested in telling you what you're entitled to."
She added: "It's awful. I'd rather not have universal credit but then I can't live."
A DWP spokesperson said: "On the rare occasion an error is made, we resolve it quickly so that claimants get the support they need. It's wrong to link errors to evictions. Last year just 1% of benefit expenditure was underpaid."