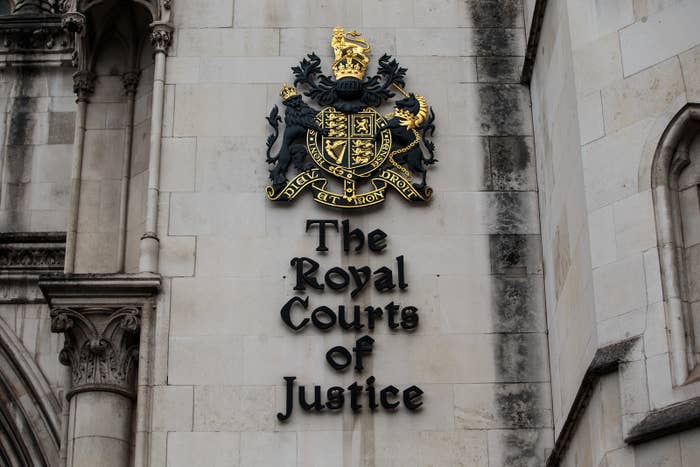 A telephone vetting system for legal aid that BuzzFeed News revealed had blocked every single discrimination case from being referred to a lawyer in 2016-17 is being scrapped for all discrimination, debt, and special educational needs cases.
The move is one of several measures announced by the Ministry of Justice on Thursday as part of a major review of legislation which drastically restricted people's access to lawyers. The Legal Aid, Sentencing and Punishment of Offenders Act 2012 (LASPO) cut funding for a lawyer in many areas of law and created a dramatic surge in people being forced to represent themselves in court.
While some in the legal world cautiously welcomed the changes — which come after more than two decades of cuts to legal aid — others were disappointed that more dramatic action was not taken to reverse what many see as a crisis in the justice system.
One judge told BuzzFeed News: "To call it a damp squib would be an understatement."
Measures introduced in the Post-Implementation Review of LASPO include:
People bringing discrimination cases will soon be able to see a legal aid lawyer face to face without first having to pass through a telephone triage system. The change, which also applies to debt and special educational needs cases will start in spring 2020.

£3m to support people in court without a lawyer — though this will be personal and practical support not legal advice.

Extending legal aid to all Special Guardianship Orders in private family cases.

Granting legal aid to all unaccompanied children in their immigration cases (a concession the MoJ had to make after losing a court battle on the issue)

Up to £5m towards "innovative forms of legal support" using technology to help people with their cases — which also appears to stop short of being legal advice.

A review of the legal aid means test by summer 2020. It has not been updated since 2010 and is considered to be a factor in the rising number of people representing themselves in court because it does not reflect the current cost of living.

Simplify and review Exceptional Case Funding, which allows people with cases who do not ordinarily qualify for legal aid to apply for an exception

A review of criminal legal aid schemes
The decision to scrap compulsory phone screening of discrimination cases comes after the Equality and Human Rights Commission launched an inquiry into whether victims of discrimination were being barred from justice. It followed the revelation by BuzzFeed News that despite 2,608 people calling the Mandatory Telephone Gateway with a discrimination case in 2016-17, not one was referred to see a lawyer face to face to pursue a case.

David Isaac, chair of the Equality and Human Rights Commission, welcomed the steps announced by the department. He said: "Bringing back face-to-face advice will significantly help those who have faced discrimination seek justice and will be particularly beneficial for many disabled people and those with limited English language skills. We hope improvements to the financial eligibility test for legal aid and the exceptional case funding scheme — as we had called for — will mean more people can get the help they need to ensure their rights are not violated."
The legacy that the coalition government's legal aid reforms have had in the courts has prompted outrage from every corner of the legal world. BuzzFeed News has been running an Access to Justice series charting the impact of the legislation.
In a briefing with journalists, justice minister Lucy Frazer said the objective to save money by the reforms had "largely" been met and that the other aims of the reforms had had "varying success".
When asked whether she wanted the Treasury to put more money back into legal aid, given the hundreds of millions of pounds taken out, she said "money is always welcome", but went on to defend spending less: "We have to remember that we need to help the most vulnerable but we also need to spend taxpayers' money wisely and I think the right solution, given where we are in this modern world, is to step back and actually assess what works and I think the plan that we've put forward is doing that."
She added: "This is the first step to identify what are the right solutions and the right solutions will obviously envisage further spending in the future but we need to work out how do we assess what is the best way to provide legal advice, rather than just putting back money for face to face advice back into the system."
Shadow justice secretary Richard Burgon described the changes as "tinkering at the edges". He said: "This is too little, too late. The Government has wasted two years investigating the impact of its own legal aid cuts only to respond with no credible plan to end the suffering they have caused.
"This review is a missed opportunity to restore the early legal support people desperately need when faced with a rogue landlord, a difficult family breakup, or the government's 'hostile environment' on benefits and migration."
Richard Atkins QC, chair of the Bar Council, said barristers were "disappointed" with the review. "When the Bar Council gave evidence to the Ministry of Justice (MoJ) last year on the impact of the LASPO cuts to legal aid we identified five priorities to help reverse the decline in legal aid provision over almost six years. Few have been addressed.
"Whilst we welcome the MoJ commitment to early intervention to reduce the distress and cost to all of court proceedings and the willingness to include the Bar Council and others in the proposed continuing review we consider that this is a wasted opportunity. The 500-page report offers little of substance to ease the impact of LASPO on vulnerable individuals seeking justice."
Family lawyers, who have seen some of the most dramatic changes since LASPO, were among those most critical of the review. Most private law cases will still not be eligible for legal aid, leaving many people to fight for their children in court with no help.
Jo Edwards, who chairs the family lawyer group Resolution, welcomed some aspects of the review, such as reintroducing legal aid for Special Guardianship Orders, but added: "The simple fact is that, without access to tailored legal advice, many vulnerable individuals will be left to deal with the family courts with little or no help. The £8m of funding — across all areas of the law — represents little more than 2% of the £350m of annual cuts to the legal aid budget.
"Nobody was expecting this review to entirely reverse the cuts, but the commitment from government to early intervention, for example, has to be backed up by meaningful funding. Otherwise children and families across the country will continue to suffer from a lack of access to justice."
A review of the means test, which Frazer told journalists is already underway, was widely welcomed, though it will not conclude until summer 2020. The means test which determines who is eligible for legal aid has not been updated since 2010 and is considered a factor in the rising number of people defending themselves in criminal cases.
Commenting on the likely cost, she said: "That will involve significant sums way above £8m. We've undertaken to do that review and when it is finalised I'm sure we'll act on it and it will involve, I am sure, significant further investment into legal aid."
Law Society president Christina Blacklaws said the government needed to give the means test "urgent attention". She said: "This post-implementation evaluation is long-awaited and comprehensive and represents the first time in over 20 years that we have seen wide-ranging government proposals to improve the system rather than to make further cuts.
"... However, welcome as this further work is, the government must give urgent attention to amending the means test thresholds because the current levels are preventing families in poverty from accessing justice; and remuneration rates for solicitors undertaking this vital work must be reviewed for civil as well as criminal work, to address the medium-term viability of the system. As a first step, they should be uprated in line with inflation ahead of further work to make the system sustainable.
"If people cannot access advice or protect their rights, then effectively those rights do not exist. The proposed plan signals hope that fewer people will be denied justice simply because they cannot afford it."