Tapiwa Matukutire had just climbed into the shower on April 6, 2017, when the bang at the door came. His son was in a high chair next to him and they were getting ready to meet his pregnant wife, Elizabeth, at the first scan for their second child.
Expecting a delivery of some children's clothes, he grabbed a towel and ran downstairs to answer the door, leaving his son strapped in his high chair in the bathroom.
He opened the door a crack and the next thing he knew, six Home Office enforcement agents had barged their way into his hall. Within minutes, the situation had escalated and he found himself pinned naked and screaming on the floor of his bedroom, under arrest.
His 18-month-old son was next door, sitting in stunned silence as his father's pleas for release resounded through the house.
Tapiwa was in shock. He had a valid stamp in his Zimbabwean passport after moving to England from Spain the year before with his British wife and son. He had no idea why the officers were there, but his attempts to explain his immigration status were ignored.
The Home Office claimed the officers had to restrain Tapiwa and call for police back-up because he was being aggressive, but in an audio recording made on his phone at the time of his arrest, Tapiwa's distress is palpable. After explaining his immigration status, that he won't go with the officers and wants to ring his lawyer, he is told he is "being disruptive". He replies: "How am I being disruptive in my own house?"
Tapiwa, now 29, would later learn that the raid had been triggered by the Driver and Vehicle Licensing Agency (DVLA). It had incorrectly briefed Immigration Enforcement that he was in the UK illegally after failing to notice the stamp in his passport when he applied for a British driving license. Instead of making further checks, the Home Office pressed ahead with a raid.

Tapiwa's case reveals the human cost of the information sharing created by the "hostile environment" policy. The Immigration Act 2014 was conceived by Theresa May when she was home secretary, allowing banks, landlords, and the DVLA the ability to snitch on people they suspect are in Britain illegally, through access to an immigration database. But the quality of the database — and poor interrogation of tip-offs — means that people like Tapiwa end up as collateral.
He is now in the early stages of a civil lawsuit against the Home Office. While the DVLA has apologised and paid compensation for its role, the Home Office has not.
His barrister, David Jones of Garden Court Chambers, told BuzzFeed News: "I've been doing this kind of work for 20 years and Tapiwa's is one of the most striking cases of mismanagement of a person's immigration status and reckless approach to enforcement that I've come across.
"The Home Office were in possession of his passport, which showed that he had status at the time of the raid. They proceeded on the basis that he was a person without status and then arrived mob-handed… It wasn't just that that was so shocking about this. It was also the way they approached him. They treated him throughout as an aggressor."
While Tapiwa's case is shocking, it is unlikely to be a one-off. A report by the independent chief inspector of borders and immigration found in 2016 that in a sample of 169 cases on an immigration database, 10% should never have been listed as "disqualified persons" or should have been removed from the list. Nine had leave to remain, six had an outstanding application for further leave, and two had an outstanding appeal.


Tapiwa remembers the events of April 6 last year in vivid detail. Speaking publicly for the first time at his Bolton home where the raid took place, he recalls the moment officers came through the door. "They exploded in," he tells BuzzFeed News, gesturing to the door that he has since protected with a video entry system. "They're screaming, 'It's immigration! It's immigration! Are you Tapiwa Matukutire?' And I was like, 'Yeah, who are you guys? Why are you yelling?' They said, 'We're immigration — we've been told that you're here illegally and we're here to arrest and detain you.'"
There were six uniformed enforcement officers: five men and a woman. When they backed him into the hallway, Tapiwa says, he ran upstairs in a panic, wanting to get to his son. When he saw the officers chasing him, he went to his bedroom, conscious that he didn't want his son to see the altercation.
Once there, he reached for his phone and began to record the officers with his screen locked.
On the recording, which he shared with BuzzFeed News, he can be heard telling them "I came here under EU regulations" and "I've got my boy in there. You've just barged into my house. I did not let you in."
Within seconds, officers have handcuffs out and tell him, "You're now under arrest as a person liable to be detained." Tapiwa sounds panicked, tells them he is not liable for arrest and wants to speak to a lawyer. The situation escalates quickly and in less than three minutes he can be heard being ordered to "get down!" and screaming in fear as the cuffs are cinched around his wrists.
After he's been handcuffed, Tapiwa's distress is audible as he screams and shouts repeatedly: "I'm not even dressed." He asks after his child, pleading: "My son is in the bathroom. What are you doing?"
In the recording, officers reply that they will make sure his son is alright. The Home Office's Professional Standards Unit claimed the boy was being "closely monitored by a female officer" while the raid took place, but Tapiwa says that only one female officer was present and she can be heard in the recording shouting "get down" several times, sounding close by the other officers.
Once restrained on floor, Tapiwa asks to get dressed and tells them he is not going anywhere without his son. Officers say his boy is their priority and he replies, "No, your priority is to get me out of the country" and reiterates that he will not go anywhere without a lawyer. Shortly afterwards, the recording cuts out.
"I was in the prone position. They take out the battery [on my phone], and then they start arguing amongst themselves," Tapiwa recalls.
"I was treated like an animal," he says of the scene. "They were circling me… The next thing I know, they've grabbed me, thrown me on the floor, one of them's got their knees buried in my neck, the other four have their knees and arms all over my back. My towel falls off, and I'm obviously just shocked. I felt like I was dreaming. I was terrified."
His British wife, Elizabeth, is still shocked at what he was put through and says it has made her lose all sense of patriotism. "They acted as though it was the police looking for some serial criminal who has a record and they know it's going to be dangerous walking in. They walked in, saw a naked man and his child, and still felt like it was necessary to treat him that way."
Commenting on the phone recording, his barrister said: "Fear is the main thing I can hear and yet they characterise him as the aggressor. It was his conduct that they say necessitated the use of force against him. That force not only caused him a huge amount of discomfort but it was humiliating because he was left naked. He wasn't even afforded the human courtesy of being allowed to put on clothing before using methods of constraint while resisting custody.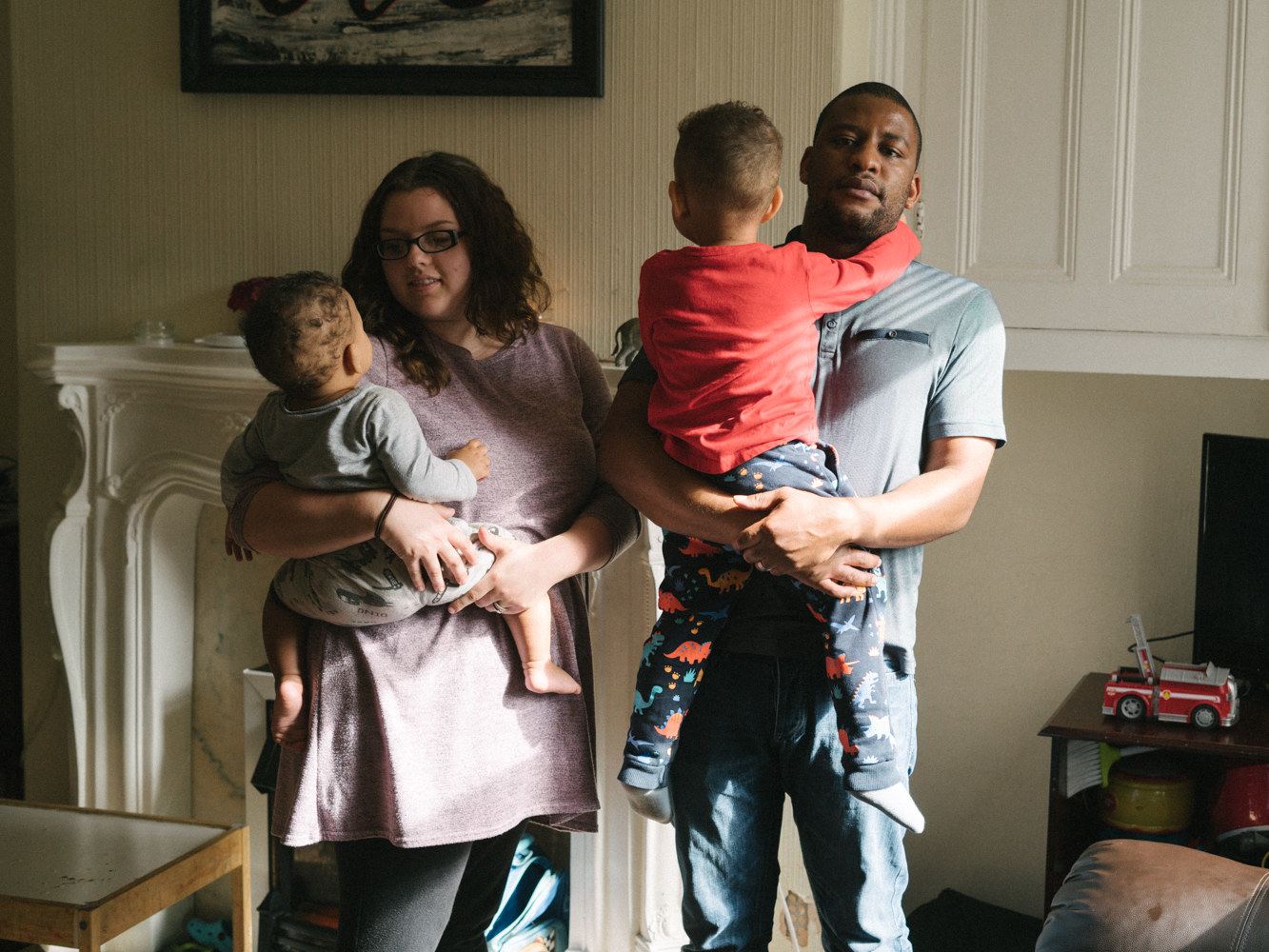 "The whole thing is absolutely disgraceful. I just find it utterly outrageous. It's all completely unlawful — he was not a person that was susceptible to enforcement. Heaven knows how much public money was spent on this exercise."
Tapiwa says enforcement officers ignored repeated requests to call his wife, who was in a fine art lecture at the University of Bolton. They also refused him the chance to show documents he had downstairs or contact a lawyer. Instead, he remembers overhearing the lead officer and another talking about taking him without his son, saying, "Let's just get the kid in child services."
"That's when I told them, 'Guys, I'm not going anywhere with you,'" Tapiwa recalls. "'You're going to have to literally drag my carcass out if that's what you think, but I'm not going anywhere with you.' Obviously because they realised I could hear them, they went further back. I think they went into my son's room. I think that's when they decided to ring the police."
Throughout the raid, Tapiwa says, he was not able to see his son and believes that the toddler was left alone in the bathroom until he was handcuffed. "In those two hours I don't know where he is. From the moment I got into the room I didn't see him until I was de-arrested. I was kept in the bedroom the whole time. And I kept asking 'Where's my son?'"
Tapiwa still worries about the impact the traumatic scene will have had on his child. "I think after they restrained me is when they finally attended to my son. He was just silent. I think he was terrified. At the time he was only 18 months old, but kids know when something is wrong. They can sense that something isn't right."
Tapiwa says it was only after police arrived at the scene that he began to be treated with decency. "I was still in my towel until the police arrived. After the [Immigration Enforcement officers] restrained me, they just sort of covered me up — they put the towel over me like, 'There you go, there's your decency.' When the police came, that's when they asked me to get up and then they grabbed a pillow from our bed, so they just threw me a pillow to cover up, while I had my handcuffs on."
Soon three police officers joined the immigration officers upstairs. "The police were like, 'Before we do anything, put some clothes on, mate' and, 'You say you're legal, yeah?' So now it's actually the police doing the immigration inquiries."
The process of getting dressed was humiliating and slow. "When I was putting my clothes on, none of them left the room. They were still in there. I had to get dressed in front of them in my handcuffs."
It was the police who allowed him to contact his wife. But when he finally had permission to make the call, Elizabeth was still in the lecture and couldn't answer her phone. In desperation, he sent a text: "Emergency Home Office just raided me naked." Confused, she messaged back "what", and missed another call.
When he eventually got through on the phone, she was still unaware of the seriousness of the situation. She recalls: "I said, 'You better not be pulling a late April Fool's joke.' And the police laughed at that because I was on loudspeaker."
Tapiwa replied, "No, I'm in handcuffs right now, naked, and the Home Office have our son." Suddenly aware of the serious predicament her husband was in, she ran out of the lecture and got in a taxi home, picking up her dad on the way to help.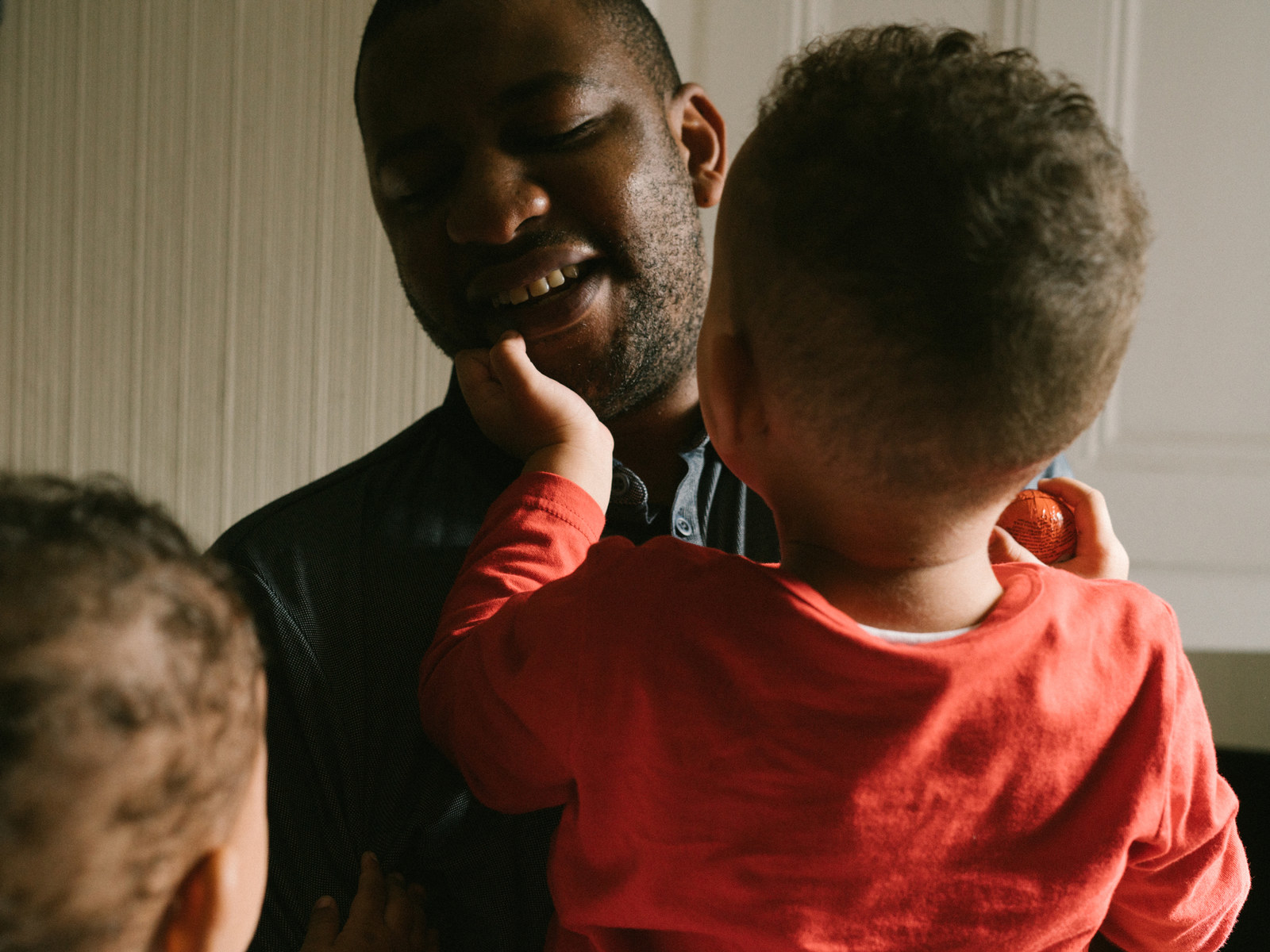 Long before she reached the house she could see the scale of the incident. Elizabeth says: "As soon as we came past the turning to our road, there were blue lights flashing all the way around our house and you knew something was going on. It was really intense. I think my dad said he saw two police cars, a police van, an immigration van, and an immigration car. It looked like there was some huge thing going on. There was a guy shot up the road and I think there was less sirens then than this."
When Elizabeth arrived home, the house was full of police and immigration officers and her son was strapped in his pushchair watching television. She explained to one of the immigration officers that they had lived in Spain and showed them their Spanish residency cards and her and her son's British passports.
She says she was not allowed upstairs to see her husband but that the officer went upstairs to speak to her colleague. "All was really quiet" after that, she recalls. The officer came downstairs with her boss and told them they were finally de-arresting Tapiwa.
Two hours after the raid began, they left.
Elizabeth says: "Nobody looked at anybody, they just ran out the house and we were all just left here in complete shock. Once the door was shut, Taps just broke down, completely broke down into tears, shaking. He was so scared, straight away wanted to find [our son] to make sure he was OK, because at this point he thought he was being taken away.
"He went for a shower and then we just had to sit and think. He was just in a state of shock for hours — just sat there, not really looking at anybody, shaking. Just a petrified person. You could tell he was scared."

The DVLA was forced to reinstate more than 250 wrongly revoked licences in 2015, raising serious concerns about the accuracy of the data used in the matching process. This was well-known by the government by 2017, yet Tapiwa's experience shows the Home Office failing to question tip-offs from the agency.
Following an investigation by an independent complaints assessor, the DVLA admitted liability in Tapiwa's case. Apparently missing the entry stamp in his passport, the agency had referred him to its Operational Fraud team for "no evidence of lawful entry into UK." The assessor said they upheld Tapiwa's complaint that his passport should never have been referred to the immigration authorities. They added: "Clearly [the DVLA's] reputation for accuracy was sufficient for the immigration authorities to skip their own scrutiny of your passport. I therefore regard the DVLA's part as contributory; indeed, it is doubtful that either the raid itself or the Home Office's subsequent attempt to remove you would have been set in train without the DVLA's initial suggestion that you had entered the country unlawfully."
In a letter to Tapiwa afterwards, the DVLA admitted "we were responsible for areas of poor administration relating to your case" and offered £500 compensation.
The Home Office refused to comment on the case but in a letter to his MP, the Conservative Chris Green, a Home Office official corroborates much of Tapiwa's timeline of events, acknowledging that the raid was based on misinformation, given that "A subsequent examination of Mr Matukutire's Zimbabwean passport identified that he had been admitted to the UK for a period of six months under the EEA Regulations when he arrived at Manchester Airport on 18th November 2016."
The letter adds: "It is regrettable that this had not been identified by either the DVLA or the l&SD [Interventions and Sanctions Directorate] when they had possession of the passport and it was therefore not highlighted to Immigration Enforcement."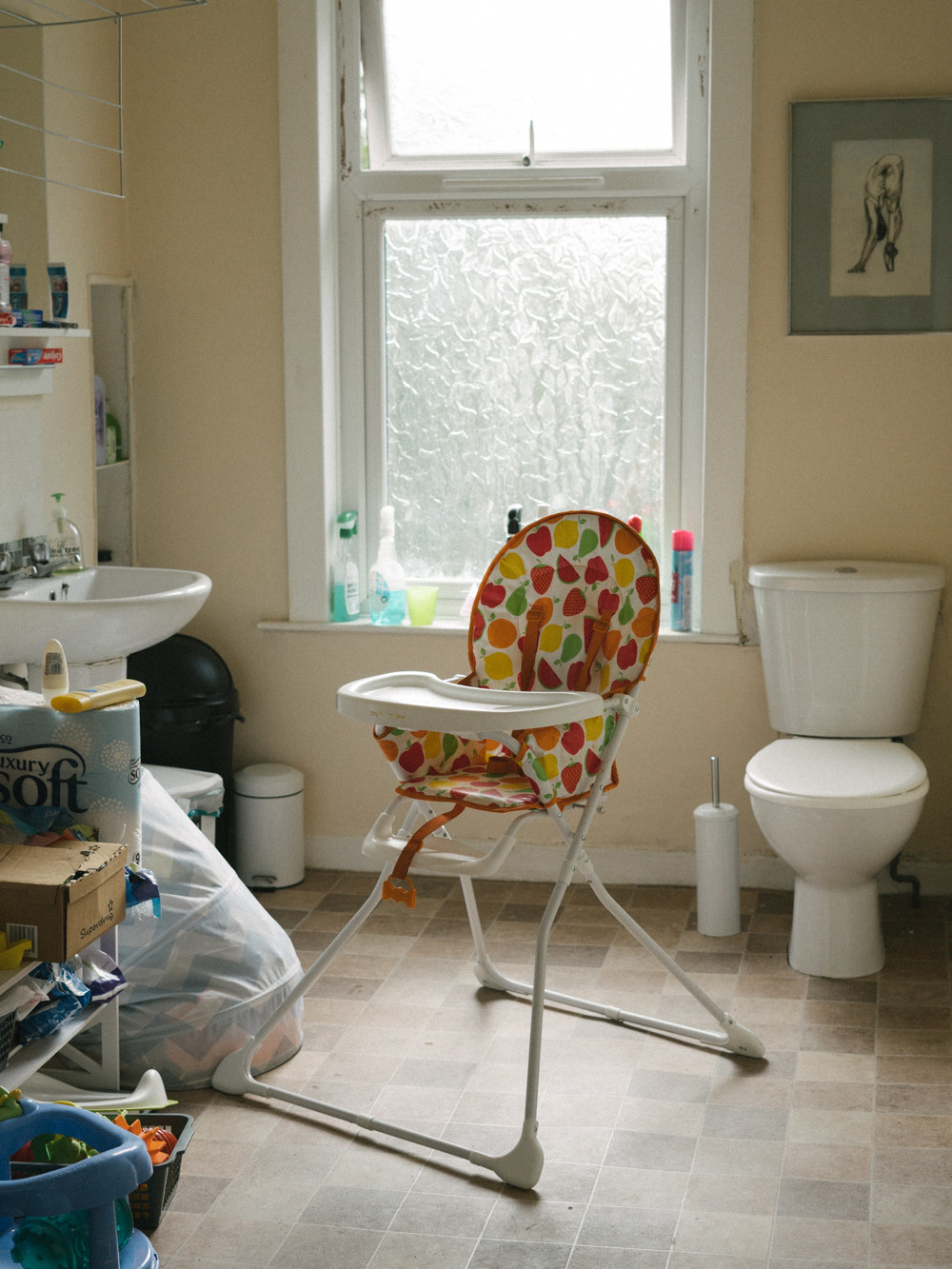 A search warrant had been granted by Manchester magistrates' court, which Tapiwa assumes was justified to the court using the bad DVLA intelligence, though he has not been given permission to see the court records.

Gracie Bradley, policy and campaigns manager at Liberty, said: "This case lays bare the human consequences of years of government-sponsored hostility to migrants — a father being brutally pinned down in his own home while looking after his child. It's disturbing that he was targeted despite having a valid visa, but — post-Windrush — little about Home Office abuse of process comes as a surprise. What's fundamental is that authorities shouldn't be treating anyone like this, documented or not."
Liberty argues that Tapiwa's ordeal reveals the urgent need to stop the data-sharing that underpins the hostile environment, or, as the government has now attempted to rebrand it, the compliant environment.
Bradley said: "The government urgently needs to commit to a data firewall, separating immigration control and other agencies. The web of data-sharing between the Home Office and DVLA, NHS, Department for Education, police and more means formerly trusted public servants are routinely co-opted into immigration enforcement against the people they serve. Incidents like this show exactly why many people are now too scared to interact with public services, even to seek urgent medical care, report crimes, or send their children to school."
Victims of the Home Office are rarely given the chance to fight back. Legal aid has been taken away in almost all immigration matters and enforcement teams have a reputation for detaining first, rather than waiting to hear the reasons it might not be right. In that regard, Tapiwa was lucky. He is educated and used every resource he could, writing to his MP and making formal complaints. He has family back in Zimbabwe who helped pay legal fees as well as a British wife and father-in-law who were able to confront the officers.


Given that he was in Britain legally, Tapiwa hoped things would go back to normal after the raid. But just two weeks later the Home Office sent him a letter saying it was rescinding his right to stay in the UK. It argued that the family had lived in Spain "purely as a means to circumvent the UK Immigration Rules that would have applied to Mr Matukutire as a non-EEA national".
The Home Office was casting doubt on the legitimacy of the couple's life in Spain and the spontaneity of their decision to come to Britain. But they made clear the reasons are straightforward.
Tapiwa and Elizabeth first met through friends in 2011, later getting together at a party in 2012 when they were both students in Bolton. Tapiwa, whose father is a successful Zimbabwean businessman, went to school in South Africa and came to Britain to complete his education. They had been together for less than two years when his student visa ran out and he had to return to Zimbabwe. They attempted to get a spousal visa but since they weren't married it was rejected and they decided instead to move together to Harare, Zimbabwe's capital.
Not long after arriving in Harare, Elizabeth conceived their first child. They got married and set up a business there running an electronics shop. They were building a life in the city but when their shop was violently robbed, leaving their security guard unconscious, they felt it was time to come back to Europe.
Initially they moved to Spain, where they set up a beauty business and were able to live together under EU spouse rules. But when Britain voted to leave the EU it coincided with the loss of an export contract for their business and the couple became concerned about the family's long-term future in the country. After eight months living there, and with another baby on the way, they decided to move back to the UK.
Under European law, Tapiwa did not need a special visa to do this; he could simply exercise his rights as an EU resident and got a six-month entry stamp in his passport when they arrived in Manchester in late November 2016.
In July 2017, a judge dismissed the Home Office position in court in a ruling the family say underlines their belief that the decision to reverse Tapiwa's legal entry into the UK was nothing more than an attempt to justify the raid after the fact.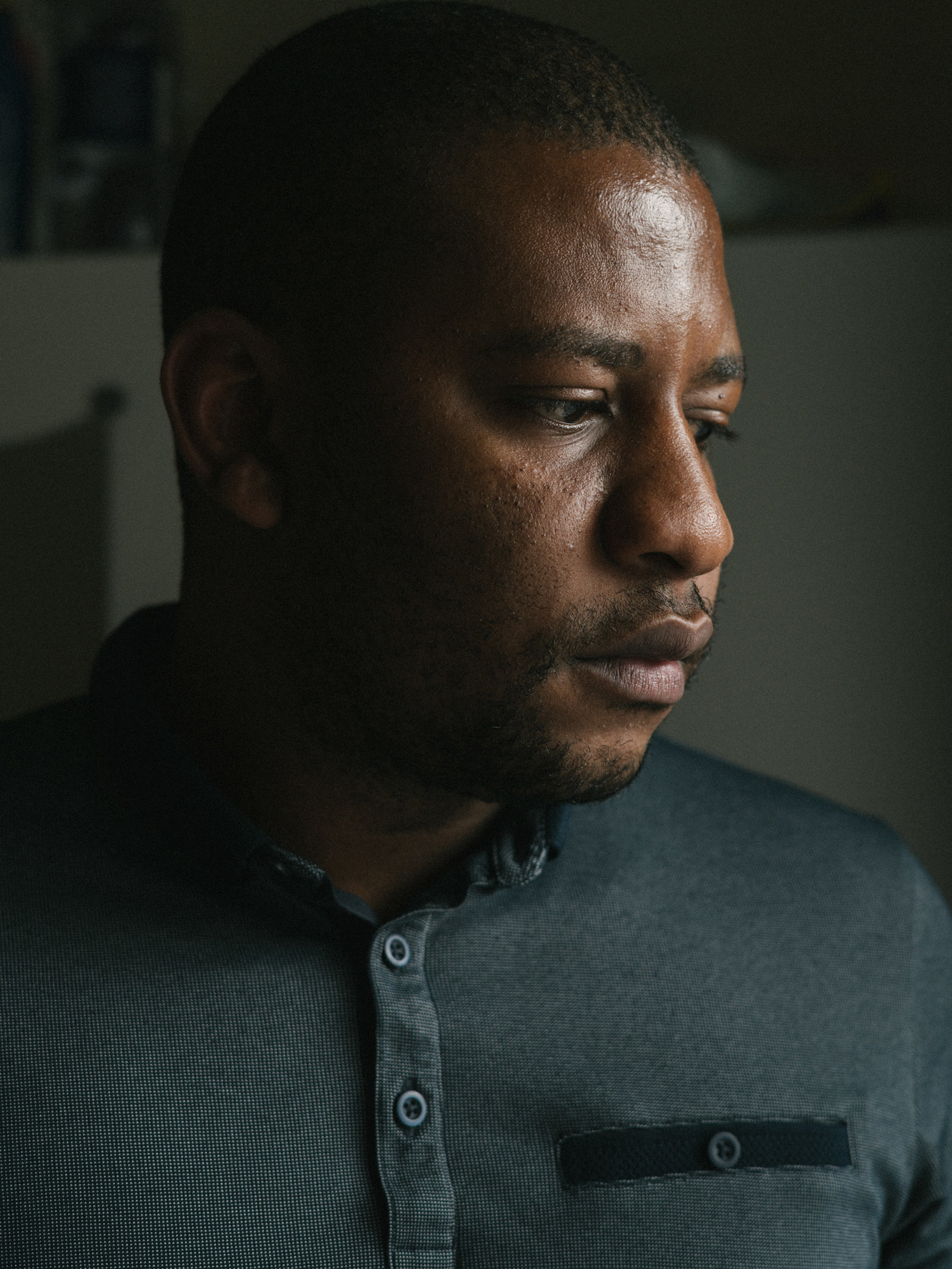 In a written judgment — the details of which can be reported in full following a successful application by BuzzFeed News to lift an anonymity order — the judge said Tapiwa had "provided a credible and plausible explanation as to the family's decision to leave Spain".
She added: "If the purpose of the Appellant and his wife's relocation to Spain had been only for the purposes of circumventing the immigration rules as the Respondent contends, then they had gone to extraordinary lengths to do so. In my view, it is more likely than not that the explanation for the actions taken by the Appellant and his wife are more consistent with their evidence that they had intended to relocate to Spain but a change of circumstances had altered those plans for the long term."
But even with that judgment in their favour, the couple are still locked in a battle with the Home Office. When they put in an application for a residency card the department refused it, arguing that they had not proved Elizabeth was exercising treaty rights in the UK as a student, even though she had sent proof of enrolment and a letter from the university proving she was attending classes. The couple have appealed against this and are waiting for a further decision from the immigration tribunal.
Labour's shadow home secretary, Diane Abbott, said: "Unfortunately cases like this are all too frequent under this government's hostile environment policy. We're told now that Theresa May wants to double down on this flawed approach, as she comes under pressure in her own party.
"Deportations, detentions, and brutal treatment of people entitled to be here should have no place in Britain, or in any decent society. Labour will end this policy and replace it with a fair immigration system that operates in all our interests."
In August 2017, following a complaint to the Home Office's Professional Standards Unit (PSU), an investigating officer said force was justified in the raid as Tapiwa's behaviour was "rather hostile". The PSU said that officers had described him as "intimidating/aggressive" but gave no specific examples of aggression.
The PSU concluded: "After considering all of your concerns and based on the balance of probability, I found that the Home Office staff acted in a professional manner and followed Home Office procedures and guidelines. There was no evidence that any force used was excessive having regard to the prevailing circumstances."
In December 2017, after Tapiwa complained about the PSU's initial findings — and after the Home Office was aware that he had instructed a barrister — a senior investigating officer made a fresh report. He said that, having reviewed the evidence, it was his opinion that "more could have been done and I can offer my apologies for this on behalf of the Department".
He added: "ln the light of evidence available to me, I believe that there exists doubt as to whether the visit to your home should, indeed, have been undertaken." However, he maintained that "the officers, individually, acted appropriately in the circumstances to which they found themselves tasked".
BuzzFeed News asked the Home Office detailed questions about its handling of Tapiwa's case, including why his son was left alone, why he wasn't allowed to dress, why more wasn't done to interrogate the DVLA's tip, and why, when Tapiwa said he would not be separated from his son, officers discussed calling child services instead of contacting his British wife.
In response, a Home Office spokesperson issued a statement saying only: "It would be inappropriate to comment on ongoing legal proceedings."
A DVLA spokesperson declined BuzzFeed News' request for comment.
Meanwhile, Tapiwa still bears the emotional scars of the raid, too afraid to answer the door without double checking the street on a video monitor. That night he was frightened to sleep in his own bed and went to stay with his father-in-law. The idea of sleeping in the same room where he'd been wrestled to the floor by officers seemed impossible. Even now, he wants to move house and escape the bad memories.
It is a time in his life he is keen to forget. "I felt I was falling into a really dark place," he says. One of the things he struggles most with is that he was not able to defend his son. "Parents defend their kids. I feel like I failed him. I feel like by not checking who it was through the spy hole because I was expecting a delivery, I was irresponsible because we live by the road and you just never know who's at the door."
Elizabeth was so worried about Tapiwa, she persuaded him to get counselling. "He became very closed off, not just to me but for everything."
She could see that the effects of the raid had been long lasting. "We live on a main road and there's sirens up and down all the time. Every time that a siren went off, you could see in his face he was terrified because he thought they were coming again."